Abstract
A complex study of the electron transport and magnetic characteristics of epitaxial manganite films La0.7Ba0.3MnO3 (LBMO) was carried out under conditions of the crystal structure tension caused by a mismatch between the parameters of the LBMO crystal and the substrate. The epitaxial thin films with the thickness 40–100 nm were grown by pulsed laser deposition at T = 700–800 °C in pure oxygen pressure 0.3–1 mbar. The substrates (110) NGO, (001) STO, (001) LAO, and (001) LSAT were used. By comparison of the lattice parameter of LBMO targets with substrate's one, the lattice mismatches were derived. We used substrates in which the lattice parameter was less than for the LBMO crystal one. It is shown that the temperature dependence of the film resistance in the low-temperature region does not depend on the film stress and is in good agreement with the calculation that takes into account the interaction of carriers with magnetic excitations in the presence of strongly correlated electron states. A nonmonotonic temperature dependence of the resistance of an LBMO film deposited on ferroelectric crystals PMN-PT that was observed. This feature is typical for manganites, and indicating the presence of ferromagnetism in the system was observed.
This is a preview of subscription content, log in to check access.
Access options
Buy single article
Instant access to the full article PDF.
US$ 39.95
Price includes VAT for USA
Subscribe to journal
Immediate online access to all issues from 2019. Subscription will auto renew annually.
US$ 199
This is the net price. Taxes to be calculated in checkout.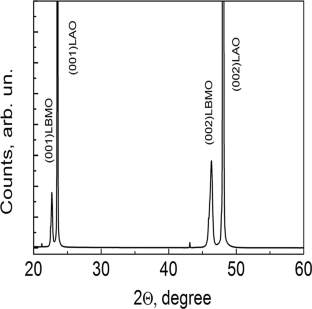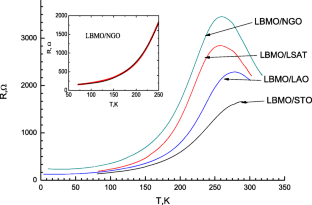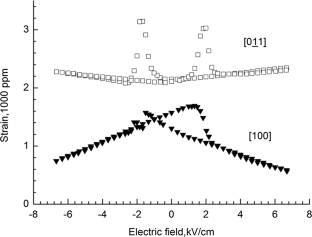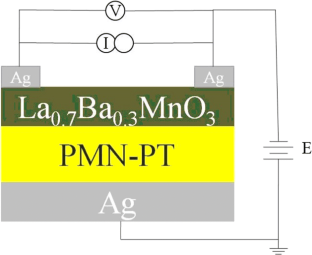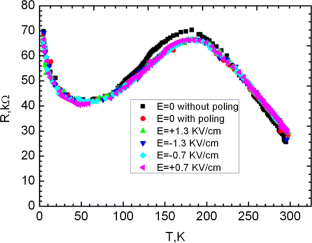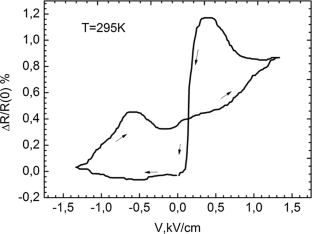 References
1.

Haghiri-Gosnet, A.-M., Renard, J.P.: CMR manganites: physics, thin films and devices. J. Phys. D. Appl. Phys. 36, R127–R150 (2003)

2.

Ovsyannikov, G.A., Petrzhik, A.M., Borisenko, I.V., Klimov, A.A., Ignatov, Y.A., Demidov, V.V., Nikitov, S.A.: Magnetotransport characteristics of strained La0.7Sr0.3MnO3 epitaxial manganite films. J. Exp. Theor. Phys. 108, 48–55 (2009)

3.

Lu, Y., Klein, J., Hofener, C., Wiedenhorst, B., Philipp, J.B., Herbstritt, F., Marx, A., Alff, L., Gross, R.: Magnetoresistance of coherently strained La2/3Ba1/3MnO3/SrTiO3 superlattices. Phys. Rev. B. 62, 15806–15814 (2000)

4.

Millis, A.J., Darling, T., Migliori, A.: Quantifying strain dependence in "colossal" magnetoresistance manganites. J. Appl. Phys. 83, 1588–1591 (1998)

5.

Ju, H.L., Gopalakrishnan, J., Peng, J.L., Qi, L., Xiong, G.C., Venkatesan, T., Greene, R.L.: Dependence of giant magnetoresistance on oxygen stoichiometry and magnetization in polycrystalline La 0.67Ba 0.33MnO3. Phys. Rev., B. 51, 6143 (1995)

6.

Demin, R.V., Koroleva, L.I., Muminov, A.Z., Mukovskiĭ, Y.M.: Giant volume magnetostriction and colossal magnetoresistance in La0.7Ba0.3MnO3 at room temperature. Phys. Solid State. 48, 322–325 (2006)

7.

Boikov, Y.A., Claeson, T.: Magnetoresistance anisotropy in La0.67Ba0.33MnO3 films laterally compressed by a neodymium gallate substrate. Tech. Phys. 59, 1027–1031 (2014)

8.

Orgiani P., Adamo C., Barone C., Galdi A., Pagano S., A. Yu. Petrov A. Yu., Quaranta O., Aruta C., Ciancio R., Polichetti M., Zola D. and Maritatoet L.: Epitaxial growth of La 0.7 Ba 0.3 MnO 3 thin films on MgO substrates: structural, magnetic, and transport properties. J. Appl. Phys., 103, 093902–1–093902–8 (2008)

9.

P. Orgiani, A. Guarino, C. Aruta, C. Adamo, A. Galdi, A. Yu. Petrov, R. Savo, and L. Maritato, Magnetotransport properties of epitaxial strain-less La0.7Ba0.3MnO3 thin films J. Appl. Phys. 101, 033904 _(2007)

10.

Boikov, Y.A., Serenkov, I.T., Sakharov, V.I., Claeson, T., Kalabukhov, A., Afrosimov, V.V.: Structure and magneto-transport parameters of partially relaxed and coherently grown La0.67Ba0.33MnO3 films. Phys. Solid State. 55, 2043–2050 (2013)

11.

Boikov Yu, A., Danilov, V.A.: Electrical resistivity and magnetotransport in La0. 67Ba0. 33MnO3 films asymmetrically biaxially compressed by an NdGaO3 (001) substrate. Phys. Solid State. 50, 95–100 (2008)

12.

Bern F, Ziese M, Vrejoiu I, Li X and Avan AkenP "Magnetic and magnetotransport properties of ultrathin La0:7Ba0:3MnO3 epitaxial films embedded in SrRuO3" New J. Phys. 18, 053021 (2016)

13.

Liang, Y.-C.: Lattice effects in ferromagnetic La1 − xBaxMnO3 thin films. Surface & Coatings Technology. 202, 5436–5439 (2008)

14.

Pradhan, K., Sahu, D.R., Roul, B.K., Feng, Y.: La1ÀxBaxMnO3 epitaxial thin films by pulsed-laser deposition: a consequence of strain stabilization. Appl. Phys. Lett. 81, 3597–3599 (2002)

15.

Zhang, J., Tanaka, H., Kanki, T., Choi, J.-H., Kawai, T.: Strain effect and the phase diagram of La1-xÀxBaxMnO3 thin films. Phys. Rev. B. 64(184404), (2001)

16.

Kanki, T., Yanagida, T., Vilquin, B., Tanaka, H., Kawai, T.: Hall effect in strained La0.85Ba0.15MnO3 thin films. Phys. Rev. B. 71, 012403–0121-3 (2005)

17.

Weiping, Z., Yuanqiang, X., Zhengming, Z., Dunhui, W., Weishi, T., Qingqi, C., Zhenghong, Q., Youwei, D.: Multilevel resistance switching memory in La2/3Ba1/3MnO3/0.7Pb(Mg1/3Nb2/3)O3-0.3PbTiO3 (011) heterostructure by combined straintronics-spintronics. ACS Appl. Mater. Interface. 8, 5424–5431 (2016)

18.

Zheng, R.K., Jiang, Y., Wang, Y., Chan, H.L.W., Choy, C.L., Luo, H.S.: Ferroelectric poling and converse-piezoelectric-effect-induced strain effects in La0.7Ba0.3MnO3 thin films grown on ferroelectric single-crystal substrates. Phys. Rev., B. 79, 174420-1–174420-7 (2009)

19.

Tsui, F., Smoak, M.C., Nath, T.K., Eom, C.B.: Strain-dependent magnetic phase diagram of epitaxial La0.67Sr0.33MnO3 thin films. Appl. Phys. Lett. 76, 172421–172423 (2000)

20.

Ovsyannikov, G.A., Shaikhulov, T.A., Shakhunov, V.A., Demidov, V.V., Andreev, N.V., Pestun, A.E., Preobrazhenskii, V.L.: Effect of the stresses caused by substrate on the electrical conductivity of ferromagnetic manganite lanthanum–barium films. Phys. Solid State. 59, 2198–2202 (2017)

21.

Kubo, K., Ohata, N.: A quantum theory of double exchange. J. Phys. Soc. Jpn. 33, 21–33 (1972)

22.

Pietambaram, S.V., Kumar, D., Singh, R.V., Lee, C.B., Kaushik, V.S.: Microstructure, magnetoresistance, and magnetic properties of pulsed-laser-deposited external, internal, and mixed-doped lanthanum manganite films. J. Appl. Phys. 86, 3317–3326 (1999)

23.

Jiang W., Zhou X. Z., , Williams G.,. Mukovskii Y., and Glazyrin K.:, Griffiths phase and critical behavior in single-crystal La0.7Ba0.3MnO3: phase diagram for La1−xBaxMnO3 (x⩽0.33). Phys. Rev. B 77, 064424-1-064424-7 (2008)

24.

Bebenin, N.G., Zainullina, R.I., Mashkautsan, V.V., Ustinov, V.V., Mukovskii, Y.M.: Electronic transport in ferromagnetic La1−xSrxMnO3 single-crystal manganites. Phys. Rev. B. 69, 104434–1–104434-9 (2004)

25.

Wang F., Luo L., Zhou D., Zhao X. and Luo H.: Complete set of elastic, dielectric, and piezoelectric constants of orthorhombic 0.71 Pb (Mg 1∕ 3 Nb 2∕ 3) O 3–0.29 Pb Ti O 3 single crystal Apl. Phys. Lett. 90, 212903–1212903–3 (2007)

26.

Cao H., Bai F. M., Li J. F., Viehland D.,. Xu G. Y, Hiraka H., and Shirane G., Structural phase transformation and phase boundary∕stability studies of field-cooled Pb(Mg1∕3Nb2∕3O3)–32%PbTiO3 crystals J. Appl. Phys., 97, 094101–1–094101-4 (2005)

27.

Slodczyk A. Structural, dielectric and vibrational studies of lead magnesium niobate-lead titanate (1-x) PbMg1/3Nb2/3O3-xPbTiO3 solid solutions Katowice (2006)

28.

Zheng R. K.,_ Wang Y., Chan H. L.W., and Choy C. L., Luo H. S.: Strain-mediated electric-field control of resistance in the La0.85Sr0.15MnO3 /0.7Pb(Mg1/3Nb2/3)O3–0.3PbTiO3 structure. Appl. Phys. Lett. 90, 152904–1–152904–3 (2007)
Acknowledgments
Acknowledgments are given to A.S. Grishin, A.A. Klimov, and A.M. Petrzhik for the help and discussion. The authors also want to thank the French RENATECH network.
Funding
This work was performed in the framework of the International Associated Laboratory LEMAC-LICS and partially supported by the RFBR grant 16-29-14022.
Additional information
Publisher's Note
Springer Nature remains neutral with regard to jurisdictional claims in published maps and institutional affiliations.
About this article
Cite this article
Ovsyannikov, G.A., Shaikhulov, T.A., Shakhunov, V.A. et al. Resistivity of Manganite Thin Film Under Strain. J Supercond Nov Magn 32, 2759–2763 (2019). https://doi.org/10.1007/s10948-019-5026-3
Received:

Accepted:

Published:

Issue Date:
Keywords
Epitaxial manganite films

Ferroelectric crystals

Strain