Abstract
Nanometer-sized particular structures are generated on the surfaces of FeSe epitaxial films directly after exposure to air; this phenomenon was studied in the current work because these structures are an obstacle to field-induced superconductivity in electric double-layer transistors using FeSe channel layers. Chemical analyses using field-effect scanning Auger electron spectroscopy revealed no clear difference in the chemical composition between the particular structures and the other flat surface region. This observation limits the possible origins of the particulate formation to light elements in air such as O, C, H, and N.
This is a preview of subscription content, log in to check access.
Access options
Buy single article
Instant access to the full article PDF.
US$ 39.95
Price includes VAT for USA
Subscribe to journal
Immediate online access to all issues from 2019. Subscription will auto renew annually.
US$ 199
This is the net price. Taxes to be calculated in checkout.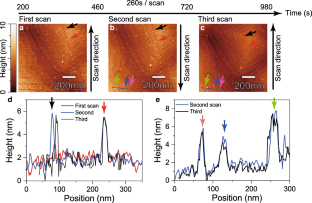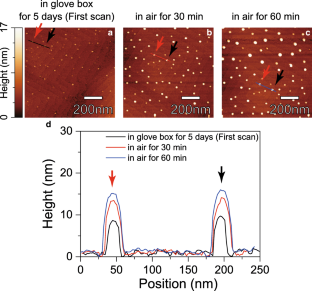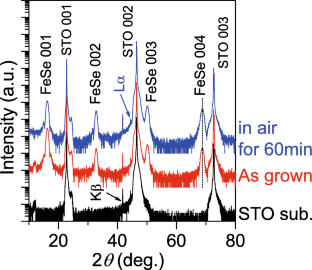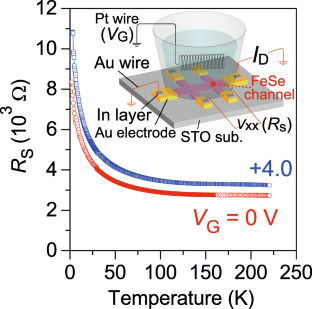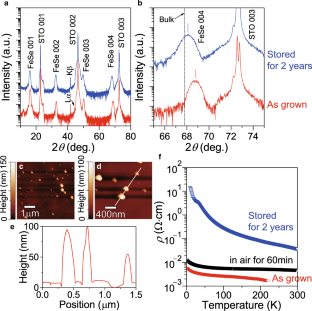 Funding
This work was supported by the Ministry of Education, Culture, Sports, Science, and Technology (MEXT) through the Element Strategy Initiative to Form Core Research Center. H. Hi. was also supported by the Japan Society for the Promotion of Science (JSPS) through Grant-in-Aid for Scientific Researches (A) and (B) (Grant Nos. 17H01318 and 18H01700), and Support for Tokyotech Advanced Research (STAR).
Additional information
Publisher's Note
Springer Nature remains neutral with regard to jurisdictional claims in published maps and institutional affiliations.
About this article
Cite this article
Hiramatsu, H., Hanzawa, K., Kamiya, T. et al. Particulate Generation on Surface of Iron Selenide Films by Air Exposure. J Supercond Nov Magn 32, 3047–3055 (2019). https://doi.org/10.1007/s10948-019-5020-9
Received:

Accepted:

Published:

Issue Date:
Keywords
Iron-based superconductors

Chalcogenides

FeSe

Electric double-layer transistor

Degradation