Abstract
Naked, polyvinylchloride (PVC)-coated, and polyethylene glycol (PEG)-coated Fe3O4 nanoparticles (NPs) with an equivalent average particle size of 10 nm were prepared through an electrochemical synthesis method. The structural and magnetic properties were investigated systematically. The X-ray diffraction study coupled with the Rietveld refinement of XRD data showed that samples are crystallized in cubic spinel structure with space group referred to as Fd3m. The nature of DC magnetization versus field M (H) plot for sample resembles qualitatively with ferromagnetic (FM) systems. The AC-susceptibility data obtained at different frequencies confirmed the presence of a frequency-dependent freezing temperature. Based on the interparticle interaction strength and phenomenological models (Néel–Brown, Vogel–Fulcher, and critical slowing down), the magnetic dynamic behavior of nanoparticles was characterized. By fitting the experimental data with mentioned models, the possibility existence of superparamagnetic and a spin-glass state at low temperatures was proposed for the samples. Also, the obtained values from fitting performance showed a coating effect on interparticle interaction for PVC- and PEG-coated Fe3O4 nanoparticles.
We're sorry, something doesn't seem to be working properly.
Please try refreshing the page. If that doesn't work, please contact support so we can address the problem.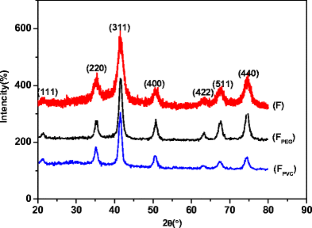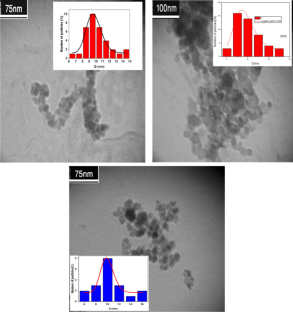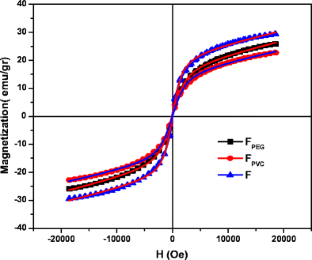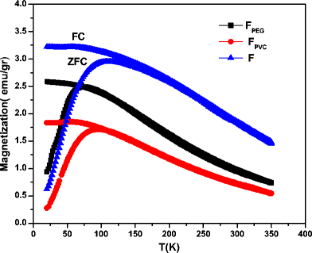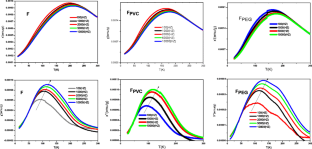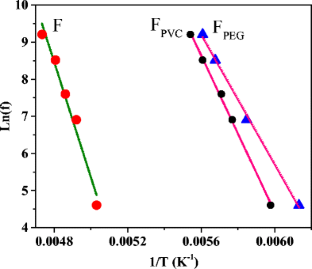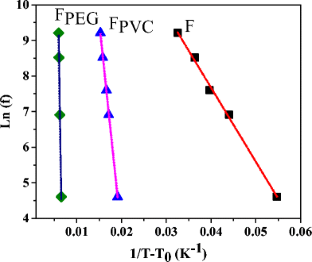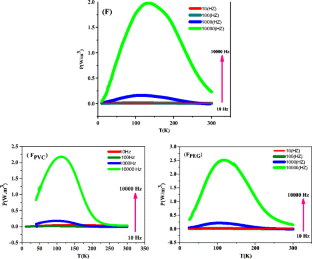 References
1.

Mendonça, E. C., Jesus, C.B.R., Folly, W.S.D., Meneses, C.T., Duque, J.G.S.: Size effects on the magnetic properties of ZnFe2O4 nanoparticles. J. Supercond. Nov. Magn 26, 2329–2331 (2013)

2.

Nagahama, T., Matsuda, Y., Tate, K., Kawai, T., Takahashi, N., Hiratani, S., Watanabe, Y., Yanase, T., Shimada, T.: Magnetic properties of epitaxial Fe3O4 films with various crystal orientations and tunnel magnetoresistance effect at room temperature. Appl. Phys. Lett. 105, 102410 (2014)

3.

Guimarães, A.P.: Principles of Nanomagnetism, 1st Edn. Springer-Verlag, Berlin (2009)

4.

Vargas, J.M., Nunes, W.C., Socolovsky, L.M., Knobel, M., Zanchet, D.: Effect of dipolar interaction observed in iron-based nanoparticle. Phys. Rev. B 72(18), 184428–184434 (2005)

5.

Nadeem, K., Krenn, H., Traussnig, T., Wurschum, R., Szabó, D., Letofsky-Papst, I.: Effect of dipolar and exchange interactions on magnetic blocking of maghemite nanoparticles. J. Magn. Magn. Mater. 323, 1998–2004 (2011)

6.

Hansen, M.F., Mørup, S.: Models for the dynamics of interacting magnetic nanoparticles. J. Magn. Magn. Mater. 184, 262–274 (1998)

7.

Aghazadeh, M., Hosseinifard, M.: Electrochemical preparation of ZrO2 nanopowder: impact of the pulse current on the crystal structure, composition and morphology. Ceram. Int. 39, 4427–4435 (2013)

8.

Aghazadeh, M., Yousefi, T., Ghaemi, M.: Low-temperature electrochemical synthesis and characterization of ultrafine Y(OH)3 and Y2O3 nanoparticles. J. Rare Earths 30, 236–240 (2012)

9.

Aghazadeh, M., Maragheh, M.G., Ganjali, M.R., Norouzi, P.: Preparation and characterization of Mn5O8 nanoparticles: a novel and facile pulse cathodic electrodeposition followed by heat-treatment. Inorganic and Nano-Metal Chemistry 27, 1085–1089 (2017)

10.

Aghazadeh, M., Barmi, A.A.M., Hosseinifard, M.: Nanoparticulates Zr(OH)4 and ZrO2 prepared by low-temperature cathodic electrodeposition. Mater. Lett. 73, 28–31 (2012)

11.

Aghazadeh, M., Malek Barmi, A.A., Gharailou, D., Peyrovi, M.H., Sabour, B., Najafi, F.: Cobalt hydroxide ultra-fine nanoparticles with excellent energy storage ability. Appl. Surf. Sci. 283, 871–875 (2013)

12.

Aghazadeh, M., Nozad Golikand, A., Ghaemi, M.: Synthesis, characterization, and electrochemical properties of ultrafine β-Ni(OH)2 nanoparticles. Int. J. Hydrogen Energy 36, 8674–8679 (2011)

13.

Barani, A., Aghazadeh, M., Ganjali, M.R., Sabour, B., Barmi, A.A.M., Dalvand, S.: Nanostructured nickel oxide ultrafine nanoparticles: synthesis, characterization, and supercapacitive behavior. Mater. Sci. Semicond. Process. 23, 85–92 (2014)

14.

Karimzadeh, I., Aghazadeh, M., Ganjali, M.R., Norouzi, P., Doroudi, T.: Saccharide-coated superparamagnetic Fe3O4 nanoparticles (SPIONs) for biomedical applications: an efficient and scalable route for preparation and in situ surface coating through cathodic electrochemical deposition (CED). Mater. Lett. 189, 290–294 (2017)

15.

Karimzadeh, I., Aghazadeh, M., Ganjali, M.R., Norouzi, P., Shirvani-Arani, S.: A novel method for preparation of bare and poly (vinylpyrrolidone) coated superparamagnetic iron oxide nanoparticles for biomedical applications. Mater. Lett. 179, 5–8 (2016)

16.

Karimzadeh, I., Aghazadeh, M., Ganjali, M.R., Dourudi, T.: Effective preparation, characterization and in situ surface coating of superparamagnetic Fe3O4 nanoparticles with polyethyleneimine through cathodic electrochemical deposition (CED) method for biomedical applications. Curr. Nanosci. 13, 167–174 (2017)

17.

Karimzadeh, I., Aghazadeh, M., Dourudi, T., Ganjali, M.R., Gharailou, D.: Amino acid coated superparamagnetic iron oxide nanoparticles for biomedical applications through a novel efficient preparation method. J. Clust. Sci. 28, 1259–1271 (2017)

18.

Aslibeiki, B., Kameli, P., Ehsani, M.H., Salamati, H., Muscas, G., Agostinelli, E., Foglietti, V., Casciardi, S., Peddis, D.: Solvothermal synthesis of MnFe2O4 nanoparticles: the role of polymer coating on morphology and magnetic properties. J. Magn. Magn. Mater. 399, 236–244 (2016)

19.

Kumar, L., Kar, M.: Influence of al3+ ion concentration on the crystal structure and magnetic anisotropy of nano crystallines pinel cobalt ferrite. J. Magn. Magn. Mater. 323, 2042–2048 (2011)

20.

Chinnasamy, C.N., Narayanasamy, A., Ponpandian, N., Justin Joseyphus, R., Jeyadevan, B., Tohji, K., Chattopadhyay, K.: Grain size effect on the Néel temperature and magnetic properties of nanocrystalline NiFe2O4 spinel. J. Magn. Magn. Mater. 238(2), 281–287 (2002)

21.

Chinnasamy, C.N., Narayanasamy, A., Ponpandian, N., Chattopadhyay, K., Shinoda, K., Jeyadevan, B., Tohji, K., Nakatsuka, K., Furubayashi, T., Nakatani, I.: Mixed spinel structure in nanocrystalline NiFe2O4. Phys. Rev. B 63(18), 184108–184114 (2001)

22.

Lavorato, G.C., Lima, E., Tobia, D., Fiorani, D., Troiani, H.E., Zysler, R.D., Winkler, E.L.: Size effects in bimagnetic CoO/Co Fe2O4 core/shell nanoparticles. Nanotechnology 25, 355704–355712 (2014)

23.

Desautels, R.D., Skoropata, E., Chen, Y.Y., Ouyang, H., Freeland, J.W., Lierop, J.V.: Increased surface spin stability in γ-Fe2O3 nanoparticles with a Cu shell. J. Phys. Condens. Matter 24, 146001–146011 (2012)

24.

Aslibeiki, B., Kameli, P., Manouchehri, I., Salamati, H.: Strongly interacting super spins in Fe3O4 nanoparticles. Curr. Appl. Phys. 12, 812–816 (2012)

25.

Mukadam, M.D., Yusuf, S.M., Sharma, P., Kulshreshtha, S.K., Dey, G.K.: Dynamics of spin clusters in amorphous Fe2O3. Phys. Rev. B 72, 174408–174415 (2005)

26.

Millan, A., Urtizberea, A., Silva, N., Palacio, F., Amaral, V., Snoeck, E., Serin, V.: Surface effects in maghemite nanoparticles. J. Magn. Magn. Mater. 312, 5–9 (2007)

27.

Chen, J., Sorensen, C., Klabunde, K., Hadjipanayis, G., Devlin, E., Kostikas, A.: Size-dependent magnetic properties of MnFe2O4 fine particles synthesized by co-precipitation. Phys. Rev. 54, 9288–9296 (1996)

28.

Dodson, H.M., McClelland-Brown, E.: Magnetic blocing temperatures of single-domain grains during slow cooling. J Geophys. Res. 85, 2625–2637 (1980)

29.

Goya, G.F., Morales, M.P.: Field dependence of blocking temperature in magnetite nanoparticles. J Metastable Nanocrystalline Mater. 20, 673–678 (2004)

30.

Hansen, M.F., Mørup, S.: Estimation of blocking temperatures from ZFC/FC curves. J. Magn. Magn. Mater. 203, 214–216 (1999)

31.

Parker, D., Ladieu, F., Vincent, E., Mériguet, G., Dubois, E., Dupuis, V., Perzynski, R.: Experimental investigation of superspin glass dynamics. Appl. Phys. 97, 10A502–10A505 (2005)

32.

Suzuki, Y., Hwang, H.Y., Cheong, S.W., Siegrist, T., Van Dover, R.B., Asamitsu, A., Tokura, Y.: Magnetic anisotropy of doped manganite thin films and crystals. J. Appl. Phys. 83, 7064–7065 (1998)

33.

Rostamnejadi, A., Salamati, H., Kameli, P.: Magnetic properties of interacting La0.67Sr0.33MnO3 nanoparticles. J. Supercond. Nov. Magn. 25, 1123–1132 (2012)

34.

Mydosh, J.A.: Spin Glasses: an Experimental Introduction. Taylor and Francis, London (1993)

35.

Bedanta, S., Kleemann, W.: Supermagnetism. J. Phys. D: Appl. Phys. 42, 013001–013029 (2009)

36.

Brown, W.F.: Thermal fluctuations of a single-domain particle. Phys. Rev. 130, 1677–1686 (1963)

37.

Goya, G.F., Berquo, T.S., Fonseca, F.C., Morales, M.P.: Static and dynamic magnetic properties of spherical magnetite nanoparticles. J. Appl. Phys. 94, 3520–3528 (2003)

38.

Masunaga, S.H., Jardim, R.F., Fichtner, P.F.P.: Role of dipolar interactions in a system of Ni nanoparticles studied by magneticsusceptibility measurements. J. Rivas Phys. Rev. B 80, 184428–184435 (2009)

39.

Rault, J.: Origin of the Vogel–Fulcher–Tammann law in glass-forming materials: the −− bifurcation. J. Non-Crystalline Solids 271, 177–217 (2000)

40.

Kura, H., Takahashi, M., Ogawa, T.: Extreme enhancement of blocking temperature by strong magnetic dipoles interaction of α-Fe nanoparticle-based high-density agglomerate. J. Phys. D: Appl. Phys. 44, 022002–022006 (2011)

41.

Alonso, J., Fdez-Gubieda, M.L., Barandiaran, J.M., Svalov, A., Barquin, L.F., Venero, D.A., Orue, I.: Crossover from superspin glass to superferromagnet in FexAg100-x nanostructured thin films (20x50). Phys. Rev. B 82, 054406–054414 (2010)

42.

Dormann, J.L., Bessais, L., Fiorani, D.: A dynamic study of small interacting particles: superparamagnetic model and spin-glass laws. J. Phys. C 21, 2015–2034 (1988)

43.

Dormann, J.L., Fiorani, D., Tronc, E.: On the models for interparticle interactions in nanoparticle assemblies: comparison with experimental results. J. Magn. Magn. Mater. 202, 251–267 (1999)

44.

Dormann, J.L., Fiorani, D., Tronc, E.: Magnetic relaxation in fine-particle systems. Adv. Chem. Phys. 98, 283 (1997)

45.

Mydosh, J.A.: Spin Glasses: an Experimental Introduction. Taylor and Francis, London (1993)

46.

Ogielski, A.T., Morgenstern, I.: Critical behavior of three-dimensional Ising spin-glass model. Phys. Rev. Lett. 54, 928–931 (1985)

47.

Fischer, K.H., Hertz, J.: Spin Glasses. Cambridge University Press, Cambridge (1993)

48.

Rosensweig, R.E.: Heating magnetic fluid with alternating magnetic field. J. Magn. Magn. Mater. 252, 370–374 (2002)
About this article
Cite this article
Rezaei, N., Ehsani, M.H., Aghazadeh, M. et al. An Investigation on Magnetic-Interacting Fe3O4 Nanoparticles Prepared by Electrochemical Synthesis Method. J Supercond Nov Magn 31, 2139–2147 (2018). https://doi.org/10.1007/s10948-017-4445-2
Received:

Accepted:

Published:

Issue Date:
Keywords
Ferromagnetic

Magnetic interacting

Nanoparticles

AC susceptibility