Abstract
Electronic structure and magnetic interaction of substitutional thulium rare earth-doped wurtzite Al0.5Ga0.5N ternary alloy have been performed using density-functional theory within local spin-density approximation with Hubbard-U corrections (LSDA+U) approach. The LSDA+U method is applied to the rare earth (RE) 4f states. The calculation of formation energy shows that it is more energetically favorable for a substitutional Tm atom to replace the Al atom than the Ga atom. For AlGaN:Tm, the lattices parameters are expanded due to larger ionic radius of Tm than that of Al atoms. The energy band gap of AlGaN:Tm has direct character and its width becomes small compared with that of AlGaN. The magnetic coupling between Tm ions in the nearest neighbor sites is ferromagnetic. Magnetic interaction of rare earth ion with the host states at the valence and conduction band edges has been investigated and compared to those of GaN:Mn and has been found to be relatively small.
This is a preview of subscription content, log in to check access.
Access options
Buy single article
Instant access to the full article PDF.
US$ 39.95
Price includes VAT for USA
Subscribe to journal
Immediate online access to all issues from 2019. Subscription will auto renew annually.
US$ 199
This is the net price. Taxes to be calculated in checkout.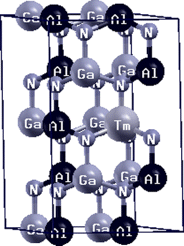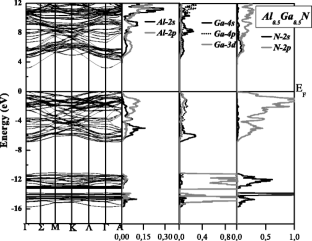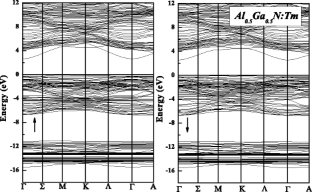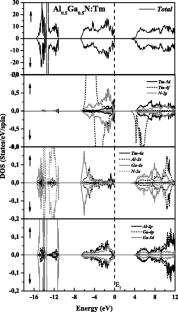 References
1.

Monemar, B.: Phys. Rev. B 10, 676 (1974)

2.

Perry, P.B., Rutz, R.F.: Appl. Phys. Lett. 33, 319 (1978)

3.

Teraguchi, N., Suzuki, A., Nanishi, Y., Zhou, Y.-K., Hashimoto, M., Asahi, H.: Sol. State Commun. 122, 651 (2002)

4.

Dhar, S., Brandt, O., Ramsteiner, M., Sapega, V.F., Ploog, K.H.: Phys. Rev. Lett. 94, 037205 (2005)

5.

Asahi, H., Zhou, Y.K., Hashimoto, M., Kim, M.S., Li, X.J., Emura, S., Hasegawa, S.: J. Phys. Condens. Matter 16, S5555 (2004)

6.

Dhar, S., Kammermeier, T., Ney, A., Perez, L., Ploog, K.H., Melnikov, A., Wieck, A.D.: Appl. Phys. Lett. 89, 062503 (2006)

7.

Hite, J.K., Thaler, G.T., Khanna, R., Abernathy, C.R., Pearton, S.J., Park, J.H., Steckl, A.J., Zavada, J. M.: Appl. Phys. Lett. 89, 132119 (2006)

8.

Tao, D., Liu, C., Yin, C., Li, J.: Mater. Lett. 114, 22 (2014)

9.

Han, S.Y., Hite, J., Thaler, G.T., Frazier, R.M., Abernathy, C.R., Pearton, S.J., Choi, H.K., Lee, W.O., Park, Y.D., Zavada, J.M., Gwilliam, R.: Appl. Phys. Lett. 88, 042102 (2006)

10.

Nepal, N., Bedair, S.M., El-Masry, N.A., Lee, D.S., Steckl, A.J., Zavada, J.M.: Appl. Phys. Lett. 91, 222503 (2007)

11.

Filhol, J.-S., Jones, R., Shaw, M.J., Briddon, P.R.: Appl. Phys. Lett. 84, 2841 (2004)

12.

Svane, A., Christensen, N.E., Petit, L., Szotek, Z., Temmerman, W.M.: Phys. Rev. B 74, 165204 (2006)

13.

Lazreg, A., Dridi, Z., Benkaboub, F., Bouhafs, B.: Physica B 403, 2702 (2008)

14.

Dridi, Z., Lazreg, A., Rozale, H., Bouhafs, B.: Comput. Mater. Sci. 48, 743 (2010)

15.

Caroena, G., Machado, W.V.M., Justo, J.F., Assali, L.V.C.: Appl. Phys. Lett. 102, 062101 (2013)

16.

Dridi, Z., Lazreg, A., Bouhafs, B.: J. Magn. Magn. Mater. 323, 1174 (2011)

17.

Schulthess, T.C., Temmerman, W.M., Szotek, Z., Bulter, W.H., Malcolm Stocks, G.: Nat. Mater. 4, 838 (2005)

18.

Mishraa, J.K., Dhar, S.: Solid State Commun. 226, 25 (2016)

19.

Mitra, C., Lambrecht, W.R.L.: Phys. Rev. B 80, 081202(R) (2009)

20.

Zhang, Z., Schwingenschlögl, U., Roqan, I.S.: J. Appl. Phys. 116, 183905 (2014)

21.

Thiess, A., Blügel, S., Dederichs, P.H., Zeller, R., Lambrecht, W.R.L.: Phys. Rev. B 92, 104418 (2015)

22.

Tang, Z., Zhang, D.Y., Tang, L.M., Wang, L.L., Chen, K.Q.: Eur. Phys. J. B 86, 284 (2013)

23.

Zhen-Tao, H., Yan-Ru, L., He-Yan, L., Xue-Fang, D., Guo-Dong, L., Cai-Chi, L., Ying, L.: Acta Phys. Sin. 65, 127102 (2016)

24.

Steckl, A.J., Zavada, J.M.: MRS Bull. 24, 33 (1999)

25.

Lozykowski, H.J., Jadwisienczak, W.M., Brown, I.: Appl. Phys. Lett. 74, 1129 (1999)

26.

Steckl, A.J., Garter, M., Lee, D.S., Heikenfeld, J., Birkhahn, R.: Appl. Phys. Lett. 75, 2184 (1999)

27.

Lorenz, K., Wahl, U., Alves, E., Dalmasso, S., Martin, R.W., O'Donnell, K.P., Ruffenach, S., Briot, O.: Appl. Phys. Lett. 85, 2712 (2004)

28.

Zavada, J.M., Nepal, N., Lin, J.Y., Jiang, H.X., Brown, E., Hömmerich, U., Hite, J., Thaler, G.T., Abernathy, C.R., Pearton, S.J., Gwilliam, R.: Appl. Phys. Lett. 89, 152107 (2006)

29.

Steckl, A.J., Park, J.H., Zavada, J.M.: Mater. Today 10, 20 (2007)

30.

Nepal, N., Bedair, S.M., El-Masry, N.A., Lee, D.S., Steckl, A.J., Zavada, J.M.: Appl. Phys. Lett. 91, 222503 (2007)

31.

Anisimov, V.I., Zaanen, J., Andersen, O.K.: Phys. Rev. B 44, 943 (1991)

32.

Anisimov, V.I., Solovyev, I.V., Korotin, M.A., Czyzyk, M.T., Sawatzky, G.A.: Phys. Rev. B 48, 16929 (1993)

33.

Wimmer, E., Krakauer, H., Weinert, M., Freeman, A.J.: Phys. Rev. B 24, 864 (1981)

34.

Jansen, H.J.F., Freeman, A.J.: Phys. Rev. B 30, 561 (1984)

35.

Blaha, P., Schwarz, K., Madsen, G.K.H., Kvasnicka, D., Luitz, J.: WIEN2k, an augmented plane wave + local orbitals program for calculating crystal properties. Technische Universität Wien, Austria (2001)

36.

Monkhorst, H.J., Pack, J.D.: Phys. Rev. B 13, 5188 (1976)

37.

Larson, P., Lambrecht, R.L.: Phys. Rev. B 75, 045114 (2007)

38.

Dridi, Z., Bouhafs, B., Ruterana, P.: Semicond. Sci. Technol. 18, 850 (2003)

39.

Van de Walle, C.G.: Phys. Rev. Lett. 85, 1015 (2000)

40.

Van Schilfgaarde, M., Sher, A., Chen, A.-B.: J. Cryst. Growth 178, 8 (1997)

41.

Fritsch, J., Sankey, O.F., Schmidt, K.E., Page, J.B.: J. Phys. Condens. Matter 11, 2351 (1999)

42.

Lee, S.R., Wright, A.F., Crawford, M.H., Petersen, G.A., Han, J., Biefeld, R. M.: Appl. Phys. Lett. 74, 3344 (1999)

43.

Dalpian, G.M., Wei, S.-H.: Phys. Rev. B 72, 115201 (2005)

44.

Larson, B.E., Hass, K.C., Ehrenreich, H., Carlsson, A.E.: Phys. Rev. B 37, 4137 (1988)
About this article
Cite this article
Belhachi, S., Lazreg, A., Dridi, Z. et al. Electronic and Magnetic Investigations of Rare-Earth Tm-doped AlGaN Ternary Alloy. J Supercond Nov Magn 31, 1767–1771 (2018). https://doi.org/10.1007/s10948-017-4393-x
Received:

Accepted:

Published:

Issue Date:
Keywords
Rare-earth

AlGaN

Ferromagnetism

LSDA+U