Abstract
Structural parameters and the electronic structure of wurtzite Zr x Al1−x N (0 ≤ x ≤ 1) have been investigated by means of the full-potential linearized augmented plane wave (FP-LAPW) with the modified Becke–Johnson (mBJ) potential, which provides an improved value of the bandgap, as embodied in the WIEN2k code. We found that the calculated band structure shows that the crystal is a semiconductor with a direct bandgap for x = 0 (AlN) and metallic for x ≥ 0.25. The comparison of our results with the experimental and other theoretical calculations shows that the results obtained by mBJ are much superior to other theoretical techniques and are very close to the experimental ones.
This is a preview of subscription content, log in to check access.
Access options
Buy single article
Instant access to the full article PDF.
US$ 39.95
Price includes VAT for USA
Subscribe to journal
Immediate online access to all issues from 2019. Subscription will auto renew annually.
US$ 199
This is the net price. Taxes to be calculated in checkout.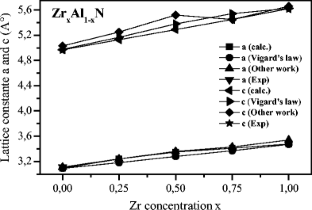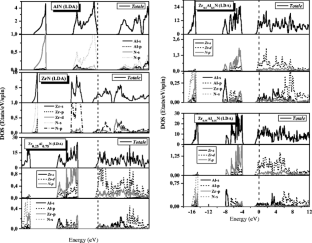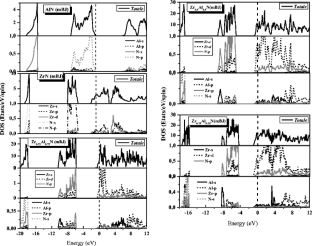 References
1.

Knotek, O., Mqnz, W.D., Leyendecker, T.: J. Vac. Sci. Technol. A: Vac. Surf. Films 5, 2173 (1987)

2.

Probst, J., Gbureck, U., Thull, R.: Surf. Coat. Technol. 148, 226 (2001)

3.

Holleck, H.: Surf. Coat. Technol. 36, 151 (1988)

4.

Lamni, R., Sanjins, R., Lvy, F.: Thin Solid Films 478, 170 (2005)

5.

Escorcia-Salas, G.E., Sierra-Ortega, J., Martinez, J.A.R.: J. Micro-electron. 39, 579581 (2008)

6.

Sheng, S.H., Zhang, R.F., Veprek, S.: Acta Mater. 56, 968 (2008)

7.

Sierra-Ortega, J., Escorcia-Salas, G.E., Gutiérrez-Senior, E.D., Martinez, J.A.R.: J. Supercond. Nov. Magn. 26, 2451 (2013)

8.

Gutiérrez-Senior, E.D., Martinez, J.A.R., Sierra-Ortega, J.: J. Supercond. Nov. Magn. 26, 2471 (2013)

9.

Perdew, J.P., Wang, Y.: Phys. Rev. 46, 12947 (1992)

10.

Koller, D., et al.: Phys. Rev. B 83, 195134 (2011)

11.

Tran, F., Blaha, P.: Phys. Rev. Lett. 102, 226401 (2009)

12.

Reshak, A.H., Parasyuk, O.V., Fedorchuk, A.O., Kamarudin, H., Auluck, S., Chysky, J.: J. Phys. Chem. B 117, 15220 (2013)

13.

Kim, Y.-S., et al.: Phys. Rev. B 82, 205212 (2010)

14.

Feng, W., et al.: Phys. Rev. B 82, 235121 (2010)

15.

Singh, D.J.: Phys. Rev. B 82, 205102 (2010)

16.

Becke, A.D., Roussel, M.R.: Phys. Rev. A 39, 3761 (1989)

17.

Blaha, P., Schwarz, K., Madsen, G.K.H., Kvasnicka, D., Luitz, J.: WIEN2k, An augmented plane wave + local orbitals program for calculating crystal properties. Technische Universität Wien, Austria (2001)

18.

Murnaghan, F.D.: Proc. Natl. Acad Sci. U. S. A. 30, 5390 (1944)

19.

Monkhorst, H.J., Pack, J.D.: Phys. Rev. B 13, 5188 (1976)

20.

Vegard, L.Z.: Physik 5, 17 (1921)

21.

Stampfl, C., Van de Walle, C.G.: Phys. Rev. B 59, 5521 (1999)

22.

Schulz, H., Thiemann, K.H.: Solid State Commun. 23, 815 (1977)

23.

Tsubouchi, K., Sugai, K., Mikoshiba, N.: Ultrasonics Symposium Proceedings, p 1. IEEE, New York (1981)

24.

Edgard, J.H.: Electronic Materials information Service (EMISE) Data Reviews Series, Institution Electrical Engineers (IEE), London (1994)

25.

Serrano, E.J., Rubio, A.: Phys. Rev. B 62, 16612 (2000)

26.

Cui, X.Y., Delley, B., Stampfl, C.: J. Appl. Phys. 108, 103701 (2010)

27.

Berger, L.I.: Semiconductors Materials, p. 124. Chemical Rubber Company, New York (1997)
About this article
Cite this article
Belhachi, S. Accurate Bandgap of Zr x Al1−x N Using Modified Becke–Johnson (mBJ) Exchange Potential. J Supercond Nov Magn 31, 1545–1548 (2018). https://doi.org/10.1007/s10948-017-4364-2
Received:

Accepted:

Published:

Issue Date:
Keywords
Electronic structure

mBJ

Zr x Al1−x N

FP-LAPW