Abstract
In this work, the structural, electronic, magnetic, and optical properties of Mn2ZrGa full-Heusler alloy were investigated by using density functional theory (DFT) calculations. It is found that the spin-up states have a metallic character, but the spin-down bands have a pseudo-gap at the Fermi level. The total spin magnetic moment of Mn2ZrGa (per formula unit) is 3.00 µ B at an equilibrium lattice parameter of 6.15 Å. The calculations show that Mn2ZrGa is a ferrimagnetic with 81% spin polarization at equilibrium lattice parameter. The effect of lattice parameter distortion on the magnetic properties and spin polarization is also studied. It is found that the total magnetic moment preserves its value for a lattice parameter range of 5.96–6.30 Å. The decreasing of the lattice parameter leads to improvement of spin polarization. The real and imaginary parts of dielectric function and hence the optical properties including energy absorption spectrum, reflectivity, and optical conductivity are also calculated. The value of plasma frequency for spin-up and down electrons is located at 1.78 and 0.74 eV, respectively.
This is a preview of subscription content, log in to check access.
Access options
Buy single article
Instant access to the full article PDF.
US$ 39.95
Price includes VAT for USA
Subscribe to journal
Immediate online access to all issues from 2019. Subscription will auto renew annually.
US$ 199
This is the net price. Taxes to be calculated in checkout.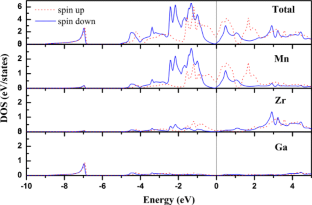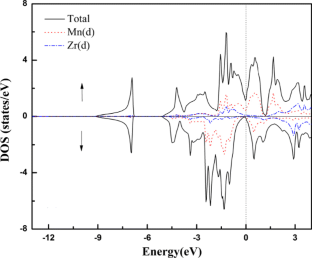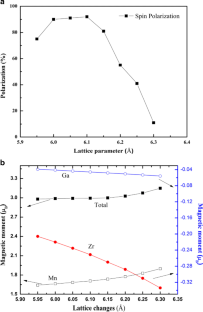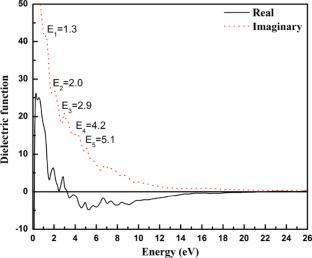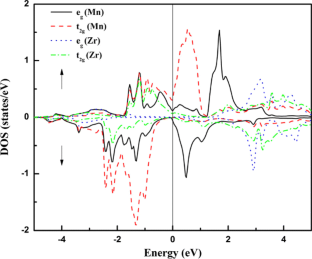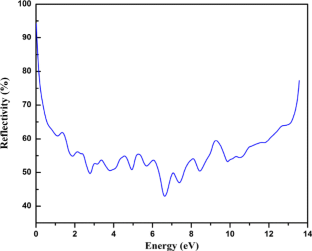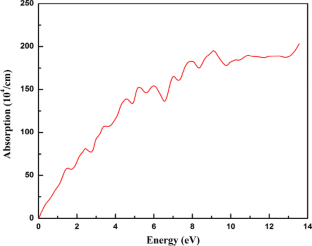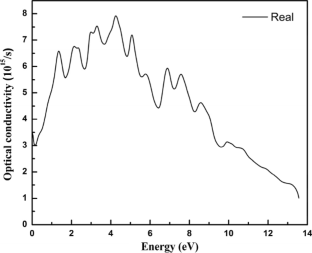 References
1.

Pickett, W.E., Moodera, J.S.: Phys. Today 54, 39 (2001)

2.

Galanakis, I., Dederichs, P.H., Papanikolaou, N.: Phys. Rev. B 66, 174429 (2002)

3.

Coey, J., Chien, C.: MRS Bull. 28, 720 (2003)

4.

Schwarz, K.: J. Phys. F Met. Phys. 16, L211 (1986)

5.

Jain, S., Adeyeye, A., Dai, D.: J. Appl. Phys. 95, 7237 (2004)

6.

Rhensius, J., Vaz, C., Bisig, A., Schweitzer, S., Heidler, J., Körner, H., Locatelli, A., Nino, M., Weigand, M., Mechin, L.: Appl. Phys. Lett. 99, 062508 (2011)

7.

Nadgorny, B.: J. Phys.: Condens. Matter 19, 315209 (2007)

8.

Sharma, V., Solanki, A.K., Kashyap, A.: J. Magn. Magn. Mater. 322, 2922 (2010)

9.

de Groot, R.A., Mueller, F.M., Engen, P.G.v., Buschow, K.H.J.: Phys. Rev. Lett. 50, 2024 (1983)

10.

Graf, T., Felser, C., Parkin, S.S.P.: Prog. Solid State Chem. 39, 1 (2011)

11.

Winterlik, J., Chadov, S., Gupta, A., Alijani, V., Gasi, T., Filsinger, K., Balke, B., Fecher, G.H., Jenkins, C.A., Casper, F., Kübler, J., Liu, G.-D., Gao, L., Parkin, S.S.P., Felser, C.: Adv. Mater. 24, 6283 (2012)

12.

Yang, L., Liu, B., Meng, F., Liu, H., Luo, H., Liu, E., Wang, W., Wu, G.: J. Magn. Magn. Mater. 379, 1 (2015)

13.

Abada, A., Amara, K., Hiadsi, S., Amrani, B.: J. Magn. Magn. Mater. 59, 388 (2015)

14.

Amirabadizadeh, A., Emami, S.A.A., Nourbakhsh, Z., Sadr, S.M.A., Baizaee, S.M.: J. Supercond. Novel Magn., 1 (2016)

15.

Wollmann, L., Chadov, S., Kübler, J., Felser, C.: Phys. Rev. B 90, 214420 (2014)

16.

Naderizadeh, S., Elahi, S.M., Abolhassani, M.R., Kanjouri, F., Rahimi, N., Jalilian, J.: Eur. Phys. J. B 85, 1 (2012)

17.

Mukhtar, A., Naeemullah, Murtaza, G., Khenata, R., Bin Omran, S., Bouhemadou, A.: J. Magn. Magn. Mater. 377, 204 (2015)

18.

Rai, D.P., Thapa, R.K.: J. Alloys Compd. 612, 355 (2014)

19.

Lucari, F., D'orazio, F., Westerholt, K.: J. Magn. Magn. Mater. 310, 2046 (2007)

20.

Amft, M., Oppeneer, P.M.: J. Phys. Condens. Matter 19, 315216 (2007)

21.

Shreder, E., Svyazhin, A., Belozerova, K.: Phys. Met. Metallogr. 114, 904 (2013)

22.

Alijani, V., Meshcheriakova, O., Winterlik, J., Kreiner, G., Fecher, G.H., Felser, C.: J. Appl. Phys. 113, 063904 (2013)

23.

Blaha, P., Schwarz, K., Madsen, G.K.H., Kvasnicka, D., Luitz, J.: An Augmented Plane Wave + Local Orbitals Program for Calculating Crystal Properties. Techn. UniversitätWien, Austria (2001)

24.

Perdew, J.P., Burke, K., Ernzerhof, M.: Phys. Rev. Lett. 77, 3865 (1996)

25.

Galanakis, I., Dederichs, P., Papanikolaou, N.: Phys. Rev. B 66, 174429 (2002)

26.

Li, S., Ren, Z., Zhang, X., Cao, C.: Phys. B 404, 1965 (2009)

27.

Bakhshayeshi, A., Sarmazdeh, M.M., Mendi, R.T., Boochani, A.: J. Electron. Mater., 1

28.

Wooten, F.: Optical Properties of Solids. Academic Press, New York (1972)

29.

Fox, M.: Optical properties of solids. Oxford University Press, Great Britain (2001)

30.

Keast, V., Scott, A., Kappers, M., Foxon, C., Humphreys, C.: Phys. Rev. B 66, 125319 (2002)

31.

Boukortt, A., Berrah, S., Hayn, R., Zaoui, A.: Phys. B 405, 763 (2010)

32.

Khoshman, J.M., Jakkala, P., Ingram, D.C., Kordesch, M.E.: J. NonCryst. Solids 440, 31 (2016)

33.

Ambrosch-Draxl, C., Sofo, J.O.: Computer Physics Communications 175, 1 (2006)
About this article
Cite this article
Abbas Emami, S.A., Amirabadizadeh, A., Nourbakhsh, Z. et al. Study of the Structural, Electronic, Magnetic, and Optical Properties of Mn2ZrGa Full-Heusler Alloy: First-Principles Calculations. J Supercond Nov Magn 31, 127–134 (2018). https://doi.org/10.1007/s10948-017-4174-6
Received:

Accepted:

Published:

Issue Date:
Keywords
Heusler alloys

DFT

Magnetic properties

Optical properties