Abstract
The effect of temperature variation on low-field microwave absorption (LFMA) was investigated on the SmFeAs(O,F) powder sample of average particle size of ∼3μm in the superconducting region (40K). The two peaks (broad and narrow) which were reported on a pellet of the same sample (Onyancha et al., J. Supercond. Nov. Magn. 28, 2927 (2015)) are observed on the LFMA line shape signal of this powdered sample. It evidently indicates that the peaks are not necessary confined to pellet sample only. Also, the LFMA intensity is found to evolve as a function of temperature. This temperature dependence of the LFMA intensity is interpreted on the framework of effective medium theory in which coupling and decoupling of Josephson junction is considered. Furthermore, we observed an anomalous hysteresis (the LFMA signal in the forward DC field sweep is above the backward DC field sweep) which is consistent with the prediction of the two-level critical state model.
Access options
Buy single article
Instant access to the full article PDF.
US$ 39.95
Tax calculation will be finalised during checkout.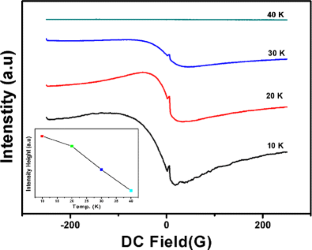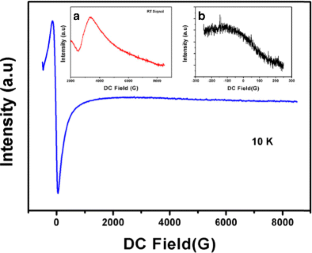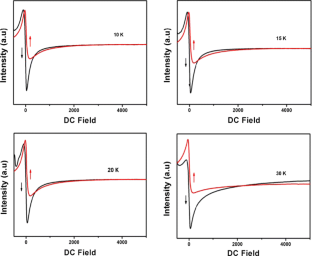 References
1.

Onyancha, R.B., Shimoyama, J., Singh, S.J., Ogino, H., Srinivasu, V.V.: J. Supercond. Nov. Magn. 28, 2927 (2015)

2.

Bhat, S.V., Panguly, P., Rao, C.N.R.: Pramana J. Phys. 28, L425 (1987)

3.

Bhat, S.V., Ganguly, P., Ramakrishnan, T.V., Rao, C.N.R.: Pramana J. Phys 20, L559 (1987)

4.

Blazey, K.W., Muller, K.A., Bednorz, J.G., Berlinger, W., Amoretti, G., Buluggiu, E., Vera, A., Matacotta, F.C.: Phys. Rev. B 36, 7241 (1987)

5.

Dunny, R., Hautala, J., Ducharme, S., Lee, B., Symko, O.G., Taylor, P.C., Zheng, D.J., Xu, J.A.: Phys. Rev. B 36, 2361 (1987)

6.

Srinivasu, V.V., Bhat, S.V., Muralidhar, G.K., Mohan Rao, G., Mohan, S.: Pramana 40, 119 (1993)

7.

Stalder, M., Stefanicki, G., Warden, M., Portis, A.M., Waldner, F.: Physica C 153–155, 659–660 (1988)

8.

Panarina, N.Y., Talanov, Y.I., Shaposhnikova, T.S., Beysengulov, N.R., Vavilova, E.: Phys. Rev. B 81, 224509 (2010)

9.

Srivivasu, V.V., Pinto, R., Sastry, M.D.: Appl. Supercond 4, 195 (1996)

10.

Ji, L., Rzchowski, M.S., Anand, N., Tinkham, M.: Phys. Rev. B 47, 470 (1993)

11.

Deutscher, G., Muller, K.A.: Phys. Rev. Lett. 59, 1745 (1987)

12.

Srinivasu, V.V., Thomas, B., Hegde, M.S., Bhat, S.V.: J. Appl. Phys. 75, 4131–4136 (1994)

13.

Weides, M., Kemmler, M., Kohlstedt, H., Waser, R., Koell, D., Kleiner, R., Goldobin, E.: PRL 97, 247001 (2006)

14.

Knauf, N., Fischer, J., Schmidt, P., Roden, B., Borowski, R., Buchner, B., Micklitz, H., Freimuth, A., Kataev, V., Khomskii, D.I.: Europhys. Lett. 35, 541 (1996)

15.

Knauf, N., Fischer, J., Schmidt, P., Roden, B., Borowski, R., Buchner, B., Micklitz, H., Freimuth, A., Khomskii, D.I., Kataev, V.: Physica C 299, 125 (1998)

16.

Pradhan, A.K., Roy, S.B., Chaddah, P., Chen, C., Wanklyn, B.M.: Phys. Rev. B 52, 6215 (1995)

17.

Pallecchi, I., Tropeano, M., Lamura, G., Pani, M., Palombo, M., Palenzona, A., Putti, M.: Physica C 482, 68 (2012)

18.

Senatore, C., Flukiger, R., Cantoni, M., Wu, G., Liu, R.H., Chen, X.H.: Phys. Rev. B 78, 054514 (2008)

19.

Fang, L., Jia, Y., Mishra, V., Chaparro, C., Vlasko-Vlasov, V.K., Koshelev, A.E., Welp, U., Crabtree, G.W., Zhu, S., Zhigadlo, N.D., Katrych, S., Karpinski, J., Kwok, W.K.: Nat. Commun. 4, 2655 (2013)

20.

Moll, P.J.W., Puzniak, R., Balakirev, F., Rogacki, K., Zarpinski, J., Zhigadlo, N.D., Batlogg, B.: Nat. Mat. 9, 628 (2010)

21.

Lida, K., Hanisch, J., Tarantini, C., Kurth, F., Jaroszynski, J., Ueda, S., Naito, M., Ichinose, A., Tsukada, I., Reich, E., Grinenko, V., Schultz, L., Holzapfel, B.: Sci. Rep 3, 2139 (2013)

22.

Paglione, J., Greene, R.L.: Nat. Phys. 6, 645 (2010)

23.

Johnston, D.C.: Adv. Phys. 59, 803 (2010)

24.

Hosono, H., Kuroki, K.: Physica C 514, 399 (2015)

25.

Chen, X.H., Wu, T., Wu, G., Liu, R.H., Chen, H., Fang, D.F.: Nature 453, 761 (2008)

26.

Singh, J.S., Shimoyama, J., Yamamoto, A., Ogino, H., Kishio, K.: Supercond. Sci. Technol. 26, 065006 (2013)

27.

Singh, S.J., Shimoyama, J., Yamamoto, A., Ogino, H., Kishio, K.: IEEE Trans. Appl. Supercond. 23, 7300605 (2013)

28.

Onyancha, R.B., Shimoyama, J., Singh, S.J., Hayashi, K., Ogino, H., Srinivasu, V.V.: Physica C (2016). doi:10.1016/j.physc.2016.07.019

29.

Srinivasu, V.V., Itoh, K., Hashizume, A., Sreedevi, V., Kohmoto, H., Endo, T., Ricardo da Silva, R., Kopelevich, Y., Moehlecke, S., Masui, T., Hayashi, K.: J. Supercond. Nov. Magn. 14, 41 (2001)

30.

Stankowski, J., Kahol, P.K., Dalal, N.S., Moodera, J.S.: Phys. Rev. B 36, 7126 (1987)

31.

Srinivasu, V.V.: J. Supercond. Nov. Magn. 23, 305–308 (2010)

32.

Talanov, Y., Beisengulov, N., Kornilov, G., Shaposhnikova, T., Vavilova, E., Nacke, C., Panarina, S., Hess, C., Kataev, V., Buchner, B.: Supercond. Sci. Technol. 26, 045015 (2013)

33.

Dulcic, A., Rakvin, B., Pozek, M.: Europhys. Lett. 10, 593–598 (1989)

34.

Portis, A.M., Blazey, K.W., Muller, K.A., Bednorz, J.G.: Europhys. Lett. 5, 467 (1988)

35.

Bhat, S.V., Srinivasu, V.V., Kumar, N.: Phys. Rev. B 44, 10121 (1991)

36.

Iga, F., Grover, A.K., Yamaguchi, Y., Nishihara, Y., Goyal, N., Bhat, S.V.: Phys. Rev. B 51, 8521 (1995)

37.

Felner, I., Galstyan, E., Lorenz, B., Cao, D., Wang, Y.S., Xue, Y., Chu, C.W.: Phys. Rev. B 67, 134506 (2003)
About this article
Cite this article
Onyancha, R.B., Shimoyama, J., Singh, S.J. et al. Temperature Dependence Low-Field Microwave Absorption in a Powder Sample of SmFeAs(O,F) Iron Pnictide Superconductor. J Supercond Nov Magn 30, 1097–1102 (2017). https://doi.org/10.1007/s10948-016-3845-z
Received:

Accepted:

Published:

Issue Date:
Keywords
Josephson junction

Low-field microwave absorption

Iron pnictide superconductor

Inter-particle weak links