Abstract
In this paper, we have calculated the electronic, magnetic, and optical properties of Ni3Mn1 − x Al x (x = 0, 0.25, 0.50, 0.75), using a spin-polarized scalar relativistic linear muffin-tin orbital (SPR-LMTO) method within density functional theory (DFT). The spin–orbit coupling was included as a perturbation in the self-consistent iterations. In our calculations for densities of states, we have used in all alloys the energy (E) range from −10 to + 10 eV. And for the optical spectra in all alloys, we have used the same energy range from 0.083 to 5.640 eV. In this work, we have discussed the effect of Al substitution on the electronic, magnetic, and optical properties of Ni3Mn intermetallics. We have calculated the coefficient of electronic specific heat, γ, for all these alloys; the values obtained are much larger compared to those in the constituent metals. We have found that the Al-doped Ni3Mn maintains the ferromagnetic character and leads to a decrease in the local and total magnetic moments but improves the conductivity. Qualitatively, the line shape of the theoretical optical conductivity coincides well with the experimental data. The magnetic moments per formula unit are found to be in good agreement with observed theoretical and experimental values.
Access options
Buy single article
Instant access to the full article PDF.
USD 39.95
Price excludes VAT (USA)
Tax calculation will be finalised during checkout.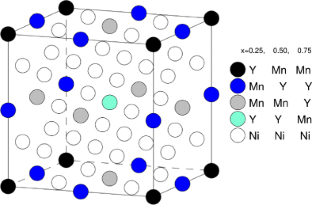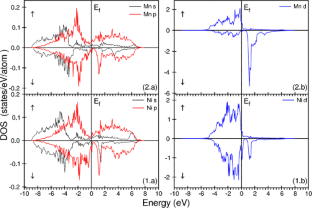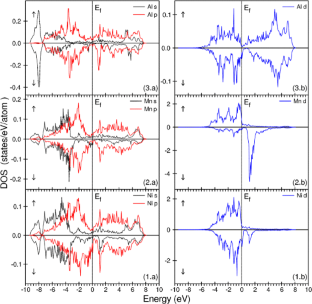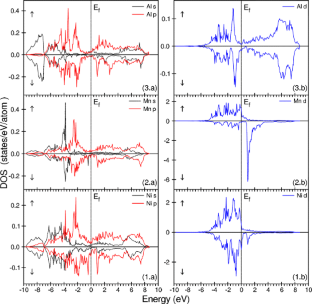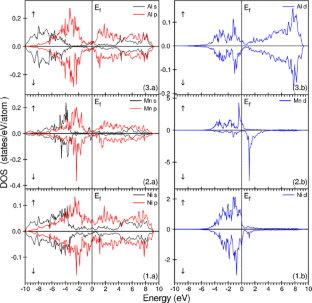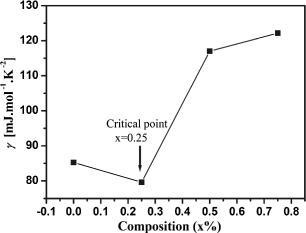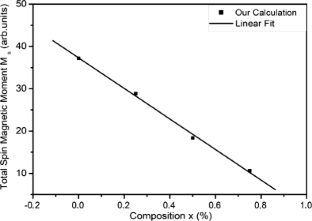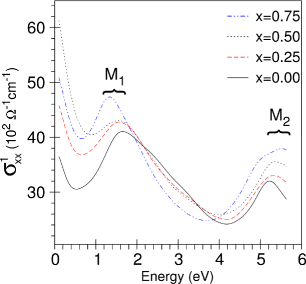 References
Sauthoff, G.: Intermetallics. Wiley-VCH, Weinheim (1995).

Boucetta, S., Zegrar, F.: Acta Phys. Polon. A. 125, 54–59 (2014).

Kourov, N.I., Koroloev, A.V.: J. Exp. Theor. Phys. 113, 842–848 (2011).

Kulkova, S.E., Valujsky, D.V., Kim, J.S., Lee, G., Koo, Y.M.: Physica B. 322, 236–247 (2002).

Kumar, M., Nautiyal, T., Auluck, S.: J. Alloy. Compd. 486, 60–65 (2009).

Nautiyal, T., Auluck, S.: Phys. Rev. 47, 12921–12924 (1993).

Okazaki, T.: Jpn. J. Appl. Phys. 34, 1537–1541 (1995).

Iotova, D., Kioussis, N., Lim, S.P.: Phys. Rev. B. 54, 14413–14422 (1996).

Knyazev, Yu.V., Kourov: Phys. Solid State. 53, 2486–2489 (2011).

Kaya, S., Kussmann, A.: Zeits. f. Phys. 72, 293–309 (1931).

Thompson, N.: Proc. Phys. Soc. 52, 217–228 (1940).

Shinohara, T., Takasugi, T., Yamauchi, H., Kamiyama, T., Yamamoto, H., Izumi, O.: J. Magn. Magn. Mater. 53, L1–L4 (1985).

Kassner, M.E.: Fundamentals of Creep in Metals and Alloys. 2nd edn. Elsevier Science, USA (2009).

Miracle, D.B.: Acta Metall. Mater. 41, 649–684 (1993).

Deevi, S.C., Sikka, V.K., Liu, C.T.: Prog. Mater. Sci. 42, 177–192 (1997).

Kaufman, J.G.: Introduction to Aluminum Alloys and Tempers. Applications for Aluminum Alloys and Tempers. 1st edn. ASM International, USA (2000).

Ebert, H.: Phys. Rev. B. 38, 9390–9397 (1988).

Solovyev, I.V., Liechtenstein, A.I., Gubanov, V.A., Antropov, V.P., Andersen, O.K.: Phys. Rev. B. 43, 14414–14422 (1991).

Krasovskii, A.E.: Phys. Rev. B. 60, 12788–12798 (1999).

Andersen, O.K.: Phys. Rev. B. 12, 3060–3083 (1975).

Hohenberg, P., Kohn, W.: Phys. Rev. 136, 864–871 (1964).

Kohn, W., Sham, L.J.: Phys. Rev. 140, 1133–1138 (1965).

Perlov, A., Yaresko, A., Antonov, V.: PY-LMTO, a Spin-Polarized Relativistic Linear Muffin-Tin Orbitals Package for Electronic Structure Calculations. Unpublished.

Perdew, J.P., Wang, Y.: Phys. Rev. B. 45, 13244–13249 (1992).

Blöchl, P.E., Jepsen, O., Andersen, O.K.: Phys. Rev. B. 49, 16223–16233 (1994).

Brandes, E.A., Brook, G.B.: Smithells Metals Reference Book. 7th edn. Bath Press, Great Britain (1992).

Furdyna, J.K.: J. Appl. Phys. 64, R29–R64 (1988).

Stewart, G.R.: Rev. Sci. Instrum. 54, 1–11 (1983).

Shull, C.G., Wilkinson, M.K.: Phys. Rev. 97, 304–310 (1955).
Acknowledgments
This work was supported by the Algerian ministry of higher education and research.
About this article
Cite this article
Mezhoudi, L., Meddour, A. First-Principles Study of Electronic, Magnetic, and Optical properties of the Intermetallic Compounds Ni 3 Mn Doped with Al. J Supercond Nov Magn 29, 1665–1674 (2016). https://doi.org/10.1007/s10948-016-3453-y
Received:

Accepted:

Published:

Issue Date:

DOI: https://doi.org/10.1007/s10948-016-3453-y
Keywords
Ni3Mn

Intermetallics

Magnetism

Conductivity