Abstract
The Nb substitution effect on structural, DC electrical resistivity, and AC susceptibility properties of polycrystalline Bi1.6Pb0.4Sr2Ca2Cu3O δ samples is investigated. The behavior of weak link and intergranular coupling in the substituted samples is discussed. While the Bi-2223 phase concentration increases in the X-ray diffraction (XRD) pattern, the intragrain transition temperature remains nearly unchanged in the substituted samples. The intergrain transition temperature is changed with Nb substitution.
Access options
Buy single article
Instant access to the full article PDF.
USD 39.95
Price includes VAT (USA)
Tax calculation will be finalised during checkout.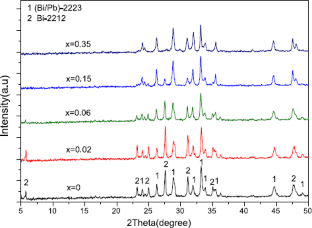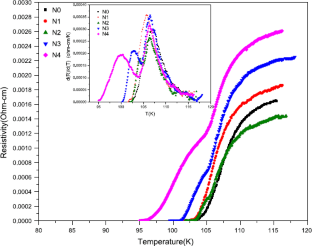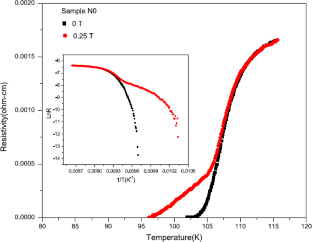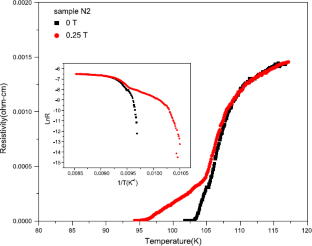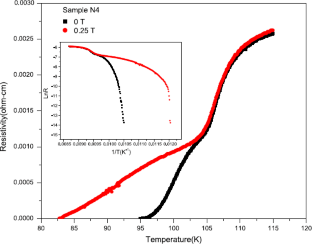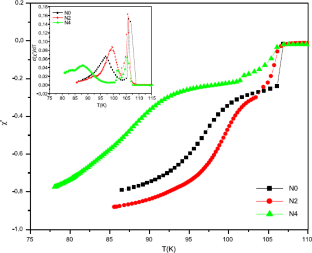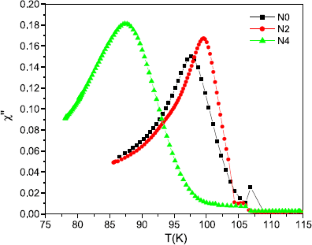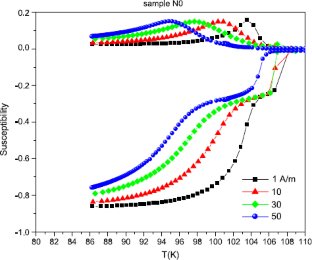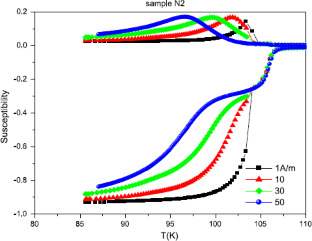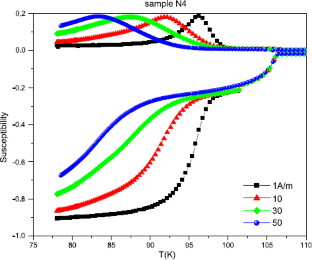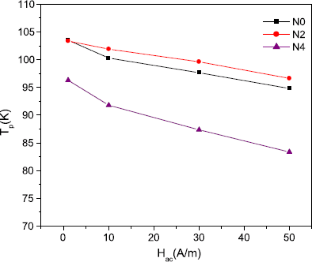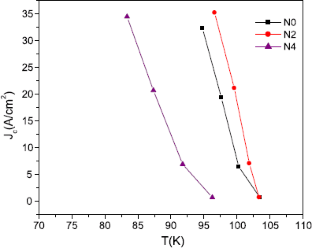 References
1.

Wolf, F.A., Graser, S., Loder, F., Kopp, T.: Phys. Rev. Lett. 108, 117002 (2012)

2.

Lee, S., et al.: Appl. Phys. Lett. 95, 212505 (2009)

3.

Hammerl, G., Schmehll, A., Schulz, R.R., Goetzl, B., Bielefeldt, H., Schneiderl, C.W., Hilgenkamp, H., Mannhart, J.: Nature 407, 162–164 (2000)

4.

Khalil, S.M.: J. Low Temp. Phys. 143, 112 (2006)

5.

Jasiolek, G., Gorecka, J., Majewski, J., Yuan, S., Jin, S., Liang, R.: Supercond. Sci. Technol. 3, 194 (1990)

6.

Takano, M., Takada, J., Oda, K., Kitaguchi, H., Miura, Y., Ikeda, Y., Tomii, Y., Mazaki, H.: Jpn. J. Appl. Phys. 27, 6 (1988)

7.

Rose-Innes, A.C., Rhoderick, E.H.: Introduction to Superconductivity. Pergamon, New York (1978)

8.

Mishra, D.R., Upadhyay, P.L., Sharma, R.G.: Physica C 304, 293 (1998)

9.

Chiu, C.W., Meng, R.L., Gao, L., Huang, z.J., Chen, F., Xue, Y.Y.: Nature 365, 323 (1993)

10.

Van Driessche, I., Buekenhoudt, A., Konstantinov, K., Bruneel, E., Hoste, S.: Appl. Supercond. 4, 185 (1996)

11.

Mazaki, H., Ishida, T., Sakuma, T.: Jpn. J. Appl. Phys. 27, L811 (1988)

12.

Kameli, P., Salamati, H., Abdolhosseini, I., Sohrabi, D.: Physica C 468, 137 (2008)

13.

Palstra, T.T.M., Batlogg, B., van Dover, R.B., Schneemeyer, L.F., Waszczak, J.V.: Phys. Rev. B 41, 6621 (1990)

14.

Kim, J.J., Lee, H., Chung, J., Shin, H.J., Lee, H.J., Ku, J.K.: Phys. Rev. B 43, 2962 (1991)

15.

Bean, C.B.: Rev. Mod. Phys. 36, 31 (1964)

16.

Ishida, T., Goldfarb, R.B.: Phys. Rev. B 41, 8937 (1990)
About this article
Cite this article
Jafari, M., Sedghi, H. & Esmaeili, A. The Investigation of the Weak Link Behavior in the Niobium (Nb) Doped Bi1.6Pb0.4Sr2Ca2Cu3O δ Superconductor. J Supercond Nov Magn 26, 3331–3338 (2013). https://doi.org/10.1007/s10948-013-2296-z
Received:

Accepted:

Published:

Issue Date:
Keywords
High-temperature superconductivity

Bi-base

Nb doped

Susceptibility

Critical current

Arrhenius plot