Abstract
Australia has a high proportion of migrants, with an increasing migration rate from India. While many factors influence diabetes self-management among Indian migrants, very little is known about the influence of religious beliefs and spirituality. This study explored the religious beliefs of Indian migrants in Australia and the influence of those beliefs on their diabetes self-management. Semi-structured interviews were conducted with a convenience sample of 23 Indian migrants. All interviews were audio-recorded, transcribed verbatim and thematically analysed. Most participants believed that prayers helped them alleviate stress and improve diabetes management participants also believed that receiving blessings/prayers from religious leaders prevent or cure diseases including diabetes. There were mixed views on beliefs about using insulin obtained from animal sources. Some participants were concerned about the use of animal-based insulin as it was against their religious beliefs and teachings. Some participants believed that religious fasting does not have any impact on their diabetes while others believed that it can be detrimental to their health. Religious beliefs therefore played an important role in how Indian migrants managed their diabetes. Healthcare professionals should consider their patients' religious beliefs during consultations, enlist support, such as religious scholars, to better address people's misconceptions, and identify strategies for effective diabetes management that consider religious beliefs.
Access options
Buy single article
Instant access to the full article PDF.
USD 39.95
Price includes VAT (USA)
Tax calculation will be finalised during checkout.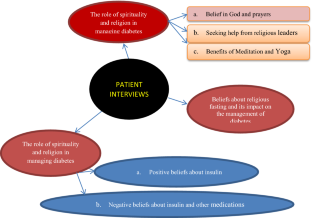 References
Abredari, H., Bolourchifard, F., Rassouli, M., Nasiri, N., Taher, M., & Abedi, A. (2015). Health locus of control and self-care behaviors in diabetic foot patients. Medical Journal of the Islamic Republic of Iran, 29(283), 1–5. https://www.ncbi.nlm.nih.gov/pmc/articles/PMC4764266/

Ahmad, A. (2021). Medication-taking behaviour and treatment preferences of Indian migrants with type 2 diabetes in Australia. Doctoral dissertation, the University of Sydney. Retrieved July 19, 2021, from https://ses.library.usyd.edu.au/handle/2123/25703

Ahmad, A., Khan, M. U., Kumar, B. D., Kumar, G. S., Rodriguez, S. P., & Patel, I. (2015). Beliefs, attitudes and self-use of Ayurveda, Yoga and Naturopathy, Unani, Siddha, and Homeopathy medicines among senior pharmacy students: An exploratory insight from Andhra Pradesh, India. Pharmacognosy Research, 7(4), 302–308. https://doi.org/10.4103/0974-8490.158438

Al-Arouj, M., Assaad-Khalil, S., Buse, J., Fahdil, I., Fahmy, M., Hafez, S., & Thomas, A. (2010). Recommendations for management of diabetes during Ramadan: Update 2010. Diabetes Care, 33(8), 1895–1902. https://doi.org/10.2337/dc10-0896

Australia's Population: Over 7.5 Million Born Overseas, Migration, Australia (2018–19). Australian Bureau of Statistics. Retrieved July 28, 2020, from https://www.abs.gov.au/articles/australias-population-over-75-million-born-overseas

Bassett, D., Tsosie, U., & Nannauck, S. (2012). "Our culture is medicine": Perspectives of native healers on posttrauma recovery among American Indian and Alaska Native patients. The Permanente Journal, 16(1), 19–27. https://doi.org/10.7812/tpp/11-123

Celik, S., Yilmaz, F. T., & Anataca, G. (2021). The effect of religious coping on disease acceptance and management among patients with diabetes in Turkey. Journal of Religion and Health. https://doi.org/10.1007/s10943-021-01260-3

Chang, H. Y., Wallis, M., & Tiralongo, E. (2007). Use of complementary and alternative medicine among people living with diabetes: Literature review. Journal of Advanced Nursing, 58(4), 307–319. https://doi.org/10.1111/j.1365-2648.2007.04291.x

Chen, S. M., & Lin, H. S. (2014). relationships among health locus of control, psychosocial status and glycemic control in type 2 diabetes Adults. Journal of Nursing Care., 3(162), 1–6. https://doi.org/10.4172/2167-1168.1000162

Colberg, S. R., Sigal, R. J., Yardley, J. E., Riddell, M. C., Dunstan, D. W., Dempsey, P. C., & Tate, D. F. (2016). Physical activity/exercise and diabetes: A position statement of the American Diabetes Association. Diabetes Care, 39(11), 2065–2079. https://doi.org/10.2337/dc16-1728

Corley, B. T., Carroll, R. W., Hall, R. M., Weatherall, M., Parry-Strong, A., & Krebs, J. (2018). Intermittent fasting in type 2 diabetes mellitus and the risk of hypoglycaemia: A randomized controlled trial. Diabetic Medicine, 35(5), 588–594. https://doi.org/10.1111/dme.13595

Debnam, K. J., Holt, C. L., Clark, E. M., Roth, D. L., Foushee, H. R., Crowther, M., Fouad, M., & Southward, P. L. (2012). Spiritual health locus of control and health behaviors in African Americans. American Journal of Health Behavior, 36(3), 360–372. https://doi.org/10.5993/AJHB.36.3.7

Diabetes in Australia. (2019). Diabetes Australia. https://www.diabetesaustralia.com.au/diabetes-in-australia

Dull, V. T., & Skokan, L. A. (1995). A cognitive model of religion's influence on health. Journal of Social Issues, 51(2), 49–64.

Garad, R., & Waycott, L. (2015). The role of health literacy in reducing health disparities in rural CALD communities. In 13th national rural health conference. http://www.ruralhealth.org.au/13nrhc/images/paper_Garad,%20Rhonda_Waycott,%20Lauren.pdf

Hameed, S. (2014). Diabetes management: Assessing health locus of control. Asian Review of Social Sciences., 3(1), 33–38.

IDF Diabetes Atlas-9th Edition. (2019). International diabetes federation. http://www.diabetesatlas.org/

Isaac, K. S., Hay, J. L., & Lubetkin, E. I. (2016). Incorporating spirituality in primary care. Journal of Religion and Health, 55(3), 1065–1077. https://doi.org/10.1007/s10943-016-0190-2

Kamran, G. (2018). Physical benefits of (Salah) prayer-strengthen the faith and fitness. Journal of Novel Physiotherapy and Rehabilitation, 2, 43–53. https://doi.org/10.29328/journal.jnpr.1001020

Kassianos, A. P., Symeou, M., & Ioannou, M. (2016). The health locus of control concept: Factorial structure, psychometric properties and form equivalence of the Multidimensional Health Locus of Control scales. Health Psychology Open, 3(2), 1–10. https://doi.org/10.1177/2055102916676211

Lee, Y. K., Lee, P. Y., & Ng, C. J. (2012). A qualitative study on healthcare professionals' perceived barriers to insulin initiation in a multi-ethnic population. BMC Family Practice, 13(1), 1–11. https://doi.org/10.1186/1471-2296-13-28

Lincoln, Y.S. (2007). Naturalistic inquiry. The Blackwell encyclopedia of sociology. Sage Research Methods.

Low, L. L., Tong, S. F., & Low, W. Y. (2016). Selection of treatment strategies among patients with type 2 diabetes mellitus in Malaysia: a grounded theory approach. PLoS ONE, 11(1), e0147127. https://doi.org/10.1371/journal.pone.0147127

Lynch, C. P., Hernandez-Tejada, M. A., Strom, J. L., & Egede, L. E. (2012). Association between spirituality and depression in adults with type 2 diabetes. The Diabetes Educator, 38(3), 427–435. https://doi.org/10.1177/0145721712440335

McMacken, M., & Shah, S. (2017). A plant-based diet for the prevention and treatment of type 2 diabetes. Journal of Geriatric Cardiology, 14(5), 342–354. https://doi.org/10.11909/j.issn.1671-5411.2017.05.009

Mohamed, H., Al Lenjawi, B., Amuna, P., & Zotor, F. (2017). The Importance of locus of control, health belief and empowerment in determining self care behavior in South Asian patients with type II diabetes: A qualitative study. International Journal of Pharmaceutical and Clinical Research., 9(9), 628–633.

Morowatisharifabad, M. A., Mahmoodabad, S. S. M., Baghianimoghadam, M. H., & Tonekaboni, N. R. (2010). Relationships between locus of control and adherence to diabetes regimen in a sample of Iranians. International Journal of Diabetes in Developing Countries, 30(1), 27–32. https://doi.org/10.4103/0973-3930.60009

Naja, F., Mousa, D., Alameddine, M., Shoaib, H., Itani, L., & Mourad, Y. (2014). Prevalence and correlates of complementary and alternative medicine use among diabetic patients in Beirut, Lebanon: A cross-sectional study. BMC Complementary and Alternative Medicine, 14(1), 1–11. https://doi.org/10.1186/1472-6882-14-185

Namageyo-Funa, A., Muilenburg, J., & Wilson, M. (2015). The role of religion and spirituality in coping with type 2 diabetes: A qualitative study among black men. Journal of Religion and Health, 54(1), 242–252. https://doi.org/10.1007/s10943-013-9812-0

Nazareth, M. (2016). Relating health locus of control to health care use, adherence, and transition readiness among youths with chronic conditions, North Carolina, 2015. Preventing Chronic Disease, 13(E93), 1–7. https://doi.org/10.5888/pcd13.160046

Neubauer, B. E., Witkop, C. T., & Varpio, L. (2019). How phenomenology can help us learn from the experiences of others. Perspectives on Medical Education, 8(2), 90–97. https://doi.org/10.1007/s40037-019-0509-2

Patel, N. R., Kennedy, A., Blickem, C., Rogers, A., Reeves, D., & Chew, G. C. (2015). Having diabetes and having to fast: a qualitative study of British Muslims with diabetes. Health Expectations, 18(5), 1698–1708. https://doi.org/10.1111/hex.12163

Pew Research Center. (2018). 5 facts about religion in India. http://www.pewresearch.org/fact-tank/2018/06/29/5-facts-about-religion-in-india/

Poursharifi, H., & Babapour, J. (2011). Memory, health locus of control and adherence in type II diabetic patients in Iran-Tabriz. Procedia-Social and Behavioral Sciences, 30, 2621–2624. https://doi.org/10.1016/j.sbspro.2011.10.513

Powell, L. H., Shahabi, L., & Thoresen, C. E. (2003). Religion and spirituality: Linkages to physical health. American Psychologist, 58(1), 36–52. https://doi.org/10.1037/0003-066x.58.1.36

Rastogi, R., Saxena, M., Gupta, U. S., Sharma, S.K., Chaturvedi, D.K., Singhal, P., & Gupta, M. (2020). Yajna and Mantra therapy applications on diabetic and other disease subjects: computational intelligence based experimental approach. In proceedings of industry interactive innovations in science, engineering & technology (I3SET2K19). https://doi.org/10.2139/ssrn.3515800

Romeo, N., Gallo, O., & Tagarelli, G. (2015). From Disease to Holiness: Religious-based health remedies of Italian folk medicine (XIX-XX century). Journal of Ethnobiology and Ethnomedicine, 11(1), 1–23. https://doi.org/10.1186/s13002-015-0037-z

Sapkota, S., Brien, J. A. E., & Aslani, P. (2018). Nepalese patients' anti-diabetic medication taking behaviour: An exploratory study. Ethnicity & Health, 23(7), 718–736. https://doi.org/10.1080/13557858.2017.1294659

Shaw, J., & Tanamas, S. (2012). Diabetes: the silent pandemic and its impact on Australia. Baker IDI Heart and Diabetes Institute. http://www.healthinfonet.ecu.edu.au/key-resources/bibliography/?lid=22970

Spencer, L., Ritchie, J., & O'Connor, W. (2013). Analysis: Practices, principles and processes. Qualitative research practice: A guide for social science students and researchers (2nd edn., pp. 199–218). Sage.

Sridhar, G. R. (2013). Diabetes, religion and spirituality. International Journal of Diabetes in Developing Countries, 33(1), 5–7. https://doi.org/10.1002/edn.144

Australian National Diabetes Strategy. (2016–2020). Department of Health, Government of Australia. Retrieved June 15, 2019, from http://www.health.gov.au/internet/main/publishing.nsf/content/3AF935DA210DA043CA257EFB000D0C03/$File/Australian%20National%20Diabetes%20Strategy%202016-2020.pdf

Sundstrom, B., Szabo, C., & Dempsey, A. (2018). "My body. My choice": A qualitative study of the influence of trust and locus of control on postpartum contraceptive choice. Journal of Health Communication, 23(2), 162–169. https://doi.org/10.1080/10810730.2017.1421728

The Health of the People of New South Wales. (2008). Report of the Chief Health Officer. NSW Department of Health, Sydney. https://www.health.nsw.gov.au/hsnsw/Publications/chief-health-officers-report-2008.pdf

Tong, A., Sainsbury, P., & Craig, J. (2007). Consolidated criteria for reporting qualitative research (COREQ): A 32-item checklist for interviews and focus groups. International Journal for Quality in Health Care, 19(6), 349–357. https://doi.org/10.1093/intqhc/mzm042

Wallston, K.A., & Wallston, B.S. (1982). Who is responsible for your health? The con-struct of health locus of control (pp. 65–95). Social Psychology of Health and Illness, Hillsdale, Lawrence Erlbaum.

Williams, R., Karuranga, S., Malanda, B., Saeedi, P., Basit, A., Besançon, S., & Colagiuri, S. (2020). Global and regional estimates and projections of diabetes-related health expenditure: Results from the International Diabetes Federation Diabetes Atlas. Diabetes Research and Clinical Practice, 162(108072), 1–6. https://doi.org/10.1016/j.diabres.2020.108072

Zainudin, S. B., Ang, D. Y., & Soh, A. W. E. (2017). Knowledge of diabetes mellitus and safe practices during Ramadan fasting among Muslim patients with diabetes mellitus in Singapore. Singapore Medical Journal, 58(5), 246–252. https://doi.org/10.11622/smedj.2016085
Acknowledgements
Sincere gratitude to all study participants for taking part in the study; and Indian associations/organisations/newspapers for their assistance in advertising this project.
Funding
This research did not receive any specific grant from funding agencies in the public, commercial or not-for-profit sectors.
Ethics declarations
Conflict of Interest
The authors declare that they have no conflict of interest.
Ethical Approval
This study was approved by the Human Research Ethics Committee (2018/415) of The University of Sydney. The patients/participants provided their written informed consent to participate in this study.
Additional information
Publisher's Note
Springer Nature remains neutral with regard to jurisdictional claims in published maps and institutional affiliations.
Appendices
Appendix 1 Qualitative Study Interview Protocol
Interview Protocol and Data Sheet-Patient Interviews
Patients will be informed verbally by the researcher about the study; will then be given the Participant Information Statement to read, and asked to read and sign the consent form, if agreeing to participate in the study. Participants will be encouraged to ask the interviewer if there is anything unclear, or if they need more information.
The process will then begin as follows:
Before we formally begin the interview, I would quickly like to ask you a few questions: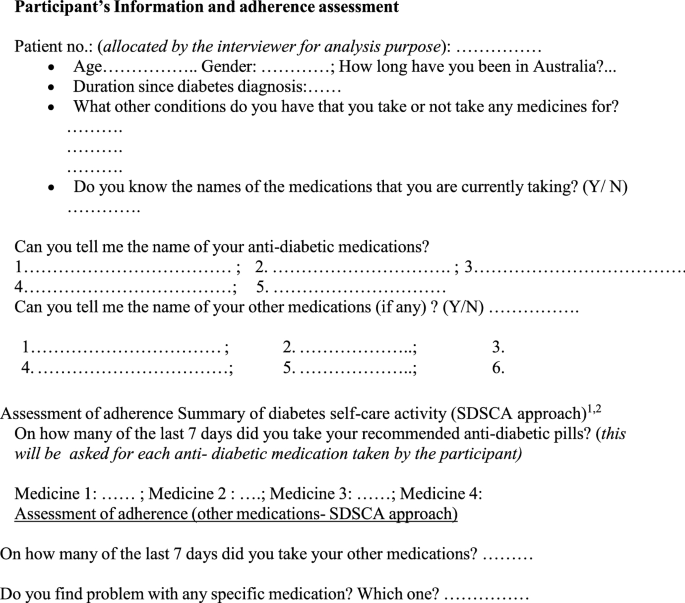 Interview questions:
Question 1: What do you know about accessing the Australian healthcare system?
Prompts;
If you were sick or your family member, how would you go about getting help?

From where can you get OTC medicines?

If you had a minor illness, what would you do?

If you had a more major issue, what would you do?

If you have an emergency, where do you need to go?
Question 2: When do you seek help for your diabetes illness?
Prompts;
Please share your experience about when you went to see your doctor?

Regularly visit/irregular visit, why?

When my diabetes uncontrolled?
Question 3: How were you diagnosed with diabetes and how do you feel being diabetic?
Prompts:
Went to see doctor for other disease? Suspect symptoms of diabetes?

How did you feel when the doctor first told you that you had diabetes?

How has your feeling changed over time?

How has diabetes and the medication(s) you take for diabetes affected your day to day living?

How has diabetes and the medication(s) you take for diabetes affected your lifestyle in general?
Question 4: Where and from whom, do you get information about your diabetes and medications you take for diabetes?
Prompts;
In your day to day life where you get information about diabetes and its medications? (healthcare professional in hospital, community pharmacy, internet, media or other)

Do you think that information in Hindi is more useful to you compared to in English
Anything you would like to suggest to improve health information
Question 5: What are some of your difficulties and facilitators (motivators) for you for seeking diabetic care in Australia?
Prompts;
What are problems you face while needing help regarding diabetes and its medications?

In your personal experience, what are the factors affecting you visiting a clinic in Australia?

What are the enablers while seeking healthcare in Australia?

Was there anything that you liked or didn't like?
Question 6: What are your thoughts about the level and amount of information that healthcare professionals provide/give to you about your diabetes?
Prompts;
Do you feel that it is easy or difficult to understand?

Do you feel that you need more or less information?
Question 7: What are your thoughts about your knowledge about diabetes and its medications?
Prompts;
Inadequate knowledge

Do you think you need more information

Is there anything in particular that you are interested in knowing about (diabetes or medications or both)

Do you think that you manage your diabetes well?
Question 8: What have your experiences with diabetes management been while you have been living in Australia?
Prompts;
In your experience what are the major differences in India and in Australia

How do you seek help?
Question 9: What does health or well-being mean to you? What do you do to keep yourself as healthy as possible, considering that you have diabetes?
Prompts;
Please tell me what you do in terms of food intake, types of food you eat; in terms of exercise to keep blood sugar normal

Easy or hard to manage as compared to India, why?
Question 10: How do you manage to take medications as per prescribed by your physician?
Prompts;
Based on your experience, please suggest strategies that you think might help to improve medications adherence?
Question 11: Do you or have you used any Indian traditional medicines to control your blood sugar? Why? How have they worked?
Prompts;
In Ayurveda, Yoga and Naturopathy, Unani, Siddha and Homoeopathy (AYUSH), which system you follow and why?

In your opinion what are the reasons that you and your family consider to use this medicine. (more effective, safe, less expensive and side effects, better to control blood sugar or permanent cure)

How often do you take them?

How you know about these medicines and from where do you get them?

Have you / do you inform your doctor about these medicines? Reason?
Question 12: What are your thoughts about spiritual health? How do you believe it impacts or influences your diabetes or what you do about your diabetes?
Prompts;
What is your personal experience or views about meeting a spiritual healer like a priest (Hindu), imam (islam), father (Christian), darbar sahib (sikhs), etc., or traditional healers or religious leaders to seek prayers

What is the reason for getting this help?
Question 13: What are your religious beliefs about insulin and other medications? How do these beliefs impact your diabetes management?
Prompts;
Bovine insulin (cow)

Porcine insulin (pork)

Haram and halal

Neutral (no effect)
Question 14: How do you manage your blood sugar during religious fasts?
Prompts;
Based on your personal experience, please suggest strategies that you used to manage diabetes during fasting? (It's difficult or easy, diet control, managing side effects, Fasting is good to control diabetes?, feel weak?).
Appendix 2 COREQ (Consolidated Criteria for Reporting Qualitative Research) Checklist
Item no
Topic
Guide questions/description
 
Domain 1: Research team and reflexivity
 
Personal characteristics
1
Interviewer/ facilitator
Akram Ahmad
2
Credentials
BPharm, PharmD (Post Baccalaureate)
3
Occupation
PhD Candidate and Registered Pharmacist
4
Gender
Male
5
Experience and training
A registered pharmacist from India; with experience in teaching and research. Trained in qualitative techniques
 
Relationship with participants
6
Relationship established
Before each interview began, the researcher established relationship with the participant to the best of his ability
7
Participant knowledge of the interviewer
Before starting an interview, each participant received a participant information statement (PIS) in their preferred language (English or Hindi) approved by the University of Sydney 's Human Research Ethics Committee, Australia
The name and address of the researchers and their affiliation (Sydney University) was also included as part of the letter head appearing on the PIS document. Participants have knowledge about that. The researcher (name, affiliation, and role in the research) also introduced himself before each interview started
8
Interviewer characteristics
PhD Candidate, academic researcher, and pharmacist. The researcher has remained to the best of our knowledge, Unbiased during the interviews
 
Domain 2: Study design
 
Theoretical framework
9
Methodological orientation and Theory
No methodological orientation underpinned the study design. Thematic analysis was used to analyse the findings
 
Participant selection
10
Sampling
The convenience and snowball sampling used to locate the participants in Australia. The participants were recruited based on criteria set for the study for inclusion and exclusion
11
Method of approach
Usage of different techniques to find the participants
The methods have been described in qualitative methods section
12
Sample size
23 participants completed the study
13
Non-participation
19 [initially 42 participants shows their interest to participate in the study, later some of them not available due to various reasons and later we reached saturation and no contact has been made further]
 
Setting
14
Setting of data collection
Public venue suitable for the participant
15
Presence of nonparticipants
In 18 interviews, only the participant and researcher were present. 2 participants were accompanied by spouse and 1 participant were accompanied her mother-in-law
16
Description of sample
Indian born migrants living in Australia [ethnicity]. The detailed description given in qualitative methods
 
Data Collection
 
17
Interview guide
The interview guide is shown in Appendix 1
18
Repeat interviews
Repeated interviews were not performed and do not apply to this study
19
Audio/visual recording
Audio recording was used to collect the data
20
Field notes
Field notes were made right after each interview
21
Duration
The mean average duration of the interviews was 42.45 min
22
Data saturation
Data saturation was reached
23
Transcripts returned
Transcripts have been transcribed verbatim and checked against audio to ensure accuracy prior to analysis. Transcripts were not returned for statement or correction to the participants
 
Domain 3: analysis and findings
 
Data analysis
24
Number of data coders
AA and PA were analysed data using a framework for TA. The first four interview recordings were transcribed by AA and reviewed by PA. These four transcripts independently analysed by AA and PA; and the remaining analysed by (AA). The interviews recordings were fully transcribed and thematically analysed
25
Description of the coding tree
The coding tree (diagram) is presented in qualitative method chapter (Fig. 6.2)
26
Derivation of themes
Wide themes were used to build interview guide to answer research objectives. Specific themes developed from interviews, one of which appears here
27
Software
Microsoft Word was used to manage the data
28
Participant checking
Participants did not provide feedback on the findings
 
Reporting
29
Quotations presented
Representative quotations were presented while the findings were reported
30
Data and findings consistent
There is consistency in the data and findings presented
31
Clarity of major themes
Major themes are presented in Fig. 6.2 (qualitative method)
32
Clarity of minor themes
Major themes are presented in Fig. 6.2 (qualitative method)
About this article
Cite this article
Ahmad, A., Khan, M.U. & Aslani, P. The Role of Religion, Spirituality and Fasting in Coping with Diabetes among Indian Migrants in Australia: A Qualitative Exploratory Study. J Relig Health (2021). https://doi.org/10.1007/s10943-021-01438-9
Keywords
Indian migrants

Type 2 diabetes

Religion and spirituality

Fasting in diabetes

Insulin