Abstract
The interrelation of worship service attendance and private prayer in moderating the negative impact of life event stressors on mental well-being is examined using hierarchical multiple regressions on a national sample of 2601 Americans. A theoretical model is proposed in which stressful life events are made less distressing under conditions in which exposure to pro-social content at worship services is internalized through frequent private prayer. Interactive models controlling for a block of potential confounds are run to confirm that the stress-moderating effects of worship service attendance are noted only when attendance is complemented by relatively frequent engagement in private prayer.
Access options
Buy single article
Instant access to the full article PDF.
USD 39.95
Price includes VAT (USA)
Tax calculation will be finalised during checkout.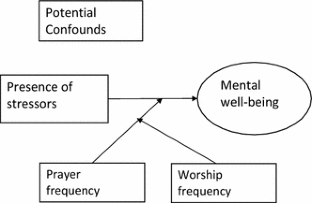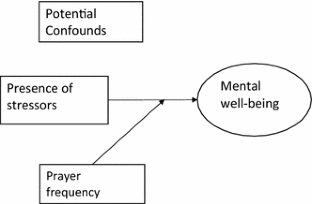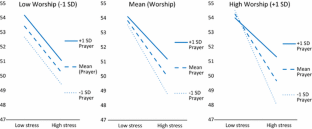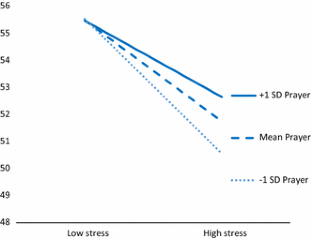 References
Aiken, L. S., & West, S. G. (1991). Multiple regression: Testing and interpreting interactions. Newbury Park, CA: Sage.

Berkman, L. F., & Syme, S. L. (1979). Social networks, host, resistance, and mortality: A nine-year follow-up study of Alameda County residents. American Journal of Epidemiology, 109, 186–204. doi:10.1093/oxfordjournals.aje.a112674.

Carpentieri, J. D., Elliott, J., Brett, C. E., & Deary, I. J. (2016). Adapting to aging: Older people talk about their use of selection, optimization, and compensation to maximize well-being in the context of physical decline. The Journals of Gerontology Series B: Psychological Sciences and Social Sciences, 72, 351–361. doi:10.1093/geronb/gbw132.

Ellison, C. G., Boardman, J. D., Williams, D. R., & Jackson, J. S. (2001). Religious involvement, stress, and mental health: Findings from the 1995 Detroit Area Study. Social Forces, 80, 215–249. doi:10.1353/sof.2001.0063.

Emery, E. E., & Pargament, K. I. (2004). The many faces of religious coping in late life: Conceptualization, measurement, and links to well-being. Ageing International, 29, 3–27. doi:10.1007/s12126-004-1007-2.

Ensel, W. M., & Lin, N. (1991). The life stress paradigm and psychological distress. Journal of Health and Social Behavior, 32, 321. doi:10.2307/2137101ensel.

Fairchild, A. J., & MacKinnon, D. P. (2008). A general model for testing mediation and moderation effects. Prevention Science, 10, 87–99. doi:10.1007/s11121-008-0109-6.

George, L. K., Ellison, C. G., & Larson, D. B. (2002). Explaining the relationships between religious involvement and health. Psychological Inquiry, 13, 190–200. doi:10.1207/s15327965pli1303_04.

Gillum, R. F. (2006). Frequency of attendance at religious services and leisure-time physical activity in American women and men: The third national health and nutrition examination survey. Annals of Behavioral Medicine, 31, 30–35. doi:10.1207/s15324796abm3101_6.

Hackney, C. H., & Sanders, G. S. (2003). Religiosity and mental health: A meta-analysis of recent studies. Journal for the Scientific Study of Religion, 42, 43–55. doi:10.1111/1468-5906.t01-1-00160.

Hettler, T. R., & Cohen, L. H. (1998). Intrinsic religiousness as a stress-moderator for adult Protestant churchgoers. Journal of Community Psychology, 26, 597–609. doi:10.1002/(sici)1520-6629(199811)26:6<597:aid-jcop6>3.0.co;2-m.

Ijaz, S., Khalily, M. T., & Ahmad, I. (2017). Mindfulness in Salah Prayer and its association with mental health. Journal of Religion and Health. doi:10.1007/s10943-017-0413-1.

Jung, J. H. (2013). Religious attendance, stress, and happiness in South Korea: Do gender and religious affiliation matter? Social Indicators Research, 118, 1125–1145. doi:10.1007/s11205-013-0459-8.

Jung, J. H. (2015). Sense of divine involvement and sense of meaning in life: Religious tradition as a contingency. Journal for the Scientific Study of Religion, 54, 119–133. doi:10.1111/jssr.12170.

Koenig, H. (2009). Research on religion, spirituality, and mental health: A review. Canadian Journal of Psychiatry, 54, 283–291.

Krause, N. (2009). Lifetime trauma, prayer, and psychological distress in late life. International Journal for the Psychology of Religion, 19, 55–72. doi:10.1080/10508610802471112.

Krause, N., & Hayward, R. D. (2012). Prayer beliefs and change in life satisfaction over time. Journal of Religion and Health, 52, 674–694. doi:10.1007/s10943-012-9638-1.

Ladd, K. L., & Spilka, B. (2006). Inward, outward, upward prayer: Scale reliability and validation. Journal for the Scientific Study of Religion, 45, 233–251. doi:10.1111/j.1468-5906.2006.00303.x.

Lakey, B., & Cohen, S. (2000). Social support theory and measurement. In S. Cohen, L. G. Underwood, & B. H. Gottlieb (Eds.), Social support measurement and intervention: A guide for health and social scientists (pp. 29–52). New York: Oxford University Press. doi:10.1093/med:psych/9780195126709.003.0002.

Ledesma, D., & Kumano, H. (2009). Mindfulness-based stress reduction and cancer: A meta-analysis. Psycho-Oncology, 18, 571–579. doi:10.1002/pon.1400.

Mah, L., Szabuniewicz, C., & Fiocco, A. J. (2016). Can anxiety damage the brain? Current Opinion in Psychiatry, 29, 56–63. doi:10.1097/yco.0000000000000223.

Masters, K. S., & Spielmans, G. I. (2007). Prayer and health: Review, meta-analysis, and research agenda. Journal of Behavioral Medicine, 30, 329–338. doi:10.1007/s10865-007-9106-7.

Newberg, A. (2010). Principles of neurotheology. Farnham: Ashgate.

Pandya, S. (2015). Pilgrimage and devotion to the divine mother: Mental well-being of devotees of Mata Vaishno Devi. Mental Health, Religion & Culture, 18, 726–737. doi:10.1080/13674676.2015.1112771.

Pargament, K. (2002). Is religion nothing but…?: Explaining religion versus explaining religion away. Psychological Inquiry, 13, 239–244. doi:10.1207/s15327965pli1303_06.

Pew Research Center. (2015). U.S. public becoming less religious.

Pew Research Center (2016). Religion in everyday life.

Richardson, E. M., Schüz, N., Sanderson, K., Scott, J. L., & Schüz, B. (2016). Illness representations, coping, and illness outcomes in people with cancer: A systematic review and meta-analysis. Psycho-Oncology, 26, 724–737. doi:10.1002/pon.4213.

Smith, H. (1991). The world's religions. San Francisco, CA: HarperSanFrancisco.

Speed, D., & Fowler, K. (2016). Good for all? Hardly! Attending church does not benefit religiously unaffiliated. Journal of Religion and Health, 56, 986–1002. doi:10.1007/s10943-016-0317-5.

Stark, R., & Finke, R. (2000). Acts of faith: Explaining the human side of religion. Berkeley, CA: University of California Press.

Tait, R., Currier, J. M., & Harris, J. I. (2014). Prayer coping, disclosure of trauma, and mental health symptoms among recently deployed United States veterans of the Iraq and Afghanistan conflicts. The International Journal for the Psychology of Religion, 26, 31–45. doi:10.1080/10508619.2014.953896.

Tennant, R., Hiller, L., Fishwick, R., Platt, S., Joseph, S., Weich, S., et al. (2007). The Warwick-Edinburgh Mental Well-being Scale (WEMWBS): Development and UK validation. Health and Quality of Life Outcomes, 5, 63. doi:10.1186/1477-7525-5-63.

Van Ness, P. H. (1999). Religion and public health. Journal of Religion and Health, 38, 15–26. doi:10.1023/a:1022959731396.

Whisman, M. A., & McClelland, G. H. (2005). Designing, testing, and interpreting interactions and moderator effects in family research. Journal of Family Psychology, 19, 111–120. doi:10.1037/0893-3200.19.1.111.

Zhang, L. (2016). An age–period–cohort analysis of religious involvement and adult self-rated health: Results from the USA, 1972–2008. Journal of Religion and Health, 56, 916–945. doi:10.1007/s10943-016-0292-x.
Ethics declarations
Conflict of interest
G. Rainville declares no conflicts of interest.
Informed Consent
Informed consent was obtained from all individual participants included in the study.
Additional information
Disclaimer
The ideas expressed in this paper do not necessarily reflect those of AARP.
About this article
Cite this article
Rainville, G. The Interrelation of Prayer and Worship Service Attendance in Moderating the Negative Impact of Life Event Stressors on Mental Well-Being. J Relig Health 57, 2153–2166 (2018). https://doi.org/10.1007/s10943-017-0494-x
Keywords
Prayer

Stress

Mental health

Moderation models