Abstract
Studies of the association between religious attendance and body mass have yielded mixed results. In this paper, we consider intersectional variations by race and gender to advance our understanding of these inconsistencies. We use data from the 2006–2008 Health and Retirement Study to examine the association between religious attendance and three indicators of body mass: overall body mass index, waist circumference, and waist-to-height ratio (n = 11,457). For White women, attendance is either protective or unrelated to body mass. For Black women, attendance is consistently associated with increased body mass. We find that religious attendance is not associated with body mass among the men.
This is a preview of subscription content, log in to check access.
Access options
Buy single article
Instant access to the full article PDF.
US$ 39.95
Price includes VAT for USA
Subscribe to journal
Immediate online access to all issues from 2019. Subscription will auto renew annually.
US$ 99
This is the net price. Taxes to be calculated in checkout.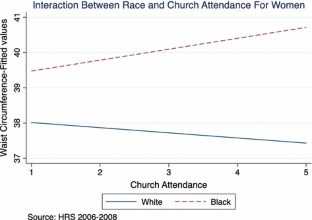 References
Bruce, M. A., Sims, M., Miller, S., Elliott, V., & Ladipo, M. (2007). One size fits all? Race, gender and body mass index among US adults. Journal of the National Medical Association, 99(10), 1152–1158.

Carter, J. H. (2002). Religion/spirituality in African-American culture: An essential aspect of psychiatric care. Journal of the National Medical Association, 94(5), 371–375.

Christakis, N. A., & Fowler, J. H. (2007). The spread of obesity in a large social network over 32 years. New England Journal of Medicine, 357(4), 370–379.

Clarke, P., Fisher, G., House, J., Smith, J., & Weir, D. (2008). Guide to content of the HRS psychosocial leave-behind participant lifestyle questionnaires: 2004 & 2006. Ann Arbor, MI: University of Michigan.

Cline, K., & Ferraro, K. F. (2006). Does religion increase the prevalence and incidence of obesity in adulthood? Journal for the Scientific Study of Religion, 45(2), 269–281.

Collins, P. H. (2004). Black sexual politics. New York: Routledge.

Dodor, B. (2012). The impact of religiosity on health behaviors and obesity among African Americans. Journal of Human Behavior in the Social Environment, 22(4), 451–462.

Ellis, L., & Biglione, D. (2000). Religiosity and obesity: Are overweight people more religious? Personality and Individual Differences, 28(6), 1119–1123.

Ellison, C. G., & Levin, J. S. (1998). The religion-health connection: Evidence, theory, and future directions. Health Education and Behavior, 25(6), 700–720.

Emerson, M. O., & Smith, C. (2001). Divided by faith: Evangelical religion and the problem of race in America. New York: Oxford University Press.

Feinstein, M., Liu, K., Ning, H., Fitchett, G., & Lloyd-Jones, D. M. (2010). Burden of cardiovascular risk factors, subclinical atherosclerosis, and incident cardiovascular events across dimensions of religiosity: The multi-ethnic study of atherosclerosis. Circulation, 121(5), 659–666.

Ferraro, K. F. (1998). Firm believers? Religion, body weight, and well-being. Review of Religious Research, 39(3), 224–244.

Ferraro, K. F., & Kim, S. (2014). Health benefits of religion among Black and White older adults? Race, religiosity, and c-reactive protein. Social Science and Medicine, 120, 92–99.

Fikkan, J. L., & Rothblum, E. D. (2012). Is far a feminist issue? Exploring the gendered nature of weight bias. Sex Roles, 66, 575–592.

Ford, E. S., Williamson, D. F., & Liu, S. (1997). Weight change and diabetes incidence: Findings from a national cohort of US adults. American Journal of Epidemiology, 146(3), 214–222.

Gillum, R. F. (2006). Frequency of attendance at religious services, overweight, and obesity in American women and men: The third national health and nutrition examination survey. Annals of Epidemiology, 16(9), 655–660.

Hayes, A. F. (2012). PROCESS: A versatile computational tool for observed variable mediation, moderation, and conditional process modeling [White paper]. Retrieved from http://www.afhayes.com/public/process2012.pdf.

Hayes, A. F. (2013). Introduction to mediation, moderation, and conditional process analysis: A regression-based approach. New York: Guilford Press.

Health and Retirement Study, 2006 and 2010 Core public use dataset. (2012). Produced and distributed by the University of Michigan with funding from the National Institute on Aging (Grant Number NIA U01AG009740). Ann Arbor, MI.

Hill, T. D., Burdette, A. M., Ellison, C. G., & Musick, M. A. (2006). Religious attendance and the health behaviors of Texas adults. Preventive Medicine, 42(4), 309–312.

Hill, T. D., Burdette, A. M., & Idler, E. L. (2011). Religious involvement, health status, and mortality risk. In R. Settersten & J. Angel (Eds.), Handbook of sociology of aging (pp. 533–546). New York: Springer.

Hill, T. D., Ellison, C. G., Burdette, A. M., & Musick, M. A. (2007). Religious involvement and healthy lifestyles: Evidence from the survey of Texas adults. Annals of Behavioral Medicine, 34(2), 217–222.

Hill, T. D., Rote, S. M., & Ellison, C. G. (2017). Religious participation and biological functioning in Mexico. Journal of Aging and Health. doi:10.1177/0898264317716244.

Hill, T. D., Rote, S. M., Ellison, C. G., & Burdette, A. M. (2014). Religious attendance and biological functioning: A multiple specification approach. Journal of Aging and Health, 26(5), 766–785.

Koenig, H. G., McCullough, M. E., & Larson, D. B. (2001). Handbook of religion and health. Oxford: Oxford University Press.

Krause, N. (1996). Neighborhood deterioration and self-rated health in later life. Psychology and Aging, 11(2), 342–352.

Krause, N. (2006). RESEARCH: exploring race and sex differences in church involvement during late life. The International Journal for the Psychology of Religion, 16(2), 127–144.

Krause, N. (2010). The social milieu of the church and religious coping responses: A longitudinal investigation of older whites and older blacks. The International Journal for the Psychology of religion, 20(2), 109–129.

Lincoln, C. E., & Mamiya, L. H. (1990). The black church in the African American experience. Durham: Duke University Press.

Lorber, J., & Martin, P. Y. (2012). The socially constructed body. In Illuminating social life: Classical and contemporary theory revisited (p. 249). SAGE Publications.

Patillo-McCoy, M. (2015). Church culture as a strategy of action in the black community. American Sociological Review, 63(6), 767–784.

Reeves, R. R., Adams, C. E., Dubbert, P. M., Hickson, D. A., & Wyatt, S. B. (2012). Are religiosity and spirituality associated with obesity among African Americans in the Southeastern United States (the Jackson heart study)? Journal of Religion and Health, 51(1), 32–48.

Roff, L. L., Klemmack, D. L., Parker, M., Koenig, H. G., Sawyer-Baker, P., & Allman, R. M. (2005). Religiosity, smoking, exercise, and obesity among southern, community-dwelling older adults. Journal of Applied Gerontology, 24(4), 337–354.

Rothman, K. J. (2008). BMI-related errors in the measurement of obesity. International Journal of Obesity, 32, S56–S59.

Sowers, J. R. (1998). Obesity and cardiovascular disease. Clinical Chemistry, 44(8), 1821–1825.

Steensland, B., Robinson, L. D., Wilcox, W. B., Park, J. Z., Regnerus, M. D., & Woodberry, R. D. (2000). The measure of American religion: Toward improving the state of the art. Social Forces, 79(1), 291–318.

Strawbridge, W. J., Cohen, R. D., Shema, S. J., & Kaplan, G. A. (1997). Frequent attendance at religious services and mortality over 28 years. American Journal of Public Health, 87(6), 957–961.

Sutherland, Marcia. (2013). Overweight and obesity among African American women: an examination of predictive and risk factors and weight-reduction recommendations. The Journal of Black Studies, 44(8), 846–869.

Taylor, R. J., & Chatters, L. M. (1988). Church members as a source of informal social support. Review of Religious Research, 30(2), 193–203.

Tomiyama, A. J., Hunger, J. M., Nguyen-Cuu, J., & Wells, C. (2016). Misclassification of cardiometabolic health when using body mass index categories in NHANES 2005–2012. International Journal of Obesity, 40, 883–886.

Wadsworth, T., & Pendergast, P. M. (2014). Obesity (sometimes) matters the importance of context in the relationship between obesity and life satisfaction. Journal of Health and Social Behavior, 55(2), 196–214.

Woods-Giscombé, C. L. (2010). Superwoman schema: African American women's views on stress, strength, and health. Qualitative Health Research, 20(5), 668–683.

Yeary, K. H. K., Jo, C. H., Simpson, P., Gossett, J. M., Johnson, G. S., McCabe-Sellers, B. J., et al. (2009). Religion and body weight in an underserved population. Race, Class, and Gender, 16(3/4), 82–98.
Ethics declarations
Conflict of interest
All the authors declare that they have no conflict of interest.
Ethical Approval
This article does not contain any studies with human participants performed by any of the authors. The current study employs secondary data analysis on de-identified, publicly available data, and therefore did not require IRB approval.
About this article
Cite this article
Godbolt, D., Vaghela, P., Burdette, A.M. et al. Religious Attendance and Body Mass: An Examination of Variations by Race and Gender. J Relig Health 57, 2140–2152 (2018). https://doi.org/10.1007/s10943-017-0490-1
Keywords
Religion

Body mass

Church attendance

BMI