Abstract
The present article proposes the perspective of Islamic self (PIS), which is guided by three core principles. First, the Islamic self is shaped by the God's predicament: The life test. Second, the structure of the self and its spiritual virtues represent means to succeed the life test. Third, the complex dynamics of the self can be mathematically formalized into a parsimonious framework. Specifically, the PIS considers the self as a dynamical system characterized by the emergence of self-organized stable and unstable patterns taking the form of positive ("illuminating heart") or negative ("darkened heart") dynamics.
Access options
Buy single article
Instant access to the full article PDF.
US$ 39.95
Tax calculation will be finalised during checkout.
Subscribe to journal
Immediate online access to all issues from 2019. Subscription will auto renew annually.
US$ 79
Tax calculation will be finalised during checkout.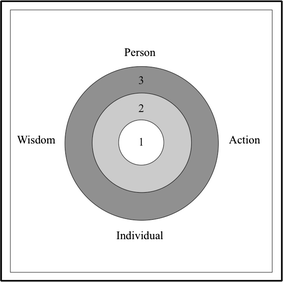 Notes
1.

According to Islam, the Koran represents the word of God (Allah) as dictated to His messenger, the Prophet Muhammad, by the archangel Gabriel. The Koran talks about God, His creatures, the religious rituals, and all aspects of human existence. It provides purposes and meanings of life as well as guidelines to develop harmonious life conditions and to self-achieve. Although all authors recognized the significance of the Koran, some of them did not judge fundamental to report the Prophet Muhammad's sayings (i.e., Hadiths) in Islam psychology. However, according to the Islamic doctrine, the Koran (first in significance) and the Hadiths (second in significance) represent the only sources of the Divine Revelation (see Utz 2011). Accordingly, and consistent with Smither and Khorsandi's (2009) view that "The Koran and the hadith—along with the Shari'a, the Islamic law derived from the Koran and the hadith—are the foundation of Islamic culture and society" (p. 84), the PIS is deeply rooted in the Koran and Hadiths.

2.

The association between light, fitrah, and God is very frequent in the Islamic spirituality because God defines Himself as a Light ("God is the light of the heavens and the earth", Koran, 24:35) and fitrah is presented as the divine compartment of the self.

3.

The Islamic philosophy distinguishes pillars of Islamic faith (e.g., Oneness of God, prophethood) from the ones of Islamic practice (e.g., praying five times per day [or salat], fasting during Ramadan [or sawm]). This distinction is of considerable importance for the PIS because Islamic thinking can shape the selves of people who do not follow necessarily the pillars of Islamic practice. In that regard, the PIS ambitions to be integrative and to account for the dynamics of people's selves who perceive themselves as Muslims, regardless their degree of religious practice.

4.

"Does he think that none observes him? Have We not given him two eyes, and shown him the two paths?" (Koran, 90:7–10).
References
Abu-Raiya, H. (2012). Toward a systematic Qura'nic theory of personality. Mental Health, Religion & Culture, 15(3), 217–233.

Abu-Raiya, H. (2014). Western psychology and Muslim psychology in dialogue: Comparisons between a Qura'nic theory of personality and Freud's and Jung's ideas. Journal of Religion and Health, 53, 326–338. doi:10.1007/s10943-012-9630-9.

Atkinson, J. W. (1957). Motivational determinants of risk-taking behavior. Psychological Review, 64, 359–372. doi:10.1037/h0043445.

Carver, C. S., & Scheier, M. F. (2002). Control processes and self-organization as complementary principles underlying behavior. Personality and Social Psychology Review, 6, 304–315. doi:10.1207/S15327957PSPR0604_05.

Cooley, C. H. (1964). Human nature and the social order. New York: Schocken Books.

Cushman, P. (1990). Why the self is empty. Toward a historically situated psychology. American Psychologist, 45(5), 599–611.

Cushman, P. (2002). How psychology erodes personhood. Journal of Theoretical and Philosophical Psychology, 22(2), 103–113.

Deci, E. L., & Ryan, R. M. (2008). Self-determination theory: A macrotheory of human motivation, development, and health. Canadian Psychology, 49(3), 182–185. doi:10.1037/a0012801.

Desilver, D. (2013). World's Muslim population more widespread than you might think. PewResearchCenter. http://pewrsr.ch/116QRmk.

Freud, S. (1961). Ego and the id. In J. Strachey (Ed.), Standard edition of the complete psychological works of Sigmund Freud (Vol. 19). London: Hogarth. (Original work published 1923).

Gernigon, C., Vallacher, R. R., Nowak, A., & Conroy, D. E. (2015). Rethinking approach and avoidance in achievement contexts: The perspective of dynamical systems. Review of General Psychology, 19(4), 443–457. doi:10.1037/gpr0000055.

Haque, A. (2004). Psychology from Islamic perspective: Contributions of early Muslim scholars and challenges to contemporary Muslim psychologists. Journal of Religion and Health, 43, 357–377.

Hoshmand, L. T., & Ho, D. Y. E. (1995). Moral dimensions of selfhood: Chinese traditions and cultural change. World Psychology, 1, 47–69.

Hwang, K.-K. (2011). The Mandala model of self. Psychological Studies, 56, 329–334. doi:10.1007/s12646-011-0110-1.

Hwang, K.-K. (2015a). Cultural system vs. pan-cultural dimensions: Philosophical reflection on approaches for indigenous psychology. Journal for the Theory of Social Behaviour, 45, 1–25. doi:10.1111/jtsb.12051.

Hwang, K.-K. (2015b). Culture-inclusive theories of self and social interaction: The approach of multiple philosophical paradigms. Journal for the Theory of Social Behaviour, 45, 40–63. doi:10.1111/jtsb.12050.

Jung, C. G. (1961). Memories, dreams, reflections. New York: Vintage Books.

Keshavarzi, H., & Haque, A. (2013). Outlining a psychotherapy model for enhancing Muslim mental health within an Islamic context. International Journal for the Psychology of Religion, 23(3), 230–249. doi:10.1080/10508619.2012.712000.

Markus, H. R., & Kitayama, S. (2010). Cultures and selves: A cycle of mutual constitution. Psychological Science, 5(4), 420–430. doi:10.1177/1745691610375557.

Maslow, A. H. (1970). Motivation and personality. New York: Harper & Row.

Mohamed, Y. (1998). Human nature in Islam. Kuala Lumpur: A.S. Noordeen.

Nasr, S. H. (2006). Islamic philosophy from its origin to the present. New York: State University of New York Press.

Nowak, A. (2004). Dynamical minimalism: Why less is more in psychology. Personality and Social Psychology Review, 8, 183–192. doi:10.1207/s15327957pspr0802_12.

Plante, T. G., & Boccaccini, M. T. (1997). The Santa Clara strength of religious faith questionnaire. Pastoral Psychology, 45(5), 375–387.

Smither, R., & Khorsandi, A. (2009). The implicit personality theory of Islam. Psychology of Religion and Spirituality, 1, 81–96.

Tuller, B., Case, P., Ding, M., & Kelso, J. A. S. (1994). The nonlinear dynamics of speech categorization. Journal of Experimental Psychology: Human Perception and Performance, 20, 3–16. doi:10.1037/0096-1523.20.1.3.

Utz, A. (2011). Psychology from the Islamic perspective. Riyadh: International Islamic Publishing House (IIPH).

Vallacher, R. R., Coleman, P. T., Nowak, A., & Bui-Wrzosinska, L. (2010). Rethinking intractable conflict: The perspective of dynamical systems. American Psychology, 65, 262–278. doi:10.1037/a0019290.

Vallacher, R. R., & Nowak, A. (1997). The emergence of dynamical social psychology. Psychological Inquiry, 8, 73–99. doi:10.1207/s15327965pli0802_1.

Van Rooij, I. V., Bongers, R. M., & Haselager, F. G. (2002). A non-representational approach to imagined action. Cognitive Science, 26, 345–375. doi:10.1207/s15516709cog2603_7.

Van Rooij, M. M. J. W., Favela, L. H., Malone, M., & Richardson, M. J. (2013). Modeling the dynamics of risky choice. Ecological Psychology, 25, 293–303. doi:10.1080/10407413.2013.810502.

Yazdi, M. H. (1992). The principles of epistemology in Islamic philosophy: Knowledge by presence. Albany: State University of New York Press.
Ethics declarations
Conflict of interest
The authors report no conflict of interest.
Ethical Approval
This article does not contain any studies with human participants or animals performed by any of the authors.
About this article
Cite this article
Briki, W., Amara, M. Perspective of Islamic Self: Rethinking Ibn al-Qayyim's Three-Heart Model from the Scope of Dynamical Social Psychology. J Relig Health 57, 836–848 (2018). https://doi.org/10.1007/s10943-017-0414-0
Keywords
Psychology

Spirituality

Ego

Complexity

Change