Abstract
Beliefs and practices surrounding religion and spirituality (RS) feature in neonatal units, although healthcare professionals and families hold different views on their role in neonatal care. Descriptive study performed at the Neonatology Unit of Santa Lucía University Hospital, Cartagena. Separate forms concerning spirituality, religion and folk medicine were administered to professionals ascribed to the unit (n = 70) and parents (n = 93). 70% of professionals and 60.2% of parents perceive RS as playing a relevant role in neonatal care; however, 45% of professionals prefer that parents do not express their RS beliefs. Actual use of prayer by parents while in the unit was 55.9%, compared to the staff's estimation of 20.8% (p < 0.001); parents believe that RS affects outcomes indirectly, mediating through caregivers, contrary to the staff perception that parents turn to RS for a direct effect on outcomes (p < 0.001); professionals, unlike parents, found RS to be of little benefit to children (p < 0.001) or in reducing parental anxiety (p < 0.001). Amulets were found alongside 26.6% of children. Up to 40% of parents believe in magic concepts such as evil eye. Many families express RS while a member is hospitalized and, while staff recognize its importance, they often fail to respond correctly. The use of amulets and ritual objects is still common and can express the need for emotional and psychological support. Caregivers need to be aware of the medical, psychological and emotional implications of these practices.
Access options
Buy single article
Instant access to the full article PDF.
USD 39.95
Price excludes VAT (USA)
Tax calculation will be finalised during checkout.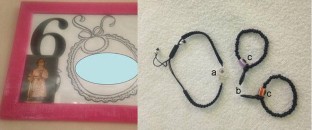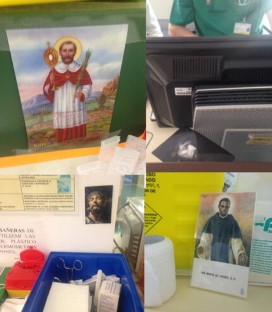 Abbreviations
SR:

Spirituality and religion

NICU:

Neonatal intensive care unit

PICU:

Pediatric intensive care unit
References
Armbruster, C. A., Chibnall, J. T., & Legett, S. (2003). Pediatrician beliefs about spirituality and religion in medicine: Associations with clinical practice. Pediatrics, 111(3), e227–e235.

Baer, R. D., Weller, S. C., González Farazo, J. C., & Feria, J. (2006). Las enfermedades populares en la cultura española actual: un estudio comparado sobre el mal de ojo. Revista de Dialectología y Tradiciones Populares, 61, 139–156.

Barr, J., Berkovitch, M., Matras, H., Kocer, E., Greenberg, R., & Eshel, G. (2000). Talismans and amulets in the Pediatric Intensive Care Unit: Legendary powers in contemporary medicine. The Israel Medical Association Journal: IMAJ, 2(4), 278–281.

Berger, A. S. (2012). The evil eye—An ancient superstition. Journal of Religion and Health, 51(4), 1098–1103.

Boss, R. D., Hutton, N., Sulpar, L. J., West, A. M., & Donohue, P. K. (2008). Values parents apply to decision-making regarding delivery room resuscitation for high-risk newborns. Pediatrics, 22(3), 583–589.

Catlin, A., & Carter, B. (2002). Creation of a neonatal end-of-life palliative care protocol. Journal of Perinatology, 22(3), 184–195.

Catlin, E. A., Guillemin, J. H., Thiel, M. M., Hammond, S., Wang, M. L., & O'Donnell, J. (2001). Spiritual and religious components of patient care in the neonatal intensive care unit: Sacred themes in a secular setting. Journal of Perinatology, 21(7), 426–430.

Curlin, F. A., Sellergren, S. A., Lantos, J. D., & Chin, M. H. (2007). Physicians' observations and interpretations of the influence of religion and spirituality on health. Archives of Internal Medicine, 167(7), 649–654.

Franzen, A. B. (2015). Physicians in the USA: Attendance, beliefs and patient interactions. Journal of Religion and Health, 54(5), 1886–1900.

Garty, B. Z. (1993). Garlic burns. Pediatrics, 91(3), 658–659.

Green, J. (2015). Living in hope and desperate for a miracle: NICU nurses' perceptions of parental anguish. Journal of Religion and Health, 54(2), 731–744.

Grossoehme, D. H., Ragsdale, J. R., McHenry, C. L., Thurston, C., De Witt, T., & VandeCreek, L. (2007). Pediatrician characteristics associated with attention to spirituality and religion in clinical practice. Pediatrics, 119(1), e117–e123.

Hexem, K. R., Mollen, C. J., Carroll, K., Lanctot, D. A., & Feudtner, C. (2011). How parents of children receiving pediatric palliative care use religion, spirituality, or life philosophy in tough times. J Palliat Med, 14(1), 39–44.

Koenig, H. G. (2000). Religion and medicine I: Historical background and reasons for separation. International Journal of Psychiatry in Medicine, 30(4), 385–398.

Kuschick, I. (1996). Medicina popular en España. Madrid: Siglo Veintiuno de España Editores.

McCurdy, E. A., Spangler, J. G., Wofford, M. M., Chauvenet, A. R., & McLean, T. W. (2003). Religiosity is associated with the use of complementary medical therapies by pediatric oncology patients. Journal of Pediatric Hematology/Oncology, 25(2), 125–129.

Meert, K. L., Thurston, C. S., & Briller, S. H. (2005). The spiritual needs of parents at the time of their child's death in the pediatric intensive care unit and during bereavement: A qualitative study. Pediatric Critical Care Medicine, 6(4), 420–427.

Paal, P., Helo, Y., & Frick, E. (2015). Spiritual care training provided to healthcare professionals: A systematic review. Journal of Pastoral Care & Counseling, 69(1), 19–30.

Robinson, M. R., Thiel, M. M., Backus, M. M., & Meyer, E. C. (2006). Matters of spirituality at the end of life in the pediatric intensive care unit. Pediatrics, 118(3), e719–e729.

Rosner, F. (1999). Can an amulet cure leukemia? JAMA, 282(4), 307.

Siegel, B., Tenenbaum, A. J., Jamanka, A., Barnes, L., Hubbard, C., & Zuckerman, B. (2002). Faculty and resident attitudes about spirituality and religion in the provision of pediatric health care. Ambulatory Pediatrics, 2(1), 5–10.

Sociological Research Center. October 2015 barometer. http://www.cis.es/cis/export/sites/default/Archivos/Marginales/3100_3119/3114/es3114mar.pdf. Accessed December 23, 2015.

Subbotsky, E. (2011). The ghost in the machine: Why and how the belief in magic survives in the rational mind. Human Development, 54, 126–143.

Weller, S. C., Baer, R. D., de Alba Garcia, J. G., Glazer, M., Trotter, R., Slacedo, A., et al. (2015). Variation and persistence in Latin American beliefs about evil eye. Cross-Cultural Research, 49, 174–203.

Yates, F. D., Jr. (2011). Ethics for the pediatrician: Religion and spirituality in pediatrics. Pediatrics in Review, 32(9), e91–e94.

Ziemmermann-Paiz, M. A. (2010). Religious and spiritual beliefs in pediatric ophthalmology: An important factor for the treatment of disease. Revista Mexicana de Oftalmología, 84(4), 252–257.
Ethics declarations
Conflict of interest
The author has no conflicts of interest relevant to this article.
Additional information
My interests are neonatal intensive care and a holistic approach to families, not only newborns, especially in the field of beliefs.
About this article
Cite this article
Lloreda-Garcia, J.M. Religion, Spirituality and Folk Medicine/Superstition in a Neonatal Unit. J Relig Health 56, 2276–2284 (2017). https://doi.org/10.1007/s10943-017-0408-y
Published:

Issue Date:

DOI: https://doi.org/10.1007/s10943-017-0408-y
Keywords
Spirituality

Religion

Evil eye

Folk medicine

Neonatology