Abstract
In order to effectively address cardiovascular disease among African Americans, evidence-based health information must be disseminated within a context aligned with the values and beliefs of the population. Faith-based organizations play a critical role in meeting the religious and spiritual needs of many African Americans. Additionally, faith-based organizations can be effective in health promotion. A manual was created by incorporating biblical scriptures relating to health messages drawn from existing health manuals oriented toward African Americans. Lay health educators active in their churches participated in a 12-week training to learn the basics of cardiovascular disease and methods for delivering the program to their congregations' members. After the completion of the training, these lay health educators recruited participants from their respective churches and administered their own 12-week HeartSmarts program. Measurements of participants' systolic and diastolic blood pressure (mmHg), height (in.), weight (lbs.), and waist circumference (in.) were taken, and cardiovascular disease knowledge assessments (based on 20 open-ended questions) were administered at the start and end of the 12-week programs. Fourteen predominantly African American churches in NYC participated. Of the 221 participants, 199 completed the program. There were significant reductions in pretest and posttest total participant averages for systolic BP (4.48 mmHg, p < 0.001), diastolic BP (3.38 mmHg, p < 0.001), weight (3lbs., p = 0.001), and BMI (0.46, p = 0.001). Cardiovascular disease health assessment scores had an average increase of 12.74 correct responses (p < 0.001). The HeartSmarts program may be an effective ecumenical and cultural model for disseminating health messages and reducing cardiovascular risk among African Americans.
This is a preview of subscription content, log in to check access.
Access options
Buy single article
Instant access to the full article PDF.
US$ 39.95
Tax calculation will be finalised during checkout.
Subscribe to journal
Immediate online access to all issues from 2019. Subscription will auto renew annually.
US$ 99
Tax calculation will be finalised during checkout.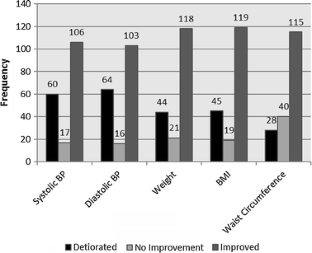 References
Anderson, L. M., Scrimshaw, S. C., Fullilove, M. T., Fielding, J. E., & Normand, J. (2003). Culturally competent healthcare systems: A systematic review. American Journal of Preventive Medicine, 24(3 Supplement), 68–79. doi:10.1016/S0749-3797(02)00657-8.

Artinian, N. T., Fletcher, G. F., Mozaffarian, D., et al. (2010). Interventions to promote physical activity and dietary lifestyle changes for cardiovascular risk factor reduction in adults: A scientific statement from the American Heart Association. Circulation, 122, 406–441.

Campbell, M. K., Demark-Wahnefried, W., Symons, M., et al. (1999). Fruit and vegetable consumption and prevention of cancer: the black churches united for better health project. American Journal of Public Health, 89(9), 1390–1396.

Campbell, M. K., Resnicow, K., Carr, C., Wang, T., & Williams, A. (2007). Process evaluation of an effective church-based diet intervention: body & soul. Health Education and Behavior, 34(6), 864–880. doi:10.1177/1090198106292020.

Copleand, V. C. (2005). African Americans: Disparities in health care access and utilization. Health and Social Work, 30(3), 265–270. doi:10.1093/hsw/30.3.265.

DeHaven, M. J., Hunter, I. B., Wilder, L., Walton, J. W., & Berry, J. (2004). Health programs in faith-based organizations: Are they effective? American Journal of Public Health, 94(6), 1030–1036.

Finkelstein, E. A., Khavjou, O. A., Mobley, L. R., Haney, D. M., & Will, J. C. (2004). Racial/ethnic disparities in coronary heart disease risk factors among WISEWOMAN enrollees. Journal of Womens Health, 13, 503–518.

Go, A. S., Mozaffarian, D., Roger, V. L., et al. (2013). Heart disease and stroke statistics—2013 update: a report from the American Heart Association. Circulation, 127, e6–e245. doi:10.1161/CIR.0b013e31828124ad.

Hoyert, D. L., & Xu, J. Q. (2012). Deaths: Preliminary data for 2011. National vital statistics reports, 61(6). Retrieved from http://www.cdc.gov/nchs/data/nvsr/nvsr61/nvsr61_06.pdf.

Johnson, B. R. (2002). Objective hope: Assessing the effectiveness of faith-based organizations: A review of the literature. New York, NY: Manhattan Institute Publications. Retrieved from http://www.manhattan-institute.org/pdf/crrucs_objective_hope.pdf.

Kim, K. H., Linnan, L., Campbell, M. K., Brooks, C., Koenig, H. G., & Wiesen, C. (2008). The WORD (wholeness, oneness, righteousness, deliverance): A faith-based weight-loss program utilizing a community-based participatory research approach. Health Education and Behavior, 35(5), 634–650. doi:10.1177/1090198106291985.

Kok, G., van den Borne, B., & Mullen, P. D. (1997). Effectiveness of health education and health promotion: Meta-analyses and determinants of effectiveness. Patient Education and Counseling, 30(1), 19–27.

Kurian, A. K., & Cardarelli, K. M. (2007). Racial and ethnic differences in cardiovascular disease risk factors: A systematic review. Ethnicity and Disease, 17, 143–152. doi:10.1161/CIR.0b013e3181e8edf1.

Lasater, T. M., Becker, D. M., Hill, M. N., & Gans, K. M. (1997). Synthesis of findings and issues from religious-based cardiovascular disease prevention trials. Annals of Epidemiology, 7(57), s47–s53.

Liao, Y., Tucker, P., Okoro, C. A., Giles, W. H., Mokdad, A. H., & Harris, V. B. (2004). REACH 2010 surveillance for health status in minority communities—United States, 2001–2002. MMWR Surveillance Summaries, 53, 1–36.

Lincoln, C. E., & Mamiya, L. H. (1990). The black church in the African American experience. Durham, NC: Duke Univ. Press.

Martins, D., Tareen, N., Ogedegbe, G., Pan, D., & Norris, K. (2008). The relative risk of cardiovascular death among racial and ethnic minorities with metabolic syndrome: data from the NHANES-II mortality follow-up. Journal of the National Medical Association, 100, 565–571.

Rothman, A. J. (2000). Toward a theory-based analysis of behavioral maintenance. Health Psychology, 19(1 Suppl), 64–69.

Roux, L., Pratt, M., Tengs, T. O., et al. (2008). Cost effectiveness of community-based physical activity interventions. American Joutnal of Preventive Medicine, 35(6), 578–588. doi:10.1016/j.amepre.2008.06.040.

Safford, M. M., Brown, T. M., Muntner, P. M., et al. (2012). Association of race and sex with risk of incident acute coronary heart disease events. JAMA, 308(17), 1768–1774. doi:10.1001/jama.2012.14306.

Sundquist, J., Winkleby, M. A., & Pudaric, S. (2001). Cardiovascular disease risk factors among older black, Mexican-American, and white women and men: An analysis of NHANES III, 1988–1994. Third national health and nutrition examination survey. Journal of the American Geriatrics Society, 49, 109–116.

Tettey, N., Duran, P. A., Andersen, H. S., Washington, N., & Boutin-Foster, C. (2016). "It's like backing up science with scripture": Perceptions of HeartSmarts, a faith-based cardiovascular health education program. Journal Religia Health Epubulication,. doi:10.1007/s10943-016-0196-9.

White, S. (2011). Effectiveness of public health and education programs for creating awareness of and managing cardiovascular disease. Patient Intelligence, 3, 11–21. doi:10.2147/PI.S12425.

Yanek, L. R., Becker, D. M., Moy, T. F., Gittelsohn, J., & Koffman, D. M. (2001). Project joy: Faith based cardiovascular health promotion for women. Public Health Reports, 116(Suppl 1), 68–81.
Ethics declarations
Conflict of Interest
All authors declare that they have no conflict of interest.
Ethical Approval
This article does not contain any studies with human participants performed by any of the authors.
Appendix: Cardiovascular Disease Knowledge Assessment
Appendix: Cardiovascular Disease Knowledge Assessment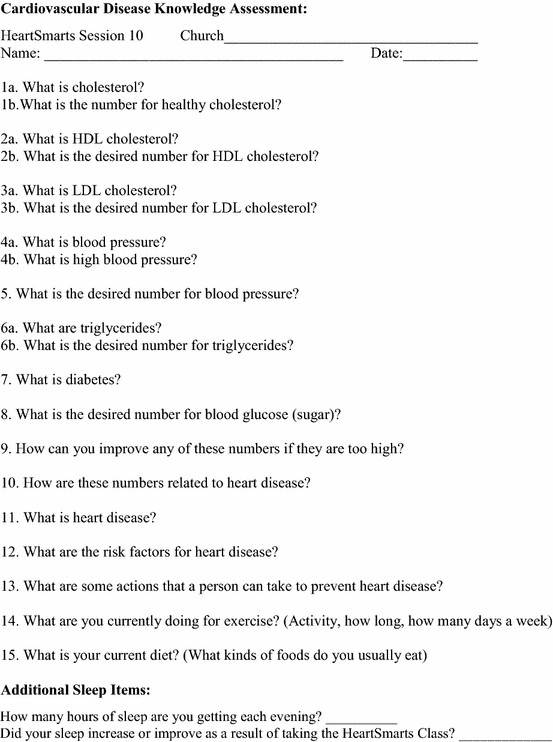 About this article
Cite this article
Tettey, NS., Duran, P.A., Andersen, H.S. et al. Evaluation of HeartSmarts, a Faith-Based Cardiovascular Health Education Program. J Relig Health 56, 320–328 (2017). https://doi.org/10.1007/s10943-016-0309-5
Keywords
Cardiovascular disease

Health education

Community

Faith-based organizations