Abstract
Gender representation in Islamic bioethics research in the twenty-first century has not been studied. To study temporal trends in representation of female subjects in Islamic bioethics research, PubMed-listed publications on Islamic bioethics from years 2000 to 2014 were reviewed for gender participation in human subjects' research. There were temporal trends of increasing publications of Islamic bioethics-related human subjects' research (64 papers over 15 years; R 2 = 0.72; p < 0.0004). Female subjects were well represented with a trend toward increasing participation. This was true for women from Muslim-majority countries even in non-gender-focused studies over the past 15 years.
Access options
Buy single article
Instant access to the full article PDF.
USD 39.95
Price includes VAT (USA)
Tax calculation will be finalised during checkout.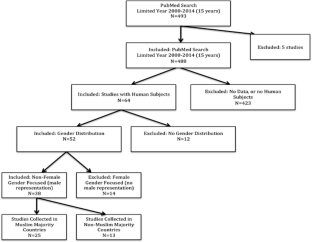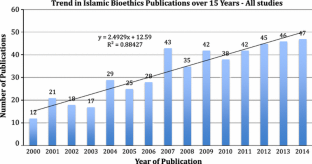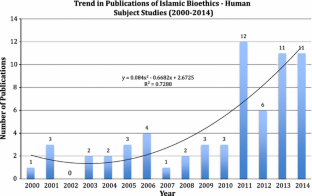 References
Abdel-Fattah, R. (2013). Ending oppression in the Middle East: A Muslim feminist call to arms. Retrieved March 4, 2016 http://www.abc.net.au/religion/articles/2013/04/29/3747543.htm.

Anderson, K. A., & Han, J. (2008). An exploration of ageism and sexism in obituary photographs: 1967–1997. Omega (Westport), 58(4), 335–345.

Annonymous. (1990). General Accounting Office, National Institute of Health. Problems in implementing policy on women in study populations. GAO/HRD-90-38.

Anonymous. (1985). U.S. Public Health Service. Report of the public service task force on women's health issues. Public Health Report, 100(1), 73–106.

Anonymous. (1994). Federal Register. NIH guidelines on the inclusion of women and minorities as subjects in clinical research. 59, 14508.

Dalton, D., & Ortegren, M. (2011). Gender differences in ethics research: The importance of controlling for the social desirability response bias. Journal of Business Ethics, 103, 73–93.

de Groot, C. J., van Leeuwen, T., Mol, B. W., & Waltman, L. (2015). A longitudinal analysis of publications on maternal mortality. Paediatric and Perinatal Epidemiology, 29(6), 481–489.

Dickenson, D. (2006). Gender and ethics committees: Where's the 'different voice'? Bioethics, 20(3), 115–124.

Hassan, R. (1995). Women in Islam: Qur'anic ideals versus Muslim realities. Plan Parent Chall, 2, 5–9.

Horvath, K. J., Iantaffi, A., Grey, J. A., & Bockting, W. (2012). A review of the content and format of transgender-related webpages. Health Communication, 27(5), 457–466.

Im, E. O., & Chee, W. (2001). A feminist critique of research on cancer pain. Western Journal of Nursing Research, 23(7), 726–752.

Inhorn, M. C., & Whittle, K. L. (2001). Feminism meets the "new" epidemiologies: Toward an appraisal of antifeminist biases in epidemiological research on women's health. Social Science and Medicine, 53(5), 553–567.

Kristoff, N. (2009). Does religion oppress women? The opinion pages. http://kristof.blogs.nytimes.com/2009/12/15/does-religion-oppress-women/. Accessed 4 March 2016.

Marrocco, A., & Stewart, D. E. (2001). We've come a long way, maybe: Recruitment of women and analysis of results by sex in clinical research. Journal of Women's Health and Gender-Based Medicine, 10(2), 175–179.

Mir-Hosseini, Z. (2000). Islam and gender: The religious debate in contemporary Iran. London: I.B. Tauris.

Miro, O., Burillo-Putze, G., Plunkett, P. K., & Brown, A. F. (2010). Female representation on emergency medicine editorial teams. European Journal of Emergency Medicine, 17(2), 84–88.

Soderstrom, M. (2001). Why researchers excluded women from their trial populations. Lakartidningen, 98(13), 1524–1528.

Vidaver, R. M., Lafleur, B., Tong, C., Bradshaw, R., & Marts, S. A. (2000). Women subjects in NIH-funded clinical research literature: Lack of progress in both representation and analysis by sex. Journal of Women's Health and Gender-Based Medicine, 9(5), 495–504.

Zucker, I., & Beery, A. K. (2010). Males still dominate animal studies. Nature, 465(7299), 690.
Ethics declarations
Conflict of Interest
All authors declare that they have no conflict of interest.
Ethical Approval
The article does not contain any studies with human participants performed by any of the authors. All data used are public data that are freely available on the internet.
Additional information
Awarded Best Poster Presentation at the World Association of Medicine and Law (WAML) Meeting in Coimbra, Portugal. August 5, 2015.
About this article
Cite this article
Hussain, Z., Kuzian, E. & Hussain, N. A 15-Year Review of Trends in Representation of Female Subjects in Islamic Bioethics Research. J Relig Health 56, 284–293 (2017). https://doi.org/10.1007/s10943-016-0283-y
Keywords
Female subjects

Bioethics

Human subjects

Gender

Islamic

Muslim countries