Abstract
A spiritual—yet not religious—practice, meditation has been touted as beneficial to boosting the immune system, lowering blood pressure, alleviating migraines, and increasing gray matter in parts of the brain. While scientific research on meditation is beginning to quantify its benefits, there is increasing concern among the scientific community that news outlets glorify the potential benefits of meditation. This paper considers coverage of meditation in mainstream print media by analyzing 764 articles printed in English from worldwide media outlets from 1979 to 2014. Frame theory analysis is employed to better understand how meditation is presented in print media and how the perception of the practice is interpreted by readers. Results indicate that articles reflect the health and wellness challenges present in contemporary culture, together with a desire for personal relief from such issues. The paper suggests that the practice of meditation as "spiritual hygiene" is indicative of a sociocultural shift in which meditative techniques are becoming increasingly recognized, encouraged, and practiced.
This is a preview of subscription content, log in to check access.
Access options
Buy single article
Instant access to the full article PDF.
US$ 39.95
Price includes VAT for USA
Subscribe to journal
Immediate online access to all issues from 2019. Subscription will auto renew annually.
US$ 99
This is the net price. Taxes to be calculated in checkout.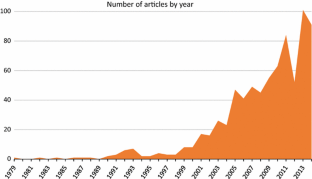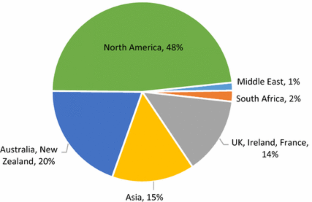 References
Ackerman, M. (1982). The sounds of silence. The Globe and Mail (Canada).

Aikens, K. A., Astin, J., Pelletier, K. R., Levanovich, K., Baase, C. M., Park, Y. Y., & Bodnar, C. M. (2014). Mindfulness goes to work: Impact of an online workplace intervention. Journal of Occupational and Environmental Medicine, 56(7), 721–731.

Andresen, J. (2000). Meditation meets behavioural medicine: The story of experimental research on meditation. Journal of Consciousness Studies, 7, 17–74.

Awasthi, B. (2012). Issues and perspectives in meditation research: In search for a definition. Frontiers in Psychology, 3. doi:10.3389/fpsyg.2012.00613. Retrieved from http://www.ncbi.nlm.nih.gov/pmc/articles/PMC3541715/.

Benson, H. (1975). The relaxation response. New York: Harper Collins.

Bulka, R. (2002). What role does meditation play in your religion? Ottawa Citizen.

Clark, S. (2000). The secrets of modern meditation. The Times (London).

Dimitrova, D. V., & Connolly-Ahern, C. (2007). A tale of two wars: Framing analysis of online news sites in coalition countries and the Arab world during the Iraq war. The Howard Journal of Communication, 18(2), 153–168.

Doidge, N. (2007). The brain that changes itself: Stories of personal triumph from the frontiers of brain science. New York: Viking Press.

Doler, K. (2004). Meditation gives your mind permanent working holiday: Relaxation can improve your business decisions and your overall health. Investor's Business Daily. Retrieved from http://www.clarityseminars.com/idb.html

Douai, A. & Lauricella, S. (2014). The "terrorism" frame or "neo-Orientalism": How Western media cover Islam's Sunni-Shia sectarian relations after 9/11. International Journal of Media and Cultural Politics, 10(1), 7–24.

Entman, R. (1989). How the media affect what people think: An information processing approach. The Journal of Politics, 51(2), 347–370.

Entman, R. M. (1991). Framing U.S. coverage of international news: Contrasts in narratives of the KAL and Iran Air incidents. Journal of Communication, 41(4), 6–26.

Gawler, I. (1986/2015). You can Conquer Cancer. New York: Tarcher.

Goffman, E. (1974). Frame analysis: An essay on the organization of experience. New York: Harper & Row.

Halpern, C. (2012). The mindful lawyer: Why contemporary lawyers are practicing meditation. Journal of Legal Education, 61(4), 641–646. Retrieved from: http://www.swlaw.edu/pdfs/jle/jle614halpern.pdf.

Harris, D. (2014). 10% Happier: How I tamed the voice in my head, reduced stress without losing my edge, and found self-help that actually works—A true story. New York: Harper Collins.

Himelstein, S. (2011). Meditation research: The state of the art in correctional settings. International Journal of Offender Therapy and Comparative Criminology, 55(4), 646–661.

Kabat-Zinn, J. (1990). Full Catastrophe living: Using the wisdom of your body and mind to face stress, pain, and illness. New York: Delecorte Press.

Kerr, C. (2014). Don't believe the hype: Neuroscientist Catherine Kerr is concerned about how mindfulness meditation research is being portrayed in the media. Interview in Tricycle. Retrieved from http://www.tricycle.com/blog/don%E2%80%99t-believe-hype.

Kreps, G. (2012). The role of prayer in promoting health and wellbeing. The Journal of Communication and Religion, 35(3), 237–253.

Kuypers, J. (2009). Rhetorical criticism: Perspectives in action. Lanham, MD: Lexington Books.

Lancaster, S. (2011). Transcendental meditation: Don't leave home without it. The Guardian (London, UK). Retrieved from http://www.theguardian.com/commentisfree/belief/2011/may/18/transcendental-meditation-daily-dose.

Lazar, S. et al. (2005). Meditation experience is associated with increased cortical thickness. Neuroreport, 16(17), 1893–1897. Retrieved from http://www.ncbi.nlm.nih.gov/pmc/articles/PMC1361002/.

LeShan, L. L. (1975). How to meditate: A guide to self-discovery. New York: Little, Brown and Company.

Lippmann, W. (1922). Public opinion. New York: Macmillan.

McCombs, M. E., & Shaw, D. L. (1972). The agenda-setting function of mass media. Public Opinion Quarterly, 36(2), 176–187.

McKinnon, P. (1989). In stillness conquer fear. Toronto: Hushion House.

Myers, R. (2003). Tense teens, adults flock to meditation. Contra Costa Times.

Noelle-Neumann, E. (1974). The spiral of silence: a theory of public opinion. Journal of Communication, 24(2), 43–51. doi:10.1111/j.1460-2466.1974.tb00367.x.

Ospina, M. B., Bond, T. K., Karkhaneh, M., Tjosvold, L., Vandermeer, B., Liang, Y., et al. (2007). Meditation practices for health: State of the Research. Evidence Report/Technology Assessment No. 155. Prepared by the University of Alberta Evidence-based Practice Center under Contract No. 290-02-0023. AHRQ Publication No. 07-E010. Rockville, MD: Agency for Healthcare Research and Quality. Retrieved from http://archive.ahrq.gov/downloads/pub/evidence/pdf/meditation/medit.pdf.

Pan, Z., & Kosicki, G. M. (1993). Framing analysis: An approach to news discourse. Political Communication, 10(1), 55–75.

Park, C. (2013). Mind-body CAM interventions: Current status and considerations for integration into clinical health psychology. Journal of Clinical Psychology, 69(1), 45–63.

Pew Research Centre. (2012a). Most of the religiously unaffiliated still keep belief in God. Retrieved from http://www.pewresearch.org/daily-number/most-of-the-religiously-unaffiliated-still-keep-belief-in-god/.

Pew Research Centre. (2012b). "Nones" on the rise. Religion and public life project. Retrieved from http://www.pewforum.org/2012/10/09/nones-on-the-rise/.

Pew Research Centre. (2013). The rise of Asian Americans. Social & Demographic Trends. Retrieved from http://www.pewsocialtrends.org/2012/06/19/the-rise-of-asian-americans/.

Reese, S. D., Gandy, O. H., & Grant, A. E. (Eds.). (2001). Framing public life: Perspectives on media and our understanding of the social world. New Jersey: Lawrence Erlbaum Associates.

Ryan, D. (2009). Meditation can induce long-lasting changes in brain function, scientist Richard Davidson believes mental exercise will be as important as physical exercise by 2050. Vancouver Sun.

Scheufele, D. (2000). Agenda-setting, priming, and framing revisited: Another look at cognitive effects of political communication. Mass Communication & Society, 3(2–3), 297–316. doi:10.1207/S15327825MCS0323_07.

Schonert-Reichl, K. A., Oberle, E., Lawlor, M. S., Abbott, D., Thomson, K., Oberlander, T. F., & Diamond, A. (2015). Enhancing cognitive and social-emotional development through a simple-to-administer mindfulness-based school program for elementary school children: A randomized controlled trial. Developmental Psychology, 51(1), 52–66. doi:10.1037/a0038454.

Woo, E. (2008). Maharishi Mahesh Yogi; Founded Transcendental Meditation Movement. Los Angeles Times. Retrieved from http://www.latimes.com/news/la-me-maharishi6feb06-story.html.

Zetter, K. (2003). Keep taking the meditation. Sydney Morning Herald.
About this article
Cite this article
Lauricella, S. The Ancient-Turned-New Concept of "Spiritual Hygiene": An Investigation of Media Coverage of Meditation from 1979 to 2014. J Relig Health 55, 1748–1762 (2016). https://doi.org/10.1007/s10943-016-0262-3
Keywords
Meditation

Media

Mindfulness

Spiritual practice

Frame theory