Abstract
We aimed to analyse stress perception, psychosomatic health and life satisfaction in pastoral professionals, paying particular attention to their individual and shared resources. Enrolling 8574 German pastoral professionals (48 % priests, 22 % parish expert workers, 18 % pastoral assistants, 12 % deacons), we found that pastoral professionals' stress perception is associated with psychosomatic health impairment. General self-efficacy was a beneficial resource to protect against stress perceptions, while perception of the transcendent had a further yet weakly positive influence for stress-related impairment of health. External stressors (i.e. team size, duration of work per week and size of pastoral unit) were only of marginal independent relevance.
This is a preview of subscription content, log in to check access.
Access options
Buy single article
Instant access to the full article PDF.
US$ 39.95
Price includes VAT for USA
Subscribe to journal
Immediate online access to all issues from 2019. Subscription will auto renew annually.
US$ 99
This is the net price. Taxes to be calculated in checkout.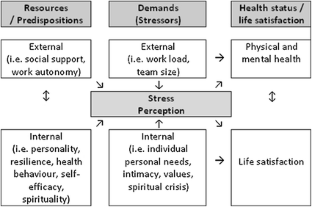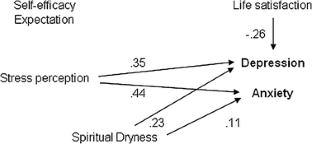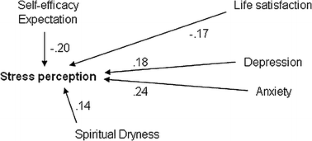 References
Antonovsky, A. (1979). Health, stress, and coping. San Francisco: Jossey-Bass.

Baumann, K. (2003). Persönliche Erfüllung im Dienen? Zeitschrift für medizinische Ethik, 49, 29–42.

Becker, P., & Jansen, L. J. (2006). Chronischer Stress, Persönlichkeit und selbstberichtete körperliche Gesundheit - Pfadanalytische Überprüfungen konkurrierender theoretischer Modelle. Zeitschrift für Gesundheitspsychologie, 14, 106–118.

Burns, J., Francis, L. J., Village, A., & Robbins, M. (2013). Psychological type profile of Roman Catholic priests: An empirical enquiry in the United States. Pastoral Psychology, 62, 239–246.

Büssing, A. (2012). Measures of Spirituality in Health Care. In M. R. Cobb, C. M. Puchalski, & B. Rumbold (Eds.), Oxford textbook of spirituality in healthcare (pp. 323–331). New York: Oxford University Press.

Büssing, A. (2014). Health-related quality of life and reliance on God's help. In A. C. Michalos (Ed.), Encyclopedia of quality of life and well-being research (pp. 2801–2807). Dordrecht: Springer.

Büssing, A., Günther, A., Baumann, K., Frick, E., & Jacobs, C. (2013). Spiritual dryness as a measure of a specific spiritual crisis in catholic priests: Associations with symptoms of burnout and distress. Evidence-based Complementary and Alternative Medicine. doi:10.1155/2013/246797

Cohen, S., Kamarck, T., & Mermelstein, R. (1983). A global measure of perceived stress. Journal of Health and Social Behavior, 24, 386–396.

Cohen, S., & Williamson, G. (1988). Perceived stress in a probability sample of the United States. In S. Spacapam & S. Oskamp (Eds.), The social psychology of health: claremont symposium on applied social psychology. Newbury Park, CA: Sage.

Craig, C. L., Horsfall, T., & Francis, L. J. (2005). Psychological types of male evangelical missionary personnel training in England: A role for thinking type men? Pastoral Psychology, 53, 475–482.

Derogatis, L. R. (2001). BSI 18, brief symptom inventory 18: Administration, scoring, and procedures manual. Minneapolis: NCS Pearson Inc.

Diener, E., Emmons, R. A., Larsen, R. J., & Griffin, S. (1985). The satisfaction with life scale. Journal of Personality Assessment, 49, 71–75.

Faucett, J., Corwyn, R., & Poling, T. (2013). Clergy role stress: Interactive effects of role ambiguity and role conflict on intrinsic job satisfaction. Pastoral Psychology, 62, 291–304.

Francis, L. J., Hills, P., & Rutledge, C. J. F. (2008). Clergy work-related satisfactions in parochial ministry: The influence of personality and churchmanship. Mental Health, Religion and Culture, 11, 327–339.

Francis, L. J., Littler, K., & Robbins, M. (2012). Mystical orientation and the perceiving process: A study among Anglican clergymen. Mental Health, Religion and Culture, 15, 945–953.

Francis, L. J., & Robbins, M. (2008). Psychological type and prayer preferences: A study among Anglican clergy in the United Kingdom. Mental Health, Religion and Culture, 11, 67–84.

Francis, L. J., Robbins, M., Kaldor, P., & Castle, K. (2009). Psychological type and work-related psychological health among clergy in Australia, England and New Zealand. Journal of Psychology and Christianity, 28, 200–212.

Franke, G. H. (1997). Erste Studien zur Güte des Brief Symptom Inventory (BSI). Zeitschrift für medizinische Psychologie, 3–4, 157–166.

Franke, G. (2000). BSI, Brief Symptom Inventory von L.R. Derogatis—Deutsches manual.. Göttingen: Beltz Test Gesellschaft.

Franke, G., Ankerhold, A., Haase, M., Jäger, S., Tögel, C., Ulrich, C., & Frommer, J. (2011). Der Einsatz des Brief Symptom Inventory 18 (BSI-18) bei Psychotherapiepatienten. Psychotherapie, Psychosomatik und medizinische Psychologie, 61, 82–86.

Frenk, S. M., Mustillo, S. A., Hooten, E. G., & Meador, K. G. (2013). The clergy occupational distress index (CODI): background and findings from two samples of clergy. Journal of Religion and Health, 52, 397–407.

Hinz, A., Schumacher, J., Albani, C., Schmid, G., & Brähler, E. (2006). Bevölkerungsrepräsentative Normierung der Skala zur Allgemeinen Selbstwirksamkeitserwartung. Diagnostika, 52, 26–32.

Jacobs, C. (2010). "Seine Hände kamen los vom Lastkorb" (Ps 81,7): Pastoraltheologische und –psychologische Überlegungen zu Burnout, Engagement und Salutogenese. Theologisch Praktische Quartalschrift, 158, 234–246.

Knox, S., Virginia, S. G., & Lombardo, J. P. (2002). Depression and anxiety in Roman Catholic secular clergy. Pastoral Psychology, 50, 345–358.

Knox, S., Virginia, S. G., & Smith, J. (2007). Pilot study of psychopathology among Roman Catholic secular clergy. Pastoral Psychology, 55, 297–306.

Knox, S., Virginia, S. G., Thull, J., & Lombardo, J. P. (2005). Depression and contributors to vocational satisfaction in Roman Catholic secular clergy. Pastoral Psychology, 54, 139–155.

Kohls, N., & Walach, H. (2007). Psychological distress, experiences of ego loss and spirituality: Exploring the effects of spiritual practice. Social Behavior and Personality, 35, 1301–1316.

Lazarus, R. S., & Folkman, S. (1984). Stress appraisal and coping. New York: Springer.

Lee, B.-J. (2007). Moderating effects of religious/spiritual coping in the relation between perceived stress and psychological well-being. Pastoral Psychology, 55, 751–759.

Pargament, K. I. (2007, 2011). Spiritually integrated psychotherapy. Understanding and addressing the sacred. Guilford: New York.

Proeschold-Bell, R. J., LeGrand, S., James, J., Wallace, A., Adams, C., & Tool, D. A. (2011). Theoretical model of the holistic health of united methodist clergy. Journal of Religion and Health, 50, 700–720.

Proeschold-Bell, R. J., Miles, A., Toth, M., Adams, C., Smith, B. W., & Tool, D. (2013). Using effort-reward imbalance theory to understand high rates of depression and anxiety among clergy. The Journal of Primary Prevention, 34, 439–453.

Raj, A., & Dean, K. E. (2005). Burnout and Depression Among Catholic Priests in India. Pastoral Psychology, 54, 157–171.

Reutter, K. K. (2014). The effects of spirituality and religiosity upon stress, anxiety, and depression: Mediation, moderation, or moderated mediation? Saarbrücken: Lambert Academic Publishing.

Rowatt, W. (2001). Stress and satisfaction in ministry families. Review and Expositor, 98, 523–543.

Rulla, L. M., Ridick, J., & Imoda, F. (1989). Anthropology of the Christian vocation. II. Existential Confirmation. Rome: Gregorian University Press.

Schwarzer, R., & Jerusalem, M. (1995). Generalized self-efficacy scale. In J. Weinman, S. Wright, & M. Johnston (Eds.), Measures in health psychology: A user's portfolio Causal and control beliefs (pp. 35–37). Windsor: NFER-NELSON.

Underwood, L. G. (1999). A working model of health: Spirituality and religiousness as resources: Applications to persons with disability. Journal of Religion, Disability and Health, 3, 55–71.

Underwood, L. G. (2011). The daily spiritual experience scale: Overview and Results. Religions, 2, 29–50.

Underwood, L. G., & Teresi, J. A. (2002). The daily spiritual experience scale: Development, theoretical description, reliability, exploratory factor analysis, and preliminary construct validity using health-related data. Annals of Behavioral Medicine, 24, 22–33.

Whitehead, B. R., & Bergeman, C. S. (2012). Coping with daily stress: differential role of spiritual experience on daily positive and negative affect. The Journals of Gerontology Series B, Psychological Sciences and Social Sciences, 67, 456–459.

Zickar, M. J., Balzer, W. K., Aziz, S., & Wryobeck, J. M. (2008). The moderating role of social support between role stressors and job attitudes among Roman Catholic priests. Journal of Applied Social Psychology, 38, 2903–2923.
Acknowledgments
We are very grateful to the supporting team, particularly Andreas Günther, Cécile Loetz and Jakob Müller for their gracious assistance.
Conflict of interest
This study was an investigator initiated trial without any influence of Church authorities. All authors are members of the respective universities; three of the authors are Catholic priests (EF, KB, CJ) working at universities as researchers. The authors disclose any financial or other competing interests.
About this article
Cite this article
Frick, E., Büssing, A., Baumann, K. et al. Do Self-efficacy Expectation and Spirituality Provide a Buffer Against Stress-Associated Impairment of Health? A Comprehensive Analysis of the German Pastoral Ministry Study. J Relig Health 55, 448–468 (2016). https://doi.org/10.1007/s10943-015-0040-7
Keywords
Stress perception

Impairment of health

Catholic priests

Pastoral workers

Life satisfaction