Abstract
A considerable number of studies have focused on the relationship between prayer, health, and well-being. But the influence of some types of prayer (e.g., petitionary prayer) has received more attention than others. The purpose of this study is to examine an overlooked aspect of prayer: trust-based prayer beliefs. People with this orientation believe that God knows that best way to answer a prayer and He selects the best time to provide an answer. Three main findings emerge from data that were provided by a nationwide longitudinal survey of older people reveals. First, the results reveal that Conservative Protestants are more likely to endorse trust-based prayer beliefs. Second, the findings suggest that these prayer beliefs tend to be reinforced through prayer groups and informal support from fellow church members. Third, the data indicate that stronger trust-based prayer beliefs are associated with a greater sense of life satisfaction over time.
This is a preview of subscription content, log in to check access.
Access options
Buy single article
Instant access to the full article PDF.
US$ 39.95
Price includes VAT for USA
Subscribe to journal
Immediate online access to all issues from 2019. Subscription will auto renew annually.
US$ 99
This is the net price. Taxes to be calculated in checkout.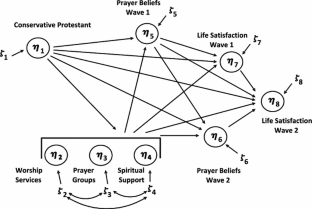 Notes
1.

Researchers have encountered significant difficulty differentiating between Conservative Christians, fundamentalists, evangelicals, and Pentecostals. Evidence of this may be found, for example, in the work of Woodberry and Smith (1998). These investigators argue that, "… distinguishing between Conservative Christians, evangelicals, charismatics, and Pentecostals is complex … They are better understood as loosely connected networks of ministerial, parachurch organizations, schools, seminaries …" (Woodberry and Smith 1998, p. 33). In fact, merely trying to identify the defining characteristics of Pentecostalism is fraught with difficulty, as Hunt et al. (1997) found. These investigators reluctantly concluded that, "… the movement is evolving so rapidly that it is not entirely clear whether these distinguishing hallmarks still hold" (Hunt et al. 1997, p. 2). Clearly, the current study is not the place to resolve these longstanding issues in the field. As a result, the term "Conservative Protestant" is used in the discussion that follows.

2.

The proportion of Conservative Protestants in the current study might initially appear to be much higher than their numbers in the general population. However, it is important to recall that approximately half the participants in the current study are African American, and as the data provided later in this study will reveal, they are much more likely than whites to affiliate with Conservative Protestant congregations.
References
Baesler, E. J., Lindvall, T., & Lauricella, S. (2011). Assessing predictions of Relational Prayer Theory: Media and interpersonal inputs, private and public prayer processes, and spiritual health. Southern Communication Journal, 76, 191–209.

Barna, G. (2002). The state of the church 2002. Ventura, CA: Issachar Resources.

Barna, G. (2006). The state of the church 2006. Ventura, CA: Issachar Resources.

Berger, P. L. (1967). The sacred canopy: Elements of a sociological theory. New York: Doubleday.

Bollen, K. A. (1989). Structural equations with latent variables. New York: Wiley.

Bradley, W. J., & Schaefer, K. C. (1998). The uses and misuses of data and models: The mathematization of the human sciences. Thousand Oaks, CA: Sage.

Breslin, M. J., & Lewis, C. A. (2008). Theoretical models of the nature of prayer and health: A review. Mental Health, Religion & Culture, 11, 9–21.

Cottingham, J. (2005). The spiritual dimension: Religion, philosophy, and human value. New York: Cambridge University Press.

DeShon, R. P. (1998). A cautionary note on measurement error correlations in structural equation models. Psychological Methods, 3, 412–423.

du Toit, M., & du Toit, S. (2001). Interactive LISREL: User's guide. Lincolnwood, IL: Scientific Software International.

Enders, C. K. (2010). Applied missing data analysis. New York: Guilford.

Graham, J. W. (2009). Missing data analysis: Making it work in the real world. Annual Review o Psychology, 60, 549–576.

Graham, J. W., Olchowski, A. E., & Gilreath, T. D. (2007). How many imputations are really needed? Some practical considerations of multiple imputation theory. Prevention Science, 8, 206–213.

Groves, R. M. (2006). Nonresponse rates and nonresponse bias in household surveys. Public Opinion Quarterly, 70, 646–675.

Hill, P. C., & Hood, R. W. (1999). Measures of religiosity. Birmingham, AL: Religious Education Press.

Holbrook, A. L., Krosnick, J. A., & Pfent, A. (2008). The causes and consequences of response rates in surveys by the news media and government contractor research firms. In J. M. Lepkowski, C. Tucker, M. Brick, E. Leeuw, J. Lilli, P. J. Lavrakas, M. W. Link, & R. L. Sangster (Eds.), Advances in telephone survey methodology (pp. 499–528). New York: Wiley.

Hunt, S., Hamilton, M., & Walter, T. (1997). Charismatic Christianity: Sociological perspectives. New York: St. Martin's Press.

Kelloway, E. K. (1998). Using LISREL for structural equation modeling. Thousand Oaks, CA: Sage.

Kline, R. B. (2005). Principles and practice of structural equation modeling. New York: Guilford.

Krause, N. (2002a). Church-based social support and health in old age: Exploring variations by race. Journal of Gerontology: Social Sciences, 57B, S332–S347.

Krause, N. (2002b). A comprehensive strategy for developing closed-ended survey items for use in studies of older adults. Journal of Gerontology: Social Sciences, 57B, S263–S274.

Krause, N. (2004). Assessing the relationship among prayer expectancies, race, and self-esteem in late life. Journal for the Scientific Study of Religion, 65, 35–56.

Krause, N. (2005). God-mediated control and psychological well-being in late life. Research on Aging, 27, 136–164.

Krause, N. (2008). Aging in the church: How social relationships affect health. West Conshohocken, PA: Templeton Foundation Press.

Krause, N. (2010). God-mediated control and change in self-rated health. International Journal for the Psychology of Religion, 20, 267–287.

Krause, N. (2012). Assessing the prayer lives of older whites, older blacks, and older Mexican Americans: A descriptive analysis. International Journal for the Psychology of Religion, 22, 60–78.

Krause, N., Chatters, L. M., Meltzer, T., & Moran, D. L. (2000). Using focus groups to explore the nature of prayer in late life. Journal of Aging Studies, 14, 191–212.

Levin, J. S., Taylor, R. J., & Chatters, L. M. (1994). Race and gender differences in religiosity among older adults: Findings from four national surveys. Journal of Gerontology: Social Sciences, 49, S137–S145.

Menard, S. (1991). Longitudinal research (Sage University Paper series in Quantitative Applications in the Social Sciences, series no. 76). Newbury Park, CA: Sage.

Nummela, O., Sulander, T., Rahkonen, O., & Uutela, A. (2009). The effect of trust and change in trust on self-rated health: A longitudinal study among aging people. Archives of Gerontology and Geriatrics, 49, 339–342.

Olson, J. M., Roese, N. J., & Zanna, M. P. (1996). Expectancies. In E. T. Higgins & A. W. Kruglanski (Eds.), Social psychology: Handbook of basic principles (pp. 211–238). New York: Guilford.

Ostrander, R. (1996). Proving the living God: Answered prayer as a modern Conservative Christiansapologetic. Fides et Historia, 28, 69–89.

Pargament, K. I. (1997). The psychology of religious coping: Theory, research, and practice. New York: Guilford.

Poloma, M. M., & Gallup, G. H. (1991). Varieties of prayer: A survey report. Philadelphia: Trinity Press International.

Reise, S. P., Widaman, K. F., & Pugh, R. H. (1993). Confirmatory factor analysis and item response theory: Two approaches for exploring measurement invariance. Psychological Bulletin, 114, 552–566.

Schneider, I. K., Konjin, E. A., Righetti, F., & Rusbult, C. E. (2011). A healthy dose of trust: The relationship between interpersonal trust and health. Personal Relationships, 18, 668–676.

Sharp, S. (2010). How does prayer help manage emotions? Social Psychology Quarterly, 73, 417–437.

Shevlin, M., & Miles, J. N. (1998). Effects of sample size, model specification, and factor loadings on the GFI in confirmatory factor analysis. Personality and Individual Differences, 25, 85–90.

Smith, T. W. (1990). Classifying Protestant denominations. Review of Religious Research, 31, 225–245.

Stark, R. (2008). What Americans really believe. Waco, TX: Baylor University Press.

Stark, R., & Finke, R. (2000). Acts of faith: Explaining the human side of religion. Berkeley, CA: University of California Press.

Stewart, C. (2008). Prayer among the Benedictines. In R. Hammerling (Ed.), The history of prayer: The first to the fifteenth century (pp. 201–222). Boston: Brill.

Woodberry, R. D., & Smith, C. S. (1998). Fundamentalism et al.: Conservative Protestants in America. Annual Review of Sociology, 24, 25–56.

Wuthnow, R. (1994). Sharing the journey: Support groups and America's new quest for community. New York: Free Press.

Zaspel, F. G. (2010). B. B. Warfield, a systematic inquiry. Wheaton, IL: Crossway.
Acknowledgments
This research was supported by grants from the National Institute on Aging (RO1 AG014749) and the John Templeton Foundation.
Appendix: List of Conservative Protestant denominations
Appendix: List of Conservative Protestant denominations
African Methodist Episcopal
African Methodist Episcopal Zion
American Baptist Association
Apostolic
Assembly of God
Bethany Open Bible
Bible Fellowship Church
Calvary Chapel
Calvary Reform
Christ Holy Sanctified
Christ Memorial
Christian Reformed
Christian and Missionary Alliance
Church of Christ
Church of God
Church of God in Christ
Church of Holiness
Emanuel Evangelical Brotherhood
Evangelical
Evangelical Lutheran
Faith Bible
Holiness
Jehovah's Witnesses
Lutheran Church—Missouri Synod
Mennonite
Mormon—Church of the Latter Day Saints
National Baptist Convention
National Baptist Convention USA
Nazarene
Other Baptist Churches
Other Methodist Churches
Other Presbyterian
Pentecostal
Salvation Army
Seventh Day Adventist
Southern Baptist Convention
Truth Gospel Holiness Church
Wisconsin Evangelical Lutheran Synod
About this article
Cite this article
Krause, N., Hayward, R.D. Prayer Beliefs and Change in Life Satisfaction Over Time. J Relig Health 52, 674–694 (2013). https://doi.org/10.1007/s10943-012-9638-1
Keywords
Prayer beliefs

Life satisfaction

Denominational differences