ABSTRACT
The study examined the relationships between perfectionism, unconditional self-acceptance and depression. The non-clinical sample comprised 134 participants, each of whom completed a battery of questionnaires, including the Unconditional Self-Acceptance Questionnaire (USAQ), the Center for Epidemiological Studies Depression Inventory (CES-D) and several measures of perfectionism. Significant levels of association were found between all measures, and support was provided for the concept of perfectionism as having a neutral core, distinguishable from its consequences, and for the theory that it is the negative consequences of perfectionism, rather than perfectionism per se, that lead to depression. Path Analysis provided support for the mediator model proposed by Flett et al. [Flett, G. L., Besser, A., Davis, R. A., Hewitt, P. L. (2003). Journal of Rational-Emotive & Cognitive-Behavior Therapy, 21, 119–138], in which unconditional self-acceptance mediates the effect of socially prescribed perfectionism on depression, and for a more generic model, in which the core construct of perfectionism can have negative consequences, which lead to low levels of unconditional self-acceptance, and thence to depression. Finally, a distinction was drawn between developmental and operational models of perfectionism.
Access options
Buy single article
Instant access to the full article PDF.
US$ 39.95
Tax calculation will be finalised during checkout.
Subscribe to journal
Immediate online access to all issues from 2019. Subscription will auto renew annually.
US$ 79
Tax calculation will be finalised during checkout.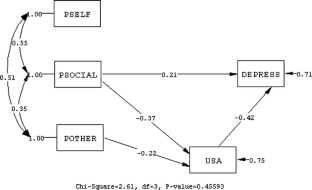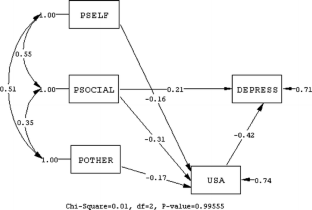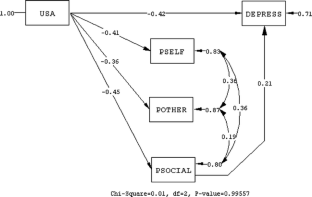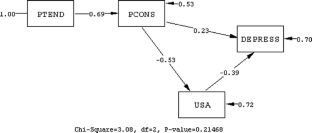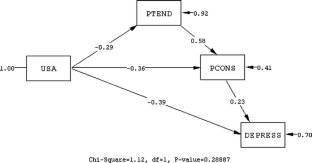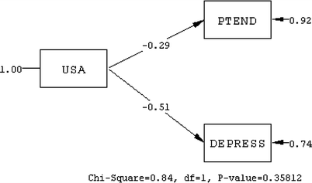 References
Ashby J. S., Rice K. G. (2002). Perfectionism, dysfunctional attitudes, and self-esteem: A structural equations analysis. Journal of Counseling and Development 80: 197–203

Baron R. M., Kenny D. A. (1986). The moderator–mediator variable distinction in social psychological research: Conceptual, strategic, and statistical considerations. Journal of Personality and Social Psychology 51(6):1173–1182

Bentler P. M. (1990). Comparative fit indexes in structural models. Psychological Bulletin 107: 238–246

Bentler P. M., Bonett D. G. (1980). Significance tests and goodness of fit in the analysis of covariance structures. Psychological Bulletin 88: 588–606

Bieling P. J., Israeli A. L., Antony M. M. (2004). Is perfectionism good, bad, or both? Examining models of the perfectionism construct. Personality and Individual Differences 36: 1373–1385

Blatt S. J., Zuroff D. C., Bondi C. M., Sanislow C. A., Pilkonis P. A. (1998). When and how perfectionism impedes the brief treatment of depression: further analyses of the National Institute of Mental Health treatment of depression collaborative research program. Journal of Counseling and Clinical Psychology 66(2): 423–428

Brown J. D. (1998). The self. New York: McGraw-Hill

Chamberlain J. M., Haaga D. A. F. (2001). Unconditional self-acceptance and responses to negative feedback. Journal of Rational-Emotive & Cognitive-Behavior Therapy 19(3): 163–176

Cox B. J., Enns M. W., Clara I. P. (2002). The multidimensional structure of perfectionism in clinically distressed and college student samples. Psychological Assessment 14(3): 365–373

Dunkley D. M., Blankstein K. R., Halsall J., Williams M., Winkworth G. (2000). The relation between perfectionism and distress: Hassles, coping, and perceived social support as mediators and moderators. Journal of Counseling Psychology 47(4): 437–453

Ellis A. (2003). The relationship of rational-emotive behavior therapy (REBT) to social psychology. Journal of Rational-Emotive & Cognitive-Behavior Therapy 21(1): 5–20

Enns M. W., Cox B. J. (2002). The nature and assessment of perfectionism: A critical analysis. In: Flett G. L., Hewitt P. L. (Eds.) Perfectionism: Theory, research and treatment. Washington DC: American Psychological Association (pp 33–62)

Flett G. L., Hewitt P. L. (2002). Perfectionism and maladjustment: An overview of theoretical, definitional, and treatment issues. In: Flett G. L., Hewitt P. L. (Eds.) Perfectionism: Theory, research and treatment. Washington DC: American Psychological Association (pp 5–31)

Flett G. L., Besser A., Davis R. A., Hewitt P. L. (2003). Dimensions of perfectionism, unconditional self-acceptance, and depression. Journal of Rational-Emotive & Cognitive-Behavior Therapy 21: 119–138

Flett G. L., Hewitt P. L., Oliver J. M., MacDonald S. (2002). Perfectionism in children and their parents: A developmental analysis. In: Flett G. L., Hewitt P. L. (Eds.) Perfectionism: Theory, research and treatment. Washington DC: American Psychological Association (pp 89–132)

Frost R. O., Steketee G. (1997). Perfectionism in obsessive-compulsive disorder patients. Behaviour Research and Therapy 35(4): 291–296

Frost R. O., Heimberg R. G., Holt C. S., Mattia J. I., Neubauer A. L. (1993) A comparison of two measures of perfectionism. Personality and Individual Differences 14: 119–126

Frost R. O., Marten P., Lahart C., Rosenblate R. (1990). The dimensions of perfectionism. Cognitive Therapy and Research 14(5): 449–464

Garner D. M., Olmstead M. P., Polivy J. (1983). Development and validation of a multidimensional eating disorder inventory for anorexia nervosa and bulimia. International Journal of Eating Disorders 2:15–34

Grimm L. G., Yarnold P. R. (1997). Reading and understanding multivariate statistics. Washington DC: American Psychological Association

Hewitt P. L., Flett G. L. (1991a). Perfectionism in the self and social contexts: Conceptualization, assessment, and association with psychopathology. Journal of Personality and Social Psychology 60(3): 456–470

Hewitt P. L., Flett G. L. (1991b). Dimensions of perfectionism in unipolar depression. Journal of Abnormal Psychology 100(1): 98–101

Hewitt P. L., Flett G. L. (1993). Dimensions of perfectionism, daily stress and depression: A test of the specific vulnerability hypothesis. Journal of Abnormal Psychology 102(1): 58–65

Hewitt P. L., Flett G. L., Ediger E. (1996). Perfectionism and depression: Longitudinal assessment of a specific vulnerability hypothesis. Journal of Abnormal Psychology 105(2): 276–280

Hill R. W., Huelsman T. J., Furr R. M., Kibler J., Vicente B. B., Kennedy C. (2004). A new measure of perfectionism: The Perfectionism Inventory. Journal of Personality Assessment 82(1): 80–91

Horney K. (1950). Neurosis and Human Growth: the struggle towards self-realization. New York: W. W. Norton & Co

Jöreskog K. G., Sörbom D. (1993) LISREL 8 user's reference guide. Chicago: Scientific Software International

Lynd-Stevenson R. M., Hearne C. M. (1999). Perfectionism and depressive affect: The pros and cons of being a perfectionist. Personality and Individual Differences 26: 549–562

Pacht, A. R. (1984). Reflections on perfectionism. American Psychologist, 39, 386–390.

Preusser K. J., Rice K. G., Ashby J. S. (1994). The role of self-esteem in mediating the perfectionism-depression connection. Journal of College Student Development 35: 88–93 (Copy provided in personal communication from K. G. Rice)

Radloff L. S. (1977). The CES-D Scale: A self-report measure depression scale for research in the general population. Applied Psychological Measurement 1: 385–401

Rhéaume J., Freeston M. H., Dugas M. J., Letarte H., Ladouceur R. (1995a). Perfectionism, responsibility and obsessive-compulsive symptoms. Behaviour Research and Therapy 33(7): 785–794

Rhéaume, J., Freeston, M. H., & Ladouceur, R. (1995b). Functional and dysfunctional perfectionism: Construct validity of a new instrument. Paper presented at the World Congress of Behavioural and Cognitive Therapies. Copenhagen, Denmark, July 1995

Rhéaume J., Ladouceur R., Freeston M. H. (2000). The prediction of obsessive-compulsive tendencies: Does perfectionism play a significant role? Personality and Individual Differences 28: 583–592

Rice, K. G., Ashby, J. S., & Slaney, R. B. (1988). Self-esteem as a mediator between perfectionism and depression: A structural equations analysis. Journal of Counseling Psychology, 45(3), 304–314.

Rogers C. R. (1996). Client-centred therapy. Bury St Edmunds: St Edmundsbury Press

White C., Schweitzer R. (2000). The role of personality in the development and perpetuation of chronic fatigue syndrome. Journal of Psychosomatic Research 48: 515–524
About this article
Cite this article
Scott, J. The Effect of Perfectionism and Unconditional Self-acceptance on Depression. J Rat-Emo Cognitive-Behav Ther 25, 35–64 (2007). https://doi.org/10.1007/s10942-006-0032-3
Keywords
perfectionism

MPS

PQ

unconditional self-acceptance

USAQ

self-esteem

depression

CES-D