Abstract
This paper describes the nature and information processing requirements of detached mindfulness. The construct emerged from the self-regulatory information processing theory of emotional disorder (Wells & Matthews, 1994), and is viewed as a metacognitive state that facilitates change in core underlying pathological processes. Detached mindfulness has multiple components, requiring the activation of metacognitive knowledge, metacognitive monitoring and control, suspension of conceptual processing, attentional flexibility, and a de-centered relationship with thoughts. A model of the cognitive structures and processes supporting the state is presented. Implications of the model for the scientific development and effective use of mindfulness techniques are discussed. Ten techniques for rapidly achieving detached mindfulness in the course of metacognitive therapy are described.
This is a preview of subscription content,
to check access.
Access this article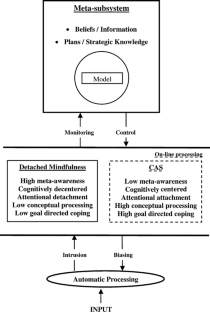 References
Brown K. W., Ryan R. M., (2003). The benefits of being present: Mindfulness and its role in psychological wellbeing Journal of Personality and Social Psychology, 84: 822–848

Cavanagh M. J., & Franklin, J. (2000). Attention Training and Hypochondrias: Preliminary Results of a Controlled Treatment Trial. Paper presented at the World Congress of Cognitive Therapy, Vancouver, Canada

Fisher P. L., Wells A., (2005). Experimental modification of beliefs in obsessive-compulsive disorder: A test of the metacognitive model Behaviour research and Therapy 43: 821–829

Hayes S. C., Strosahl K. D., Wilson K. G., (1999). Acceptance and Commitment Therapy: An Experiential Approach to Behavior Change. New York: Guilford Press

Ingram R. E., (1990). Self-focused attention in clinical disorders: Review and conceptual model Psychological Bulletin 107: 156–176

Martin J. R., (2002). The common factor of mindfulness – An expanding discourse: Comment on Horowitz (2002) Journal of Psychotherapy Integration 12: 139–142

Nelson T. O., Narens L., (1990). Metamemory: A theoretical framework and some new findings. In: Bower G. H., (Ed.). The Psychology of Learning and Motivation. New York: Academic Press, pp. 125–173

Papageorgiou C., Wells A., (1998). Effects of attention training in hypochondriasis: An experimental case series Psychological Medicine 28: 193–200

Papageorgiou C., Wells A., (2000). Treatment of recurrent major depression with Attention Training Cognitive and Behavioural Practise 7: 407–413

Salomon G., Globerson T., (1987). Skill may not be enough: The role of mindfulness in learning and transfer International Journal of Education Research 11: 623–637

Schnieder W., Shiffrin R. M., (1977). Controlled and automatic human information processing: I. Detection, search and attention. Psychological Review 84: 1–66

Schneider W., Dumais S. T., Shiffrin R. M., (1984). Automatic and control processing and attention. In: Parasuraman R., Davies D. R., (Eds.), Varieties of Attention. New York: Academic Press

Shiffrin R. M., Schneider W., (1977). Controlled and automatic human information processing: II. Perceptual learning, automatic attending, and a general theory Psychological Review 84: 127–190

Teasdale J. D., Segal Z. V., Williams J. M. G., Ridgeway V. A., Soulsby J. M., Lau M. A., (2000). Prevention of relapse/recurrence in major depression by mindfulness-based cognitive therapy Journal of Consulting and Clinical Psychology 68: 615–623

Wells A., (1990). Panic disorder in association with relaxation-induced-anxiety: An attentional training approach to treatment Behavior Therapy 21: 273–280

Wells A., (2000). Emotional disorders and metacognition: Innovative cognitive therapy, Chichester, UK: Wiley

Wells A., Matthews G., (1994). Attention and Emotion: A Clinical Perspective Hove, UK: Erlbaum

Wells A., Matthews G., (1996). Modelling cognition in emotional disorder: The S-REF model Behaviour Research and Therapy 34: 881–888

Wells A., Papageorgiou C., (1998). Social phobia: Effects of external attention focus on anxiety, negative beliefs and perspective taking Behavior Therapy. 29: 357–370

Wells A., Sembi S., (2004a). Metacognitive therapy for PTSD: A core treatment manual Cognitive and Behavioral Practice 11: 365–377

Wells A., Sembi S., (2004b). Metacognitive therapy for PTSD: A preliminary investigation of a new brief treatment Journal of Behavior Therapy and Experimental Psychiatry 35: 307–318

Wells A., White J., Carter K., (1997) Attention training: Effects on anxiety and beliefs in panic and social phobia Clinical Psychology and Psychotherapy 4: 226–232
Additional information
Address correspondence to Professor Adrian Wells, Academic Division of Clinical Psychology, The University of Manchester, Rawnsley Building, Manchester Royal Infirmary, Oxford Road, Manchester M13 9WL, UK; e-mail: Adrian.Wells@manchester.ac.uk.
About this article
Cite this article
Wells, A. Detached Mindfulness In Cognitive Therapy: A Metacognitive Analysis And Ten Techniques. J Rat-Emo Cognitive-Behav Ther 23, 337–355 (2005). https://doi.org/10.1007/s10942-005-0018-6
Published:

Issue Date:

DOI: https://doi.org/10.1007/s10942-005-0018-6
Keywords