Abstract
Objectives
This paper tests theoretical arguments that suggest court actors hold gendered views of sex offenders that result in a gender gap in sex offender punishment, where women who commit sexual offenses are treated more leniently than their male counterparts.
Methods
We test this argument with precision matching analyses using 15 years of data on all felony sex offenders sentenced in a single state.
Results
Results indicate that gender disparities in sex offender sentencing exist and are pervasive across sex offense types. Specifically, male sex offenders are more likely to be sentenced to prison, and given longer terms, than female sex offenders. Findings are similar across sex offense severity and whether the offense involved a minor victim.
Conclusions
These findings suggest that female sex offenders are treated more leniently than their matched male counterparts, even in instances of more serious sex offenses and those involving minor victims. Findings support theoretical arguments that contend that court decision-making is influenced by legally-irrelevant characteristics and raise questions about the source of gendered views of sex offenders and their effects on punishment approaches. Findings also raise questions about the virtue of get-tough sentencing policies that provide leeway for such dramatic variation across different groups of people.
Access options
Buy single article
Instant access to the full article PDF.
US$ 39.95
Tax calculation will be finalised during checkout.
Subscribe to journal
Immediate online access to all issues from 2019. Subscription will auto renew annually.
US$ 79
Tax calculation will be finalised during checkout.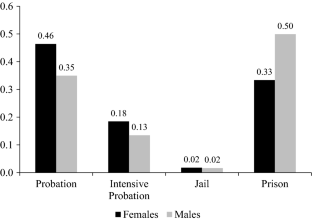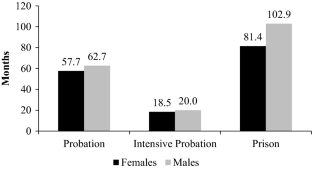 References
Ackerman AR, Harris AJ, Levenson JS, Zgoba K (2011) Who are the people in your neighborhood? A descriptive analysis of individuals on public sex offender registries. Int J Law Psychiatry 34:149–159

Albonetti CA (1991) An integration of theories to explain judicial discretion. Soc Problems 38:247–266

Amirault J, Beauregard E (2014) The impact of aggravating and mitigating factors on the sentence severity of sex offenders: an exploration and comparison of differences between offending groups. Crim Justice Policy Rev 25:78–104

Anderson I, Swainson V (2001) Perceived motivation for rape: gender differences in beliefs about female and male rape. Curr Res Soc Psychol 6:107–122

Apel RJ, Sweeten G (2010) Propensity score matching in criminology and criminal justice. In: Piquero AR, Weisburd D (eds) Handbook of quantitative criminology. Springer, New York, pp 543–562

Armstrong GS, Freeman BC (2011) Examining GPS monitoring alerts triggered by sex offenders: the divergence of legislative goals and practical application in community corrections. J Crim Justice 39:175–182

Bales WD, Piquero AR (2012) Racial/ethnic differentials in sentencing to incarceration. Justice Q 29:742–773

Bernstein IN, Kick E, Leung JT, Schulz B (1977) Charge reduction: an intermediary stage in the process of labelling criminal defendants. Soc Forces 56:362–384

Blackwell BS, Holleran D, Finn MA (2008) The impact of the Pennsylvania sentencing guidelines on sex differences in sentencing. J Contemp Crim Justice 24:399–418

Budd K, Desmond SA (2014) Sex offenders and sex crime recidivism: investigating the role of sentence length and time served. Int J Offender Ther Comp Criminol 58:1481–1499

Cain CM, Sample LL, Anderson AL (2017) Public opinion of the application of sex offender notification laws to female sex offenders: why it is important to examine. Crim Justice Policy Rev 28:155–175

Center for Sex Offender Management (2007) Female sex offenders. http://www.csom.org/pubs/female_sex_offenders_brief.pdf. Accessed 29 Apr 2018

Chaffin M, Levenson J, Letourneau E, Stern P (2009) How safe are trick-or-treaters? An analysis of child sex crime rates on Halloween. Sex Abuse 21:363–374

Chaffin M, Chenoweth S, Letourneau EJ (2016) Same-sex and race-based disparities in statutory rape arrests. Interpers Violence 31:26–48

Christensen LS (2018) The new portrayal of female child sexual offenders in the print media: a qualitative content analysis. Sex Cult 22:176–189

Clements H, Dawson DL, Das Nair R (2014) Female-perpetrated sexual abuse: a review of victim and professional perspectives. J Sex Aggress 20:197–215

Cohen M, Jeglic EL (2007) Sex offender legislation in the United States: what do we know? Int J Offender Ther Comp Criminol 51:369–383

Cortoni F (2015) What is so special about female sexual offenders? Introduction to the special issue on female sexual offenders. Sex Abuse 27:232–234

Cortoni F, Gannon TA (2016) The assessment of female sex offenders. In: Boer DP (ed) The Wiley handbook on the theories, assessment and treatment of sexual offending. Wiley-Blackwell, Chichester, pp 453–471

Cortoni F, Babchishin KM, Rat C (2017) The proportion of sexual offenders who are female is higher than thought: a meta-analysis. Crim Justice Behav 44(2):145–162

Daly K (1987) Discrimination in the criminal courts: family, gender, and the problem of equal treatment. Soc Forces 66:152–175

Denov MS (2001) A culture of denial: exploring professional perspectives on female sex offending. Can J. Criminol 43:303–329

Denov MS (2003) The myth of innocence: sexual scripts and the recognition of child sexual abuse by female perpetrators. J Sex Res 40:303–314

Denov MS, Cortoni F (2006) Women who sexually abuse children. In: Hilarski C, Wodarski JS (eds) Comprehensive mental health practice with sex offenders and their families. Taylor and Francis, Hoboken, pp 71–99

Doerner JK, Demuth S (2014) Gender and sentencing in the federal courts: are women treated more leniently? Crim Justice Policy Rev 25:242–269

Elliott IA, Eldridge HJ, Ashfield S, Beech AR (2010) Exploring risk: potential static, dynamic, protective and treatment factors in the clinical histories of female sex offenders. J Female Violence 25:595–602

Embry R, Lyons PM Jr (2012) Sex-based sentencing: sentencing discrepancies between male and female sex offenders. Female Criminol 7:146–162

Farkas MA, Stichman A (2002) Sex offender laws: can treatment, punishment, incapacitation, and public safety be reconciled? Crim Justice Rev 27:256–283

Finkelhor D, Jones LM (2006) Why have child maltreatment and child victimization declined? J Soc Issues 62:685–716

Finkelhor D, Jones LM (2012) Have sexual abuse and physical abuse declined since the 1990s? Crimes Against Children Research Center, Durham

Finkelhor D, Ormrod R, Chaffin M (2009) Juveniles who commit sex offenses against minors. Juvenile Justice Bulletin—NCJ227763. US Government Printing Office, Washington, DC

Florida Department of Corrections (2015) Florida criminal punishment code: scoresheet preparation manual. http://www.dc.state.fl.us/pub/sen_cpcm/cpc_manual.pdf. Accessed 29 Apr 2018

Freeman NJ, Sandler JC (2008) Female and male sex offenders: a comparison of recidivism patterns and risk factors. J Interpers Violence 23(10):1394–1413

Gakhal BK, Brown S (2011) A comparison of the general public's, forensic professionals' and students' attitudes towards female sex offenders. J Sex Aggress 17:105–116

Gannon TA, Rose MR, Ward T (2008) A descriptive model of the offense process for female sexual offenders. Sex Abuse 20:352–374

Gannon TA, Waugh G, Taylor K, Blanchette K, O'Connor A, Blake E, O'Ciardha C (2014) Women who sexually offend display three main offense styles: a reexamination of the descriptive model of female sexual offending. Sex Abuse 26:207–224

Greenfeld L (1997) Sex offenses and offenders: an analysis of data on rape and sexual assault. U.S. Department of Justice, Washington

Griswold DB (1989) Florida's sentencing guidelines: six years later. Fed Probation 53:46

Guo S, Fraser MW (2010) Propensity score analysis: statistical methods and applications. Sage, Thousand Oaks

Harris AJ (2009) The civil commitment of sexual predators: a policy review. In: Wright RG (ed) Sex offender laws: failed policies, new directions. Springer, New York, pp 219–239

Hassett-Walker C, Lateano T, Di Benedetto M (2014) Do female sex offenders receive preferential treatment in criminal charging and sentencing? Just Sys J 35:62–86

Hayes S, Carpenter B (2013) Social moralities and discursive constructions of female sex offenders. Sexualities 16:159–179

Ievins A, Crewe B (2015) 'Nobody's better than you, nobody's worse than you': moral community among prisoners convicted of sexual offences. Punishm Soc 17:482–501

Institute of Medicine (2013) New directions in child abuse and neglect research. National Academies, Washington

Jenkins P (1998) Moral panic: changing concepts of the child molester in modern America. Yale University Press, New Haven

Katz-Schiavone S, Levenson JS, Ackerman AR (2008) Myths and facts about sexual violence: public perceptions and implications for prevention. J Crim Justice Pop Cult 15:291–311

Kaufman K (2010) The prevention of sexual violence and exploitation: a sourcebook. Wood & Barnes, Oklahoma City

King LL, Roberts JJ (2017) The complexity of public attitudes toward sex crimes. Victims Offenders 12(1):71–89

Leon CS (2011) Sex fiends, perverts, and pedophiles: understanding sex crime policy in America. NY Press, New York

Levenson JS (2009) Sex offender residence restrictions. In: Wright RG (ed) Sex offender laws: failed policies, new directions. Springer, New York, pp 267–290

Levenson JS, Brannon YN, Fortney T, Baker J (2007) Public perceptions about sex offenders and community protection policies. Anal Soc Issues Public Policy 7:137–161

Levenson JS, Shields RT, Singleton DA (2014) Collateral punishments and sentencing policy: perceptions of residence restrictions for sex offenders and drunk drivers. Crim Justice Policy Rev 25:135–158

Malinen S, Willis GM, Johnston L (2014) Might informative media reporting of sexual offending influence community members' attitudes towards sex offenders? Psychol Crime Law 20:535–552

Mancini C (2014) Examining factors that predict public concern about the collateral consequences of sex crime policy. Crim Justice Policy Rev 4:450–475

Mancini C, Pickett JT (2016) The good, the bad, and the incomprehensible: typifications of victims and offenders as antecedents of beliefs about sex crime. J Interpers Violence 31:257–281

Mancini C, Shields RT, Mears DP, Beaver KM (2010) Sex offender residence restriction laws: parental perceptions and public policy. J Crim Justice 38:1022–1030

Mancini C, Barnes JC, Mears DP (2013) It varies from state to state: an examination of sex crime laws nationally. Crim Justice Policy Rev 24:166–198

Matthews JK, Mathews RU, Speltz K (1991) Female sexual offenders: a typology. In: Patton MQ (ed) Family sexual abuse: frontline research and evaluation. Sage, Newbury Park, pp 199–219

McLeod DA (2015) Female offenders in child sexual abuse cases: a national picture. J Child Sex Abuse 24:97–114

Mears DP, Mancini C, Gertz M, Bratton J (2008) Sex crimes, children, and pornography: public views and public policy. Crime Delinq 54:532–559

Mellor D, Deering R (2010) Professional response and attitudes toward female-perpetrated child sexual abuse: a study of psychologists, psychiatrists, probationary psychologists and child protection workers. Psychol Crime Law 16:415–438

Meloy M, Curtis K, Boatwright J (2013) The sponsors of sex offender bills speak up: policy makers' perceptions of sex offenders, sex crimes, and sex offender legislation. Crim Just Behav 40:438–452

Moore LD, Padavic I (2010) Racial and ethnic disparities in girls' sentencing in the juvenile justice system. Female Criminol 5:263–285

Nagin DS, Cullen FT, Jonson CL (2009) Imprisonment and reoffending. Crime Justice 38:115–200

National Center for Missing and Exploited Children (2015) Map of registered sex offenders in the United States. http://www.missingkids.com/en_US/documents/Sex_Offenders_Map.pdf

Petrunik MG (2002) Managing unacceptable risk: sex offenders, community response, and social policy in the United States and Canada. Int J Offender Ther Comp Criminol 46:483–511

Pfeffer R, Ormachea P, Eagleman D (2018) Gendered outcomes in prostitution arrests in Houston, Texas. Crime Delinq 64(12):1538–1567

Pickett JT, Mancini C, Mears DP (2013) Vulnerable victims, monstrous offenders, and unmanageable risk: explaining public opinion on the social control of sex crime. Criminology 51:729–759

Planty M, Langton L, Krebs C, Berzofsky M, Smiley-McDonald H (2013) Female victims of sexual violence, 1994–2010. Bureau of Justice Statistics, Washington

Quinn JF, Forsyth CJ, Mullen-Quinn C (2004) Societal reaction to sex offenders: a review of the origins and results of the myths surrounding their crimes and treatment amenability. Deviant Behav 25:215–232

Rogers P, Davies M (2007) Perceptions of victims and perpetrators in a depicted child sexual abuse case: gender and age factors. J Interpers Violence 22:566–584

Sample LL (2011) The need to debate the fate of sex offender community notification laws. Criminol Public Policy 10:265–274

Sample LL, Bray TM (2003) Are sex offenders dangerous. Criminol Public Policy 3:59–82

Sandler J, Freeman NJ (2011) Female sex offenders and the criminal justice system: a comparison of arrests and outcomes. J Sex Aggress 17:61–76

Savolainen J, Hughes LA, Hurtig TM, Ebeling H, Taanila AM (2013) Does vocational schooling facilitate criminal offending? A study of educational tracking in Finland. Eur J Criminol 10:606–622

Scott C, del Busto E (2009) Chemical and surgical castration. In: Wright RG (ed) Sex offender laws: failed policies, new directions. Springer, New York, pp 291–338

Simon J (2000) Megan's law: crime and democracy in late modern America. Law Soc Inq 25:1111–1150

Smith SG, Basile KC, Gilbert LK, Merrick MT, Patel N, Walling M, Jain A (2017) National intimate partner and sexual violence survey (NISVS): 2010–2012 state report. National Center for Injury Prevention and Control, Centers for Disease Control and Prevention, Atlanta

Socia KM, Harris AJ (2016) Evaluating public perceptions of the risk presented by registered sex offenders: evidence of crime control theater? Psychol Public Policy Law 22:375–385

Spohn C (2000) Thirty years of sentencing reform: the quest for a racially neutral sentencing process. Crim Justice 3:427–501

Spohn C (2013) The effects of the offender's race, ethnicity, and sex on federal sentencing outcomes in the guidelines era. Law Contemp Problems 76:75–104

Spohn C, Beichner D (2000) Is preferential treatment of female offenders a thing of the past? A multisite study of gender, race, and imprisonment. Crim Just Policy Rev 11:149–184

Steffensmeier D, Demuth S (2006) Does gender modify the effects of race–ethnicity on criminal sanctioning? Sentences for male and female white, black, and Hispanic defendants. J Quant Criminol 22:241–261

Steffensmeier D, Ulmer J, Kramer J (1998) The interaction of race, gender, and age in criminal sentencing: the punishment cost of being young, black, and male. Criminology 36:763–798

Strickland SM (2008) Female sex offenders: exploring issues of personality, trauma, and cognitive distortions. J Interpers Violence 23(4):474–489

ten Bensel T, Gibbs B, Burkey CR (2016) Female sex offenders: is there a difference between solo and co-offenders? J Interpers Violence. https://doi.org/10.1177/0886260516674202

Terry KJ, Ackerman AR (2009) A brief history of major sex offender laws. In: Wright RG (ed) Sex offender laws: failed policies, new directions. Springer, New York, pp 65–98

Unnever JD, Hembroff LA (1988) The prediction of racial/ethnic sentencing disparities: an expectation states approach. J Res Crime Delinq 25:53–82

Vandiver DM, Kercher G (2004) Offender and victim characteristics of registered female sexual offenders in Texas: a proposed typology of female sexual offenders. Sex Abuse 16:121–137

Vandiver DM, Teske R (2006) Juvenile female and male sex offenders: a comparison of offender, victim, and judicial processing characteristics. Int J Offender Ther Comp Criminol 50:148–165

Vandiver DM, Walker JT (2002) Female sex offenders: an overview and analysis of 40 cases. Crim Justice Rev 27:284–300

West SG, Friedman SH, Kim KD (2011) Women accused of sex offenses: a gender-based comparison. Behav Sci Law 29(5):728–740

Williams KS, Bierie DM (2015) An incident-based comparison of female and male sexual offenders. Sex Abuse 27:235–257

Williams R, Gillespie SM, Elliott IA, Eldridge HJ (2019) Characteristics of female solo and female co-offenders and male solo sexual offenders against children. Sex Abuse 31:151–172

Wijkman M, Bijleveld C, Hendriks J (2010) Women don't do such things! Characteristics of female sex offenders and offender types. Sex Abuse 22(2):135–156

Zevitz RG (2006) Sex offender community notification: its role in recidivism and offender reintegration. Crim Justice Stud 19:193–208
Acknowledgements
We thank Sam Scaggs for helpful consultation with the paper's analyses, William Bales for consultation with the preparation of the paper's dataset, and Daniel Mears for helpful comments on earlier drafts.
Additional information
Publisher's Note
Springer Nature remains neutral with regard to jurisdictional claims in published maps and institutional affiliations.
About this article
Cite this article
Shields, R.T., Cochran, J.C. The Gender Gap in Sex Offender Punishment. J Quant Criminol 36, 95–118 (2020). https://doi.org/10.1007/s10940-019-09416-x
Keywords
Gender

Punishment

Sentencing

Sex offender