Abstract
Objectives
The number of individuals incarcerated for terrorism offences in the West has grown considerably in recent years. However, unlike the extensive literature on recidivism for ordinary criminal offenders, little is known about recidivism for terrorism offenders. Given that many terrorism offenders are to be released in the coming years, the Israeli case is used to explore possible insights into the recidivist characteristics of terrorism offenders.
Methodology
Using a unique dataset of terrorism offenders from Jerusalem provided by the Israeli Prison Service, proportional hazards regressions were used to assess the risk of terrorism-related recidivism for first-time and repeat terrorism offenders by examining factors related to incarceration history and other background factors known to be relevant for criminal recidivism.
Findings
The recidivism rate of terrorism offenders is higher than that for ordinary criminal offenders but follows similar patterns: sentence length and age upon release reduce risk of recidivism, while affiliation with a terrorist organization significantly increase it. For repeat offenders, recidivism to a new terrorism offense increases with the number of prior terrorism-related incarcerations and decreases with the number of additional incarcerations for regular criminal offences. While marital status affected recidivism of first-timers, it had no significant effect for repeat offenders. The effects of offence type for prior incarcerations were similar in the two analyses.
Conclusions
Many factors, including sentence length, age, and prior terrorist criminal records show similar impacts upon terrorist offenders. However, others have opposing impacts. While prior criminality is a known risk factor for criminal offenders, recidivism of terrorists into further terrorism involvement is inhibited by prior criminal records as opposed to prior records for terrorism. Marital status, generally seen as an inhibitor of criminality increases re-offending for the first offender group. This might be explained by the financial incentives that terrorism offenders and their families receive from the Palestinian Authority.
Access options
Buy single article
Instant access to the full article PDF.
US$ 39.95
Tax calculation will be finalised during checkout.
Subscribe to journal
Immediate online access to all issues from 2019. Subscription will auto renew annually.
US$ 79
Tax calculation will be finalised during checkout.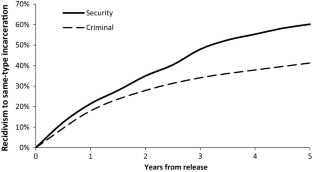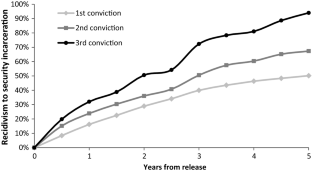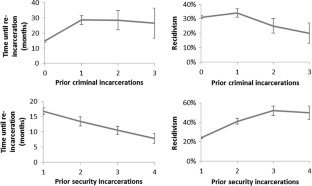 Notes
1.

2.

3.

Other offenses that were not included in these categories were excluded from analysis since they appeared in the data too infrequently.

4.

Data on organizational affiliation is derived from intelligence gathering, which includes interviews with the detainees, as well as secret intelligence developed primarily by the ISA.

5.

The IPS data also has access to personal details of prisoners as held by the Ministry of the Interior, through whom all marriage registrations are processed according to each citizen's and resident's national identification number. As demonstrated by the small number of unknown cases, the data is considered to be highly reliable.

6.

In contrast to the male prisoners, females were mostly not affiliated to any organization (only 6 were affiliated: 3 to Fatah, 2 to Hamas and 1 to a secular faction). Additionally, only 6 were married. Moreover, their mean age was 24.9 (8.4 SD), which also differed significantly from the males. The average sentence length for females was relatively longer than males (mean length: 210 weeks, SD: 257.3). Importantly, 21 of the 28 female prisoners were still serving their sentence at the end of the observation period. Accordingly, only two were incarcerated more than once during the studied period: one with a criminal charge and the other with a second security incarceration.

7.

20 individuals were excluded because they had very high numbers of criminal or security incarcerations relative to other prisoners (a minimum of 7 and 4 prior criminal and security incarcerations, respectively).

8.
References
Ahmed S (2016) Is history repeating itself: sentencing young American muslims in the war on terror. Yale LJ 126:1520

Altier MB, Horgan J, Thoroughgood C (2012) Returning to the fight: what the literature on criminal recidivism can contribute to our understanding of terrorist recidivism. Department of Homeland Security report

Altier MB, Thoroughgood CN, Horgan JG (2014) Turning away from terrorism: lessons from psychology, sociology, and criminology. J Peace Res 51(5):647–661

Altier MB, Boyle EL, Horgan JG (Forthcoming) Returning to the fight: an empirical analysis of terrorist re-engagement and recidivism

Baier D, Manzoni P, Bergmann MC (2016) Einflussfaktoren des politischen Extremismus im Jugendalter. Monatsschrift für Kriminologie und Strafrechtsreform 3:171–198

Bakker E (2006) Jihadi terrorists in Europe. Netherlands Institute of International Relations, Den Haag

Bakker E (2011) Characteristics of Jihadi terrorists in Europe (2001–2009). In: Coolsaet R (ed) Jihadi terrorism and the radicalisation challenge European and American experiences. Ashgate, Aldershot, pp 131–144

Bakker E, De Bont R (2016) Belgian and Dutch jihadist foreign fighters (2012–2015): characteristics, motivations, and roles in the War in Syria and Iraq. Small Wars Insurg 27(5):837–857

Basra R, Neumann PR (2016) Criminal pasts, terrorist futures: European jihadists and the new crime-terror nexus. Perspect Terror 10(6):25–40

Basra R, Neumann PR (2017) Crime as Jihad. CTC Sentinel 10(9):1–5

Berrebi C (2007) Evidence about the link between education, poverty and terrorism among Palestinians. Peace Econ Peace Sci Public Policy 13(1):1

Berry L, Curtis GE, Hudson RA, Kollars NA (2002) A global overview of narcotics-funded terrorist and other extremist groups. Library of Congress Washington D.C. Federal Research Division

Black D (1983) Crime as social control. Am Sociol Rev 48(1):34–45

Boduszek D, Dhingra K, Hirschfield A (2015) Gang reengagement intentions among incarcerated serious juvenile offenders. J Criminol 2015:1–10

Boncio A (2017) Italian Foreign terrorist fighters: a quantitative analysis of radicalization risk factors. Count Terror Prev Radic Prot Cult Herit Role Human Factors Technol 133:40

Boucek SAC (2008) Extremist re-education and rehabilitation in Saudi Arabia. In: Bjorgo T, Horgan JG (eds) Leaving terrorism behind. Routledge, pp. 230–241

Bovenkerk F (2011) On leaving criminal organizations. Crime Law Soc Change 55(4):261–276

Clark RP (1983) Patterns in the lives of ETA members. Stud Confl Terror 6(3):423–454

Clarke RVG, Newman GR (2006) Outsmarting the terrorists. Greenwood Publishing Group, Connecticut

Clifford B (2018) Radicalization in custody: towards data-driven terrorism prevention in the United States Federal correctional system. Program on Extremism Policy Paper, The George Washington University, Washington DC

Clubb G, Tapley M (2018) Conceptualising de-radicalisation and former combatant re-integration in Nigeria. Third World Q 39(11):2053–2068

Cox DR (1972) Models and life-tables regression. J R Stat Soc Ser B 34:187–220

Cunningham KJ (2003) Cross-regional trends in female terrorism. Stud Conflict Terrorism 26(3):171–195

Curtis GE, Karacan T (2002) The nexus among terrorists, narcotics traffickers, weapons proliferators, and organized crime networks in Western Europe. In: The Library of Congress, December

De Poot CJ, Sonnenschein A, Soudijn MRJ, Bijen JG, Verkuylen MW (2011) Jihadi terrorism in the Netherlands. Boom juridische uitgevers

De Waele MS, Pauwels L (2014) Youth involvement in politically motivated violence: why do social integration, perceived legitimacy, and perceived discrimination matter? Int J Confl Viol (IJCV) 8(1):134–153

Decker S, Pyrooz D (2011) Gangs, terrorism, and radicalization. J Strat Secur 4(4):8

Decker SH, Pyrooz DC (2015) "I'm down for a Jihad" how 100 years of gang research can inform the study of terrorism, radicalization and extremism. Perspect Terror 9(1):104–112

Deloughery K, King RD, Asal V (2012) Close cousins or distant relatives? The relationship between terrorism and hate crime. Crime Delinq 58(5):663–688

Department of National Intelligence (DNI) (2018) Summary of the reengagement of detainees formerly held at Guantanamo Bay, Cuba. Department of National Intelligence, Washington DC

Dicter A, Byman D (2006) Israel's lessons for fighting terrorists and their implications for the United States. Brookings Institution, Saban Center for Middle East Policy

Dooley BD, Seals A, Skarbek D (2014) The effect of prison gang membership on recidivism. J Crim Justice 42(3):267–275

Dugan L, Chenoweth E (2012) Moving beyond deterrence: the effectiveness of raising the expected utility of abstaining from terrorism in Israel. Am Sociol Rev 77(4):597–624

Dunbar E (2003) Symbolic, relational, and ideological signifiers of bias-motivated offenders: toward a strategy of assessment. Am J Orthopsychiatry 73(2):203–211

Dunbar E, Quinones J, Crevecoeur DA (2005) Assessment of hate crime offenders: the role of bias intent in examining violence risk. J Forensic Psychol Pract 5(1):1–19

Ebbe ON, Odo I (2013) The islamic criminal justice system. Comparative and international criminal justice systems: policing, judiciary, and corrections, 217

Ewi M, Salifu U (2017) Money talks—a key reason youths Join Boko Haram. The Institute for Security Studies (Africa), Nairobi

Fahey S (2013) Predictors of release from Guantanamo Bay and detainee recidivism. Int J Criminol Sociol 2:453–468

Fazel S, Wolf A (2015) A systematic review of criminal recidivism rates worldwide: current difficulties and recommendations for best practice. PloS one 10(6):e0130390

Feith D, Gerber S (2017, March). The department of pay-for-slay: how the Palestinian authority not only incites terrorist murder—but supports it with U.S. tax dollars. Commentary. Retrived June 25, 2019 from https://www.commentarymagazine.com/articles/the-department-of-pay-for-slay/

Freilich CD (2015) Israel's counter-terrorism policy: how effective? Terrorism Pol Violence 29(2):359–376

Freilich JD, LaFree G (eds) (2017) Criminology theory and terrorism: new applications and approaches. Routledge, London

Gallagher M (2016) 'Criminalised' Islamic State Veterans—a future major threat in organised crime development? Perspect Terror 10(5):51–67

Gambetta D, Hertog S (2017) Engineers of jihad: the curious connection between violent extremism and education. Princeton University Press, Princeton

Ganor B (2011) An intifada in Europe? A comparative analysis of radicalization processes among Palestinians in the West Bank and Gaza versus Muslim immigrants in Europe. Stud Confl Terror 34(8):587–599

Ganor B, Falk O (2013) De-radicalization in Israel's prison system. Stud Confl Terror 36(2):116–131

Gheordunescu M (1999) Terrorism and organized crime: the Romanian perspective. Terror Polit Viol 11(4):24–29

Gill P, Horgan J, Corner E, Silver J (2016) Indicators of lone actor violent events: the problems of low base rates and long observational periods. J Threat Assess Manag 3(3–4):165

Greenberg DF (1991) Modeling criminal careers. Criminology 29(1):17–46

Haddad S (2004) A comparative study of Lebanese and Palestinian perceptions of suicide bombings: the role of militant Islam and socio-economic status. Int J Comp Sociol 45(5):337–363

Hamm MS, Van de Voorde C (2005) Crimes committed by terrorist groups: theory, research, and prevention. Trends Organ Crime 9(2):18–50

Hecker M (2018) Jihadist Prisoners: the fear of recidivism. Institut français des relations internationales (IFRI). Retrieved June 1, 2018 from https://www.ifri.org/en/espace-media/lifri-medias/jihadist-prisoners-fear-recidivism

Van der Heide L, Schuurman B (2018) Re-integratie van delinquenten met een extremistische achtergrond: evaluatie van de Nederlands aanpak. ISGA Report, Leiden

Heinke DH (2017) German foreign fighters in Syria and Iraq: the updated data and its implications. CTC Sentinel 10(3):17–22

Hoffman B (1998) Inside terrorism. Columbia University Press, New York City

Horgan J (2003) Leaving terrorism behind: an individual perspective. In: Silke A (ed) Terrorists, victims and society: psychological perspectives on terrorism and its consequences. John Wiley and Sons, Chichester, pp 109–130

Horgan J (2005) The social and psychological characteristics of terrorism and terrorists. In Bjørgo T (ed) Root causes of terrorism. Routledge, Milton Park, pp 62–71

Horgan J (2009) Disengaging from terrorism. Multidisciplinary perspectives, The faces of terrorism, pp 257–276

Horgan J, Shortland N, Abbasciano S, Walsh S (2016) Actions speak louder than words: a behavioral analysis of 183 individuals convicted for terrorist offenses in the United States from 1995 to 2012. J Forensic Sci 61(5):1228–1237

Horgan JG, Taylor M, Bloom M, Winter C (2017) From cubs to lions: a six stage model of child socialization into the Islamic State. Stud Confl Terror 40(7):645–664

Horowitz JM (2009) Declining support for bin laden and suicide bombing. Pew Research Center. Retrieved May 1, 2018 from https://www.pewglobal.org/2009/09/10/rejection-of-extremism/

Huebner BM, Varano SP, Bynum TS (2007) Gangs, guns, and drugs: recidivism among serious, young offenders. Criminol Public Policy 6(2):187–221

Hutchinson S, O'Malley P (2007) A crime–terror nexus? Thinking on some of the links between terrorism and criminality. Stud Confl Terror 30(12):1095–1107

Iganski P, Smith D, Dixon L, Bargen J (2011) Rehabilitation of hate crime offenders. Equality and Human Rights Commission Scotland

Ismail N, Sim S (2016) From prison to carnage in Jakarta: predicting terrorist recidivism in Indonesia's prisons. Brookings Institute. Retrieved May 1, 2018 from https://www.brookings.edu/opinions/predicting-terrorist-recidivism-in-indonesias-prisons/

Jarallah Y (2008) Marriage patterns in Palestine (MENA Working Paper Series). Population Reference Bureau, Washington

Jasko K, LaFree G, Kruglanski A (2017) Quest for significance and violent extremism: the case of domestic radicalization. Polit Psychol 38(5):815–831

Jonathan Tal (2009) Police involvement in counter-terrorism and public attitudes towards the police in Israel—1998–2007. Br J Criminol 50(4):748–771

Kaplan O, Nussio E (2018) Explaining recidivism of ex-combatants in Colombia. J Confl Resolut 62(1):64–93

Klausen J, Morrill T, Libretti R (2016) The terrorist age-crime curve: an analysis of American Islamist terrorist offenders and age-specific propensity for participation in violent and nonviolent incidents. Soc Sci Q 97(1):19–32

LaFree G, Dugan L (2004) How does studying terrorism compare to studying crime? In: Deflem M (ed) Terrorism and counter-terrorism. Emerald Group Publishing Limited, Bingley, pp 53–74

LaFree G, Dugan L (2015) How has criminology contributed to the study of terrorism since 9/11? In: Deflem M (ed) Terrorism and counterterrorism today. Emerald Group Publishing Limited, Bingley, pp. 1–23

LaFree G, Freilich J (2016) Bringing criminology into the study of terrorism. In: LaFree G, Freilich JD (eds) The handbook of the criminology of terrorism, vol 3. John Wiley & Sons, Chichester, pp 1–14

LaFree G, Jensen MA, James PA, Safer-Lichtenstein A (2018) Correlates of violent political extremism in the United States. Criminology 56(2):233–268

Lakhani S (2018) Extreme criminals: reconstructing ideas of criminality through extremist narratives. Stud Confl Terror. https://doi.org/10.1080/1057610X.2018.1450613

Laqueur W (1977) Terrorism: A study of national and international political violence. Little, Brown, Boston

Laub JH, Sampson RJ (1993) Turning points in the life course: why change matters to the study of crime. Criminology 31(3):301–325

Laub JH, Sampson RJ (2001) Understanding desistance from crime. Crime Justice 28:1–69

Liem M (2013) Homicide offender recidivism: a review of the literature. Aggress Violent Behav 18(1):19–25

Ljujic V, Weerman F (2017) Beyond the crime-terror nexus: socio-economic status, violent crimes and terrorism. J Criminol Res Policy Pract 3(3):158–172

Lloyd M, Kleinot P (2017) Pathways into terrorism: the good, the bad and the ugly. Psychoanal Psychother 31(4):367–377

Loesch J (2017) The GPH-MILF peace process in the Philippines to prevent and transform violent extremism in Mindanao. J Peacebuild Dev 12(2):96–101

Lukas H (2012) Untersuchung zur legalbewährung der teilnehmer an VPN-trainingskursen im jugendstrafvollzug. Kommentierte Kurzfassung. Violence Prevention Network, Berlin

Makarenko T (2004) The crime-terror continuum: tracing the interplay between transnational organised crime and terrorism. Global Crime 6(1):129–145

Malthaner S, Waldmann P (2014) The radical milieu: conceptualizing the supportive social environment of terrorist groups. Stud Confl Terror 37(12):979–998

McCauley C, Moskalenko S (2017) Understanding political radicalization: the two-pyramids model. Am Psychol 72(3):205

McCauley CR, Segal ME (1987) Social psychology of terrorist groups. In: Hendrick C (ed) Review of personality and social psychology, vol 9. Group processes and intergroup relations. Sage Publications Inc, Thousand Oaks, pp 231–256

McShane MD, Williams FP, Dolny HM (2003) The effect of gang membership on parole outcome. J Gang Res 10(4):25–38

Mears DP, Cochran JC, Cullen FT (2015) Incarceration heterogeneity and its implications for assessing the effectiveness of imprisonment on recidivism. Criminal Justice Policy Rev 26(7):691–712

Mills CE, Freilich JD, Chermak SM (2017) Extreme hatred: revisiting the hate crime and terrorism relationship to determine whether they are "Close Cousins" or "Distant Relatives". Crime Delinq 63(10):1191–1223

Mitchell O, Cochran JC, Mears DP, Bales WD (2017) Examining prison effects on recidivism: a regression discontinuity approach. Justice Q 34(4):571–596

Monahan J (2012) The individual risk assessment of terrorism. Psychol Public Policy Law 18(2):167

National Research Council (2007) Parole, desistance from crime, and community integration. National Academies Press, Washington DC

Pantucci R (2010) The Tottenham Ayatollah and the hook-handed cleric: an examination of all their Jihadi children. Stud Confl Terror 33(3):226–245

Pantucci R (2014) A death in Woolwich: the lone-actor terrorist threat in the UK. RUSI J 159(5):22–30

Pauwels L, Schils N (2016) Differential online exposure to extremist content and political violence: testing the relative strength of social learning and competing perspectives. Terror Polit Viol 28(1):1–29

Pauwels LJ, Svensson R (2017) How robust is the moderating effect of extremist beliefs on the relationship between self-control and violent extremism? Crime Delinq 63(8):1000–1016

Peffley M, Hutchison ML, Shamir M (2015) The impact of persistent terrorism on political tolerance: Israel, 1980 to 2011. Am Polit Sci Rev 109(4):817–832

Perry S, Apel R, Newman GR, Clarke RV (2017) The situational prevention of terrorism: an evaluation of the Israeli West Bank barrier. J Quant Criminol 33(4):727–751

Perry S, Hasisi B, Perry G (2018) Who is the lone terrorist? A study of vehicle-borne attackers in Israel and the West Bank. Stud Confl Terror 41(11):899–913

Piazza JA (2019) Democratic skepticism and support for terrorism in the Palestinian Territories. Public Choice 178(3–4):417–443

Pieth M (2002) Financing of terrorism: following the money. In: Pieth M (ed) Financing terrorism. Springer, Dordrecht, pp 115–126

Pluchinsky DA (2008) Global jihadist recidivism: a red flag. Stud Confl Terror 31(3):182–200

Porges ML (2010) Deradicalisation, the Yemeni way. Survival 52(2):27–33

Rekawek K, Matejka S, Babikova M, Nagy T, Rafay J (2017) From Criminals to Terrorists and Back?. Globsec, Bratislava

Rekawek K, Matejka S, Szucs V, Beňuška T, Kajzarová K, Rafay J (2018) Who are the European Jihadis?. Globsec, Bratislava

Richardson C, Berlouis KM, Cameron PA (2017) Radicalisation of young adults in the Balkan States: counter-measures, healthcare provision, and community involvement. J Deradic 11:87–111

Rostami A, Sturup J, Mondani H, Thevselius P, Sarnecki J, Edling C (2018) The Swedish Mujahideen: an Exploratory Study of 41 Swedish foreign fighters deceased in Iraq and Syria. Stud Confl Terror. https://doi.org/10.1080/1057610X.2018.1463615

Russell CA, Miller BH (1977) Profile of a terrorist. Stud Confl Terror 1(1):17–34

Rydberg J, Clark K (2016) Variation in the incarceration length-recidivism dose–response relationship. J Criminal Justice 46:118–128

Sageman M (2004) Understanding terror networks. University of Pennsylvania Press, Philadelphia

Sageman M (2014) The stagnation in terrorism research. Terror Polit Violence 26(4):565–580

Sampson RJ, Laub JH (1990) Crime and deviance over the life course: the salience of adult social bonds. Am Sociol Rev 55:609–627

Sampson RJ, Laub JH, Wimer C (2006) Does marriage reduce crime? A counterfactual approach to within-individual causal effects. Criminology 44(3):465–508

Schmid AP (1996) The links between transnational organized crime and terrorist crimes. Transnatl Organ Crime 2(4):40–82

Schuurman B, Bakker E (2016) Reintegrating jihadist extremists: evaluating a Dutch initiative, 2013–2014. Behav Sci Terror Polit Aggress 8(1):66–85

See S (2018) Returning foreign terrorist fighters: a catalyst for recidivism among disengaged terrorists. Counter Terror Trends Anal 10(6):7–15

Seifert K (2010) Can Jihadis be rehabilitated? Middle East Quart 17(2):21–30

Silke A (ed) (2014) Prisons, terrorism and extremism: critical issues in management, radicalisation and reform. Routledge, New York

Singer JD, Willett JB (2003) Survival analysis. In: Schinka JA, Velicer WF (eds) Handbook of psychology. Wiley, Hoboken, pp 555–580

Smith AG (2018) How radicalization to terrorism occurs in the United States: What research sponsored by the National Institute of Justice tells us. National Institute of Justice, Washington DC

Soothill K, Francis B, Ackerley E, Fligelstone R (2002) Murder and Serious Sexual Assault: What criminal histories can reveal about future serious offending. Police Research Series, Home Office, London, Policing and Reducing Crime Unit

Stern J (2010) Mind over martyr: How to deradicalize Islamist extremists. Foreign Affairs 89:95–108

Tartir A (2015) The evolution and reform of palestinian security forces 1993–2013. Stability: Int J Security Dev, 4(1)

Trulson CR, Caudill JW, Haerle DR, DeLisi M (2012) Cliqued up: the postincarceration recidivism of young gang-related homicide offenders. Criminal Justice Rev 37(2):174–190

Ulmer JT, Steffensmeier D (2014) The age and crime relationship: social variation, social explanations. In: The nurture versus biosocial debate in criminology: on the origins of criminal behavior and criminality. SAGE Publications Inc.

Valasik M, Phillips M (2017) Understanding modern terror and insurgency through the lens of street gangs: ISIS as a case study. J Criminol Res Policy Pract 3(3):192–207

van Leyenhorst M, Andreas A (2017) Dutch suspects of terrorist activity: a study of their biographical backgrounds based on primary sources. J Deradic 12:309–344

Veldhuis TM, Kessels EJ (2013) Thinking before leaping: The need for more and structural data analysis in detention and rehabilitation of extremist offenders. International Centre for Counter-Terrorism, The Hague

Vidino L (2015) Sharia4: from confrontational activism to militancy. Perspect Terror 9(2):2–16

Walk D, Berman E (2015) The Recidivism of Israeli Prisoners. Israel Prison Service, Ramla

Weenink AW (2015) Behavioral problems and disorders among radicals in police files. Perspect Terror 9(2):17–33

Weilnböck H (2013) The narrative principle: Good practice in anti-hate crime interventions, within the radicalisation awareness network. In: Melzer R, Serafim S (eds) Right-wing extremism in Europe: country analysis, counter strategies and labor-market oriented exit strategies. Friedrich Ebert Stiftung, Berlin, pp 379-408

Weilnböck H, Baer S, Wiechmann P (2012) Hate crime prevention and deradicalization in environments vulnerable to extremism: community work with the fair skills approach and the we-among-ourselves group. Zeitschrift des Informations-und Dokumentationzentrums für Antirassismusarbeit in NRW, 3-7

Weiner JR (2015) Leave no man behind: the United States and Israel face risks in their prisoner release policies. Fletcher Forum World Aff 39:7

Weisburd D (1989) Jewish settler violence: deviance as social reaction. Penn State Press, University Park

Weisburd D, Hasisi B, Jonathan T, Aviv G (2009) Terrorist threats and police performance: a study of Israeli communities. Br J Criminol 50(4):725–747

Wiktorowicz Q, Kaltenthaler K (2006) The rationality of radical Islam. Polit Sci Q 121(2):295–319

Yeini SA (2018) Weighing lives: Israel's prisoner-exchange policy and the right to life. Minn J Int Law 27:493
Acknowledgements
This project has received funding from the European Union's Horizon 2020 research and innovation programme under Grant Agreement No. 699824.
Additional information
Publisher's Note
Springer Nature remains neutral with regard to jurisdictional claims in published maps and institutional affiliations.
About this article
Cite this article
Hasisi, B., Carmel, T., Weisburd, D. et al. Crime and Terror: Examining Criminal Risk Factors for Terrorist Recidivism. J Quant Criminol 36, 449–472 (2020). https://doi.org/10.1007/s10940-019-09415-y
Keywords
Terrorism

Recidivism

Israel