Abstract
Objectives
The current study proposes an approach that accounts for the importance of streets while at the same time accounting for the overlapping spatial nature of social and physical environments captured by the egohood approach. Our approach utilizes overlapping clusters of streets based on the street network distance, which we term street egohoods.
Methods
We used the street segment as a base unit and employed two strategies in clustering the street segments: (1) based on the First Order Queen Contiguity; and (2) based on the street network distance considering physical barriers. We utilized our approaches for measuring ecological factors and estimated crime rates in the Los Angeles metropolitan area.
Results
We found that whereas certain socio-demographics, land use, and business employee measures show stronger relationships with crime when measured at the smaller street based unit, a number of them actually exhibited stronger relationships when measured using our larger street egohoods. We compared the results for our three-sized street egohoods to street segments and two sizes of block egohoods proposed by Hipp and Boessen (Criminology 51(2):287–327, 2013) and found that two egohood strategies essentially are not different at the quarter mile egohood level but this similarity appears lower when looking at the half mile egohood level. Also, the street egohood models are a better fit for predicting violent and property crime compared to the block egohood models.
Conclusions
A primary contribution of the current study is to develop and propose a new perspective of measuring neighborhood based on urban streets. We empirically demonstrated that whereas certain socio-demographic measures show the strongest relationship with crime when measured at the micro geographic unit of street segments, a number of them actually exhibited the strongest relationship when measured using our larger street egohoods. We hope future research can use egohoods to expand understanding of neighborhoods and crime.
This is a preview of subscription content, log in to check access.
Access options
Buy single article
Instant access to the full article PDF.
US$ 39.95
Price includes VAT for USA
Subscribe to journal
Immediate online access to all issues from 2019. Subscription will auto renew annually.
US$ 99
This is the net price. Taxes to be calculated in checkout.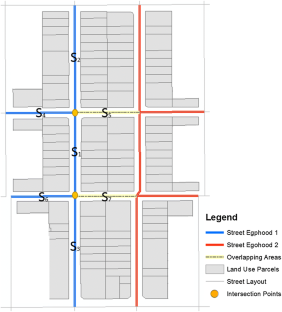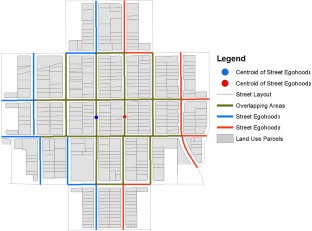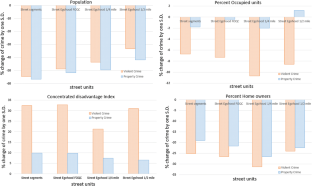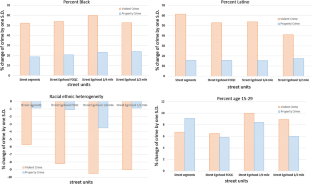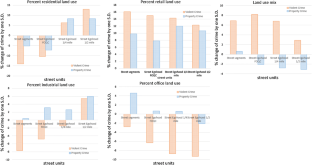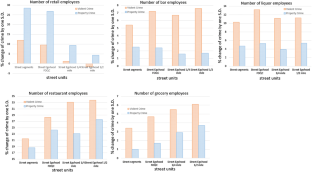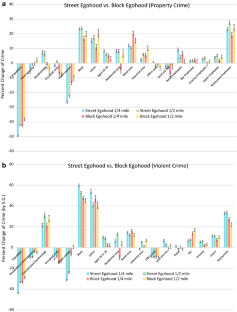 Notes
1.

For crime incident data with exact street address, Southern California Crime Study (SCCS) researchers geocoded crime incidents to longitude and latitude points using the address information. If 100 block addresses rather than exact street addresses were provided, SCCS geocoded at the random street addresses within the 100 block, which is essentially similar to geocoding to the center of the 100 block. We believe that this process should not affect to the aggregation to the various units because our base unit is the street segment which is identical to 100 block in the geocoding process.

2.

We decided to use one factor that had an eigenvalue of 1.00 or higher. Eigenvalues of the concentrated disadvantage index across all units are greater than 2.

3.

We include population as an offset variable (with coefficient constrained to 1) and also include it in the model. This is a straightforward way to handle to possibility that population does not have a 1:1 relationship with crime (which is the assumption when creating crime rates). We prefer our approach as the provided t test from Stata 13 is for the difference from 1 (which is a reasonable test, given the common assumption of a 1:1 relationship with crime in crime rates), rather than testing whether an estimate is different than zero (which would assume no relationship with population, which is a less interesting test).

4.

McFadden's pseudo R-squared is calculated as 1 − (log likelihood value for the fitted model/log likelihood of the null model). Values closer to 1 indicate better model fit, while conversely closer to 0 suggest less predictive ability.
References
Appleyard D (1981) Livable streets. University of California Press, Berkeley

Atash F (1994) Redesigning suburbia for walking and transit: emerging concepts. J Urban Plan Dev 120(1):48–57. https://doi.org/10.1061/(ASCE)0733-9488(1994)120:1(48)

Bernasco W, Ruiter S, Block R (2016) Do street robbery location choices vary over time of day or day of week? A test in Chicago. J Res Crime Delinq 54(2):244–275. https://doi.org/10.1177/0022427816680681

Block RL, Block CR (1995) Space, place and crime: hot spot areas and hot places of liquor-related crime. In: Eck JE, Weisburd D (eds) Crime and place. Criminal Justice Press, Monsey, pp 145–183

Boessen A, Hipp JR (2015) Close-ups and the scale of ecology: land uses and the geography of social context and crime. Criminology 53(3):399–426

Boessen A, Hipp JR, Butts CT, Nagle NN, Smith EJ (2017) Social fabric and fear of crime: considering spatial location and time of day. Soc Networks 51:60–72. https://doi.org/10.1016/j.socnet.2016.12.001

Boruff BJ, Nathan A, Nijënstein S (2012) Using GPS technology to (re)-examine operational definitions of 'neighbourhood' in place-based health research. Int J Health Geogr 11(1):22. https://doi.org/10.1186/1476-072x-11-22

Braga AA, Clarke RV (2014) Explaining high-risk concentrations of crime in the city: social disorganization, crime opportunities, and important next steps. J Res Crime Delinq. https://doi.org/10.1177/0022427814521217

Brantingham P, Brantingham P (1993) Nodes, paths and edges: considerations on the complexity of crime and the physical environment. J Environ Psychol 13:3–28

Brantingham P, Brantingham P (1995) Criminality of place: crime generators and crime attractors. Eur J Crim Policy Res 3(3):1–26

Chamberlain AW, Hipp JR (2015) It's all relative: concentrated disadvantage within and across neighborhoods and communities, and the consequences for neighborhood crime. J Crim Justice 43(6):431–443. https://doi.org/10.1016/j.jcrimjus.2015.08.004

Cohen LE, Felson M (1979) Social change and crime rate trends: a routine activity approach. Am Sociol Rev 44(4):588–608. https://doi.org/10.2307/2094589

Colabianchi N, Dowda M, Pfeiffer KA, Porter DE, Almeida MJC, Pate RR (2007) Towards an understanding of salient neighborhood boundaries: adolescent reports of an easy walking distance and convenient driving distance. Int J Behav Nutr Phys Act 4(1):66. https://doi.org/10.1186/1479-5868-4-66

Coulton CJ, Korbin J, Chan T, Marilyn S (2001) Mapping residents' perceptions of neighborhood boundaries: a methodological note. Am J Community Psychol 29(2):371–383

Duncan DT, Kawachi I, Subramanian SV, Aldstadt J, Melly SJ, Williams DR (2013) Examination of how neighborhood definition influences measurements of youths' access to tobacco retailers: a methodological note on spatial misclassification. Am J Epidemiol 179(3):373–381. https://doi.org/10.1093/aje/kwt251

Felson M (1987) Routine activities and crime prevention in the developingmetropolis. Criminology 25(4):911–932. https://doi.org/10.1111/j.1745-9125.1987.tb00825.x

Felson M, Boba R (2010) Crime and everyday life. SAGE Publications, California

Forsyth A, Van Riper D, Larson N, Wall M, Neumark-Sztainer D (2012) Creating a replicable, valid cross-platform buffering technique: the sausage network buffer for measuring food and physical activity built environments. Int J Health Geogr 11:14. https://doi.org/10.1186/1476-072x-11-14

Golledge RG, Stimson RJ (1997) Spatial behavior: a geographic perspective. The Guilford Press, New York

Groff E, LaVigne NG (2001) Mapping an opportunity surface of residential burglary. J Res Crime Delinq 38:257–278

Groff ER, Lockwood B (2013) Criminogenic facilities and crime across street segments in Philadelphia: uncovering evidence about the spatial extent of facility influence. J Res Crime Delinq. https://doi.org/10.1177/0022427813512494

Groff E, McCord ES (2012) The role of neighborhood parks as crime generators. Secur J 25(1):1–24

Groff E, Weisburd D, Yang SM (2010) Is it important to examine crime trends at a local "micro" level? A longitudinal analysis of street to street variability in crime trajectories. J Quant Criminol 26(1):7–32. https://doi.org/10.1007/s10940-009-9081-y

Guest AM, Lee BA (1984) How urbanites define their neighborhoods. Popul Environ 71(1):32–56

Guo JY, Bhat CR (2007) Operationalizing the concept of neighborhood: application to residential location choice analysis. J Transp Geogr 15(1):31–45. https://doi.org/10.1016/j.jtrangeo.2005.11.001

Haberman CP, Ratcliffe JH (2015) Testing for temporally differentiated relationships among potentially criminogenic places and census block street robbery counts. Criminology 53(3):457–483. https://doi.org/10.1111/1745-9125.12076

Hipp JR (2007a) Block, tract, and levels of aggregation: neighborhood structure and crime and disorder as a case in point. Am Sociol Rev 72(5):659–680

Hipp JR (2007b) Income inequality, race, and place: does the distribution of race and class within neighborhoods affect crime rates? Criminology 48(3):683–723

Hipp JR, Boessen A (2013) Egohoods as waves washing across the city: a new measure of "neighborhoods". Criminology 51(2):287–327

Hipp JR, Kim Y-A (2019) Explaining the temporal and spatial dimensions of robbery: differences across measures of the physical and social environment. J Crim Justice 60:1–12. https://doi.org/10.1016/j.jcrimjus.2018.10.005

Inagami S, Cohen DA, Finch BK, Asch SM (2006) You are where you shop. Am J Prev Med 31(1):10–17. https://doi.org/10.1016/j.amepre.2006.03.019

Jacobs J (1961) The death and life of great American cities. Vintage, New York

Jacobs AB (1993) Great Streets. ACCESS Magazine 1(3):23-27. Retrieved from https://escholarship.org/uc/item/3t62h1fv

Kane K, Hipp JR, Kim JH (2017) Analyzing accessibility using parcel data: is there still an access–space trade-off in long beach, California? Prof Geogr 69(3):486–503

Kim Y-A (2016) Examining the relationship between the structural characteristics of place and crime by imputing census block data in street segments: is the pain worth the gain? J Quant Criminol. https://doi.org/10.1007/s10940-016-9323-8

Kim Y-A, Hipp JR (2017) Physical boundaries and city boundaries: consequences for crime patterns on street segments? Crime Delinq. https://doi.org/10.1177/0011128716687756

Kubrin CE (2003) New directions in social disorganization theory. J Res Crime Delinq 40(4):374–402. https://doi.org/10.1177/0022427803256238

Kubrin CE (2009) Social disorganization theory: then, now, and in the future. In: Krohn MD, Lizotte AJ, Hall GP (eds) Handbook on crime and deviance. Springer, New York, pp 225–236

Lee BA, Campbell KE, Miller O (1991) Racial differences in urban neighboring. Soc Forum 6(3):525–550

Logan JR, Collver OA (1983) Residents' perceptions of suburban community differences. Am Sociol Rev 48(3):428–433

Oberwittler D, Wikstrom H (2009) Why small is better: advancing the study of the role of behavioral contexts in crime causation. In: Weisburd D, Bernasco W, Bruinsma G (eds) Putting crime in its place: units of analysis in spatial crime research. Springer, New York

Oliver LN, Schuurman N, Hall AW (2007) Comparing circular and network buffers to examine the influence of land use on walking for leisure and errands. Int J Health Geogr 6:41. https://doi.org/10.1186/1476-072X-6-41

Osgood DW (2000) Poisson-based regression analysis of aggregate crime rate. J Quant Criminol 16(1):21–43

Park RE (1926) The urban community as a spatial pattern and a moral order. Urban Community 2:3–18

Sampson R, Groves B (1989) Community structure and crime: testing social-disorganization theory. Am J Sociol 94(4):774–802

Sampson R, Raudenbush S, Earls F (1997) Neighborhoods and violent crime: a multilevel study of collective efficacy. Science 277:918–924

Sastry N, Pebley AR, Zonta M (2002). Neighborhood definitions and the spatial dimension of daily life in Los Angeles. In: Labor and population program working paper series 03-02 (p 35). Santa Monica, CA

Sherman L, Gartin P, Buerger M (1989) Hot spots of predatory crime: routine activities and the criminology of place. Criminology 27(1):27–56. https://doi.org/10.1111/j.1745-9125.1989.tb00862.x

Spielman SE, Yoo E-H (2009) The spatial dimensions of neighborhood effects. Soc Sci Med 68(6):1098–1105. https://doi.org/10.1016/j.socscimed.2008.12.048

Spielman SE, Yoo E-H, Linkletter C (2013) Neighborhood contexts, health, and behavior: understanding the role of scale and residential sorting. Environ Plan 40(3):489–506. https://doi.org/10.1068/b38007

Taylor RB (1997) Social order and disorder of street blocks and neighborhoods: ecology, microecology, and the systemic model of social disorganization. J Res Crime Delinq 34(1):113–155

Timperio A, Crawford D, Telford A, Salmon J (2004) Perceptions about the local neighborhood and walking and cycling among children. Prev Med 38(1):39–47. https://doi.org/10.1016/j.ypmed.2003.09.026

Warner BD, Pierce GL (1993) Reexamining social disorganization theory using calls to the police as a measure of crime. Criminology 31:493–517

Weisburd D, Amram S (2014) The law of concentrations of crime at place: the case of Tel Aviv-Jaffa. Police Pract Res 15:101–114

Weisburd D, Bushway S, Lum C, Yang S-M (2004a) Trajectories of crime at places: a longitudinal study of street segments in the city of Seattle*. Criminology 42(2):283–322. https://doi.org/10.1111/j.1745-9125.2004.tb00521.x

Weisburd D, Lum C, Yang S-M (2004) The criminal careers of places: A longitudinal study (N. I. o. Justice/NCJRS, Trans.) (p 112). Rockville, MD 20849: National Institute of Justice, US Department of Justice

Weisburd D, Groff ER, Yang S-M (2012) The criminology of place: street segments and our understanding of the crime problem. Oxford University Press, New York

Wicker AW (1987) Behavior settings reconsidered: temporal stages, resources, internal dynamics, context. In: Stokels D, Altman I (eds) Handbook of environmental psychology. Wiley-Interscience, New York, pp 613–653

Yang Y, Diez-Roux AV (2012) Walking distance by trip purpose and population subgroups. Am J Prev Med 43(1):11–19. https://doi.org/10.1016/j.amepre.2012.03.015

Zenk SN, Schulz AJ, Mentz G, Lachance L, Robinson M, Odoms-Young A (2008) Food shopping behaviors in a multiethnic urban population: implications for measurement and obesity prevention. In: Conference presentation, annual meeting of the American Public Health Association

Zenk SN, Schulz AJ, Matthews SA, Odoms-Young A, Wilbur J, Wegrzyn L, Stokes C (2011) Activity space environment and dietary and physical activity behaviors: a pilot study. Health Place 17(5):1150–1161. https://doi.org/10.1016/j.healthplace.2011.05.001
Additional information
Publisher's Note
Springer Nature remains neutral with regard to jurisdictional claims in published maps and institutional affiliations.
About this article
Cite this article
Kim, Y., Hipp, J.R. Street Egohood: An Alternative Perspective of Measuring Neighborhood and Spatial Patterns of Crime. J Quant Criminol 36, 29–66 (2020). https://doi.org/10.1007/s10940-019-09410-3
Keywords
Streets

Neighborhoods

Level of aggregation

Units of analysis

Egohood

Crime