Abstract
Objectives
This paper investigates the influence of case characteristics and investigative resources on homicide clearance rates.
Methods
We extend a previous evaluation of a problem-oriented policing project intended to improve homicide clearance rates in Boston. Data were collected on N = 465 homicide incidents that occurred between January 1, 2007 and December 31, 2014. Confirmatory factor analyses are used to identify latent variables representing investigative resources, initial crime scene results, and subsequent investigative actions and forensic testing. The effects of these investigative factors on homicide clearances net other covariates were estimated using mixed effects logistic regression models. Mediation analysis was then used to decompose the total, direct, and indirect effect of investigative resources on homicide clearances. Exploratory group comparisons were examined to distinguish investigative differences in gang and drug homicides relative to non-gang and non-drug homicides.
Results
Investigative resources, crime scene results, and subsequent investigative actions and forensic testing were found to increase the likelihood of homicide case clearance controlling for other covariates. Investigative resources were found to produce both direct and indirect impacts on homicide clearances mediated through its positive influence on initial crime scene results and subsequent investigative actions and forensic testing. Clearance through follow-up investigation was more difficult for gang and drug homicide cases when compared to other homicide cases.
Conclusion
While inherited case characteristics matter, enhanced investigative resources and improved practices increase homicide clearances. Beyond investments to improve investigations, gang and drug homicides remain particularly difficult to clear due to a lack of physical evidence and witness cooperation.
Access options
Buy single article
Instant access to the full article PDF.
USD 39.95
Price excludes VAT (USA)
Tax calculation will be finalised during checkout.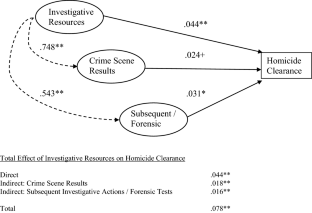 Notes
An offense is "cleared by arrest" or solved for crime reporting purposes when at least one person is: (1) arrested; (2) charged with the commission of the offense; and (3) turned over to the court for prosecution. An offense is also counted as cleared by arrest if certain "exceptional" conditions pertain, including suicide of the offender; double murder; deathbed confession; offender killed by police or citizen; confession by offender already in custody; extradition denied; victim refuses to cooperate in prosecution; warrant is outstanding for felon but prior to arrest the offender dies of natural causes or as a result of an accident, or is killed in the commission of another offense; or, handling of a juvenile offender either orally or by written notice to parents in instances involving minor offenses where no referral to juvenile court is customarily made. https://ucr.fbi.gov/crime-in-the-u.s/2014/crime-in-the-u.s.-2014/offenses-known-to-law-enforcement/clearances/main (accessed July 29, 2017).

Generally, about 21 percent of Index Crimes were cleared by arrest during the 1970 s according to the FBI's Uniform Crime Reporting program. Source: U.S. Bureau of Justice Statistics, Sourcebook of Criminal Justice Statistics Online, http://www.albany.edu/sourcebook/pdf/t4202007.pdf (accessed June 30, 2017).

For instance, for total counts of physical evidence collected per investigation, r = .90 for coders 1 and 2, r = .92 for coders 1 and 3, and r = .89 for coders 2 and 3. For all correlations p < .05, this suggested a high degree of agreement among the coders.

This June 1, 2017 clearance rate is slightly larger than the March 1, 2016 50.3% clearance rate (234 of 465) reported by Braga and Dusseault (2018). The clearance rate increase is due to indictments of offenders in 16 homicide cases awaiting grand jury dispositions at the time the previous study was completed.

Since they are not directly measured, latent variables do not have intrinsic variances. For the factor loadings in Table 2, the variances of the latent variables were constrained to equal "1" for ease of interpretation (StataCorp, 2015). These coefficients can be interpreted as correlations that range from "0" to "1".

Since our endogenous variables had different frequency distributions, we retained items that had "good" loadings on their respective factors by applying the more stringent cut-offs recommended by Tabachnick and Fidell (2013) and Comrey and Lee (1992): 0.32 (poor), 0.45 (fair), 0.55 (good), 0.63 (very good) or 0.71 (excellent). We also considered the suggestion of Guadagnoli and Velicer (1988) to regard a factor as reliable if it has four or more loadings of at least 0.6 regardless of sample size. All three factors had four or more loadings greater than 0.6.

The CFI assesses the fit of a user-specified solution in relation to a more restricted, nested baseline model in which the covariances among all input indicators are fixed to zero or no relationship among variables is posited (Brown 2006, p. 84). The CFI coefficient value ranges from 0 to 1.00 with values greater than 0.90 indicating a reasonably good fit of the hypothesized model (Hu and Bentler 1999). RMSEA takes the error of population approximation and degrees of freedom into account and measures the lack of fit of the hypothesized model to the population covariance matrix. SRMR is estimated in a similar to RMSEA but does not penalize model complexity. As a general rule of thumb, SRMR and RMSEA results of 0.05 or less indicates a close approximate fit of the model (Hu and Bentler 1999).

The inverse of homicide detective response time was used in the confirmatory factor analyses to ensure this variable moved in the same direction as the other covariates being considered for inclusion in the investigative resources latent variable.

A diversity of other criminal justice agencies were called upon to support homicide investigations in varied ways. These included corrections agencies such as the Massachusetts Department of Correction and Suffolk County House of Correction providing recorded phone calls while suspects, victims, and other persons of interest were in prison and/or jail and Massachusetts Probation Service providing GPS information on individuals sentenced to electronic monitoring terms; federal law enforcement agencies such as the US Secret Service enhancing acquired videos and the Federal Bureau of Investigation restoring deleted information from seized computers; and local police departments providing intelligence on prior criminal activities and associates of victims and suspected offenders who lived in other jurisdictions.

Witnesses identified at the initial homicide scene ranged from individuals who provided information that generally moved the investigation forward by confirming basic facts about what had happened (e.g., "a white van pulled up and a man in a mask jumped out and fired three shots at the victim" or "I heard five shots, looked out my window, and saw two black males running from the corner towards the park") to individuals who could positively identify suspects through detailed physical descriptions or by providing offender names. In essence, all were "eyewitnesses" with varying degrees of relevant information on the homicide event.

These included officers who may have been on-location when a homicide occurred or shortly thereafter, officers who knew the victim prior to the homicide and had information on what may have happened based on prior disputes or ongoing criminal activity, or officers who acquired information from informants or other civilians at the scene who were not comfortable sharing information directly with homicide detectives.

These included witnesses who were first identified at the scene who were brought in for subsequent interviews (sometimes viewing a photo line-up of possible suspects), individuals who witnessed the homicide who were not first identified at the scene, and other civilians who had relevant knowledge of the homicide or the events that precipitated the homicide.

The BPD has 12 districts that provide policing services across Boston's neighborhoods: A-1 serving Downtown, Beacon Hill, and Chinatown; A-15 serving Charlestown; A-7 serving East Boston; B-2 serving Roxbury and Mission Hill; B-3 serving Mattapan and parts of North Dorchester; C-6 serving South Boston; C-11 serving most of Dorchester; D-4 serving Back Bay, Fenway, and South End; D-14 serving Allston and Brighton; E-5 serving West Roxbury and Roslindale; E-13 serving Jamaica Plain; and E-18 serving Hyde Park.

Given the salience of police district activities to homicide investigations, we believed that police districts were most appropriate representations of spatial variations in police action and neighborhood contexts. U.S. Census units did not provide the same precision in accounting for varying police activities across Boston. Nevertheless, we also ran a mixed effects regression model that used N = 181 Census tracts as proxies for neighborhoods instead of police districts. The results of the mixed effects model with Census tracts did not significantly differ from the version with police districts. However, the police district model fit the data much better than the Census tract model. As presented below in Table 3, the log pseudolikelihood was − 226.698 for the police district model and − 329.712 for the Census tract model.

Our decision to use random effects were primarily driven by theoretical considerations. Our mixed effects regression model confirmed that homicide clearances did significantly vary across police districts. For instance, our models estimated a 95% confidence interval for the population police district variance that did not capture zero and ranged from .009 to 1.277. As a sensitivity analysis, we also ran our impact evaluation models as single-level fixed effects logistic regressions with police districts entered as dummy variables. The results did not significantly differ from the mixed effects logistic regressions reported here.

In this first stage of the mediation analysis, we used standard Ordinary Least Squares regression models with control variables, fixed effects for BPD district, and robust standard errors clustered by BPD district. Hierarchical linear models add an "unobserved" component via the random effects; standard OLS regressions avoid the problem of adding a portion of the error to the prediction or eliminating the error from the residualization.

As Table 3 demonstrates, there was a statistically-significant curvilinear relationship between victim age and the probability that a homicide was cleared (age + age2). We investigated the curvilinear relationship further by adding a cubic term to the quadratic equation. However, the cubic term was not statistically significant and its addition caused age2 to no longer be statistically significant, controlling for the other covariates: age = .7511 (.0828), p = 0.009; age2 = 1.0052 (.0027), p = 0.063; age3 = .999 (.0001), p = .183.

There was very little circumstance overlap among the killings included in the combined gang and drug homicide category used in this exploratory analysis. Gang homicides involving drug dealing conflicts characterized only 21 of the 305 homicides (6.9%) in the combined gang and homicide category between 2007 and 2014.

As suggested by one of the senior investigators, homicides committed with knives, blunt instruments, hands/feet, ligatures, and other non-firearm weapons often result in direct contact between victims and offenders. This contact increases the amount of physical evidence left at the scene (such as fingerprints, DNA, and fibers) that can be collected and analyzed.
References
Addington LA (2006) Using national incident-based reporting system murder data to evaluate clearance predictors: a research note. Homicide Stud 10(2):140–152

Addington LA (2007) Hot vs. cold cases: examining time to clearance for homicides using NIBRS data. Justice Res Policy 9(2):87–112

Alderden MA, Lavery TA (2007) Predicting homicide clearances in Chicago: investigating disparities in predictors across different types of homicide. Homicide Stud 11(2):115–132

Allison P (1999) Comparing logit and probit coefficients across groups. Soc Methods Res 28:186–208

Apel R, Horney J (2017) How and why does work matter? Employment conditions, routine activities, and crime among adult male offenders. Criminology 55:307–376

Arkelof G, Yellen J (1994) Gang behavior, law enforcement, and community values. In: Aaron H, Mann T, Taylor T (eds) Values and public policy. Brookings Institution, Washington, DC

Baskin D, Sommers I (2010) The influence of forensic evidence on the case of homicide incidents. J Crim Justice 38:1141–1149

Bayley D (1994) Police for the future. Oxford University Press, New York

Black D (1970) The production of crime rates. Am Sociol Rev 35:733–748

Bloch P, Bell D (1976) Managing criminal investigations: the Rochester system. The Police Foundation, Washington, DC

Bloch P, Weidman D (1975) Managing criminal investigations: prescriptive package. Government Printing Office, Washington, DC

Borg MJ, Parker KF (2001) Mobilizing law in urban areas: the social structure of homicide clearance rates. Law Soc Rev 35(2):435–466

Braga AA, Dusseault D (2018) Can homicide detectives improve homicide clearance rates? Crime Delinq 64(3):283–315

Braga AA, Piehl A, Kennedy D (1999) Youth homicide in Boston: an assessment of supplementary homicide reports. Homicide Stud 3:227–299

Braga AA, Hureau D, Winship D (2008) Losing faith? Police, black churches, and the resurgence of youth violence in Boston, Ohio St. J Crim Law 6:141–172

Braga AA, Flynn E, Kelling G, Cole C (2011) Moving the work of criminal investigators towards crime control. National Institute of Justice, Washington, DC

Breen R, Karlson KB, Holm A (2013) Total, direct, and indirect effects in logit and probit models. Soc Methods Res 42:164–191

Brown TA (2006) Confirmatory factor analysis for applied research. Guilford Press, New York

Carter DL, Carter JG (2016) Effective police homicide investigations: evidence from seven cities with high clearance rates. Homicide Stud. 20:150–176

Cassell PG, Fowles R (1998) Falling clearance rates after Miranda: coincidence or consequence? Stanf Law Rev 50:1181–1191

Clampet-Lundquist S, Carr P, Kefalas M (2015) The sliding scale of snitching: a qualitative examination of snitching in three Philadelphia communities. Soc Forum 30(2):265–285

Cohen M, Piquero A (2009) New evidence on the monetary values of saving a high risk youth. J Quant Criminol 25:35–49

Comrey A, Lee H (1992) A first course in factor analysis. Erlbaum, Hillsdale

Cook PJ, Ho J, Shilling S (2017) Criminal investigations of gun assaults and murders in Durham, 2015: the challenge of securing victim and witness cooperation. Duke University, Durham

Cronbach LJ (1951) Coefficient alpha and the internal structure of tests. Psychometrika 16:297–334

Decker SH (1995) Reconstructing homicide events: the role of witnesses in fatal encounters. J Crim Justice 23:439–450

DeLisi M, Kosloski A, Sween M, Hachmeister E, Moore M, Drury A (2010) Murder by numbers: monetary costs imposed by a sample of homicide offenders. J Forensic Psychiatry Psychol 21:501–513

Dugin L, Nagin D, Rosenfeld R (2003) Exposure reduction or retaliation? The effects of domestic violence resources on intimate partner homicide. Law Soc Rev 27:169–198

Eck JE (1983) Solving crimes: the investigation of burglary and robbery. Police Executive Research Forum, Washington, DC

Eck JE (1992) Criminal investigation. In: Cordner G, Hale D (eds) What works in policing? Operations and administration examined. Anderson, Cincinnati, pp 19–34

Ericson R (1982) Reproducing order: a study of police patrol work. University of Toronto Press, Toronto

Fagan J, Braga AA, Brunson R, Pattavina A (2016) Stops and stares: street stops, race, and surveillance in the new policing. Fordham Urban Law J 43(3):621–696

Folk JF (1971) Municipal detective systems: a quantitative approach (Operations Research Center Technical Report No. 55). Massachusetts Institute of Technology

Gilbert JN (1983) A study of the increased rate of unsolved criminal homicide in San Diego, CA, and its relationship to police investigative effectiveness. Am J Police 2:149–166

Greenwood P, Petersilia J (1975) The criminal investigation process: volume I—summary and policy implications. RAND, Santa Monica

Greenwood P, Chaiken J, Petersilia J (1977) The investigative process. Lexington Books, Lexington

Guadagnoli E, Velicer W (1988) Relation of sample size to the stability of component patterns. Psychol Bull 103(2):265–275

Harding D (2009) Living the drama: community, conflict, and culture among inner-city boys. University of Chicago Press, Chicago

Hopwood A, Hurth C, Yang J, Cai Z, Moran N, Lee-Edghill J, Tully G (2010) Integrated microfluidic system for rapid forensic DNA analysis: sample collection to DNA profile. Anal Chem 82(16):6991–6999

Hu L, Bentler PM (1999) Cutoff criteria for fit indexes in covariance structural analysis. Struct Equ Model 6:1–55

Jarvis J, Regoeczi W (2012) Homicide solvability. Police Chief 79(8):10–11

Keel T, Jarvis J, Muirhead Y (2009) An exploratory analysis of factors affecting homicide investigations. Homicide Stud 13:50–68

Kennedy D, Piehl A, Braga AA (1996) Youth violence in Boston: gun markets, serious youth offenders, and a use-reduction strategy. Law Contemp Probl 59(1):147–196

Keppel R, Weis J (1994) Time and distance as solvability factors in murder cases. J Forensic Sci 39:386–401

Kirk D, Papachristos AV (2011) Cultural mechanisms and the persistence of neighborhood violence. Am J Sociol 116:1190–1233

Lee C (2005) The value of life in death: Multiple regression and event history analyses of homicide clearance in Los Angeles County. J Crim Justice 33:527–534

Litwin KJ (2004) A multilevel multivariate analysis of factors affecting homicide clearances. J Res Crime Delinq 41:327–351

Litwin KJ, Xu Y (2007) The dynamic nature of homicide clearances: a multilevel model comparison of three time periods. Homicide Stud 11:94–114

Loftin C (1986) The validity of robbery-murder classifications in Baltimore. Violence Vict 1:191–204

Loftin C, Kindley K, Norris S, Wiersema B (1987) An attribute approach to relationships between offenders and victims in homicide. J Crim Law Criminol 78:259–271

Long JS (1983) Confirmatory factor analysis: quantitative applications in the social sciences, paper 33. Sage, Newbury Park

MacKinnon D, Dwyer J (1993) Estimating mediating effects in prevention studies. Eval Rev 17:144–158

Maxfield M (1989) Circumstances in supplementary homicide reports: variety and validity. Criminology 27:671–695

McEwen T (2010) The role and impact of forensic evidence in the criminal justice system. National Institute of Justice, Washington, DC

McEwen T, Regoeczi W (2015) Forensic evidence in homicide investigations and prosecutions. J Forensic Sci 60(5):1188–1198

Mouzos J, Muller D (2001) Solvability factors of homicide in Australia: an exploratory analysis. In: Graycar A (ed) Trends and issues in crime and criminal justice series, no 216. Australian Institute of Criminology, Australia, pp 1–6

Ousey G, Lee M (2010) To know the unknown: the decline in homicide clearance rates, 1980–2000. Crim Justice Rev 35:141–158

Peterson J, Sommers I, Baskin D, Johnson D (2010) The Role and Impact of forensic evidence in the criminal justice process. National Institute of Justice, Washington, DC

Pizarro J, Zeoli A (2013) An assessment of the supplementary homicide reports: a research note. Justice Q 30:711–731

Puckett J, Lundman R (2003) Factors affecting homicide clearances: multivariate analysis of a more complete conceptual framework. J Res Crime Delinq 40:171–193

Raudenbush S, Bryk A (2002) Hierarchical linear models: applications in data analysis methods, 2nd edn. Sage, Thousand Oaks

Regoeczi W, Jarvis J (2013) Beyond the social production of homicide rates: extending social disorganization theory to explain homicide case outcomes. Justice Q 30:983–1014

Regoeczi W, Kennedy LW, Silverman RA (2000) Uncleared homicides: a Canada/United States comparison. Homicide Stud 4(2):135–161

Regoeczi W, Jarvis J, Riedel M (2008) Clearing murders: Is it about time? J Res Crime Delinq 45:142–162

Richardson D, Kosa R (2001) An examination of homicide clearance rates: foundation for the development of a homicide clearance model. Police Executive Research Forum, Washington, DC

Riedel M (1989) Nationwide homicide datasets: an evaluation of UCR and NCHS data. In: MacKenzie DL, Baunach PJ, Roberg RR (eds) Measuring crime: large-scale, long range efforts. State University of New York Press, Albany, pp 175–208

Riedel M (1995) Getting away with murder: an examination of arrest clearances. In: Block C, Block R (eds) Trends, risks, and interventions in lethal violence. National Institute of Justice, Washington, DC, pp 91–98

Ritter N (2008) DNA solves property crimes (but are we ready for that?). Natl Inst Justice J 261:2–12

Roberts A (2007) Predictors of homicide clearance by arrest: an event history analysis of NIBRS incidents. Homicide Stud 11:82–93

Rosenfeld R, Jacobs B, Wright R (2003) Snitching and the code of the street. Br J Criminol 43(2):291–309

Royal Commission on Criminal Procedure (1981) Philips Commission (Research Study 17). Her Majesty's Stationery Office, London

Sampson R, Bartusch D (1998) Legal cynicism and (subcultural?) tolerance of deviance: the neighborhood context of racial differences. Law Soc Rev 32:777–804

Schroeder D, White M (2009) Exploring the use of DNA evidence in homicide investigations: implications for detective work and case clearance. Police Q 12:319–342

Sobel M (1982) Asymptotic confidence intervals for indirect effects in structural equation models. Soc Methodol 13:290–312

Sobel M (1986) Some new results on indirect effects and their standard errors in covariance structural models. Soc Methodol 16:159–186

StataCorp (2015) Stata release 14.0, StataCorp, College Station

Tabachnick B, Fidell L (2013) Using multivariate statistics, 6th edn. Pearson, Boston

Topalli V (2005) When being good is bad: an Expansion of neutralization theory. Criminology 43(3):797–835

U.S. Department of Justice (2017) Advancing justice through DNA technology: using DNA to solve crimes. Department of Justice, Office of the Attorney General, Washington, DC

Ward RH (1971) The investigative function: criminal investigation in the United States (Doctoral dissertation). University of California, Berkeley

Wellford C, Cronin J (1999) An analysis of variables affecting the clearance of homicides: a multistate study. Justice Research and Statistics Association, Washington, DC

Whitman J, Davis R (2007) Snitches get stitches: youth, gangs, and witness intimidation in massachusetts. National Center for Victims of Crime, Washington, DC

Williams K, Flewelling R (1987) Family, acquaintance, and stranger homicide: alternative procedures for rate calculations. Criminology 25:543–560
Acknowledgements
This research was supported by funds provided by the U.S. Bureau of Justice Assistance (Award #2011-DB-BX-0014) and the Rappaport Institute for Greater Boston. We would like to thank Boston Mayor Martin Walsh, Boston Police Commissioner William Evans, Deputy Chief of Staff Desiree Dusseault, former Boston Police Commissioner Edward Davis, former Chief of Staff Sharon Hanson, Superintendent Gregory Long, Lieutenant Detective Darrin Greeley and the men and women of the BPD homicide unit for their valuable assistance in the completion of this research. We also would like to thank Robert Apel of Rutgers University for his advice on the statistical analyses presented here. Points of view in this document are those of the authors and do not necessarily represent the official position of the U.S. Bureau of Justice Assistance, City of Boston, or the Boston Police Department.
About this article
Cite this article
Braga, A.A., Turchan, B. & Barao, L. The Influence of Investigative Resources on Homicide Clearances. J Quant Criminol 35, 337–364 (2019). https://doi.org/10.1007/s10940-018-9386-9
Published:

Issue Date:

DOI: https://doi.org/10.1007/s10940-018-9386-9
Keywords
Homicide

Clearance

Investigation

Gangs

Forensic