Abstract
Objectives
Given the growing reliance on longitudinal self-report data for making causal inferences about crime, it is essential to investigate whether the within-individual change in criminal involvement exists and is not a measurement artifact driven by attrition or survey fatigue—a very real possibility first identified by Lauritsen (Soc Forces 77(1):127–154, 1998) using the National Youth Survey (NYS). The current study examines whether the same threats to the validity of within-individual change in criminal involvement exist in the National Longitudinal Survey of Youth 1997 cohort (NLSY97).
Methods
We first estimate cohort-specific growth curve models of general crime, arrest, and substance use, and then test the difference between the age–crime curves of adjacent cohorts. We take a general approach to test cohort differences in the growth curve models, which advances the existing method separately modeling for each pair of adjacent cohorts. To explore the sources of cohort differences, we also estimate separate growth curve models by individual crime item and by demographic group.
Results
We document non-standard cohort differences between the age–crime curves of adjacent cohort pairs that are consistent with the findings of Lauritsen (1998) on measures of self-reported offending. However, the size of the cohort effects in the NLSY97 is substantially smaller than those in the NYS. We also found that the cohort effects were only evident in some of the survey items. Moreover, we did not identify any similar cohort issues in the longitudinal measure of arrest.
Conclusions
The findings of cohort effects localized in a certain crime items and demographic groups may mitigate concerns over the limited validity of longitudinal self-report data. We discuss how the survey techniques used in the NLSY97 might explain our findings and suggest an area of future study to explicate remaining cohort differences.
Access options
Buy single article
Instant access to the full article PDF.
US$ 39.95
Tax calculation will be finalised during checkout.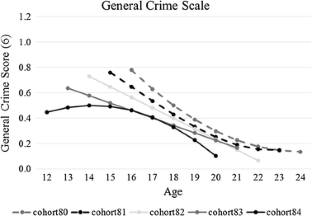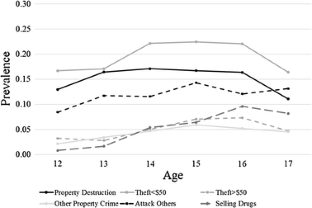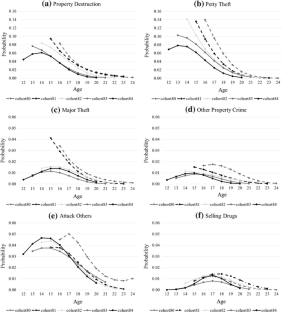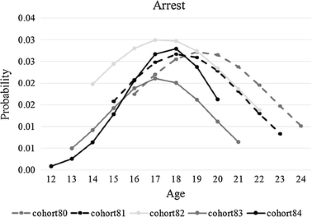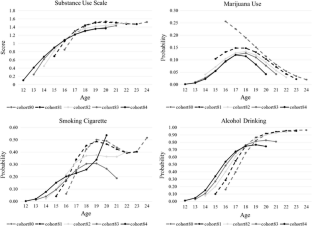 Notes
1.

Demographers readily assume that individuals in adjacent years will follow similar patterns. For example, O'Brien et al. (1999) argue that "cohorts should be based on the grouping of individuals born in more than a single year" (p. 1068). This is because characteristics of individuals born in certain years are shared with those born in similar years. Particular events, such as economic depressions or natural disasters, influence not only individuals who were born in the year of the event, but also those born in neighboring years. Lauritsen used this logic to her advantage. Adjacent birth year cohorts that share similar social circumstances should report similar levels of offending at the same ages. Any differences found in the comparison of given age are more likely to be the data artifact (e.g. attrition, testing effect, etc.) rather than the evidence of real differences in behavior. We adopt her analytic strategy in this paper and we also examine the possibility of a real cohort effect as the potential explanation by using cross-sectional data. Details of method and findings are discussed in the result section.

2.

A Google Scholar citation search on May 26, 2016 found 58 citations to the Brame et al. (2014) article.

3.

Given that the main focus of the current study is within-individual change in criminal involvement, which is more prevalent behavior among racial minorities, we argue that the inclusion of oversample is not necessary. Also, we use the first seven waves of the information because, starting from wave 8, criminal involvement questions are limited to those who have ever been arrested before wave 8 and a control group.

4.

Screener questions at wave 1 ask a respondent on his/her lifetime experience of criminal involvement, but are followed by the question asking whether it happened in last 12 months. Using the follow-up question on the timing of involvement, for the first wave, we exclude any involvement that happened more than a year ago.

5.

Our model included random components for the intercept and for the linear term only and did not include random components for the age-quadratic and the age-cubic terms. This is because most of the models with more than two random effects did not converge due to model complexity.

6.

In the results and conclusion sections, we discuss the possibility of the violation of this assumption: true cohort changes in the age-crime relationship.

7.

We thank an anonymous reviewer for this suggestion.

8.

ICC = Variance of random effects/(Variance of random effects + Variance of fixed effects).

9.

The NLSY97 differentiates race/ethnicity group into "Black or Hispanic" group and "non-Black and non-Hispanic" group. To minimize confusion, we refer to the "non-Black and non-Hispanic" group as the "White" group. Among the sample eligible for initial interview, majority (82%) of the non-Black and non-Hispanic groups were Whites (Moore et al. 2000). Also, we exclude those who are mixed races (n = 81) in our analysis to examine race and sex differences.

10.

We used the UCR to get the crime rate during the survey period. We thank one of our anonymous reviewer for this suggestion.

11.

We thank one of our anonymous reviewers who pointed out telescoping as the possible explanations of the unexpected downward trend in the growth curve of the general crime scale and cohort effect.

12.

Number of follow-up questions: property crime = 1, other property offense = 2, attacking others = 1, selling drugs = 4, smoking cigarettes = 4, alcohol consumption = 4, marijuana use = 3.
References
Alexander CS, Somerfield MR, Ensminger ME, Johnson KE, Kim YJ (1993) Consistency of adolescents' self-report of sexual behavior in a longitudinal Study. J Youth Adolesc 22(5):455–471. doi:10.1007/bf01537710

Antecol H, Bedard K (2007) Does single parenthood increase the probability of teenage promiscuity, substance use, and crime? J Popul Econ 20(1):55–71. doi:10.1007/s00148-005-0019-x

Apel R, Kaukinen C (2008) On the relationship between family structure and antisocial behavior: parental cohabitation and blended households. Criminology 46(1):35–70. doi:10.1111/j.1745-9125.2008.00107.x

Apel R, Bushway S, Brame R, Haviland AM, Nagin DS, Paternoster R (2007) Unpacking the relationship between adolescent employment and antisocial behavior: a matched samples comparison. Criminology 45(1):67–97. doi:10.1111/j.1745-9125.2007.00072.x

Apel R, Bushway S, Paternoster R, Brame R, Sweeten G (2008) Using state child labor laws to identify the causal effect of youth employment on deviant behavior and academic achievement. J Quant Criminol 24(4):337–362. doi:10.1007/s10940-008-9055-5

Averdijk M (2010) Individuals' victimization patterns over time. Doctoral dissertation. Vrije University, Amsterdam

Bauman KE, Ennett ST (1994a) Peer influence on adolescent drug use. Am Psychol 49(9):820–822. doi:10.1037/0003-066X.49.9.820

Bauman KE, Ennett ST (1994b) Tobacco use by black and white adolescents: the validity of self-reports. Am J Public Health 84(3):394–398

Baumer EP, Wolff KT (2014) Evaluating contemporary crime drop(s) in America, New York City, and many other places. Justice Q 31(1):5–38

Blumstein A, Cohen J, Farrington DP (1988a) Criminal career reserach: its value for criminology. Criminology 26(1):1–35. doi:10.1111/j.1745-9125.1988.tb00829.x

Blumstein A, Cohen J, Farrington DP (1988b) Longitudinal and criminal career research: further clarifications. Criminology 26(1):57–74. doi:10.1111/j.1745-9125.1988.tb00831.x

Bosick SJ (2009) Operationalizing crime over the life course. Crime Delinq 55(3):472–496. doi:10.1177/0011128707307223

Bowling A (2005) Mode of questionnaire administration can have serious effects on data quality. J Public Health 27(3):281–291. doi:10.1093/pubmed/fdi031

Brame R, Piquero AR (2003) Selective attrition and the age–crime relationship. J Quant Criminol 19(2):107–127. doi:10.1023/A:1023009919637

Brame R, Bushway SD, Paternoster R, Turner MG (2014) Demographic patterns of cumulative arrest prevalence by ages 18 and 23. Crime Delinq 60(3):471–486

Brener ND, Billy J, Grady WR (2003) Assessment of factors affecting the validity of self-reported health-risk behavior among adolescents: evidence from the scientific literature. J Adolesc Health 33(6):436–457. doi:10.1016/S1054-139X(03)00052-1

Das M, Toepoel V, Van Soest A (2007) Can I use a panel? Panel conditioning and attrition bias in panel surveys. CentER discussion paper series no. 2007-56. Tilburg University, Center for Economic Research

Durant LE, Carey MP (2000) Self-administered questionnaires versus face-to-face interviews in assessing sexual behavior in young women. Arch Sex Behav 29(4):309–322. doi:10.1023/a:1001930202526

Elliot DS (1995) Lies, damn lies and arrest statistics. Paper presented at the American Society of Criminology Annual Meetings, Boston

Farrington DP (1986) Age and crime. Crime Justice 7:189–250

Federal Bureau of Investigation (2003) Table 1. Crime in the United States, by volume and rated, 1984–2003. Retrieve from https://www.fbi.gov/about-us/cjis/ucr/crime-in-the-u.s/2003

Garson GD (2013) Chapter 1. Fundamentals of hierarchical lineal (multilevel) modeling. In: Garson GD (ed) Hierarchical linear modeling. SAGE Publications, Thousand Oaks, pp 1–25

Gottfredson M, Hirschi T (1986) The true value of lambda would appear to be zero: an essay on career criminals, criminal careers, selective incapacitation, cohort studies, and related topics. Criminology 24(2):213–234. doi:10.1111/j.1745-9125.1986.tb01494.x

Gottfredson M, Hirschi T (1988) Science, public policy, and the career paradigm. Criminology 26(1):37–55. doi:10.1111/j.1745-9125.1988.tb00830.x

Greene JA (1999) Zero tolerance: a case study of police policies and practices in New York City. Crime Delinq 45(2):171–187. doi:10.1177/0011128799045002001

Gribble JN, Miller HG, Rogers SM, Turner CF (1999) Interview mode and measurement of sexual behaviors: methodological issues. J Sex Res 36(1):16–24. doi:10.1080/00224499909551963

Halpern-Manners A, Warren JR (2012) Panel conditioning in longitudinal studies: evidence from labor force items in the current population survey. Demography 49(4):1499–1519. doi:10.1007/s13524-012-0124-x

Hindelang MJ, Hirschi T, Weis JG (1979) Correlates of delinquency: the illusion of discrepancy between self-report and official measures. Am Sociol Rev 44(6):995–1014. doi:10.2307/2094722

Hirschi T, Gottfredson M (1983) Age and the explanation of crime. Am J Sociol 89(3):552–584

Huebner BM, Bynum TS (eds) (2016) The handbook of measurement issues in criminology and criminal justice. Wiley, New York

Johnson EO, Schultz L (2005) Forward telescoping bias in reported age of onset: an example from cigarette smoking. Int J Methods Psychiatr Res 14(3):119–129

Kim J, Bushway S, Tsao HS (2016) Identifying classes of explanations for crime drop: period and cohort effects for New York State. J Quant Criminol 32(3):357–375

King RD, Massoglia M, Macmillan R (2007) The context of marriage and crime: gender, the propensity to marry, and offending in early adulthood. Criminology 45(1):33–65. doi:10.1111/j.1745-9125.2007.00071.x

Kissinger P, Rice J, Farley T, Trim S, Jewitt K, Margavio V, Martin DH (1999) Application of computer-assisted interviews to sexual behavior research. Am J Epidemiol 149(10):950–954

Kreager DA, Matsueda RL, Erosheva EA (2010) Motherhood and criminal desistance in disadvantaged neighborhoods. Criminology 48(1):221–258. doi:10.1111/j.1745-9125.2010.00184.x

Lauritsen JL (1998) The age–crime debate: assessing the limits of longitudinal self-report data. Soc Forces 77(1):127–154

Lauritsen JL (1999) Limitations in the use of longitudinal self-report data: a comment. Criminology 37(3):687–694. doi:10.1111/j.1745-9125.1999.tb00500.x

Lehnen RG, Reiss AJ (1978) Some response effects of the national crime survey. Victimology 3(1–2):110–124

Levitt SD (2004) Understanding why crime fell in the 1990s: four factors that explain the decline and six that do not. J Econ Perspect 18(1):163–190. doi:10.1257/089533004773563485

Liu S (2015) Is the shape of the age–crime curve invariant by sex? Evidence from a national sample with flexible non-parametric modeling. J Quant Criminol 31(1):93–123. doi:10.1007/s10940-014-9225-6

Marvell TB, Moody CE (1994) Prison population growth and crime reduction. J Quant Criminol 10(2):109–140. doi:10.1007/BF02221155

Mason KO, Mason WM, Winsborough HH, Poole WK (1973) Some methodological issues in cohort analysis of archival data. Am Sociol Rev 38(3):242–258

Miyazaki Y, Raudenbush SW (2000) Tests for linkage of multiple cohorts in an accelerated longitudinal design. Psychol Methods 5(1):44

Moore W, Pedlow S, Krishnamurty P, Wolter K (2000) National longitudinal survey of youth (NLSY97): technical sampling report. National Opinion Research Center, Chicago

O'Brien RM, Stockard J, Isaacson L (1999) The enduring effects of cohort characteristics on age-specific homicide rates, 1960–1995. Am J Sociol 104(4):1061–1095

Paternoster R, Bushway S, Brame R, Apel R (2003) The effect of teenage employment on delinquency and problem behaviors. Soc Forces 82(1):297–335. doi:10.1353/sof.2003.0104

Piquero AR, Brame RW (2008) Assessing the race–crime and ethnicity–crime relationship in a sample of serious adolescent delinquents. Crime Delinq 54(3):390–422

Porter SR, Whitcomb ME, Weitzer WH (2004) Multiple surveys of students and survey fatigue. New Dir Inst Res 2004(121):63–73

Raudenbush SW, Chan WS (1992) Growth curve analysis in accelerated longitudinal designs. J Res Crime Delinq 29(4):387–411. doi:10.1177/0022427892029004001

Raudenbush SW, Chan WS (1993) Application of a hierarchical linear model to the study of adolescent deviance in an overlapping cohort design. J Consult Clin Psychol 61(6):941

Sampson RJ, Laub JH (2005) A life-course view of the development of crime. Ann Am Acad Polit Soc Sci 602(1):12–45. doi:10.1177/0002716205280075

Schneider AL, Sumi D (1981) Patterns of forgetting and telescoping: an analysis of LEAA survey victimization data. Criminology 19(3):400–410

Shillington AM, Clapp JD (2000) Kicking the camel: adolescent smoking behaviors after two years. J Child Adolesc Subst Abuse 10(2):53–80

Shillington AM, Woodruff SI, Clapp JD, Reed MB, Lemus H (2012) Self-reported age of onset and telescoping for cigarettes, alcohol, and marijuana: across eight years of the National Longitudinal Survey of Youth. J Child Adolesc Subst Abuse 21(4):333–348

Shulman E, Steinberg L, Piquero A (2013) The age–crime curve in adolescence and early adulthood is not due to age differences in economic status. J Youth Adolesc 42(6):848–860. doi:10.1007/s10964-013-9950-4

Slocum LA, Wiley SA, Esbensen FA (2016) The importance of being satisfied: a longitudinal exploration of police contact, procedural injustice, and subsequent delinquency. Crim Justice Behav 43(1):7–26

Smith JK, Gerber AS, Orlich A (2003) Self-prophecy effects and voter turnout: an experimental replication. Polit Psychol 24(3):593–604. doi:10.1111/0162-895X.00342

Steffensmeier DJ, Allan EA, Harer MD, Streifel C (1989) Age and the distribution of crime. Am J Sociol 94(4):803–831

Sturgis P, Allum N, Brunton-Smith I (2009) Chapter 7. Attitudes over time: the psychology of panel conditioning. In: Lynn P (ed) Methodology of longitudinal surveys. Wiley, New York, pp 113–126

Sweeten G (2012) Scaling criminal offending. J Quant Criminol 28(3):533–557. doi:10.1007/s10940-011-9160-8

Thornberry TP (1989) Reflections on the advantages and disadvantages of theoretical integration. In: Messner SF, Krohn MD, Liska AE (eds) Theoretical integration in the study of deviance and crime: problems and prospects. State University of New York Press, Albany, pp 51–60

Thornberry TP, Krohn MD (2000) The self-report method for measuring delinquency and crime. In: Duffee D, Crutchfield RD, Mastrofski S, Mazerolle L, McDowall D (eds) Criminal Justice 2000: Measurement and analysis of crime and justice, vol 4. National Institute of Justice, Washington, pp 33–83

Toepoel V, Das M, Van Soest A (2008) Effects of design in web surveys: comparing trained and fresh respondents. Public Opinion Quarterly 72(5):985–1007. doi:10.1093/poq/nfn060

Tourangeau R, Smith TW (1996) Asking sensitive questions: the impact of data collection mode, question format, and question context. Public Opin Q 60(2):275–304

Tourangeau R, Yan T (2007) Sensitive questions in surveys. Psychol Bull 133(5):859–883. doi:10.1037/0033-2909.133.5.859

Turner CF, Ku L, Rogers SM, Lindberg LD, Pleck JH, Sonenstein FL (1998) Adolescent sexual behavior, drug use, and violence: increased reporting with computer survey technology. Science 280(5365):867–873. doi:10.1126/science.280.5365.867

Tyler TR, Fagan J, Geller A (2014) Street stops and police legitimacy: teachable moments in young urban men's legal socialization. J Empir Legal Stud 11(4):751–785

Wright JP, Tibbetts SG, Daigle LE (2014) Criminals in the making: criminality across the life course. Sage Publications, London

Zimring FE (2006) The great American crime decline. Oxford University Press, USA

Zimring FE (2011) The city that became safe: New York's lessons for urban crime and its control. Oxford University Press, New York
Appendix
Appendix
About this article
Cite this article
Kim, J., Bushway, S.D. Using Longitudinal Self-Report Data to Study the Age–Crime Relationship. J Quant Criminol 34, 367–396 (2018). https://doi.org/10.1007/s10940-017-9338-9
Keywords
Longitudinal self-report

Panel survey

NLSY97

Growth curve model

Cohort effect