Abstract
Objectives
A broad research literature in criminology documents key aspects of how criminal offending develops and changes over the life span. We contribute to this literature by showcasing methods that are useful for studying medium-term patterns of subsequent criminal justice system involvement among a sample of serious adolescent offenders making the transition to early adulthood.
Methods
Our approach relies on 7 years of post-enrollment follow-up from the Pathways to Desistance Study. Each person in the study was adjudicated delinquent for or convicted of one or more relatively serious offenses during adolescence. Their local jurisdiction juvenile court petition records and their adult FBI arrest records were systematically searched.
Results
We estimate in-sample 7 year recidivism rates in the 75–80 % range. Our analysis also provides recidivism rate estimates among different demographic groups within the sample. Extrapolated long-term recidivism rates are estimated to be on the order of 79–89 %.
Conclusions
The Pathways data suggest that recidivism rates of serious adolescent offenders are high and quite comparable to the rates estimated on other samples of serious offenders in the extant literature. Our analysis also reveals a pattern of heightened recidivism risk during the earliest months and years of the follow-up period followed by a steep decline.
Access options
Buy single article
Instant access to the full article PDF.
USD 39.95
Price excludes VAT (USA)
Tax calculation will be finalised during checkout.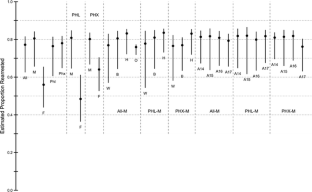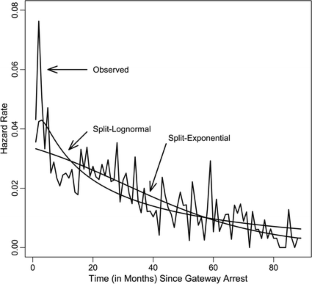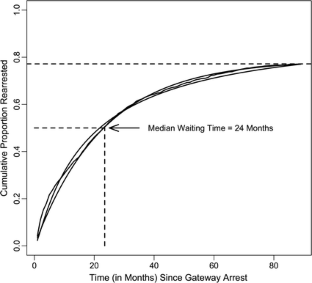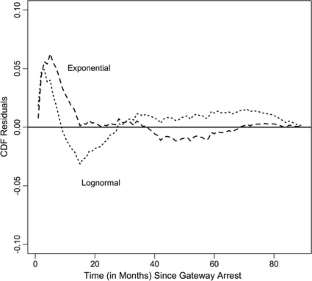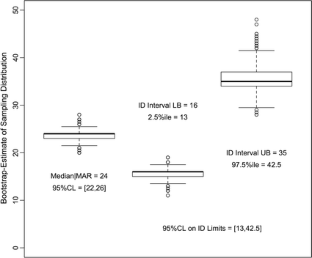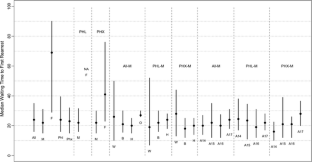 Notes
We also considered but do not report in detail the results of fitting a split-population Weibull specification. The Weibull distribution is a generalization of the exponential distribution in that it allows for either a monotonically increasing or monotonically decreasing hazard rate. In criminal recidivism data, we generally expect to find evidence for a monotonically decreasing hazard rate—a pattern that is strongly evident in the Pathways data. Our analysis reveals that the fits of the split-population Weibull and split-population exponential models are statistically indistinguishable (a likelihood ratio test comparing the two models with 1° of freedom yields a Chi square value of 2.566 which is not statistically significant). Both models also result in an estimated 79 % long-term recidivism rate. This result suggests that the split-population exponential model is sufficient to capture the monotonic patterns in the waiting time distribution.

As noted previously, we were unable to detect a significant difference between the split-population exponential and split-population Weibull specifications. This result suggests that an allowance for a genuinely monotonically declining hazard rate among persisters does not improve on the fit of the more restrictive split-population exponential model.

An anonymous reviewer cautions that a survival time model only measures the time to the next event, not the "rearrest rate". We concede this point but also note that when events occur more frequently, then the average waiting time between events will be shorter (Schmidt and Witte 1988: p. 92). In a Poisson process, for example, if μ measures the rate at which new arrests occur, then 1/μ measures the average waiting time between successive arrests (see also, Barnett et al. 1987a, b, 1989 for more discussion of this point).
References
Barnett A, Blumstein A, Farrington DP (1987a) Probabilistic models of youthful criminal careers. Criminology 25:83–108

Barnett A, Blumstein A, Farrington DP (1987b) A prospective test of a criminal career model. Criminology 27:373–388

Blumstein A (2010) Some perspectives on quantitative criminology pre-JQC: and then some. J Quant Criminol 26:549–561

Blumstein A, Graddy E (1983) Prevalence and recidivism in index arrests: a feedback model. Law Soc Rev 16:265–290

Blumstein A, Nakamura K (2009) Redemption in the presence of widespread criminal background checks. Criminology 47:327–359

Blumstein A, Farrington DP, Moitra S (1985) Delinquency careers: innocents, desisters, and persisters. Crime Justice 6:187–219

Blumstein A, Cohen J, Roth JA, Visher CA (1986) Criminal careers and "career criminals". National Academy Press, Washington, DC

Brame R, Bushway SD, Paternoster R (2003) Examining the prevalence of criminal desistance. Criminology 41:423–448

Brame R, Turner MG, Paternoster R, Bushway SD (2012) Cumulative prevalence of arrest from ages 8–23 in a national sample. Pediatrics 129:21–27

Brame R, Bushway SD, Paternoster R, Turner MG (2014a) Demographic patterns of cumulative arrest prevalence by ages 18 and 23. Crime Delinq 60:471–486

Brame R, Mulvey EP, Piquero AR, Schubert CA (2014b) Assessing the nature and mix of offences among serious adolescent offenders. Crim Behav Ment Health 24:254–264

Broidy L, Nagin DS, Tremblay RE, Bates JE, Brame R, Dodge KA, Fergusson DM, Horwood JL, Loeber R, Laird R, Lynam DR, Moffitt TE, Petit GS, Vitaro F (2003) Developmental trajectories of childhood disruptive behaviors and adolescent delinquency: a six-site, cross-national study. Dev Psychol 39:222–245

Dean CW, Brame R, Piquero AR (1996) Criminal propensities, discrete groups of offenders, and persistence in crime. Criminology 34:547–574

Fleiss JL, Levin B, Paik MC (2013) Statistical methods for rates and proportions, 3rd edn. Wiley, New York

Gottfredson MR, Hirschi T (1990) A general theory of crime. Stanford University Press, Palo Alto

Greenberg DF (1991) Modeling criminal careers. Criminology 29:17–46

Kalist DE, Lee DY, Spurr SJ (2015) Predicting recidivism of juvenile offenders. BE J Econ Anal Policy 15:329–351

Kurlychek MC, Brame R, Bushway SD (2006) Scarlet letters and recidivism: does an old criminal record predict future offending? Criminol Public Policy 5:483–504

Kurlychek MC, Brame R, Bushway SD (2007) Enduring risk? Old criminal records and predictions of future criminal involvement. Crime Delinq 53:64–83

Kurlychek MC, Bushway SD, Brame R (2012) Long- term crime desistance and recidivism patterns: evidence from the Essex County convicted felon study. Criminology 50:71–103

Land KC, McCall PL, Nagin DS (1996) A comparison of Poisson, negative binomial, and semiparametric mixed Poisson regression models with empirical applications to criminal careers data. Sociol Methods Res 24:387–442

Lattimore PK, Linster RL (1993) A hazard model alternative to "split-population" survival models. Washington, DC: National Institute of Justice (unpublished discussion paper)

Lattimore PK, MacDonald JM, Piquero AR, Linster RL, Visher CA (2004) Studying the characteristics of arrest frequency among paroled youthful offenders. J Res Crime Delinq 41:37–57

Laub JH, Sampson RJ (2003) Shared beginnings, divergent lives: delinquent boys to age 70. Harvard University Press, Cambridge

Laub JH, Nagin DS, Sampson RJ (1998) Trajectories of change in criminal offending: good marriages and the desistance process. Am Sociol Rev 63:225–238

Little RJA, Rubin DB (1987) Statistical analysis with missing data. Wiley, New York

Loeber R, Farrington DP (eds) (2012) From juvenile to adult crime. Oxford University Press, New York

Maltz MD (1984) Recidivism. Academic Press, New York

Manski CF (1995) Identification problems in the social sciences. Harvard University Press, Cambridge

Manski CF (2003) Partial identification of probability distributions. Springer, New York

Manski CF (2011) Policy analysis with incredible certitude. Econ J 121:F261–F289

Manski CF, Nagin DS (1998) Bounding disagreements about treatment effects: a case study of sentencing and recidivism. Sociol Methodol 28:99–137

Monahan KC, Steinberg L, Cauffman E, Mulvey EP (2009) Trajectories of antisocial behavior and psychosocial maturity from adolescence to young adulthood. Dev Psychol 45:1654–1668

Mulvey EP, Steinberg L, Fagan J, Cauffman E, Piquero AR, Chassin L, Knight GP, Brame R, Schubert CA, Hecker T, Losoya SH (2004) Theory and research on desistance from antisocial activity among serious adolescent offenders. Youth Violence Juv Justice 2:213–236

Mulvey EP, Steinberg L, Piquero AR, Besana M, Fagan J, Schubert C, Cauffman E (2010a) Trajectories of desistance and continuity in antisocial behavior following court adjudication among serious adolescent offenders. Dev Psychopathol 22:453–475

Mulvey EP, Steinberg L, Piquero A, Besana M, Fagan J, Schubert C, Cauffman E (2010b) Longitudinal offending trajectories among serious, youthful offenders. Dev Psychopathol 22:453–475

Mulvey EP, Schubert CA, Piquero AR (2014) Pathways to desistance—final technical report. University of Pittsburgh Medical Center, Pittsburgh

Nagin DS, Land KC (1993) Age, criminal careers, and population heterogeneity: specification and estimation of a nonparametric, mixed Poisson model. Criminology 31:327–362

Nagin DS, Paternoster R (1991) On the relationship of past to future participation in delinquency. Criminology 29:163–189

Nagin DS, Paternoster R (2000) Population heterogeneity and state dependence: state of the evidence and directions for future research. J Quant Criminol 16:117–144

Paternoster R, Bachman R, Kerrison E, O'Connell D and Smith L (2014). Human agency and desistance from crime: arguments for a rational choice theory and an empirical test with survival time recidivism data. Working paper

Piquero AR, Brame R, Mazerolle P, Haapanen R (2002) Crime in emerging adulthood. Criminology 40:137–170

Piquero AR, Farrington DP, Blumstein A (2003) The criminal career paradigm. Crime Justice 30:359–506

Piquero AR, Brame R, Lynam D (2004) Studying criminal career length through early adulthood among serious offenders. Crime Delinq 50:412–435

Piquero AR, Farrington DP, Blumstein A (2007) Key issues in criminal career research: new analyses of the Cambridge Study in delinquent development. Cambridge University Press, New York

Piquero AR, Monahan KC, Glasheen C, Schubert CA, Mulvey EP (2013) Does time matter? Comparing trajectory concordance and covariate association using time-based and age-based assessments. Crime Delinq 59:738–763

Piquero AR, Schubert CA, Brame R (2014) Comparing official and self-report records of offending across gender and race/ethnicity in a longitudinal study of serious youthful offenders. J Res Crime Delinq 51:526–556

Rhodes W (1989) The criminal career: estimates of the duration and frequency of crime commission. J Quant Criminol 5:3–32

Sampson RJ, Laub JH (1993) Crime in the making: pathways and turning points through life. Harvard University Press, Cambridge

Schmidt P, Witte AD (1988) Predicting recidivism using survival models. Springer, New York

Schubert C, Mulvey EP, Steinberg L, Cauffman E, Losoya SH, Hecker T, Chassin L, Knight GP (2004) Operational lessons from the pathways to desistance project. Youth Violence Juvenile Justice 2:237–255

Smith DA, Brame R (1994) On the initiation and continuation of delinquency. Criminology 32:607–629

Visher CA, Lattimore PK, Linster RL (1991) Predicting the recidivism of serious youthful offenders using survival models. Criminology 29:329–363

Wasserman L (2000) Bayesian model selection and model averaging. J Math Psychol 44:92–107
Acknowledgments
This study was supported by funds from the following: the Office of Juvenile Justice and Delinquency Prevention (2007-MU-FX-0002), National Institute of Justice (2008-IJ-CX-0023), John D. and Catherine T. MacArthur Foundation, William T. Grant Foundation, Robert Wood Johnson Foundation, William Penn Foundation, Center for Disease Control, National Institute on Drug Abuse (R01DA019697), Pennsylvania Commission on Crime and Delinquency, and Arizona Governors Justice Commission. We are grateful for their support. The content of this paper, however, is solely the responsibility of the authors and does not necessarily represent the official views of these agencies.
About this article
Cite this article
Brame, R., Mulvey, E.P., Schubert, C.A. et al. Recidivism in a Sample of Serious Adolescent Offenders. J Quant Criminol 34, 167–187 (2018). https://doi.org/10.1007/s10940-016-9329-2
Published:

Issue Date:

DOI: https://doi.org/10.1007/s10940-016-9329-2
Keywords