Abstract
Objectives
The aim of this study is to explore how the zonation and scale problems of the modifiable areal unit problem (MAUP) impact on the proportion of variance associated with surrounding areas in relation to micro-place levels of arson. MAUP is related to how geographical areas are constructed, with zonation related to how boundaries are drawn, and scale related to the size of areas.
Methods
Arson point data from 2007 to 2011 are analyzed by means of hierarchical linear modeling in order to compute intra-class correlations (ICCs), the share of variance associated with the higher order geographical units, for geographical units of three different sizes and with three degrees of randomness. Real, administrative, geographical units of two sizes, with mean size of 1.2 and 0.4 square kilometers respectively, are compared both to semi-random and fully-random artificial geographical units of the same size, and to smaller types of units of 0.17 square kilometer size.
Results
The analysis shows that there is little difference between large and medium-sized geographical units, but there is a significant increase in the ICC at the smallest geographical scale. To understand the geography of arson this suggests that the smallest types of units are of the greatest importance. As regards the problem of zonation, the results show that more randomness of boundary placement is associated with lower ICCs.
Conclusion
A key implication of these findings is that community preventive efforts may best be targeted at very small communities such as street blocks rather than larger neighborhoods.
Access options
Buy single article
Instant access to the full article PDF.
US$ 39.95
Tax calculation will be finalised during checkout.
Subscribe to journal
Immediate online access to all issues from 2019. Subscription will auto renew annually.
US$ 79
Tax calculation will be finalised during checkout.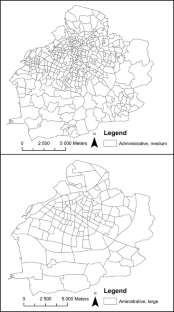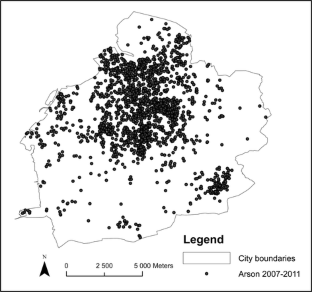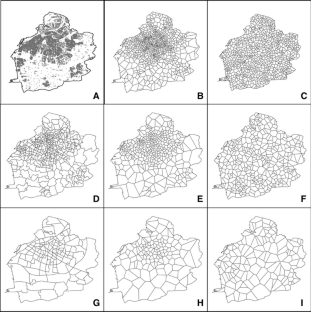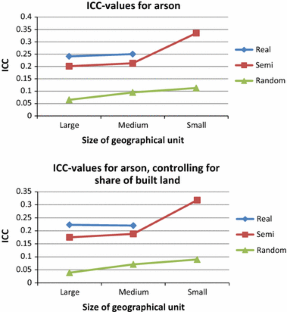 Notes
1.

The term modifiable in MAUP can be said to be linked to the lack of a connection between studied social mechanisms and the geographical units of analysis employed in analyses (Flowerdew 2011). The problem is related to the widespread use of administrative units of analysis both in criminology, and more broadly in the social sciences (Sampson et al. 2002).

2.

3.

Some social disorganization scholars may however disagree. Robert Sampson touches on the issue: "The notion that there is one neighborhood unit or that it must be small is not commensurate with the way people react to and sort themselves on a wide variety of dimensions or outcomes" (Sampson 2012: 362).

4.

Hipp and Boessen (2013) attempt to integrate large and small scales of geographical perspectives by employing overlapping egohoods (Hipp and Boessen 2013), where each street block is influenced by street blocks in concentric circles, each of which is in turn influenced by street blocks radiating out in concentric circles from itself. It was found that egohoods were better suited for understanding the spatial distribution of crime than administrative units of analysis.

5.

Brantingham et al. (2009) used a method for assigning places varying degrees of membership in neighborhoods in order to better understand the spatial clustering of crime.

6.

The definition of arson broadly corresponds to the definition employed by Drucker (2011, 29): "Arson is defined as any fire of an incendiary or suspicious origin."

7.

As discussed in Steenbeek and Weisburd (2015) street segments, commonly used to operationalize micro-places, often belong to more than one census tract, making such spatial analysis difficult. There are however papers that have assessed the problem of scale in the form of individuals nested in different sized geographical units of analysis, rather than places nested within places. Hipp (2007), for example, examined crime outcomes, while Oberwittler and Wikström (2009) examined outcomes related to cohesion and informal social control. For an overview of related research of primarily non-criminological outcomes, see Matthews and Yang (2013).

8.

One study found that respondents tended to consider crimes within a half mile radius when asked about crimes in their neighborhood, but with large variations depending on the type of offence (Wisnieski et al. 2013). Studies allowing respondents to draw their neighborhoods on a map have reported differing results in terms of the size of neighborhoods. Orford and Leigh (2014) found that, on average, neighborhoods were defined to be of a size similar to Output Areas, an administrative geographical unit with an average of 300 residents, while Coulton et al. (2001) found that perceived neighborhoods were comparable to census tracts, with an average of 2589 residents.

9.

Zonation is arguably a better term than the original term aggregation used by Openshaw (1984).

10.

A recent paper has added the concept of the uncertain geographic context problem (UGCoP) to the discussion of contextual effects on individual outcomes (Kwan 2012). UGCoP is concerned with the problem of delineating geographical units of analysis when the actual geographical unit that best matches the context to be studied is unknown. It largely encompasses the zonation issue aspect of the MAUP, but also widens the discussion to include essentially non-geographical contexts such as friendship networks and brings a temporal aspect of exposure to the table (Kwan 2012). Although this paper is not concerned with contextual effects on individuals, the solution to the delineation of geographical units of analysis problem that Kwan (2012, 965) discusses is taken into account in this paper by employing GPS data to attempt to establish better delineation.

11.

12.

In Weisburd et al. (2012), attempts are made to identify variables related to social disorganization at the micro-level, in addition to variables related to opportunity theory, by measuring structural characteristics of social disorganization such as SES rather than actual social mechanisms (see also Ouimet 2000).

13.

The trend towards smaller scales of geography is also being driven by technological and methodological innovations, as discussed by Weisburd et al. (2009a).

14.

Research on the spatial distribution of arson in Sweden has revealed that it is strongly correlated at the neighborhood level to poor living conditions as measured using a summative standardized index of the number of residents per room, the proportion of young men aged 16-18, the proportion of residents with no more than 9 years of school education, the proportion of foreign-born residents and the proportion of unemployed aged 18–64 (Guldåker and Hallin 2013; Hallin et al. 2010). This living conditions variable shares some constituent elements with the concept of concentrated disadvantage, and the theoretical reasoning behind it is similar (cf., Sampson et al. 1997; Sampson 2012). Malmberg et al. (2013) have found that incidents of car arson as a measure of rioting are related to residential (ethnic) segregation, the proportion of youth and the proportion of parents on welfare.

15.

Administrative medium-sized areas that are adjacent to the sea in the western section of the city have boundaries drawn far out into the sea. For the present paper, only those parts of SAMS-areas falling within the municipality have been used, which has been achieved by simply clipping the SAMS-areas with the sub-districts.

16.

This is related to a difference in the Swedish language between a fire that is controlled/wanted ("eld") and a fire that is out of control/unwanted ("brand"), where the fires used in this paper can be considered fires where the intent was to start a fire that would become out of control ("Brand anlagd med uppsåt" in Swedish).

17.

The Swedish police classify incidents of arson into three principal offence categories; vandalism; carelessness endangering the public through arson; (Translations from Rikskriminalpolisen 2002); and endangering human lives through intentional arson.

18.

The centroid of the pixel thus determined which geographical unit of analysis it would be assigned to. This may result in a slight misrepresentation of the number of arsons across level 2 units in some cases, but there is no reason to believe it would systematically impact on a comparison across different sets of geographical units of analysis.

19.

The resulting tables have slightly differing numbers of points depending on the exact boundaries drawn for the randomly created geographical units of analysis. For large sized randomly generated units, this resulted in between 64,536 and 64,544 artificial micro-places and for medium sized randomly generated units between 64,540 and 64,542. Administrative large areas were registered for 64,574 artificial micro-places and administrative medium areas were registered for 64,542 points.

20.

In relation to the MAUP, this is similar to the technique suggested by Tranmer and Steel (2001) to assess scale effects by calculating what they call intra-area correlations (IACs) by dividing the higher order unit variance with the lower order unit variance.

21.

For the output-area-sized units, this results in a mean population of 323, as compared to the 300 in Wikström et al. (2012).

22.

23.

Attempts at fitting the models were performed using the overdispersed poisson distribution in HLM 6, the negative binomial distribution in STATA 13, and, after recoding the outcome variable into a dichotomous variable, using Bernoulli distribution in HLM6.

24.

The linear mixed models also fail to meet assumptions of normality at level 2, but the lack of normality is similar across the data-sets making comparison more viable. Recent research shows that negative binomial mixed models perform better than linear mixed models with raw data, but the linear mixed model performed as well or better for some specifications (Aly et al. 2014). In the present paper the models are however overdispersed, which tend to fit better with negative binomial models. The non-normality at level 1 is the same across all 62 level 2 units, and should have little impact on comparisons between different level 2 units. It does however mean that ICC-values as measures of actual variance should be interpreted with caution.

25.

Confidence intervals based on t-distribution, with 9 degrees of freedom.

26.

There are no substantive differences between the results reported in (Appendix) Table 3 where the proportion of built-up land is controlled for and the results from empty models. Empty model results available on request. It should however be noted that these results are based on a differing number of level 2 units due to the heterogeneity in the data, and the number of level 2 units included in the analysis is reported in the table.

27.

Sampson (2012) also noted that the size of geographical units appeared to have a minor impact when comparing neighborhood clusters with on average 8000 residents with smaller census tracts. Chicago census tracts however have a similar mean number of residents as the largest type of units studied in the present study. The findings in this paper are thus in line with Sampson (2012) while also noting that even smaller scales of geography may be of larger importance.

28.

A similar argument has been made by Bernasco (2010, 115): "In the absence of well-defined boundaries between spatial units, the measurement of small entities is to be preferred, even if the mental maps of the users are less fine-grained."

29.

30.

Of the ten artificial micro-places in this study with more than 10 instances of arson during the period examined, four are in places where there have been several instances of clashes with the police. In addition, two of the remaining six artificial micro-places with more than 10 instances of arson are located at schools in disadvantaged neighborhoods.
References
Aly SS, Zhao J, Li B, Jiang J (2014) Reliability of environmental sampling culture results using the negative binomial intraclass correlation coefficient. SpringerPlus 3:1–7

Andresen MA, Malleson N (2013) Spatial heterogeneity in crime analysis. In: Leitner M (ed) Crime modeling and mapping using geospatial technologies. Springer, Netherlands, pp 3–23

Baudains P, Braithwaite A, Johnson SD (2013) Target choice during extreme events: a discrete spatial choice model of the 2011 london riots. Criminology 51:251–285. doi:10.1111/1745-9125.12004

Bernasco W (2010) Modeling micro-level crime location choice: application of the discrete choice framework to crime at places. J Quant Criminol 26:113–138

Blomqvist P, Johansson H (2008) Brandstatistik—Vad vet vi om anlagd brand. SP Rapport 2008: 48. ISBN 978-91-85829-65-1

Boessen A, Hipp JR (2015) Close-ups and the scale of ecology: land uses and the geography of social context and crime. Criminology 53:399–426

Braga AA, Clarke RV (2014) Explaining high-risk concentrations of crime in the city: social disorganization, crime opportunities, and important next steps. J Res Crime Delinq 51:480–498

Brantingham PL, Brantingham PJ (1995) Criminality of place. Eur J Crim Policy Res 3:5–26

Brantingham PL, Brantingham PJ, Vajihollahi M, Wuschke K (2009) Crime analysis at multiple scales of aggregation: a topological approach. In: Weisburd D, Bernasco W, Bruinsma GJN (eds) Putting crime in its place. Springer, New York, pp 87–108

Bruinsma GJ, Pauwels LJ, Weerman FM, Bernasco W (2013) Social disorganization, social capital, collective efficacy and the spatial distribution of crime and offenders an empirical test of six neighbourhood models for a Dutch city. Br J Criminol 53:942–963

Bryk AS, Raudenbush SW (1992) Hierarchical linear models: applications and data analysis methods. Sage, Newbury Park

Bursick RJ, Grasmick HG (1993) Neighborhoods and crime: the dimensions of effective community control. Lexington, New York

Bursik RJ Jr (1988) Social disorganization and theories of crime and delinquency: problems and prospects. Criminology 26:519–551

Cantillon D (2006) Community social organization, parents, and peers as mediators of perceived neighborhood block characteristics on delinquent and prosocial activities. Am J Community Psychol 37:111–127

Cohen LE, Felson M (1979) Social change and crime rate trends: a routine activity approach. Am Sociol Rev 44:588–608

Collins R (2008) Violence: a micro-sociological theory. Princeton University Press, Princeton

Coulton CJ, Korbin J, Chan T, Su M (2001) Mapping residents' perceptions of neighborhood boundaries: a methodological note. Am J Community Psychol 29:371–383

Drucker J (2011) Risk factors of arson. In: Caplan JM, Kennedy LW (eds) Risk terrain modeling compendium. Rutgers Center on Public Security, Newark

Eck JE, Weisburd D (1995) Crime places in crime theory. Crime Place Crime Prev Stud 4:1–33

Felson M (1986) Linking criminal choices, routine activities, informal control, and criminal outcomes. In: Cornish D, Clarke RV (eds) The reasoning criminal: rational choice perspectives on offending. Springer, New York

Felson M (1994) Crime and everyday life: insight and implications for society. Pine Forge Press, Thousand Oaks

Flowerdew R (2011) How serious is the modifiable areal unit problem for analysis of English census data? Popul Trends 145:106–114

Fotheringham AS, Rogerson PA (1993) GIS and spatial analytical problems. Int J Geogr Inf Syst 7:3–19

Freedman DA (2006) On the so-called "Huber sandwich estimator" and "robust standard errors". Am Stat 60:299–302

Gerell M (2013) Skadegörelse, bränder, grannskap och socialt kapital (MAPIUS). Malmö University Publications in Urban Studies, Malmö

Green M, Flowerdew R (1996) New evidence on the modifiable areal unit problem. In: Longley P, Batty M (eds) Spatial analysis Modelling in a GIS environment. Wiley, New York, pp 41–54

Groff E, Weisburd D, Morris NA (2009) Where the action is at places: examining spatio-temporal patterns of juvenile crime at places using trajectory analysis and GIS. In: Weisburd D, Bernasco W, Bruinsma GJN (eds) Putting crime in its place. Springer, New York, pp 61–86

Grubesic TH (2006) On the application of fuzzy clustering for crime hot spot detection. J Quant Criminol 22:77–105

Guldåker N, Hallin PO (2013) Stadens bränder. Del 1—Anlagda bränder och Malmös sociala geografi. Holmbergs, Malmö

Hallin PO, Jashari A, Listerborn C, Popoola M (2010) Det är inte stenarna som gör ont. Röster från Herrgården, Rosengård—om konflikter och erkännande. Holmbergs, Malmö

Hipp JR (2007) Block, tract, and levels of aggregation: neighborhood structure and crime and disorder as a case in point. Am Sociol Rev 72:659–680

Hipp JR (2010) Micro-structure in micro-neighborhoods: a new social distance measure, and its effect on individual and aggregated perceptions of crime and disorder. Soc Netw 32:148–159

Hipp JR, Boessen A (2013) Egohoods as waves washing across the city: a new measure of "Neighborhoods". Criminology 51:287–327

Kornhauser R (1978) Social sources of delinquency: an appraisal of analytic models. Chicago University Press, Chicago

Kruger DJ (2008) Verifying the operational definition of neighborhood for the psychosocial impact of structural deterioration. J Community Psychol 36:53–60

Kwan MP (2012) The uncertain geographic context problem. Ann Assoc Am Geogr 102:958–968

LaGrange TC (1999) The impact of neighborhoods, schools, and malls on the spatial distribution of property damage. J Res Crime Delinq 36:393–422

Loeber R, Wikström P-O (2000) Do disadvantaged neighborhoods cause well-adjusted children to become adolescent delinquents? A study of male juvenile serious offending, individual risk and protective factors, and neighborhood context. Criminology 38:1109–1142

Lupton R (2003) Neighbourhood effects: can we measure them and does it matter? CASE paper 73. London School of Economics, London

Maas CJ, Hox JJ (2004) The influence of violations of assumptions on multilevel parameter estimates and their standard errors. Computational Statistics & Data Analysis 46:427–440

Malmberg B, Andersson E, Östh J (2013) Segregation and Urban unrest in Sweden. Urban Geogr 34:1031–1046

Malmö stad (2014) Malmö i korta drag. http://www.malmo.se/download/18.1555cde01439069ae701fec/1390808863588/Malm%C3%B6+i+korta+drag.pdf. Accessed 28 Feb 2014

Marble DF (2000) Some thoughts on the integration of spatial analysis and Geographic Information Systems. J Geogr Syst 2:31–35

Matthews SA, Yang T-C (2013) Spatial Polygamy and Contextual Exposures (SPACEs): promoting activity space approaches in research on place and health. Am Behav Sci 57:1057–1081

McDonald K (2012) They can't do nothin' to us today. Thesis Eleven 109:17–23

Nakaya T (2000) An information statistical approach to the modifiable areal unit problem in incidence rate maps. Environ Plan A 32:91–110

Oberwittler D, Wikström P-OH (2009) Why small is better: advancing the study of the role of behavioral contexts in crime causation. In: Weisburd D, Bernasco W, Bruinsmaa GJN (eds) Putting crime in its place: units of analysis in geographic criminology. Springer, New York, pp 35–60

Openshaw S (1977) A geographical solution to scale and aggregation problems in region building, partitioning and spatial modelling. Trans Inst Br Geogr New Ser 2:459–472

Openshaw S (1984) Concepts and techniques in modern geography number 38: the modifiable areal unit problem. Geo Books, Norwich

Openshaw S (1996) Developing GIS-relevant zone-based spatial analysis methods. In: Longley P, Batty M (eds) Spatial analysis: modeling in a GIS environment. Wiley, New York, pp 55–73

Orford S, Leigh C (2014) The relationship between self-reported definitions of urban neighborhood and respondent characteristics: a study of Cardiff, UK. Urban Stud 51:1891–1908

Ouimet M (2000) Aggregation bias in ecological research: how social disorganization and criminal opportunities shape the spatial distribution of juvenile delinquency in Montreal. Can J Criminol 42:135

Ratcliffe JH (2005) Detecting spatial movement of intra-region crime patterns over time. J Quant Criminol 21:103–123

Rengert GF, Lockwood B (2009) Geographical units of analysis and the analysis of crime. In: Weisburd D, Bernasco W, Bruinsma GJN (eds) Putting crime in its place. Springer, New York, pp 109–122

Rikskriminalpolisen (2002). Svensk-engelsk och engelsk-svensk ordlista. Accessed through polisen.se

Sampson RJ (2012) Great American City. Chicago and the enduring neighborhood effect. University of Chicago press, Chicago

Sampson RJ, Groves WB (1989) Community structure and crime: testing social-disorganization theory. Am J Sociol 94:774–802

Sampson RJ, Raudenbush SW (1999) Systematic social observation of public spaces: a new look at disorder in urban neighborhoods 1. Am J Sociol 105:603–651

Sampson RJ, Raudenbush SW (2004) Seeing disorder: neighborhood stigma and the social construction of "broken windows". Soc Psychol Q 67:319–342

Sampson RJ, Raudenbusch SW, Earls F (1997) Neighborhoods and violent crime: a multilevel study of collective efficacy. Science 277:918–924

Sampson RJ, Morenoff JD, Gannon-Rowley T (2002) Assessing "Neighborhood Effects": social processes and new directions in research. Ann Rev Sociol 28:443–478

Shaw CR, McKay HD (1969) Juvenile delinquency and urban areas. University of Chicago press, Chicago

Sherman L (1995) Hot spots of crime and criminal careers of places. In: Eck J, Weisburd D (eds) Crime and place: crime prevention studies 4. Willow Tree Press, Monsey

Snijders TAB, Bosker RJ (2012) Multilevel analysis: an introduction to basic and advanced multilevel modeling. SAGE Publications, Thousand Oaks

St Jean PKB (2007) Pockets of crime: broken windows, collective efficacy and the criminal point of view. University of Chicago press, Chicago

Statistics Sweden (2013). Fortsatt ökning av utrikes födda i Sverige. http://www.scb.se/sv_/Hitta-statistik/Artiklar/Fortsatt-okning-av-utrikes-fodda-i-Sverige/. Accessed 28 Feb 2014

Steenbeek W, Weisburd D (2015) Where the action is in crime? An examination of variability of crime across different spatial units in the Hague, 2001–2009. Journal of Quantitative Criminology. doi:10.1007/s10940-015-9276-3

Sutherland A, Brunton-Smith I, Jackson J (2013) Collective efficacy, deprivation and violence in London. Br J Criminol 53:1050–1074

Taylor RB (1997) Social order and disorder on street blocks and neighborhoods: ecology, microecology, and the systemic model of social disorganization. J Res Crime Delinq 34:113–155

Taylor RB (2010) Communities, crime, and reactions to crime multilevel models: accomplishments and meta-challenges. J Quant Criminol 26:455–466

Terjestam Y, Rydén O (1999) Att leka med elden. En bok om barn, eld och brand. Räddningsverket, Karlstad

Tita GE, Radil SM (2010) Making space for theory: the challenges of theorizing space and place for spatial analysis in criminology. J Quant Criminol 26:467–479

Tranmer M, Steel D (2001) Using local census data to investigate scale effects. In: Tate J, Atkinson M (eds) Modelling scale in geographical information science. Wiley, Chichester, pp 105–122

Weisburd D, Bushway S, Lum C, Yang SM (2004) Trajectories of crime at places: a longitudinal study of street segments in the city of Seattle. Criminology 42:283–324

Weisburd D, Wyckoff LA, Ready J, Eck JE, Hinkle JC, Gajewski F (2006) Does Crime just move around the corner? A controlled study of spatial displacement and diffusion of crime and control benefits. Criminology 44:549–592

Weisburd D, Bruinsma GJN, Bernasco W (2009a) Units of analysis in geographic criminology: historical development, critical issues, and open questions. In: Weisburd D, Bernasco W, Bruinsmaa GJN (eds) Putting crime in its place units of analysis in geographic criminology. Springer, New York, pp 3–31

Weisburd D, Morris NA, Groff ER (2009b) Hot spots of juvenile crime: a longitudinal study of arrest incidents at street segments in Seattle, Washington. J Quant Criminol 25:443–467

Weisburd D, Telep CW, Braga AA (2010) The importance of place in policing. Empirical evidence and policy recommendations. Swedish National Council for Crime Prevention, Stockholm

Weisburd D, Groff ER, Yang SM (2012) The criminology of place. Street segments and our understanding of the crime problem. Oxford University Press, Oxford

Weisburd D, Groff ER, Yang SM (2014a) The importance of both opportunity and social disorganization theory in a future research agenda to advance criminological theory and crime prevention at places. J Res Crime Delinq 51:499–508

Weisburd D, Groff ER, Yang SM (2014b) Understanding and controlling hot spots of crime: the importance of formal and informal social controls. Prev Sci 15:31–43

Wikström P-OH, Oberwittler D, Treiber K, Hardie B (2012) Breaking rules: the social and situational dynamics of young people's urban crime. Oxford University Press, Oxford

Wilson JQ, Kelling GL (1982) Broken windows. Atl Mon 249:29–38

Wisnieski E, Bologeorges S, Johnson T, Henry DB (2013) The geography of citizen crime reporting. Am J Community Psychol 52:324–332

Wooldredge J (2002) Examining the (Ir)relevance of aggregation bias for multilevel studies of neighborhoods and crime with an example comparing census tracts to official neighborhoods in Cincinatti. Criminology 40:681–709

Yule GU, Kendall MG (1950) An introduction to the theory of statistics. Griffin, London
Appendix
Appendix
About this article
Cite this article
Gerell, M. Smallest is Better? The Spatial Distribution of Arson and the Modifiable Areal Unit Problem. J Quant Criminol 33, 293–318 (2017). https://doi.org/10.1007/s10940-016-9297-6
Keywords
Arson

MAUP

Neighborhood

Geography