Abstract
Objectives
This study tracked the behavior of male inmates housed in the general inmate populations of 70 different prison units from a large southern state. Each of the inmates studied engaged in violent misconduct at least once during the first 2 years of incarceration (n = 3,808). The goal of the study was to isolate the effect of exposure to short-term solitary confinement (SC) as a punishment for their initial act of violent behavior on the occurrence and timing of subsequent misconduct.
Methods
This study relied upon archival longitudinal data and employed a multilevel counterfactual research design (propensity score matching) that involved tests for group differences, event history analyses, and trajectory analyses.
Results
The results suggest that exposure to short-term solitary confinement as a punishment for an initial violence does not appear to play a role in increasing or decreasing the probability, timing, or development future misconduct for this particular group on inmates.
Conclusions
Upon validation, these findings call for continued research and perhaps a dialog regarding the utility of solitary confinement policies under certain contexts. This unique study sets the stage for further research to more fully understand how solitary impacts post-exposure behavior.
Access options
Buy single article
Instant access to the full article PDF.
US$ 39.95
Tax calculation will be finalised during checkout.
Subscribe to journal
Immediate online access to all issues from 2019. Subscription will auto renew annually.
US$ 79
Tax calculation will be finalised during checkout.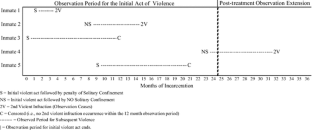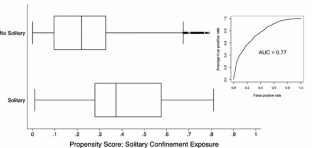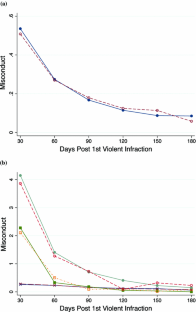 Notes
1.

At the most extreme level, supermax housing/units may expose inmates to SC on a daily basis for extended periods of time and is commonly reserved for those considered the "worst of the worst"—see Mears and Bales (2010). Though the findings presented here may not apply to supermax inmates/facilities, it is important to acknowledge previous work that has assessed the effect of solitary confinement as an administrative control mechanism in supermax settings—e.g., Briggs et al. (2003); Sundt et al. (2008). Such findings suggest a lack of support for the idea that the use of supermax has a substantive positive impact on inmate assaults.

2.

A reviewer appropriately questioned the rationale behind focusing on the initial act of violent misconduct as a queue to SC. The reason behind this approach was to maximize the amount of available data for this exploratory study. The prevalence of violent misconduct, which is the type of misconduct most likely to result in SC, diminishes rapidly through the initial 3 years of incapacitation. Focus on the initial act during the first year maximized the amount of available candidates (for matching purposes) while simultaneously allowing for an adequate amount of time in observation post-SC where violence and misconduct are still relatively likely. The intention here is not to downplay the potential importance of secondary and tertiary experiences with SC, but understanding the downstream effects of initial exposure to SC is here argued as worthy of a dedicated study.

3.

Matching was also carried out using the Mahalanobis distance approach as well as using multiple neighbors. The results of the study did not change by doing so.

4.

The data available accounted only for whether and when a penalty of SC was applied. Details on the duration of specific instances (i.e., number of days) of SC were not available.

5.

The loss of good-time credit was accounted for in separate analyses (not shown), but had no impact on the findings presented below. However, the loss of good time may have its own effect on the probability of continued violence and should be the topic of a separate study exploring causal factors of continuity in prison violence.

6.

Regarding preceding misconduct, the frequency of property, accountability, security, sexual, contraband, and substance-use-related infractions were taken into account. The specific infractions underlying each of these infraction categories were based on the protocol presented in Camp et al. (2003: 532).

7.

It is also worth noting that a regular multilevel regression model was estimated that simply accounted for the solitary effect as a predictor of subsequent violence among all inmates in the sample. The parameter estimate for exposure to solitary was not significant. Results from this model can be made available upon request.

8.

See Morris et al. (2013) for a discussion of why survival analyses involving re-offending should be explored between contexts of survivorship.

9.

An important study by Mears and Bales (2009) found that exposure to supermax incarceration alone (but not the number of times/duration, or whether it occurred close to release) may increase the odds of violence recidivism among Florida inmates.
References
Becker SO, Caliendo M (2007) Sensitivity analysis for average treatment effects. Stata J 7:73

Blackburn AG, Trulson CR (2010) Sugar and spice and everything nice? Exploring institutional misconduct among serious and violent female delinquents. J Crim Justice 38:1132–1140

Briggs CS, Sundt JL, Castellano TC (2003) The effect of supermaximum prisons on aggregate levels of institutional violence. Criminology 41:1341–1376

Browne A, Cambier A, Agha S (2011) Prisons within prisons: the use of segregation in the United States. Fed Sentencing Rep 24:46–49

Camp SD, Gaes GG, Langan NP, Saylor WG (2003) The influence of prisons on inmate misconduct: a multilevel investigation. Justice Q 20:501–533

Diamond B, Morris RG, Barnes J (2012) Individual and group IQ predict inmate violence. Intelligence 40:115–122

DiIulio JJ (1990) Governing prisons. Free Press, New York

Gau S, Fraser MW (2009) Propensity score analysis: statistical methods and applications. Sage Publications, Thousand Oaks, CA

Gibbons J, Katzenbach N (2006) Confronting confinement: a report of The Commission on Safety and Abuse in America's Prisons. Wash Uni J Law Policy 22:385–560

Grassian S (1983) Psychopathological effects of solitary confinement. Am J Psychiatry 140:1450–1454

Greenland S, Robins JM, Pearl J (1999) Confounding and collapsibility in causal inference. Stat Sci 14:9–46

Griffin ML, Hepburn JR (2006) The effect of gang affiliation on violent misconduct among inmates during the early years of confinement. Crim Justice Behav 33:419–466

Haney C (2003) Mental health issues in long-term solitary and "supermax" confinement. Crime Delinq 49:124–156

Haney C, Lynch M (1997) Regulating prisons of the future: a psychological analysis of supermax and solitary confinement. NYU Rev Law Soc Change 23:477

Holmes WM (2014) Using propensity scores in quasi-experimental designs. Sage Publications Inc, Thousand Oaks, CA

Huebner BM (2003) Administrative determinants of inmate violence: a multilevel analysis. J Crim Justice 31:107–117

Irwin J (2005) The warehouse prison: disposal of the new dangerous class. Roxbury, Los Angeles

Kleck G, Sever B, Li S, Gertz M (2005) The missing link in general deterrence research. Criminology 43:623–660

Mears DP (2008) An assessment of supermax prisons using an evaluation research framework. Prison J 88:43–68

Mears DP (2013) Supermax prisons: the policy and the evidence. Criminol Public Policy 12:681–719

Mears DP, Bales WD (2009) Supermax incarceration and recidivism. Criminology 47:1131–1166

Mears DP, Bales WD (2010) Supermax housing: placement, duration, and time to reentry. J Crim Justice 38:545–554

Mears DP, Watson J (2006) Towards a fair and balanced assessment of supermax prisons. Justice Q 23:232–270

Minke KL (2012) Fængslets indre liv. Jurist og økonomforbundets forlag. Unpublished dissertation

Morris RG, Carriaga ML, Diamond B, Piquero NL, Piquero AR (2012) Does prison strain lead to prison misbehavior? An application of general strain theory to inmate misconduct. J Crim Justice 40:194–201

Morris RG, Barnes J, Worrall JL, Orrick EA (2013) Analyzing the presence and consequences of unobserved heterogeneity in recidivism research. Crime Delinq. doi:10.1177/0011128713495952

Nagin DS (2005) Group-based modeling of development. Harvard University Press, Cambridge, MS

O'Keefe ML, Klebe KJ, Metzner J, Dvoskin J, Fellner J, Stucker A (2013) A longitudinal study of administrative segregation. J Am Acad Psychiatry Law 41:49–60

Pizarro JM, Narag RE (2008) Supermax prisons what we know, what we do not know, and where we are going. Prison J 88:23–42

Riveland C (1999) Supermax prisons: overview and general considerations. http://static.nicic.gov/Library/014937.pdf

Rosenbaum PR (2002) Observational studies. Springer, New York

Rosenbaum PR, Rubin DB (1983) The central role of the propensity score in observational studies for causal effects. Biometrika 70:41–55

Rosenbaum PR, Rubin DB (1984) Reducing bias in observational studies using subclassification on the propensity score. J Am Stat Assoc 79:516–524

Rosenbaum PR, Rubin DB (1985) Constructing a control group using multivariate matched sampling methods that incorporate the propensity score. Am Stat 39:33–38

Shalev S (2009) Supermax: controlling risk through solitary confinement. Willan, London

Sherman LW (1993) Defiance, deterrence, and irrelevance: a theory of the criminal sanction. J Res Crim Delinq 30:445–473

Smith PS (2006) The effects of solitary confinement on prison inmates: a brief history and review of the literature. Crime Justice 34:441–528

Stürmer T, Schneeweiss S, Avorn J, Glynn RJ (2005) Adjusting effect estimates for unmeasured confounding with validation data using propensity score calibration. Am J Epidemiol 162:279–289

Suedfeld P, Ramirez C, Deaton J, Baker-Brown G (1982) Reactions and attributes of prisoners in solitary confinement. Crim Justice Behav 9:303–340

Sundt JL, Castellano TC, Briggs CS (2008) The sociopolitical context of prison violence and its control: a case study of supermax and its effect in Illinois. Prison J 88:94–122

Useem B, Kimball P (1989) States of siege: US prison riots, 1971–1986. Oxford University Press, Oxford

Wooldredge J, Griffin T, Pratt T (2001) Considering hierarchical models for research on inmate behavior: predicting misconduct with multilevel data. Justice Q 18:203–231
Acknowledgements
The author would like to thank the anonymous reviewers for their thoughtful feedback on earlier versions of this manuscript. Gratitude is also expressed to James W. Marquart, Alex R. Piquero, J.C. Barnes and others for valuable feedback on this study as it was in development.
About this article
Cite this article
Morris, R.G. Exploring the Effect of Exposure to Short-Term Solitary Confinement Among Violent Prison Inmates. J Quant Criminol 32, 1–22 (2016). https://doi.org/10.1007/s10940-015-9250-0
Keywords
Solitary confinement

Punitive segregation

Corrections

Inmate misconduct