Abstract
Objective
This paper presents a new quasi-experimental approach to assessing place based policing to encourage the careful evaluation of policing programs, strategies, and operations for researchers to conduct retrospective evaluations of policing programs.
Methods
We use a synthetic control model to reduce the bias introduced by models using non-equivalent comparison groups to evaluate High Point's Drug Market Intervention and demonstrate the method and its versatility for evaluating programs retrospectively.
Results
The synthetic control method was able to identify a very good match across all socio-demographic and crime data for the intervention and comparison area. Using a variety of statistical models, the impact of High Point Drug Market Intervention on crime was estimated to be larger than previous evaluations with little evidence of displacement.
Conclusions
The synthetic control method represents a significant improvement over the earlier retrospective evaluations of crime prevention programs, but there is still room for improvement. This is particularly important in an age where rigorous scientific research is being used more and more to guide program development and implementation.
Access options
Buy single article
Instant access to the full article PDF.
USD 39.95
Price excludes VAT (USA)
Tax calculation will be finalised during checkout.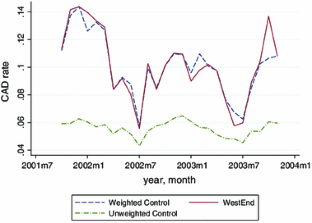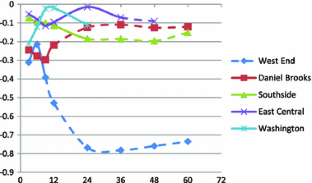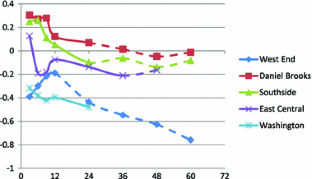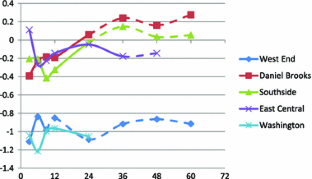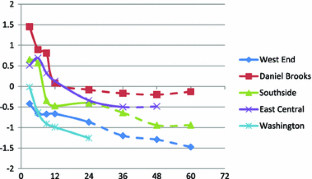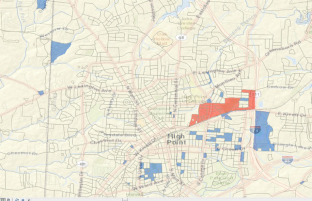 Notes
A "banked" case refers to a potential prosecution for narcotics sales, supported by audio and video evidence usually obtained through a controlled buy that is held in inactive status unless the subject of the prosecution continues dealing, at which point an arrest warrant is issued and prosecution proceeds.

Therefore, when an infrequent event, such as homicide occurs, it raises the monthly incidence level so high that it is exerts undue influence on the matching algorithm.

Weights were applied as probability/survey weights in STATA VERSION 12.

These initial models were limited to twelve month pre-post tests.
References
Abadie A, Gardeazabal J (2003) The economic costs of conflict: a case study of the basque country. Am Econ Rev 93:113–132

Abadie A, Diamond A, Hainmueller J (2010) Synthetic control methods for comparative case studies: estimating the effect of California's tobacco control program. J Am Stat Assoc 105:493–505

Abadie A, Diamond A, Hainmueller J (2011) Synth: an R package for synthetic control methods in comparative case studies. J Stat Softw 42:1–17

Barr R, Pease K (1990) Crime placement, displacement, and deflection. Crime Justice 12:277–318

Berk R, MacDonald JM (2008) Overdispersion and poisson regression. J Quant Criminol 24:269–284

Bertrand M, Duflo E, Mullainathan S (2004) How much should we trust differences-in-differences estimates? Q J Econ 119:249–275

Braga AA (2010) Setting a higher standard for the evaluation of problem-oriented policing initiatives. Criminol Public Policy 9:173–182

Braga AA, Bond BJ (2008) Policing crime and disorder hot spots: a randomized controlled trial. Criminology 46:577–607

Braga AA, Weisburd DL (2010) Policing problem places. Oxford University Press, Oxford

Braga AA, Kennedy DM, Waring EJ, Piehl AM (2001) Problem-oriented policing, deterrence, and youth violence: an evaluation of Boston's operation ceasefire. J Res Crime Delinq 38:195–225

Braga AA, Hureau DM, Papachristos AV (2011) An ex post facto evaluation framework for place-based police interventions. Eval Rev 35:592–626

Campbell D, Stanely J (1963) Experimental and quasi-experimental designs for research. Hougton Mifflin Company, USA

Card D, Krueger AB (1995) Time-series minimum-wage studies: a meta-analysis. Am Econ Rev 85:238–243

Clarke RV, Weisburd D (1994) Diffusion of crime control benefits: observations on the reverse of displacement. Crime Prevent Stud 2:165–184

Cornish DB, Clarke RV (1987) Understanding crime displacement: an application of rational choice theory. Criminology 25:933–948

Corsaro N (2013) The high point drug market intervention: examining impact across target areas and offense types. Vict Offenders 8:416–445

Corsaro N, Brunson RK (2013) Are suppression and deterrence mechanisms enough? Examining the "pulling levers" drug market intervention strategy in Peoria, Illinois, USA. Int J Drug Policy 24:115–121

Corsaro N, Brunson RK, Gau J, Oldham C (2011) The Peoria pulling levers drug market intervention: a review of program process, changes in perceptions, and crime impact. Report submitted to the Illinois Criminal Justice Information Authority

Corsaro N, Hunt ED, Hipple NK, McGarrell EF (2012) The impact of drug market pulling levers policing on neighborhood violence. Criminol Public Policy 11:167–199

Farrington DP (2003) Methodological quality standards for evaluation research. Ann Am Acad Polit Soc Sci 587:49–68

Frabutt JM, Shelton TL, Di Luca KL, Harvey LK, Kefner MK (2009) A collaborative approach to eliminating street drug markets through focused deterrence. Final Report submitted to the National Institute of Justice (#2006-Ij-Cx-0034)

Grogger J (2002) The effects of civil gang injunctions on reported violent crime: evidence from Los Angeles County*. J Law Econ 45:69–90

Hedges LV, Vevea JL (1998) Fixed-and random-effects models in meta-analysis. Psychol Methods 3:486

Kennedy DM (1996) Pulling levers: chronic offenders, high-crime settings, and a theory of prevention. Val UL Rev 31:449

Kennedy DM (2009a) Deterrence and crime prevention: reconsidering the prospect of sanction. Routledge, New York

Kennedy DM (2009b) Drugs, race and common ground: reflections on the high point intervention. NIJ J 262:12–17

Kennedy DM, Wong SL (2009) The high point drug market intervention strategy. US Department of Justice, Office of Community Oriented Policing Services, USA

Kennedy DM, Piehl AM, Braga AA (1996) Youth violence in Boston: gun markets, serious youth offenders, and a use-reduction strategy. Law Contemp Prob 59:147–196

Long JS (1997) Regression models for categorical and limited dependent variables, vol 7. Sage, Beverly Hills

MacDonald J, Golinelli D, Stokes RJ, Bluthenthal R (2010) The effect of business improvement districts on the incidence of violent crimes. Inj Prevent 16:327–332

National Research Council (2004) Fairness and effectiveness in policing: the evidence. Committee to Review Research on Police Policy and Practices. In: Skogan W, Frydl K (eds) Committee on Law and Justice, Division of Behavioral and Social Sciences and Education. The National Academies Press, Washington, DC

Reppetto TA (1976) Crime prevention and the displacement phenomenon. Crime Delinquency 22:166–177

Reuter P, Pollack HA (2012) Good markets make bad neighbors. Criminol Public Policy 11:211–220

Rosenbaum PR, Rubin DB (1983) The central role of the propensity score in observational studies for causal effects. Biometrika 70:41–55

Rosenbaum PR, Rubin DB (1985) Constructing a control group using multivariate matched sampling methods that incorporate the propensity score. Am Stat 39:33–38

Viechtbauer W (2010) Conducting meta-analyses in r with the Metafor package. J Stat Softw 36:1–48

Weisburd D, Eck JE (2004) What can police do to reduce crime, disorder, and fear? Ann Am Acad Polit Soc Sci 593:42–65

Weisburd D, Gill C (2013) Block randomized trials at places: rethinking the limitations of small N experiments. J Quant Criminol 30:1–16

Weisburd D, Green L (1995) Policing drug hot spots: the Jersey city drug market analysis experiment. Justice Q 12:711–735

Weisburd D, Neyroud P (2011) Police science: toward a new paradigm. Harvard Kennedy School Program in Criminal Justice Policy and Management, Cambridge

Weisburd D, Wyckoff LA, Ready J, Eck JE, Hinkle JC, Gajewski F (2006) Does crime just move around the corner? A controlled study of spatial displacement and diffusion of crime control benefits*. Criminology 44:549–592
Acknowledgments
This work was supported by the National Institute of Justice (Grant Number 2010-DJ-BX-1572). We would like to thank the three anonymous reviewers for their insightful comments, and Beau Kilmer and Allison Ober who provided helpful reviews of earlier versions. We offer additional thanks to our scientific steering committee: Anne Piehl, Rodney Brunson, Scott Decker, Jonathan Caulkins, and George Tita.
Electronic supplementary material
Below is the link to the electronic supplementary material.
About this article
Cite this article
Saunders, J., Lundberg, R., Braga, A.A. et al. A Synthetic Control Approach to Evaluating Place-Based Crime Interventions. J Quant Criminol 31, 413–434 (2015). https://doi.org/10.1007/s10940-014-9226-5
Published:

Issue Date:

DOI: https://doi.org/10.1007/s10940-014-9226-5
Keywords