Abstract
Objectives
Prior research suggests racial differences in violent victimization reflect differences in severity and not frequency. The current study proposes and tests hypotheses regarding the sources of racial variation in the nature of violent victimization.
Methods
A person-incident data file is employed to examine theoretical mechanisms that purportedly explain the effects of race on the nature of violent victimization. Data are analyzed with multinomial logistic regression models. Mediation processes are examined using a decomposition model that simultaneously adjusts for parameter rescaling and confounding.
Results
Descriptive statistics reveal larger proportions of black males compared to whites experience gun violence, yet higher percentages of white males suffer unarmed violence. Differential exposure variables explain a larger quantity of racial differences in the likelihood of gun versus unarmed violence compared to behavioral attributes variables. Still, race remains a robust predictor of firearm victimization controlling for the full array of study variables.
Conclusions
It appears that black males are more likely than whites to suffer serious forms of violence and not minor forms due more to their exposure to risky settings than to their behavioral characteristics. Nonetheless, there is some evidence that stereotypes also partially account for the higher rates of gun victimization among black males. This study advances research on race and interpersonal violence. Moreover, the study demonstrates the importance of specifying the proper dependent variable when testing theories of interpersonal violence and victimization.
Access options
Buy single article
Instant access to the full article PDF.
US$ 39.95
Tax calculation will be finalised during checkout.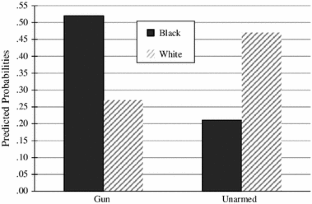 Notes
1.

For the present purposes severity refers to violent victimization involving weapons of increasing lethality.

2.

The NCVS defines simple assault as "attacks without a weapon" whereas aggravated assaults are defined as "attacks or attempted attack with a weapon and attacks involving injury without weapons" (BJS 2008, Methodology Appendix).

3.

Multivariate research on the NCVS also finds that blacks are no more likely and, in certain model specifications, less likely than whites to be victims of violence (Lauritsen 2001); furthermore, studies conducted on community-based datasets also find no evidence of racial differences in victimization risk (see, Taylor et al. 2008). However, it is important to clarify the fact that existing research typically does not specify a dependent variable that distinguishes severity (i.e., weapon use, or type of weapon displayed); the DVs are composites of violent incidents that vary from rather minor to more severe in nature, although there are exceptions. For example, Schreck et al. (2007) observed that black adolescents are more likely to be victims of violence net of control measures; three of the four items in their dependent variable capture relatively severe types of incidents (e.g., pulled a knife or gun, shot at you, cut or stabbed); this finding likely reflects racial differences in victimization severity.

4.

Note that Baumer et al. (2003) observed victim race effects in a gun vs. no weapon contrast model but only in robbery incidents.

5.

Social psychological theories of violence acknowledge that tactical decisions regarding weaponry can either be planned before the encounter unfolds or made quickly in the spur of the moment; but irrespective of any time-duration, decisions about whether or not to use a weapon are affected by the adversary's characteristics (Patchen 1993).

6.

Providing some empirical basis for this assumption, studies of self-report data reveal that black males commit higher rates of serious violence compared to white males, which may be manifested in the situational or reputational component of the behavioral attributes hypothesis (Elliott and Ageton 1990; Farrington, Loeber and Stouthamer-Loeber 2003; Felson et al. 2008).

7.

I know of no explicit statement from the routine activities/lifestyles theoretical framework on which to make predictions about racial differences in the nature of victimization. Perhaps the notion of target attractiveness is of some use because it refers to the "perceived inertia of a target against ill-treatment" (Cohen et al. 1981:508). Yet, even this assumption is of questionable utility to address this issue; indeed, Cohen et al. (1981) assert that they know of "no basis" to argue that race has a net relationship with target attractiveness (p. 512).

8.

Prior research has found no evidence of selective attrition in the PYS with regard to several key demographic and behavioral variables. (Loeber et al. 2008).

9.

Owing to administrative reasons a victimization assessment was not administered to members of the oldest cohort during the eleventh follow-up period.

10.

I conducted additional analyses to determine if there are racial differences in the number of incidents reported on the survey and thus differences in incident recall. If respondents selectively recalled some incidents it would likely be those victims who report at least three incidents per wave; it is these victims who are bound by a cap on the number of possible incidents to recall and perhaps would select the most serious to report. I did not observe significant race differences in the number of three-incident victims based on a tubular comparison of the demographic characteristics of the "three incident" versus "non-three incident" victims.

11.

Approximately 2.7 % of the sample reported missing data on the hyperactivity measure. I applied the sample mean values to the missing cases as part of an imputation procedure; the multinomial models were virtually the same based on the imputed and non-imputed measures.

12.

Since respondents can only report the most serious incident for robbery and assault the maximum number of weapon incidents reported in a wave is two.

13.

I conducted a supplementary analysis that included only percent black as a measure of neighborhood demographic composition; this measure yielded very similar results to the results reported with the disadvantage variable.
References
Allport GW (1954) The nature of prejudice. Addison-Wesley, Reading

Anderson E (1999) Code of the street: decency, moral life, and the Inner City. W.W. Norton, New York

Archer J, Benson D (2001) Physical aggression as a function of perceived fighting ability and provocation: an experimental investigation. Aggress Behav 34:9–24

Baumer E, Horney J, Felson R, Lauritsen JL (2003) Neighborhood disadvantage and the nature of violence. Criminology 41:39–69

Benard S (2013) Reputation systems, aggression, and deterrence in social interaction. Soc Sci Res 42:230–245

Berg MT, Stewart EA, Schreck CJ, Simons RL (2012) The victim-offender overlap in context: examining the role of neighborhood street culture. Criminology 50:359–390

Blumstein A, Rivara F, Rosenfeld R (2000) The rise and decline of homicide and—why? Annu Rev Public Health 21:505–541

Breen R, Karlson KB, Holm A (2013) Total, direct, and indirect effects in logit and probit models. Sociol Methods Res 42:164–191

Cantor D, Lynch JP (2000) Self-report surveys as measures of crime and victimization. In: Measurement and analysis of crime and justice, criminal justice 2000. U.S. Department of Justice, National Institute of Justice, Washington, DC, Vol 4, pp. 85–138

Chiricos T, Welch K, Gertz M (2004) Racial typification of crime and support for punitive measures. Criminology 42:359–389

Cohen LE, Kluegel J, Land KC (1981) Social inequality and predatory criminal victimization. An exposition and test of a formal theory. Am Sociol Rev 46:505–524

Correll J, Park B, Judd C, Wittenbrink B (2002) The police officers dilemma: using ethnicity to disambiguate potentially threatening individuals. J Pers Soc Psychol 83:1314–1329

Deutsch M, Krauss RM (1960) The effect of threat on interpersonal bargaining. J Abnorm Soc Psychol 61:181–189

Devine PG (1989) Stereotypes and prejudice: their automatic and controlled components. J Pers Soc Psychol 56:5–18

Dodge K, Somberg D (1987) Hostile attribution biases among aggressive boys are exacerbated under conditions of threats to self. Child Dev 58:213–224

Duncan BL (1976) Differential social perception and attribution of intergroup violence: testing the lower limits of stereotypes of Blacks. J Pers Soc Psychol 34(590):598

Eberhardt JL, Goff P, Purdie V, Davies P (2004) Seeing black: race, crime, and visual processing. J Pers Soc Psychol 87:876–893

Elliott D, Ageton S (1990) Reconciling race and class differences in self-reported and official estimates of delinquency. Am Sociol Rev 45:95–110

Farrington D, Loeber R, Stouthamer-Loeber M (2003) How can the relationship between race and violence be explained? In: Hawkins D (ed) Violent crime: assessing race and ethnic differences. Cambridge University Press, Cambridge

Felson RB, Messner SF (1996) To kill or not to kill? Lethal outcomes in injurious attacks. Criminology 34:519–545

Felson RB, Painter-Davis N (2012) Another cost of being a young black male. Race, weaponry, and lethal outcomes in assault. Social Science Research (in press)

Felson RB, Pare P–P (2010) Firearms and fisticuffs: region, race, and adversary effects on homicide and assault. Soc Sci Res 39:272–284

Felson RB, Deane G, Armstrong DP (2008) Do theories of crime or violence explain race differences in delinquency? Soc Sci Res 37:624–641

Gambetta D (2008) Codes of the Underworld. Oxford University Press

Graham S, Lowery B (2004) Priming unconscious racial stereotypes about adolescent offenders. Law Hum Behav 28:483–504

Greenwald AG, Oakes MA, Hoffman H (2003) Targets of discrimination: effects of race on responses to weapons holders. J Exp Soc Psychol 39:399–405

Hamilton DL, Sherman SJ, Ruvolo CM (1990) Stereotype-based expectancies: effects on information processing and social behavior. J Soc Issues 46:35–60

Harrell E (2007) Black victims of violent crime. Bureau of Justice Statistics, Special Report. U.S. Department of Justice, Washington DC

Hindelang M, Gottfredson M, Garofalo J (1978) Victims of personal crime. An empirical foundation for a theory of personal victimization. Ballinger Press, Cambridge

Hollingshead AB (1975) Four factor index of social status. Unpublished Working Paper. Dept. of Sociology. Yale University, New Haven, CT

Hurwitz J, Peffley M (1997) Public perceptions of race and crime: the role of racial stereotypes. Am J Polit Sci 41:375–401

Jacobs BA (2000) Robbing drug dealers: violence beyond the law. Aldine de Gruyter Press

Karlson K, Holm A, Breen R (2012) Comparing regression coefficients between same-sample nested models using logit and probit: a new method. Sociol Methodol 42:286–313

Lauritsen JL (2001) The social ecology of violent victimization. Individual and contextual effects in the NCVS. J Quant Criminol 17:3–32

Lawler EJ (1986) Bilateral deterrence and conflict spiral: a theoretical analysis. In Lawler EJ (ed) Advances in group processes. JAI Press, vol 3

Loeber R, Farrington D (2011) Young homicide offenders and victims. Springer Publications

Loeber R, Hay D (1997) Key issues in the development of aggression and violence from childhood to early adulthood. Annu Rev Psychol 48:371–410

Loeber R, Farrington D, Stouthamer-Loeber M, Van Kamman W (1998) Antisocial behavior and mental health problems. Lawrence Press, Mahwah

Loeber R, Farrington DP, Stouthamer-Loeber M, White HR (2008) Violence and serious theft: development and prediction from childhood to adulthood. Routlage, New York

Luckenbill D (1977) Criminal homicide as a situated transaction. Soc Probl 11:35–51

Merry S (1981) Urban danger: life in a neighborhood of strangers. Temple Press

Patchen M (1993) Reciprocity of coercion and cooperation between individuals and nations. In: Felson R, Tedeschi J (eds) Aggression and violence: social interactionist perspective. American Psychological Association

Patterson GR, DeGarmo D, Knutson N (2000) Hyperactive and antisocial behaviors: comorbid or two points on same process? Dev Psychopathol 12:91–106

Payne BK (2001) Prejudice and perception: the role of automatic and controlled processes in misperceiving a weapon. J Pers Soc Psychol 81:181–192

Payne BK, Shimizu Y, Jacoby LL (2005) Mental control and visual illusions: toward explaining race-biased weapon misidentifications. J Exp Soc Psychol 41:36–47

Piliavin I, Briar S (1964) Police encounters with juveniles. Am J Sociol 70:206–214

Piquero AR (2008) Disproportionate minority contact. Future Child 18(2):59–79

Piquero AR, Brame RW (2008) Assessing the race–crime and ethnicity–crime relationship in a sample of serious adolescent delinquents. Crime Delinq 54:390–422

Piquero A, Hickman M (2003) Extending Tittle's control balance theory to account for victimization. Crim Just Behav 30:282–301

Piquero AR, Moffitt T, Lawton B (2005) Race and crime. The contribution of individual, familial, and neighborhood-level risk factors to life-course persistent offending. In: Darnell FH, Kempf-Leonard Kimberly (eds) Our children, their children: confronting racial, ethnic differences in American juvenile justice. University of Chicago Press, Chicago

Pruitt DG, Mikolic JM, Peirce RS, Keating M (1993) Reciprocity of coercion and cooperation between individuals and nations. In: Felson R, Tedeschi J (eds) Aggression and violence: social interactionist perspective. American Psychological Association

Quillian L, Pager D (2010) Estimating risk: stereotype amplification and the perceived risk of criminal victimization. Soc Psychol Quart 73:1–26

Rand M (2008) Criminal Victimization in the United States, 2007. US Department of Justice, Bureau of Justice Statistics, Washington DC

Sagar HA, Schofield JW (1980) Racial and behavioral cues in black and white children's perceptions of ambiguously aggressive acts. J Pers Soc Psychol 39:590–598

Sampson RJ, Bean L (2006) Cultural mechanisms and killing fields: A revised theory of community-level racial inequality. In: Peterson R, Krivo L, Hagan J (eds) The many colors of crime: inequalities of race, ethnicity, and crime in America. New York University Press, New York

Sampson RJ, Lauritsen JL (1997) Racial and ethnic disparities in crime and criminal justice in the United States. Crime Just 21:311–374

Schreck CJ, Stewart EA, Fisher B (2006) Self-control, victimization, and their influence on risky lifestyles: a longitudinal analysis using panel data. J Quant Criminol 22:319–340

Schreck CJ, Burek M, Stewart E, Miller JM (2007) Distress and violent victimization among young adolescents: early puberty and the social interactionist explanation. J Res Crime Delinq 44:381–405

Shepard JP, Sutherland I, Newcombe R (2006) Relations between alcohol, violence and victimization in adolescence. J Adolesc 29:539–553

Shortell J, Epstein S, Taylor S (1970) Instigation to aggression as a function of degree of defeat and the capacity for massive retaliation. J Pers 38:313–328

Skogan WG (1981) Issues in the measurement of victimization. NCJ 74682. Washington, D.C.: U.S. Department of Justice, Bureau of Justice Statistics

Steen S, Engen R, Gainey R (2005) Images of danger and culpability: racial stereotyping, case processing, and criminal sentencing. Criminology 43:435–467

Stewart EA, Schreck C, Simons RL (2006) I ain't gonna let no one disrespect me. Does the code of the street increase or reduce violent victimization among adolescent African-Americans? J Res Crime Delinq 43:427–449

Stormshak E, Bierman KL, McMahon RJ, Lengua LJ (2000) Parenting practices and child disruptive behavior problems in early elementary school. J Clin Child Psychol 29:17–29

Taylor TJ, Freng A, Esbensen F-A, Petersen D (2008) Youth gang membership and serious violent victimization: the importance of lifestyles and routine activities. J Interpersonal Violence 23:1441–1464

Tedeschi J, Felson RB (1994) Violence, aggression and coercive actions. American Psychological Association, Washington, DC

Topalli V (2005) Criminal expertise and offender decision making. Br J Criminol 45:269–295

Wright R, Decker SH (1997) Armed robbers in action: stickup, street-culture and offender motivation. Northeastern Press, Boston
Appendix
Appendix
See Table 5.
About this article
Cite this article
Berg, M.T. Accounting for Racial Disparities in the Nature of Violent Victimization. J Quant Criminol 30, 629–650 (2014). https://doi.org/10.1007/s10940-014-9217-6
Keywords
Violence

Criminological theory

Race

Violent victimization