Abstract
Objectives
Previous research has neglected to consider whether trends in immigration are related to changes in the nature of homicide. This is important because there is considerable variability in the temporal trends of homicide subtypes disaggregated by circumstance. In the current study, we address this issue by investigating whether within-city changes in immigration are related to temporal variations in rates of overall and circumstance-specific homicide for a sample of large US cities during the period between 1980 and 2010.
Methods
Fixed-effects negative binomial and two-stage least squares (2SLS) instrumental variable regression models are used to analyze data from 156 large US cities observed during the 1980–2010 period.
Results
Findings from the analyses suggest that temporal change in overall homicide and drug homicide rates are significantly related to changes in immigration. Specifically, increases in immigration are associated with declining rates for each of the preceding outcome measures. Moreover, for several of the homicide types, findings suggest that the effects of changes in immigration vary across places, with the largest negative associations appearing in cities that had relatively high initial (i.e., 1970) immigration levels.
Conclusions
There is support for the thesis that changes in immigration in recent decades are related to changes in rates of lethal violence. However, it appears that the relationship is contingent and varied, not general.
Access options
Buy single article
Instant access to the full article PDF.
USD 39.95
Price includes VAT (USA)
Tax calculation will be finalised during checkout.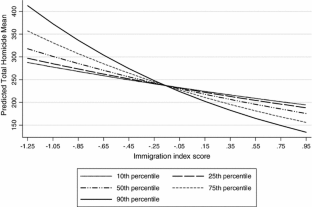 Notes
1.

Because some cities have missing data for one particular time point but not others, the number of valid city-year observations (591) is somewhat less than the number of cities multiplied by the number of time points (i.e., N × T = 156 × 4 = 624).

2.

The 2010 SHR data were the most recently available when our analyses were initially conducted.

3.

Some prior research distinguishes between gang-affiliated and gang-related homicides (e.g., Rosenfeld et al. 1999). While we acknowledge that such a distinction may be relevant, unfortunately, the SHR data do not allow us to make such a distinction.

4.

A measure of linguistic isolation, the percentage of persons who speak English "poorly" or "not at all," also has appeared in some studies. We considered using this item in the current analysis. However, because the linguistic isolation question for the 2010 American Community Survey differs from that of the preceding Decennial Censuses, we decided against using it.

5.

Partly reflecting the influence of the seminal study by Land, McCall, and Cohen (1990), the inclusion of the percent black in "disadvantage" indices has become common practice. Empirically, this practice is justified by the high correlations that exist between percent black and other indicators of socioeconomic disadvantage in geographic units, which is also the case in our data. However, based on conceptual grounds, some scholars suggest that the percent black should be kept separate from disadvantage index measures. We believe there is some merit to both of these positions, and while the analyses presented herein employ a disadvantage index that includes the percent black, we also estimated models in which percent black is included as a separate predictor. Results from those models are very similar and lead to identical substantive conclusions as those that we present below.

6.

The linear time-trend variable is centered at 1990 (i.e., 1990 = 0).

7.

To be clear, our analysis approach is distinct from studies that examine cross-sectional effects of structural covariates at multiple points in time (e.g., Land et al. 1990) as well as from analyses that pool time cross-sections together and obtain estimates via ordinary least squares or via random-effects models. Each of the preceding approaches produces effects that, to varying degrees, reflect between-unit (i.e., between-city) effects. Our approach removes between-unit variation, focusing only on variation within units over time.

8.

If this assumption holds, the random effects model may be preferred due to greater statistical efficiency. Several tests that compare fixed-effects and random-effects models are available. We use the approach suggested by Allison (2005), which is based on comparing the coefficients associated with the within-unit and between-unit components of the same variables. If the assumptions of the random-effects model are valid, these coefficients should not be significantly different; if they are, the fixed-effects model is preferred. For each model we estimated, the test procedure supported fixed-effects over the random-effects estimator.

9.

Stata software includes a fixed-effects model explicitly designed for panel data analysis, "xtnbreg, fe." However, Allison and Waterman (2002) showed that the model fails to account for effects of time-stable omitted variables.

10.

A caveat is that coefficients in unconditional negative binomial models may be subject to "incidental parameters" bias (see Allison 2005:95; Allison and Waterman 2002). However, a Monte Carlo simulation study of this issue suggests the dummy variable approach to fixed-effects negative binomial does not result in any substantial bias, even under circumstances that are most likely to produce it (see Allison and Waterman 2002). Nevertheless, according to Allison (2005) one alternative to obtaining fixed-effects estimates is the "hybrid model," which decomposes independent variables into time-stable and time-varying components and includes both in a random-effects regression model. Because the hybrid approach does not require estimation of dummy variables for each panel unit, it should not be affected by incidental parameters bias (Allison 2012). Thus, as a supplemental analysis, we also estimated our models via the hybrid method. Results obtained are nearly identical to those obtained with the unconditional (dummy variable) estimator.

11.

Because the models include the log of the population as an offset, the coefficient associated with the log of the city population variable is expressed relative to 1.0. Therefore, coefficients greater than one indicate a positive association while those below one indicate a negative association.

12.

Felony and argument homicides contain cases that appear notably heterogeneous (see "Appendix 1"). Therefore, it is worth considering whether the effects of immigration differ across the types that fall within the felony or argument homicide categories. To address this issue, we estimated fixed-effects negative binomial models predicting the major subtypes of felony homicide and the major subtypes of argument homicide. As we report in "Appendix 3", those results lead to a similar conclusion as the results reported in Table 2; in particular, immigration does not have a statistically discernible relationship with any of the felony or argument homicide subcategories.

13.

We measure the preexisting immigration level by computing the immigration index scores using 1970 Census data. These data for 1970 were obtained as an extract from the National Historical Geographic Information System at the Minnesota Population Data Center (2011). The 1970 immigration index is useful because it captures between-city differences that existed prior to the period of within-city change that is observed in our analysis. A plausible alternative would have been to use the 1980 immigration level rather than the 1970 level. We preferred the former because it can be considered exogenous to the 1980 homicide rate. It is worth noting, however, that generally similar results are obtained if 1980 data are used to measure baseline immigration levels.

14.

In the interest of space limitations and to reduce redundancy, we omitted the marginal effects plots of the interaction effects for each of the homicide subtype models.

15.

For example, at one unit above the 1970 mean, the within-city immigration coefficient in both the felony-homicide and argument-homicide is estimated to be negative and significant.

16.

We computed outlier diagnostics on the regression models presented. No observations were found to be influential outliers based on a combination of both a large studentized residual and a large leverage value. To be more conservative, we re-ran our models after excluding cases that had studentized residuals and leverage values that fell in the top five percent of the distribution. Results from these supplemental models closely mimic those discussed above. Thus, there is little evidence that our results are impacted by influential outlying observations.

17.

The consistency of standard linear regression estimators, such as ordinary least squares (OLS), rely on the assumption that explanatory variables are uncorrelated with the equation error term, an assumption that is violated when explanatory variables are endogenous (Wooldridge 2002).

18.

Although not shown in Table 4, we also estimated three additional instrumental variable models. Each of these models utilized the Arellano-Bond (1991) dynamic panel data estimator and included the lag of the homicide rate along with the immigration measure as endogenous explanatory variables. In the first of these two equations the excluded instruments were all of the available lags (in levels) of the preceding endogenous predictors. In the second equation we also added the aforementioned geographic dummy variables to the excluded instrument set. In the third model, we followed the suggestion of a reviewer and also accounted for potential endogeneity of the drug arrest rate and the police officer rate, using the available lags of each of those variables as instruments. Results from all three Arellano-Bond models are similar to those obtained via the other estimators. Most notably, the effect of immigration on homicide rates is significant and negative.
References
Alba R, Nee V (2003) Remaking the American mainstream: assimilation and contemporary immigration. Harvard University Press, Cambridge, MA

Allison PD (2005) Fixed effects regression methods for longitudinal data analysis using SAS. SAS Institute Inc, Cary, NC

Allison PD (2012) Beware of Software for fixed-effects negative binomial regression. Statistical Horizons Blog. June 8, 2012. Retrieved August 20, 2012. http://www.statisticalhorizons.com/fe-nbreg

Allison PD, Waterman R (2002) Fixed effects negative binomial regression models. In: Stolzenberg RM (ed) Socological Methodology 2002. Basil Blackwell, Oxford

Arellano M, Bond S (1991) Some tests of specification for panel data: Monte Carlo evidence and an application to employment equations. Rev Econ Stud 58:277–297

Block CR (1993) Lethal violence in the Chicago Latino Community. In: Wilson AV (ed) Homicide: the victim/offender connection. Anderson Publishing, Cincinnati, OH, pp 267–342

Block CR, Block RL (1992) Overview of the Chicago homicide project. In: Block CR, Block RL (eds) Questions and answers in lethal and non-lethal violence: proceedings of the first annual workshop of the homicide research working group. National Institute of Justice, Washington, DC, pp 97–122

Blumstein A, Rosenfeld R (1998) Explaining recent trends in U.S. homicide rates. J Crim Law Criminol 88:1175–1216

Blumstein A, Rosenfeld R (2008) Factors contributing to U.S. crime trends. In: Understanding crime trends: workshop report. Proceedings of a two-day workshop held by the National Research Council in April 2007. National Academies Press, Washington, DC, pp 13–44

Blumstein A, Wallman J (2006) The crime drop and beyond. Annu Rev Law Social Sci 2:125–146

Blumstein A, Rivara FP, Rosenfeld R (2000) The rise and decline of homicide—and why. Annu Rev Public Health 21:505–541

Cornell DG, Benedek EP, Benedek DM (1989) A typology of juvenile homicide offenders. In: Benedek EP, Cornell DG (eds) Juvenile homicide. American Psychiatric Press, Washington, DC, pp 59–84

Curran PJ, Bauer DJ (2011) The disaggregation of within-person and between-person effects in longitudinal models of change. Annu Rev Psychol 62:583–619

Decker SH (1993) Exploring victim offender relationships in homicide: the role of individual and event characteristics. Justice Q 10:585–612

Dugan L, Nagin D, Rosenfeld R (1999) Explaining the decline in intimate partner homicide: the effects of changing domesticity, women's status, and domestic violence resources. Hom Stud 3:187–214

Flewelling R (2004) A nonparametric imputation approach for dealing with missing variables in SHR data. Homicide Stud 8:255–266

Flewelling R, Williams K (1999) Categorizing homicides: the use of disaggregated data in homicide research. In: Dwayne Smith M, Zahn MA (eds) Homicide: a sourcebook of social research. Sage, Thousand Oaks, CA

Fox JA (2004) Missing data problems in the SHR: imputing offender and relationship characteristics. Homicide Stud 8:214–254

Goldberger AS, Rosenfeld R (eds) (2008) Understanding crime trends: workshop report. National Academies Press, Washington, DC

Goldstein PJ (1985) The drugs/violence nexus: a tripartite conceptual framework. J Drug Iss 39:143–174

Goldstein PJ, Brownstein HH, Ryan PJ (1992) Drug related homicide in New York: 1984 and 1988. Crime Delinq 38:459–476

Greenberg DF (2010) Longitudinal criminology. J Quant Criminol 26:437–443

Harries K (1993) A victim ecology of drug related homicide. In: Wilson AV (ed) Homicide: the victim/offender connection. Anderson Publishing, Cincinnati, OH, pp 397–414

Kikuchi G, Desmond SA (2010) A longitudinal analysis of neighborhood crime rates using latent growth curve modeling. Sociol Perspect 53:127–150

Koulish R (2010) Immigration and American democracy: subverting the rule of law. Routledge, New York

Kovandzic T, Vieratis LM, Yeisley MR (1998) The structural covariates of urban homicide: reassessing the impact of income inequality and poverty in the post-Reagan era. Criminology 36:569–597

Kubrin CE (2003) Structural covariates of homicide rates: does type of homicide matter? J Res Crime Delinquency 40:139–170

Kubrin CE, Herting JR (2003) Neighborhood correlates of homicide trends: an analysis using growth-curve modeling. Sociol Q 44:329–350

Kubrin CE, Ousey GC (2009) Immigration and homicide in Urban America: what's the connection? In: McDonald WF (ed) Sociology of crime, law and deviance, Vol 13: immigration, crime and justice. Emerald Group Publishing Limited, Bingley, UK, pp 17–32

LaFree G (1999) Declining violent crime rates in the 1990s: predicting crime booms and busts. Annu Rev Sociol 25:145–168

Land KC, McCall PL, Cohen LE (1990) Structural covariates of homicide rates: are there any invariances across time and social space? Am J Sociol 95:922–963

Levitt SD (2004) Understanding why crime fell in the 1990s: four factors that explain the decline and six that do not. J Econ Perspect 18:163–190

Logan JR, Zhang W, Alba RD (2002) Immigrant enclaves and ethnic communities in New York and Los Angeles. Am Sociol Rev 67:299–322

MacDonald JM, Hipp JR, Gill C (2013) The effects of immigrant concentration on changes in neighborhood crime rates. J Quant Criminol 29:191–215

Martinez R, Lee MT (2000) On immigration and crime. In: Criminal justice 2000: the nature of crime: continuity and change, vol 1. Washington, DC, pp 485–524

Martinez R, Stowell JI, Lee MT (2010) Immigration and crime in an era of transformation: a longitudinal analysis of homicides in San Diego Neighborhoods, 1980–2000. Criminology 48:797–829

Maxfield M (1989) Circumstances in supplementary homicide reports: variety and validity. Criminology 27:671–696

McCall PL, Parker KF, MacDonald JM (2008) The dynamic relationship between social, economic, and political factors and homicide rates from 1970 to 2000. Soc Sci Res 37:721–735

McCall PL, Land KC, Parker KF (2010) Heterogeneity in the rise and decline of city-level homicide rates, 1976–2005: a latent trajectory analysis. Soc Sci Res 40:363–378

Mears DP, Bhati AS (2006) No community is an Island: the effects of resource deprivation on urban violence in spatially and socially proximate communities. Criminology 44:509–548

Messner SF, Deane GD, Anselin L, Pearson-Nelson B (2005) Locating the vanguard in rising and falling homicide rates across U.S. cities. Criminology 43:661–696

Messner SF, South SJ (1992) Interracial homicide: a macrostructural-opportunity perspective. Soc Forum 7:517–536

Miethe TD, Drass KA (1992) Exploring the social context of instrumental and expressive homicides: an application of qualitative comparative analysis. J Quant Crim 15:1–21

Miethe TD, Regoeczi WC (2004) Rethinking homicide: exploring the structure and process underlying deadly situations. Cambridge University Press, Cambridge

Minnesota Population Center (2011) National Historical Geographic Information System: Version 2.0. University of Minnesota, Minneapolis, MN

Morenoff JD, Sampson RJ (1997) Violent crime and the spatial dynamics of neighborhood transition: Chicago, 1970–1990. Soc Forces 76:31–64

Nelsen C, Corzine J, Huff-Corzine L (1994) The violent West re-examined: a research note on regional homicide rates. Criminol 32:149–161

Nielsen AL, Lee MT, Martinez R (2005) Integrating race, place and motive in social disorganization theory: lessons from a comparison of black and Latino homicide types in two immigrant destination cities. Criminology 43:837–872

Oropesa RS, Gorman BK (2000) Ethnicity, immigration, and beliefs about marriage as ties that bind. In: Waite LJ (ed) The ties that bind: perspectives on marriage and cohabitation. Aldine de Gruyter, Hawthorne, NY, pp 188–211

Oropesa RS, Landale NS (2004) The future of marriage and Hispanics. J Marriage Fam 66:901–920

Osgood DW (2000) Poisson-based regression analysis of aggregate crime rates. J Quant Criminol 16:21–43

Ousey GC (1999) Homicide, structural factors and the racial invariance assumption. Criminology 37:405–426

Ousey GC, Kubrin CE (2009) Exploring the connection between immigration and violent crime rates in U.S. Cities, 1980–2000. Soc Probl 56:447–473

Ousey GC, Lee MR (2002) Examining the conditional nature of the illicit drug markets-homicide relationship: a partial test of the theory of contingent causation. Criminology 40:101–130

Pampel FC, Williams KR (2000) Intimacy and homicide: compensating for missing data in the SHR. Criminology 38:661–680

Papachristos A (2009) Murder by structure: dominance relations and the social structure of Gang Homicide. Am J Sociol 115:74–128

Parker RN (1989) Poverty, subculture of violence, and type of homicide. Soc Forces 67:983–1007

Parker KF (2001) A move toward specificity: examining urban disadvantage and race- and relationship-specific homicide rates. J Quant Criminol 17:89–100

Parker KF (2004) Industrial shift, polarized labor markets and urban violence: modeling the dynamics between the economic transformation and disaggregated homicide. Criminology 42:619–646

Parker RN, Dwayne Smith M (1979) Deterrence, poverty and type of homicide. Am J Sociol 85:614–624

Parker RN, Toth AM (1990) Family, intimacy and homicide: a macro-social approach. Violence Vict 5:195–210

Phillips JA (2006a) Explaining discrepant findings in cross-sectional and longitudinal analyses: an application to U.S. homicide rates. Soc Sci Res 35(4):948–974

Phillips JA (2006b) The relationship between age structure and homicide rates in the United States, 1970 to 1999. J Res Crime Delinquency 43:230–260

Portes A, Rumbaut R (2006) Immigrant America: a portrait. University of California Press, Berkeley, CA

Provine DM, Varsanyi M, Lewis PG, Decker SH (2012) Growing tensions between civic membership and enforcement in the devolution of immigration control. In Kubrin CE, Zatz MS, Martinez R Jr (eds) Punishing immigrants: policy, politics and injustice. New York University Press, New York

Pyrooz D (2012) Structural covariates of gang homicide in large U.S. cities. J Res Crime Delinq 49:489–518

Riedel M, Przybylski RK (1993) Stranger murders and assault: a study of a neglected form of stranger violence. In: Wilson AV (ed) Homicide: the victim/offender connection. Anderson, Cincinnati, OH, pp 359–382

Rodriguez SF, Henderson VA (1995) Intimate homicide: victim-offender relationship in male homicides by females. Deviant Behav 16:45–57

Rojek D, Williams J (1993) Interracial vs. intraracial offenses in terms of the victim/offender relationship. In: Wilson AV (ed) Homicide: the victim/offender connection. Anderson, Cincinnati, OH, pp 249–266

Rosenfeld R (2002) Crime decline in context. Contexts 1:25–34

Rosenfeld R, Goldberger AS (2008) Introduction. In: Understanding crime trends: workshop report. Proceedings of a two-day workshop held by the National Research Council in April 2007. National Academies Press, Washington, DC, pp 1–12

Rosenfeld R, Bray TM, Egley A (1999) Facilitating violence: a comparison of gang-motivated, gang-affiliated, and nongang youth homicides. J Quant Criminol 15:495–516

Sampson RJ (2006) Open doors don't invite criminals: is increased immigration behind the drop in crime? New York Times March 11:A27

Sampson RJ, Morenoff JD (2004) Spatial (dis)advantage and homicide in chicago neighborhoods. In: Goodchild M, Janelle D (eds) Spatially integrated social science. Oxford University Press, New York, pp 145–170

Sampson RJ, Raudenbush SW, Earls F (1997) Neighborhoods and violent crime: testing social disorganization theory. Science 277:918–924

Shihadeh ES, Barranco RE (2010) Latino immigration, economic deprivation, and violence: regional differences in the effect of linguistic isolation. Homicide Stud 14:336–355

Shihadeh ES, Ousey GC (1998) Industrial restructuring and violence: the link between entry-level jobs, economic deprivation and black and white homicide in central cities. Soc Forces 77:185–206

Singer A (2004) "The Rise of New Immigrant Gateways." The living cities census series. Center on Urban and Metropolitan Policy. The Brookings Institution, Washington, DC

Stock JH, Yogo M (2005) Testing for weak instruments in linear IV regression. Ch. 5 In Stock JH, Andrews DWK (eds) Identification and inference for econometric models: essays in Honor of Thomas J. Rothenberg. Cambridge University Press, Cambridge

Stowell JI, Messner SF, McGeever KF, Raffalovich LE (2009) Immigration and the recent violent crime drop in the United States: a pooled, cross-sectional time-series analysis of metropolitan areas. Criminology 47:889–928

Velez M (2009) Contextualizing the immigration and crime effect. Homicide Stud 13:325–335

Wadsworth T (2010) Is Immigration responsible for the crime drop? An assessment of the influence of immigration on changes in violent crime between 1990 and 2000. Soc Sci Q 91:531–553

Wadsworth T, Kubrin CE (2004) Structural factors and black interracial homicide: a new examination of the causal process. Criminol 42:647–672

Wadsworth T, Roberts JM (2008) When missing data are not missing: a new approach to evaluating supplemental homicide report imputation strategies. Criminology 46:841–870

Weisburd D, Bushway S, Lum C, Yang S-M (2004) Trajectories of crime at places: a longitudinal study of street segments in the city of Seattle. Criminology 42:283–321

Williams KR, Flewelling RL (1987) Family, acquaintance, and stranger homicide: alternative procedures for rate calculation. Criminology 25:543–560

Williams KR, Flewelling RL (1988) The social production of criminal homicide: a comparative study of disaggregated rates in U.S. cities. Am Soc Rev 53:421–431

Wolfgang ME (1958) Patterns in criminal homicide. University of Pennsylvania Press, Philadelphia

Wooldridge JM (2002) Econometric analysis of cross section and panel data. MIT Press, Cambridge, MA

Zahn MA (1991) The wolfgang model: lessons for homicide research in the 1990s. J Crime Justice 14:17–30

Zimring FE (2007) The great American crime decline. Oxford University Press, Oxford
Acknowledgments
The authors thank David Greenberg and Shawn Bushway for input on the modeling strategy.
Appendices
Appendix 1
Appendix 2
Appendix 3
Appendix 4
About this article
Cite this article
Ousey, G.C., Kubrin, C.E. Immigration and the Changing Nature of Homicide in US Cities, 1980–2010. J Quant Criminol 30, 453–483 (2014). https://doi.org/10.1007/s10940-013-9210-5
Keywords
Homicide

Immigration

Violent crime trends

Fixed-effects models