Abstract
Objectives
The logic of incapacitation is the prevention of crime via the forced removal of known offenders from the community. The challenge is to provide a plausible estimate of how many crimes an incarcerated individual would have committed, were s/he free in the community rather than confined in prison. The objective of this study is to provide estimates of the incapacitation effect of first-time imprisonment from a sample of convicted offenders.
Methods
The data are official criminal records of all individuals convicted in The Netherlands in 1997. Two different analytical strategies are used to estimate an incapacitation effect. First, the offending rate of the imprisoned individuals prior to their confinement in 1997 provides a "within-person counterfactual". Second, imprisoned offenders are paired with comparable non-imprisoned offenders using the method of propensity score matching in order to estimate a "between-person counterfactual". Incapacitation estimates are provided separately for juvenile imprisonment (ages 12–17) as well as adult imprisonment (ages 18–50), and for male and female offenders.
Results
The best estimate is that 1 year of incarceration prevents between 0.17 and 0.21 convictions per year. The use of additional data sources indicates that this corresponds to between roughly 2.0 and 2.5 criminal offenses recorded by the police.
Conclusions
The current results suggest that, insofar as imprisonment is used with the primary goal of reducing crime through incapacitation, a general increase in the use of incarceration as the sanction of choice is not likely to yield major crime control benefits.
Access options
Buy single article
Instant access to the full article PDF.
USD 39.95
Price excludes VAT (USA)
Tax calculation will be finalised during checkout.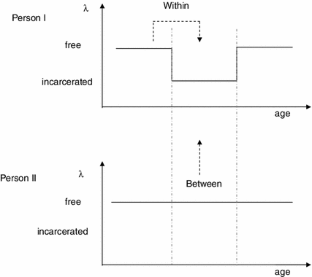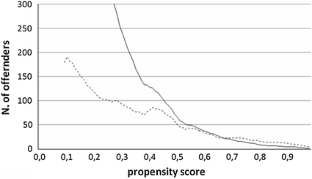 Notes
This contrasts with "top-down" studies of prison effectiveness (Spelman 2000), which provide aggregate estimates of the total effect of imprisonment yet are agnostic about whether the effects operate through deterrence or incapacitation (Gibbs 1968; Kuziemko and Levitt 2004; Levitt 1996; Marvell and Moody 1994). Some researchers advocate a purely top-down approach to the study of incarceration (see Miles and Ludwig 2007).

While the obvious measure of central tendency in incapacitation studies is the mean (Piquero and Blumstein 2007), this estimate is sensitive for outliers in the sample. In a sample, such as the Rand sample, in which half of the population committed very few offenses and a much smaller percentage commit many crimes annually the mean of the group will increase sharply. In such highly skewed distributions it could be problematic to interpret the mean offending rate as the number of crimes averted by incarceration. Given that the current focus is on the effects of first imprisonment, the criminal histories of offenders in our sample are more homogeneous, rendering estimating an overall mean incapacitation effect less problematic.

Research efforts using risk assessment tools to identify high-rate offenders and target them for longer prison sentences have been notoriously unsuccessful (Auerhahn 1999, 2003; Gottfredson and Gottfredson 1994; Greenwood and Turner 1987), calling into question the wisdom of a selective incapacitation policy.

When drug offenses were included in the latter two studies, median offense rates were doubled.

The assumption of constant offending is also problematic because with age offenders tend to decrease their offending rate (Farrington 1986). Especially when estimating the effect of long-term prison sentences, disregarding intermittency and the effect of age on offending would result in grossly overestimating the incapacitation effect. In contrast to within-person incapacitation estimates, the between-person counterfactual approach takes into account that offending rates are not stable over the life course—especially if offenders in the control group are matched to offenders in the experimental group directly on their age.

The studies by Sweeten and Apel (2007) and Owens (2009) represent only two of a new generation of incapacitation research. One strand of this research employs simulation techniques (Bhati 2007; Blokland and Nieuwbeerta 2007), while another strand takes advantage of a variety of aggregate "natural experiments" (Barbarino and Mastrobuoni 2008; Johnson and Raphael 2009; Kessler and Levitt 1999; Ramirez and Crano 2003).

In the Dutch criminal justice system, the public prosecutor has the discretionary power not to prosecute every case forwarded by the police. For instance, he or she may decide to drop the case if prosecution would probably not lead to conviction due to lack of evidence or for technical considerations (e.g., procedural or technical waiver). The public prosecutor is also authorized to waive prosecution ''for reasons of public interest'' (i.e., waiver for policy considerations). The Board of Prosecutors-General has issued national prosecution guidelines under which a public prosecutor may decide to waive a case for policy reasons, for example, if measures other than penal sanctions are preferable or more effective, prosecution would be disproportionately unjust or ineffective in relation to the nature of the offense or the offender, or prosecution would be contrary to the interest of the state or the victim (Tak 2003).

Fencing, property, theft, violent sexual, fornication (younger than 16 years), violent theft, threatening/assault, aggravated assault, aggressive severe injury, public violence, trespass, offense against authority, public order, insulting, arson endangering human life, other/cruelty to animals, traffic, opium act, weapons act, other crimes.

We did not calculate imprisonment effect for the exact duration of the prison term the offender was sentenced to, which was in most cases less than a full year, because we lack information on the exact timing of the actual prison term, as well as on the exact data of commission of the offense. Estimates were based on dates of registration of the offense and dates of sentencing.

Offenders from the experimental group for which we were unable to find a match differ from offenders in the experimental group that we could match. The propensity scores of the unmatched offenders in the experimental group were high compared to those of offenders we were able to find a match for; these offenders were too different in terms of observed variables from offenders in the control group. Additional analyses showed that the persons we were not able to match were relatively more criminally active in the year prior to their incarceration. Furthermore, female offenders are slightly underrepresented in the matched sample and regarding age the matched sample is on average younger (mean 25.61) compared to the unmatched sample (mean 27.95).

Although age is included in the propensity score model, two matched offenders can have the same propensity score but might not actually be of the same age. Therefore, we additionally match directly on age, sex and offense type. The strategy of estimation within subpopulations defined by the covariates has precedence in the literature on the propensity score methodology (see Rosenbaum and Rubin 1984). We distinguish eight age categories: (1) 12-17; (2) 18-21; (3) 22-25; (4) 26-30; (5) 31-35; (6) 36-40; (7) 41-45; (8) 46-50.

Note that for the incarcerated persons 14.5 percent was correctly assigned in the full sample by the propensity score model compared to 44.2 percent in the matched sample.

Note that, consistent with prior research, our current aim is to provide a single estimate of the average incapacitation effect for the entire population of those imprisoned for the first time—stratified by age period and sex. As one anonymous reviewer noted from a (selective) policy perspective it is also important to gain insight in the extent to which incapacitation effects are concentrated in the most active offenders. While we value this suggestion, it is to be noted that the current focus is on the incapacitation effects of first-time imprisonment and that variation in the number of prior offenses in our sample is thereby limited as those most active are also more likely to have been previously sentenced to prison. Effects of various selective scenarios using Dutch data were estimated in Blokland and Nieuwbeerta (2007) and Vollaard (2011). In the current study, we control for heterogeneity in the between-person counterfactual approach, because offenders are matched on pre-existing rates of offending. Pre-existing rates of offending at the time of conviction is said to be a perfect control for population heterogeneity (Bushway et al. 2004). For future research that focuses on selective incapacitation it would also be interesting to study the incapacitation effect stratified by propensity score. Such stratification gives insight in whether the highest (say) 10 percent of propensity scores can account for a disproportionate share of the total incapacitation effect.
References
Aebi MF, Aromaa K, de Cavarlay BA, Barclay G, Gruszczyñska B, von Hofer H, Hysi V, Jehle J-M, Killias M, Smit P, Tavares C (2006) European sourcebook of crime and criminal justice statistics—2006, 3rd edn. Boom Juridische, The Hague

Apel R, Blokland AAJ, Nieuwbeerta P, van Schellen M (2010) The impact of imprisonment on marriage and divorce: a risk set matching approach. J Quant Criminol 26:269–300

Auerhahn K (1999) Selective incapacitation and the problem of prediction. Criminology 37:703–734

Auerhahn K (2003) Selective incapacitation and public policy: evaluating California's imprisonment crisis. State University of New York Press, Albany

Avi-Itzhak B, Shinnar R (1973) Quantitative models in crime control. J Crim Justice 1:185–217

Barbarino A, Mastrobuoni G (2008) The incapacitative effect of incarceration: evidence from several Italian collective pardons. Unpublished manuscript. Research and Statistics Division, Federal Reserve Board, Washington, DC

Bhati AS (2007) Estimating the number of crimes averted by incapacitation: an information theoretic approach. J Quant Criminol 23:35–375

Bijleveld CCJH, Smit PR (2005) Crime and punishment in the Netherlands, 1980–1999. In: Tonry M, Farrington DP (eds) Crime and punishment in Western countries, 1980–1999. Crime and justice: a review of research, vol 33. University of Chicago Press, Chicago, pp 161–211

Blokland AAJ, Nieuwbeerta P (2007) Selectively incapacitating frequent offenders: costs and benefits of various penal scenarios. J Quant Criminol 23:327–353

Blokland AAJ, Nieuwbeerta P (2010) Considering criminal continuity: testing for heterogeneity and state dependence in the association of past to future offending. Aust N Z J Criminol 43(3):526–556

Blumstein A, Cohen J (1979) Estimation of individual crime rates from arrest records. J Crim Law Criminol 70:561–585

Blumstein A, Nagin D (1978) On the optimum use of incarceration for crime control. Oper Res 26:381–405

Blumstein A, Cohen J, Nagin D (eds) (1978) Deterrence and incapacitation: estimating the effects of criminal sanctions on crime rates. National Academy of Sciences, Washington, DC

Blumstein A, Cohen J, Roth JA, Visher CA (eds) (1986) Criminal careers and "career criminals", vol 1. National Academy Press, Washington, DC

Blumstein A, Canela-Cacho JA, Cohen J (1993) Filtered sampling from populations with heterogeneous event frequencies. Manag Sci 39:886–899

Bushway SD, Brame R, Paternoster R (2004) Connecting desistance and recidivism: measuring changes over the life-span. In: Maruna S, Immarigeon R (eds) After crime and punishment: pathways to offender reintegration. Suny Press, Albany

Canela-Cacho JA, Blumstein A, Cohen J (1997) Relationship between the offending frequency (λ) of imprisoned and free offenders. Criminology 35:133–175

Chaiken JM, Chaiken MR (1982) Varieties of criminal behavior. Report No. R-2814-NIJ. Rand, Santa Monica

Chaiken JM, Rolph JE (1980) Selective incapacitation strategies based on estimated crime rates. Oper Res 28:1259–1274

Clarke SH (1974) Getting 'em out of circulation: does incarceration of juvenile offenders reduce crime? J Crim Law Criminol 65:528–535

Cohen J (1983) Incapacitation as a strategy for crime control: possibilities and pitfalls. In: Tonry M (ed) Crime and justice: a review of research, vol 5. University of Chicago Press, Chicago, pp 1–84

DiIulio JJ Jr (1990) Crime and punishment in Wisconsin. Wisconsin Policy Research Institute, Milwaukee

Donohue JJ III (2009) Assessing the relative benefits of incarceration: The overall change over the previous decades and the benefits on the margin. In: Raphael S, Stoll MA (eds) Do prisons make us safer? The benefits and costs of the prison boom. Russell Sage Foundation, New York, pp 269–341

Donohue JJ III, Siegelman P (1998) Allocating resources among prisons and social programs in the battle against crime. J Legal Stud 27:1–43

Downes D (2007) Visions of penal control in the Netherlands. In: Tonry M (ed) Crime, punishment, and politics in comparative perspective. Crime and justice: a review of research, vol 36. University of Chicago Press, Chicago, pp 93–125

English K (1993) Self-reported crime rates of women prisoners. J Quant Criminol 9:357–382

Farrington DP (1986) Age and crime. In: Tonry M, Morris N (eds) Crime and justice: an annual review. University of Chicago Press, Chicago

Farrington DP (2003) Key results from the first 40 years of the Cambridge study in delinquent development. In: Thornberry TP, Krohn MD (eds) Taking stock of delinquency: an overview of findings from contemporary longitudinal studie. Kluwer–Plenum, New York, pp 137–183

Garland D (2001) The culture of control: crime and social order in contemporary society. Oxford University Press, New York

Gibbs JP (1968) Crime, punishment, and deterrence. Southwest Soc Sci Q 48:515–530

Gottfredson SD, Gottfredson DM (1994) Behavioral prediction and the problem of incapacitation. Criminology 32:441–474

Greenberg DF (1975) The incapacitative effect of imprisonment: some estimates. Law Soc Rev 9:541–580

Greenwood P, Abrahamse A (1982) Selective incapacitation. Report No. R-2815-NIJ. Rand, Santa Monica

Greenwood P, Turner S (1987) Selective incapacitation revisited. Report No. R-3397-NIJ. Rand, Santa Monica

Hagan J, Dinovitzer R (1999) Collateral consequences of imprisonment for children, communities, and prisoners. In: Tonry M, Petersilia J (eds) Prisons, crime and justice: a review of research, vol 26. University of Chicago Press, Chicago, pp 121–162

Harcourt BE (2007) Against prediction: profiling, policing, and punishing in an actuarial age. University of Chicago Press, Chicago

Horney J, Marshall IH (1991) Measuring lambda through self-reports. Criminology 29:471–495

Horney J, Marshall IH (1992) An experimental comparison of two self-report methods for measuring lambda. J Res Crime Delinq 29:102–121

Johnson R, Raphael S (2009) How much crime reduction does the marginal prisoner buy? Unpublished manuscript. Goldman School of Public Policy, University of California, Berkeley

Kessler D, Levitt SD (1999) Using sentence enhancements to distinguish between deterrence and incapacitation. J Law Econ 42:343–363

Killias M, Barclay G, Smit P, Aebi MF, Tavares C, de Cavarlay BA, Jehle J-M, von Hofer H, Gruszczyñska B, Hysi V, Aromaa K (2003) European sourcebook of crime and criminal justice statistics—2003, 2nd edn. Boom Juridische, The Hague

Kuziemko I, Levitt SD (2004) An empirical analysis of imprisoning drug offenders. J Public Econ 88:2043–2066

Levitt SD (1996) The effect of prison population size on crime rates: evidence from prison overcrowding legislation. Q J Econ 111:319–351

Liedka RV, Piehl AM, Useem B (2006) The crime-control effect of incarceration: does scale matter? Criminol Public Policy 5:245–276

Maltz MD, Pollock SM (1980) Artificial inflation of a delinquency rate by a selection artifact. Oper Res 28:547–559

Marvell TB, Moody CE (1994) Prison population growth and crime reduction. J Quant Criminol 10:109–140

Miles TJ, Ludwig J (2007) The silence of the lambdas: deterring incapacitation research. J Quant Criminol 23:287–301

Miranne AC, Geerken MR (1991) The New Orleans inmate survey: a test of Greenwood's predictive scale. Criminol 29:497–518

Nagin DS, Cullen FT, Jonson CL (2009) Imprisonment and re-offending. In: Tonry M (ed) Crime and justice: a review of research, vol 38. University of Chicago Press, Chicago, pp 115–200

Nieuwbeerta P, Nagin DS, Blokland AAJ (2009) Assessing the impact of First-time imprisonment on offenders' subsequent criminal career development: a matched samples comparison. J Quant Criminol 25(3):227–257

Owens EG (2009) More time, less crime? Estimating the incapacitative effect of sentence enhancements. J Law Econ 52:551–579

Pager D (2003) The mark of a criminal record. Am J Sociol 108:937–975

Peterson M, Chaiken J, Ebener P, Honig P (1982) Survey of prison and jail inmates: Background and method. Report No. R-220-DOJ. Rand, Santa Monica

Piquero AR, Blumstein A (2007) Does incapacitation reduce crime? J Quant Criminol 23:267–285

Ramirez JR, Crano WD (2003) Deterrence and incapacitation: an interrupted time-series analysis of California's three-strikes law. J Appl Soc Psychol 33:110–144

Reuter P, Bushway SD (2007) Revisiting incapacitation: can we generate new estimates? J Quant Criminol 23:259–265

Rolph JE, Chaiken JM, Houchens RL (1981) Methods for Estimating Crime Rates of Individuals. Report No. R-2730-NIJ. Rand, Santa Monica

Rosenbaum PR, Rubin DB (1983) The central role of the propensity score in observational studies for causal effects. Biometrika 70:41–55

Rosenbaum PR, Rubin DB (1984) Reducing bias in observational studies using subclassification on the propensity score. J Am Stat Assoc 79:516–524

Rosenbaum PR, Rubin DB (1985) Constructing a control group using multivariate matched sampling methods that incorporate the propensity score. Am Stat 39:33–38

Sabol WJ, Couture H, Harrison PM (2007) Prisoners in 2006. Bureau of Justice Statistics Bulletin (No. NCJ 219416). U.S. Department of Justice, Washington, DC

Shinnar S, Shinnar R (1975) The effects of the criminal justice system on the control of crime: a quantitative approach. Law Soc Rev 9:581–611

Snodgrass MG, Blokland AAJ, Haviland A, Nieuwbeerta P, Nagin D (2011) Does the time cause the crime? An examination of the relationship between time served and reoffending in the Netherlands. Criminol 49:1149–1194

Spelman W (1994) Criminal incapacitation. Plenum Press, New York

Spelman W (2000) What recent studies do (and don't) tell us about imprisonment and crime. In: Tonry M (ed) Crime and justice: a review of research, vol 27. University of Chicago Press, Chicago, pp 419–494

Spohn CC (2009) How do judges decide? The search for fairness and justice in punishment, 2nd edn. Sage, Thousand Oaks

Sweeten G, Apel R (2007) Incapacitation: revisiting an old question with a new method and new data. J Quant Criminol 23:303–326

Tak PJP (2003) The Dutch criminal justice system: organization and operation. Boom Legal Publishers, Meppel

Tierney L (1983) A selection artifact in delinquency data revisited. Oper Res 31:852–865

Tonry M, Bijleveld CCJH (eds) (2007) Crime and justice in the Netherlands. Crime and justice: a review of research, vol 35. University of Chicago Press, Chicago

Uggen C, Manza J, Thompson M (2006) Citizenship, democracy and the civic reintegration of criminal offenders. Ann Am Acad Pol Soc Sci 605:281–310

Visher C (1987) Incapacitation and crime control: does a "lock 'em up" strategy reduce crime? Justice Q 4:513–543

Vollaard B (2011) Preventing crime through selective incapacitation. CentER discussion Paper No. 2010-141

Wermink H, Blokland A, Nieuwbeerta P, Nagin D, Tollenaar N (2010) Comparing the effects of community service and short-term imprisonment on recidivism: a matched samples approach. J Exp Criminol 6:325–349

Western B (2002) The impact of incarceration on wage mobility and inequality. Am Sociol Rev 67:526–546

Western B (2006) Punishment and inequality in America. Russell Sage Foundation, New York

Zimring FE, Hawkins G (1995) Incapacitation: penal confinement and the restraint of crime. Oxford University Press, New York
Appendix
Appendix
See Table 4
About this article
Cite this article
Wermink, H., Apel, R., Nieuwbeerta, P. et al. The Incapacitation Effect of First-Time Imprisonment: A Matched Samples Comparison. J Quant Criminol 29, 579–600 (2013). https://doi.org/10.1007/s10940-012-9189-3
Published:

Issue Date:

DOI: https://doi.org/10.1007/s10940-012-9189-3
Keywords
Imprisonment

Incapacitation effect

Propensity score matching

Lambda