Abstract
Objectives
Drawing from general strain and self-control perspectives, the role of maladaptive coping (i.e., substance use) in the causal pathway between victimization and offending is explored. Specifically, the present study investigates: (1) the extent to which self-control influences substance use in response to victimization, and (2) whether victims with low self-control and who engage in substance use are more likely to commit violent offenses in the future.
Methods
Three waves of panel data from the Gang Resistance Education and Training program are used (N = 1,463), and negative binomial regression models are estimated to explore the interactive effects of low self-control, victimization, and substance use on violent offending.
Results
Victims with low self-control are more likely to engage in substance use post-victimization, and low self-control and substance use are found to exert significant conditional effects on the pathway between victimization and offending. These results remained robust even after controlling for prior violent offending, peer influences, prior substance use, and other forms of offending.
Conclusions
The causal pathway between victimization and offending can be explained by drawing upon key concepts drawn from self-control (i.e., how self-control shapes coping responses) and general strain (i.e., how those responses influence offending above and beyond self-control) theories, indicating that these two perspectives can and should be integrated more explicitly to explain the dynamics of victimization and offending.
Access options
Buy single article
Instant access to the full article PDF.
USD 39.95
Price excludes VAT (USA)
Tax calculation will be finalised during checkout.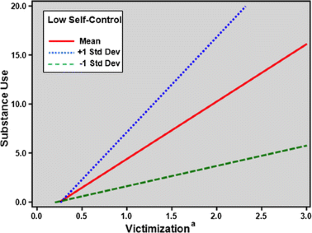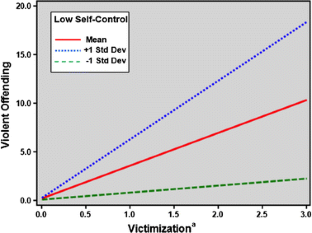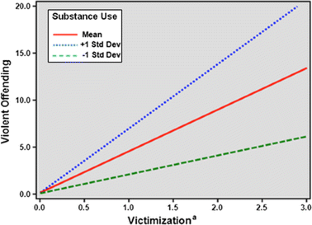 Notes
For a more detailed description of the GREAT program's methodology and data collection procedures, see Esbensen et al. (2001).

Sample demographic characteristics of age, gender, and race are distributed similarly across all six cities. On average, however, respondents in Portland were slightly younger, and Philadelphia contained a higher proportion of black respondents relative to other cities.

Wave one of the data was excluded to maintain consistency across measures over time. Specifically, wave one of the GREAT data contains items which ask respondents to report incidents of substance use and offending during the last 12 months, whereas all subsequent waves ask respondents to report during the last 6 months. For the purposes of controlling for prior levels of these behaviors, it was imperative that measurement remained consistent over time.

Time one data were used for the key measures of violent victimization and low self-control, while time two data included substance use, and time three data included violent offending. This temporal ordering was essential to assess the effects of victimization on substance use and violence, since reported incidents of victimization preceded the reports of both substance use and violent offending. While the one-year time lag between each of the waves is not unusual for longitudinal tests of general strain theory (e.g., Hoffman and Miller 1998; Mazerolle 1998; Mazerolle and Maahs 2000; Paternoster and Mazerolle 1994), it should be noted that the theory is often interpreted to imply more immediate, short-term effects of strain (see also the discussion in Hay and Evans 2006). Nevertheless, a central theme in the victimization literature is that victimization can produce negative consequences that persist for many years (e.g., Macmillan 2001; Macmillan and Hagan 2004; Miller et al. 1996). Violent victimization is a form of strain most likely to have effects that persist over the three-year period considered in the present study, and thus we deem our use of these data appropriate.

Multiple imputation with ten iterations was conducted to compensate for missing data using the command for multiple imputation by chained equations available in Stata 12.0 (Allison 2002; Carlin et al. 2008; McKnight et al. 2007; Royston 2004, 2005). This involved a procedure in which 10 imputed datasets were generated and pooled parameter estimates were calculated to account for possible underestimation of standard errors that may have been observed in single imputation procedures (Acock 2005; Schafer 1997). It is important to note that previous studies have reported that individuals lost after wave one in the GREAT data demonstrate higher levels of victimization and delinquency than those who participated in later waves (Agnew et al. 2011; Schreck et al. 2006), and that item nonresponse rates in the GREAT dataset have been shown to be higher among those with lower levels of self-control (Watkins and Melde 2007). As a result, the findings reported below may represent conservative estimates since variation in the "tails" of the distributions of key variables of interest—which may otherwise serve to inflate the relationships of theoretical interest (particularly the relationships surrounding self-control, substance use, and violence)—has been somewhat truncated. In using the imputed data, however, the possibility of making such an inferential error is minimized considerably over simple listwise deletion methods for missing values.

We recognize, given the relatively young age of the sample, that substance use is only one form of maladaptive behavioral coping and that other—perhaps less severe forms (e.g., expressing anger verbally)—would be more common among these subjects. Nevertheless, over one-third of respondents reported drug and alcohol use and studies have shown that youths who engage in such behavior are at a higher risk for delinquency (Pratt et al. 2010a)—a finding wholly consistent with Agnew's (2006) discussion of substance abuse as a problematic behavioral response to strain.

Our construct of victimization and inclusion of physical assault (i.e., "hitting") in combination with other violent incidents of robbery and assault with a weapon is consistent with previous research using this data (e.g., Agnew et al. 2011; Esbensen and Osgood 1999; Esbensen et al. 2001; Schreck et al. 2006) and equivalent to the one previously used by Jennings et al. (2010). Although we recognize that physical assault may be a less serious and more common form of victimization than other forms of violence, we are confident in our operationalization of victimization given the high factor loadings and eigenvalues of the three items used to construct our measure, demonstrated by principal components analysis.

As some may argue, a potential drawback of the GREAT data is that it relies on respondents' knowledge of their friends' behaviors. For instance, some researchers have speculated that respondents' peer delinquency measures may be biased to a certain extent by the tendency of individuals to project their own tendencies onto their friends (e.g., Haynie 2001; Gottfredson and Hirschi 1987; Schreck et al. 2004), a limitation also noted by Schreck et al. (2006). Regardless of these potential shortcomings, respondent-generated peer measures remain the standard for investigating peer delinquency and violence in criminological research (e.g., Lauritsen et al. 1992; Schreck et al. 2002, 2006), and these items influence the likelihood of substance use and violence in theoretically expected ways. To examine in greater detail the impact of peer groups on substance use and violence—a focus well beyond that of the present examination—researchers may wish to use network data from other sources such as the National Longitudinal Study of Adolescent Health (Add Health).

The natural logarithm of substance use (+1) was taken before it was centered and interacted with victimization to induce a more uniform distribution and guard against the potentially harmful effects of outliers (skewness of substance use was reduced from 3.47 to 1.26).

Clustered robust standard errors are intended to make the standard errors robust to both serial correlation (due to the non-independence of observations within clusters) and to heteroskedasticity (due to differing variance estimates emerging from the observations between clusters) without having to make any assumptions about the functional form of either (Rogers 1993; Wooldridge 2002). Targeting a larger unit of analysis for clustering (e.g., a city) where serial correlation would disappear and/or heteroskedasticity would pass undetected would fail to address the very problems that clustered robust standard errors are assumed to fix.

Although in the present study our interests lie in exploring how low self-control shapes problematic responses to victimization, we recognize that self-control may also influence the likelihood of victimization. We found that low self-control is a significant predictor of violent victimization among respondents in the sample, net of demographic controls (b = .06, p < .001; model not shown here)—a finding consistent with the larger body of self-control and victimization research (e.g., Higgins et al. 2009; Piquero et al. 2005; Schreck 1999; Schreck et al. 2002; Stewart et al. 2004).

As Agnew (1992:71) argued, those high in self-esteem and self-efficacy may be more resistant to stress and more likely to feel that their strain can be alleviated by "behavioral coping of a non-delinquent nature."

A series of diagnostic tests similar to those described previously were first conducted to ensure that the models estimated for sensitivity analyses were not biased due to collinearity. Condition indices were below 20, and VIF scores did not exceed 2.40.
References
Acock AC (2005) Working with missing values. J Marriage Fam 67:1012–1028

Agnew R (1992) Foundation for a general strain theory of crime and delinquency. Criminology 30:47–87

Agnew R (2001) Building on the foundation of general strain theory: specifying the types of strain most likely to lead to crime and delinquency. J Res Crime Delinq 38:219–361

Agnew R (2002) Experienced, vicarious, and anticipated strain: an exploratory study on physical victimization and delinquency. Justice Q 19:603–632

Agnew R (2006) Pressured into crime: an overview of general strain theory. Roxbury, Los Angeles

Agnew R, White HR (1992) An empirical test of general strain theory. Criminology 30:475–499

Agnew R, Brezina T, Wright JP, Cullen FT (2002) Strain, personality traits, and delinquency: extending general strain theory. Criminology 40:43–71

Agnew R, Scheuerman H, Grosholz J, Isom D, Watson L, Thaxton S (2011) Does victimization reduce self-control? A longitudinal analysis. J Crim Justice 39:169–174

Aiken LS, West SG (1991) Multiple regression: testing and interpreting interactions. Sage, Thousand Oaks

Akers RL (2009) Social learning and social structure: a general theory of crime and deviance. Transaction, New Brunswick

Allison PD (2002) Missing data. Sage, Thousand Oaks

Apel R, Burrow JD (2011) Adolescent victimization and violent self-help. Youth Viol Juv Justice 9:112–133

Armstrong GS, Griffin ML (2007) The effect of local life circumstances on victimization of drug-involved women. Justice Q 24:80–105

Baron SW (2003) Self-control, social consequences, and criminal behavior: street youth and the general theory of crime. J Res Crime Delinq 40:403–425

Baron SW (2004) General strain, street youth and crime: a test of Agnew's revised theory. Criminology 42:457–483

Baron SW (2009) Street youths' violent responses to violent personal, vicarious, and anticipated strain. J Crim Justice 37:442–451

Belsley DA, Kuh E, Welsch RE (1980) Regression diagnostics. Wiley, New York

Berg MT, Loeber R (2011) Examining the neighborhood context of the violent offending- victimization relationship: a prospective integration. J Quant Criminol 27:427–451

Berg MT, Stewart EA, Schreck CJ, Simons RL (2012) The victim-offender overlap in context: examining the role of neighborhood street culture. Criminology 50:1–31

Boles SM, Miotto K (2003) Substance abuse and violence: a review of the literature. Aggress Viol Behav 8:155–174

Brezina T (1996) Adapting to strain: an examination of delinquent coping responses. Criminology 34:39–60

Brezina T (2000) Delinquent problem-solving: an interpretive framework for criminological theory and research. J Res Crime Delinq 37:3–30

Broidy LM (2001) A test of general strain theory. Criminology 39:9–36

Broidy LM, Agnew R (1997) Gender and crime: a general strain theory perspective. J Res Crime Delinq 34:275–306

Broidy LM, Daday JK, Crandall CS, Sklar DP, Jost PF (2006) Exploring demographic, structural, and behavioral overlap among homicide offenders and victims. Homicide Stud 10:155–180

Carlin JB, Galati J, Royston P (2008) A new framework for managing and analyzing multiply imputed data with Stata. Stata J 8:49–67

Cullen FT, Unnever JD, Hartman JL, Turner MG, Agnew R (2008) Gender, bullying victimization, and juvenile delinquency: a test of general strain theory. Vict Offenders 3:331–349

Daly K (1992) Women's pathways to felony court: feminist theories of lawbreaking and problems of representation. South Calif Rev Law Women Stud 2:11–52

Daly K (1994) Gender, crime, and punishment. Yale, New Haven

Esbensen F (2003) Evaluation of the Gang Resistance Education and Training (GREAT) Program in the United States, 1995–1999 [Computer file]. 2nd ICPSR version. University of Nebraska at Omaha [producer]00202002, Omaha. Inter-university Consortium for Political and Social Research [distributor], Ann Arbor

Esbensen F, Huizinga D (1991) Juvenile victimization and delinquency. Youth Soc 23:202–228

Esbensen F, Osgood DW (1999) Gang resistance education and training (GREAT): results from the national evaluation. J Res Crime Delinq 36:194–225

Esbensen F, Osgood DW, Taylor TJ, Peterson D, Freng A (2001) How great is G.R.E.A.T.? Results from a longitudinal quasi-experimental design. Crim Pub Pol 1:87–118

Evans TD, Cullen FT, Burton VS, Dunaway G, Benson ML (1997) The social consequences of self-control: testing the general theory of crime. Criminology 35:475–501

Fagan J (1990) Intoxication and aggression. Crime Justice 13:241–320

Felson RB, Burchfield KB (2004) Alcohol and the risk of physical and sexual assault victimization. Criminology 42:837–860

Felson RB, Burchfield KB, Teasdale B (2007) The impact of alcohol on different types of violent incidents. Crim Justice Behav 34:1057–1068

Felson RB, Teasdale B, Burchfield KB (2008) The influence of being under the influence: alcohol effects on adolescent violence. J Res Crime Delinq 45:119–141

Forde DR, Kennedy LW (1997) Risky lifestyles, routine activities, and the general theory of crime. Justice Q 14:265–294

Fox J (1991) Regression diagnostics. Sage, Newbury Park

Gibson CL, Schreck CJ, Miller JM (2004) Binge drinking and negative alcohol-related behaviors: a test of self-control theory. J Crim Justice 32:411–420

Gilfus ME (1992) From victims to survivors to offenders: women's routes of entry and immersion into street crime. Women Crim Justice 4:63–89

Gottfredson MR (1981) On the etiology of criminal victimization. J Crim Law Criminol 72:714–726

Gottfredson MR (1984) Victims of crime: The dimensions of risk. Home office research study No. 81, Her Majesty's Stationery Office, London

Gottfredson MR, Hirschi T (1987) The methodological adequacy of longitudinal research on crime. Criminology 25:581–614

Gottfredson MR, Hirschi T (1990) A general theory of crime. Stanford University Press, Paolo Alto

Grasmick HG, Tittle CR, Bursik RJ, Arneklev BJ (1993) Testing the core empirical implications of Gottfredson and Hirschi's general theory of crime. J Res Crime Delinq 30:5–29

Hagan J, Foster H (2001) Youth violence and the end of adolescence. Am Soc Rev 66:874–899

Hay C, Evans MM (2006) Violent victimization and involvement in delinquency: examining predictions from general strain theory. J Crim Justice 34:261–274

Hay C, Meldrum R (2010) Bullying victimization and adolescent self-harm: testing hypotheses from general strain theory. J Youth Adolesc 39:446–459

Haynie DL (2001) Delinquent peers revisited: does network structure matter? Am J Sociol 106:1013–1057

Herbert TB, Cohen S (1996) Measurement issues in research on psychosocial stress. In: Kaplan HB (ed) Psychosocial stress. Academic Press, San Diego

Higgins GE, Tewksbury R (2006) Sex and self-control theory: the measures and causal model may be different. Youth Soc 37:479–503

Higgins GE, Wolfe SE, Marcum CD (2008) Digital piracy: an examination of three measurements of self-control. Dev Behav 29:440–460

Higgins GE, Jennings WG, Tewksbury R, Gibson CL (2009) Exploring the link between low self-control and violent victimization trajectories in adolescents. Crim Justice Beh 10:1070–1084

Hindelang MJ, Gottfredson MR, Garofalo J (1978) Victims of personal crime: an empirical foundation for a theory of personal victimization. Ballinger, Cambridge

Hoffman JP, Miller AS (1998) A latent variable analysis of general strain theory. J Quant Criminol 14:83–110

Holtfreter K, Reisig MD, Pratt TC (2008) Low self-control, routine activities, and fraud victimization. Criminology 46:189–219

Holtfreter K, Reisig MD, Piquero NL, Piquero AR (2010) Low self-control and fraud: offending, victimization, and their overlap. Crim Justice Behav 37:188–203

Jang SJ, Johnson BR (2003) Strain, negative emotions, and deviant coping among African Americans: a test of general strain theory. J Quant Criminol 19:79–105

Jennings WG, Higgins GE, Tewksbury R, Gover AR, Piquero AR (2010) A longitudinal assessment of the victim-offender overlap. J Interpers Viol 25:2147–2174

Jennings WG, Tomisich EA, Gover AR, Akers RL (2011) Assessing the overlap in dating violence perpetration and victimization among South Korean college students: the influence of social learning and self-control. Am J Crim Justice 36:188–206

Jennings WG, Piquero AR, Reingle JM (2012) On the overlap between victimization and offending: a review of the literature. Agg Viol Behav 17:16–26

Jensen GF, Brownfield D (1986) Gender, lifestyles, and victimization: beyond routine activity. Viol Vict 1:85–99

Katz RS (2000) Explaining girls' and women's crime and desistance in the context of their victimization experiences. Viol Against Women 6:633–660

Laub JH, Sampson RJ (2003) Shared beginnings, divergent lives: delinquent boys to age 70. Harvard, Cambridge

Lauritsen JL, Laub JH (2007) Understanding the link between victimization and offending: new reflections on an old idea. In: Hough M, Maxfield M (eds) Surveying crime in the 21st century: commemorating the 25th anniversary of the British Crime Survey. Criminal Justice Press, Monsey

Lauritsen JL, Quinet KF (1995) Repeat victimization among adolescents and young adults. J Quant Criminol 11:143–166

Lauritsen JL, Sampson RJ, Laub JH (1991) The link between offending and victimization among adolescents. Criminology 29:265–292

Lauritsen JL, Laub JH, Sampson RJ (1992) Conventional and delinquent activities: implications for the prevention of violent victimization among adolescents. Viol Vict 7:91–108

Licht MH (1995) Multiple regression and correlation. In: Grimm L, Yarnold P (eds) Reading and understanding multivariate statistics. American Psychological Association, Washington, DC

Long JS (1997) Regression models for categorical and limited dependent variables. Sage, Thousand Oaks

Long JS, Freese J (2006) Regression models for categorical and limited dependent variables using Stata, 2nd edn. Stata Press, College Station

Macmillan R (2001) Violence and the life course: the consequences of victimization for personal and social development. Ann Rev Sociol 27:1–22

Macmillan R, Hagan J (2004) Violence in the transition to adulthood: adolescent victimization, education, and socioeconomic attainment later in life. J Res Adolesc 14:127–158

Mazerolle P (1998) Gender, general strain, and delinquency: an empirical examination. Justice Q 15:65–91

Mazerolle P, Maahs J (2000) General strain and delinquency: an alternative examination of conditioning influences. Justice Q 17:753–778

McClelland GM, Teplin LA (2001) Alcohol intoxication and violent crime: implications for public health policy. Am J Addict 10:70–85

McKnight PE, McKnight K, Sidani S, Figueredo AJ (2007) Missing data: a gentle introduction. Guilford Press, New York

Menard S (2002) Short- and long-term consequences of adolescent victimization. Office of Juvenile Justice and Delinquency Prevention, Washington, DC

Messner SF, McHugh S, Felson RB (2004) Distinctive characteristics of assaults motivated by bias. Criminology 42:585–618

Miethe TD, Meier RF (1994) Crime and its social context: toward an integrated theory of offenders, victims, and situations. Suny Press, Albany

Miller T, Cohen M, Wiersema B (1996) Victim costs and consequences: a new look. National Institute Of Justice, Washington, DC

Moon B, Morash M, McCluskey CP, Hwang H (2009) A comprehensive test of general strain theory: key strains, situational- and train-based negative emotions, conditioning factors, and delinquency. J Res Crime Delinq 46:182–212

Mustaine EE, Tewksbury R (2000) Comparing the lifestyles of victims, offenders, and victim-offenders: a routine activity theory assessment of similarities and differences for criminal incident participants. Soc Focus 33:339–362

Nagin D, Paternoster R (1991) On the relationship of past to future participation in delinquency. Criminology 29:163–189

Nagin D, Paternoster R (2000) Population heterogeneity and state dependence: state of the evidence and directions for future research. J Quant Criminol 29:117–144

Osgood DW, Wilson J, O'Malley PM, Bachman JG, Johnston LD (1996) Routine activities and individual deviant behavior. Am Soc Rev 61:635–655

Ousey GC, Wilcox P, Fisher BS (2011) Something old, something new: revisiting competing hypotheses of the victimization-offending relationship among adolescents. J Quant Criminol 27:53–84

Paternoster R, Mazerolle P (1994) General strain theory and delinquency: a replication and extension. J Res Crime Delinq 31:235–263

Piquero AR, Gomez-Smith Z, Langton L (2004) Discerning unfairness where others may not: low self-control and unfair sanction perceptions. Criminology 42:699–734

Piquero AR, MacDonald J, Dobrin A, Daigle LE, Cullen FT (2005) Self-control, violent offending, and homicide victimization: assessing the general theory of crime. J Quant Criminol 21:55–71

Piquero AR, Jennings WG, Farrington DP (2010) On the malleability of self-control: theoretical and policy implications regarding a general theory of crime. Justice Q 27:803–804

Pratt TC (2009) Addicted to incarceration. Sage, Thousand Oaks

Pratt TC, Cullen FT (2000) The empirical status of Gottfredson and Hirschi's general theory of crime: a meta-analysis. Criminology 38:931–964

Pratt TC, Turner MG, Piquero AR (2004) Parental socialization and community context: a longitudinal analysis of the structural sources of low self-control. J Res Crime Delinq 41:219–243

Pratt TC, Cullen FT, Sellers CF, Winfree LT, Madensen TD, Daigle LE, Fearn NE, Gau JM (2010a) The empirical status of social learning theory: a meta-analysis. Justice Q 27:765–802

Pratt TC, Holtfreter K, Reisig MD (2010b) Routine online activity and internet fraud targeting: extending the generality of routine activity theory. J Res Crime Delinq 47:267–296

Reisig MD, Pratt TC (2011) Low self-control and imprudent behavior revisited. Deviant Behav 32:589–625

Reisig MD, Pratt TC, Holtfreter K (2009) Perceived risk of internet theft victimization: examining the effects of social vulnerability and impulsivity. Crim Justice Beh 36:369–384

Rogers WH (1993) Regression standard errors in cluster samples. Stata Tech Bull 13:19–23

Royston P (2004) Multiple imputation of missing data. Stata J 3:227–241

Royston P (2005) Multiple imputation of missing values: update of ice. Stata J 5:527–536

Sampson RJ, Laub JH (1993) Crime in the making: pathways and turning points. Harvard, Cambridge

Sampson RJ, Lauritsen JL (1990) Deviant lifestyles, proximity to crime, and the offender-victim link. J Res Crime Delinq 27:110–139

Sampson RJ, Lauritsen JL (1993) Violent victimization and offending: Individual-, situational-, and community-level risk factors. In: Reiss AJ, Roth JA, Miczek KA (eds) Understanding and preventing violence: social influences. National Academic Press, Washington

Schafer JL (1997) Analysis of incomplete multivariate data. Chapman and Hall, London

Schreck CJ (1999) Criminal victimization and low self-control: an extension and test of a general theory of crime. Justice Q 16:633–654

Schreck CJ, Wright RA, Miller JM (2002) A study of individual and situational antecedents of violent victimization. Justice Q 19:159–180

Schreck CJ, Fisher BS, Miller JM (2004) The social context of violent victimization: a study of the delinquent peer effect. Justice Q 21:23–47

Schreck CJ, Stewart EA, Fisher BS (2006) Self-control, victimization, and their influence on risky lifestyles: a longitudinal analysis using panel data. J Quant Criminol 22:319–340

Schreck CJ, Stewart EA, Osgood DW (2008) A reappraisal of the overlap of violent offenders and victims. Criminology 46:871–906

Sellers CS (1999) Self-control and intimate violence: an examination of the scope and specification of the general theory of crime. Criminology 37:375–404

Shirachi M, Spirrison CL (2006) Repressive coping style and substance use among college students. N Am J Psychol 8:99–114

Silver E, Piquero AR, Jennings WG, Piquero NL, Lieber M (2011) Assessing the violent offending and victimization overlap among discharged psychiatric patients. Law Hum Behav 35:49

Singer SI (1986) Victims of serious violence and their criminal behavior: subcultural theory and beyond. Viol Vict 1:61–70

Slocum L, Simpson SS, Smith DA (2005) Strained lives and crime: examining intra-individual variation in strain and offending in a sample of incarcerated women. Criminology 43:1067–1110

Smith DJ, Ecob R (2007) An investigation into causal links between victimization and offending in adolescents. Br J Soc 58:633–659

Steele CM, Josephs RA (1990) Alcohol myopia: its prized and dangerous effects. Am Psychol 45:921–933

Sterk CE (1999) Fast lives: women who use crack cocaine. Temple University Press, Philadelphia

Stewart EA, Elifson KW, Sterk CE (2004) Integrating the general theory of crime into an explanation of violent victimization among female offenders. Justice Q 21:159–181

Tangney JP, Baumeister RF, Boone AL (2004) High self-control predicts good adjustment, less pathology, better grades, and interpersonal success. J Pers 72:271–324

Taylor TJ, Freng A, Esbensen FA, Peterson D (2008) Youth gang membership and serious violent victimization: the importance of lifestyles and routine activities. J Interpers Viol 23:1441–1464

Tittle CR (2000) Theoretical developments in criminology. In Criminal Justice 2000. NIJ, Washington, DC

Turner MG, Piquero AR, Pratt TC (2005) The school context as a source of self-control. J Crim Justice 33:327–339

Unnever JD, Cullen FT, Pratt TC (2003) Parental management, ADHD, and delinquent involvement: reassessing Gottfredson and Hirschi's general theory. Justice Q 20:471–500

Watkins AM, Melde C (2007) The effect of self-control on unit and item nonresponse in an adolescent sample. J Res Crime Delinq 44:267–294

Wells S, Graham K, Speechley M, Koval JM (2005) Drinking patterns, drinking contexts and alcohol-related aggression among late adolescent and young adult drinkers. Addiction 7:933–944

Wheaton B (1996) The domains and boundaries of stress concepts. In: Kaplan HB (ed) Psychosocial stress. Academic Press, San Diego

White HR, Loeber R, Stouthamer-Loeber M, Farrington DP (1999) Developmental associations between substance use and violence. Dev Psychopathol 11:785–803

Widom CS (1989) The cycle of violence. Science 244:160–166

Winfree LT, Taylor TJ, He N, Esbensen F (2006) Self-control and variability over time: multivariate results using a 5-year, multisite panel of youths. Crime Delinq 52:253–286

Wooldridge JM (2002) Econometric analysis of cross section and panel data. MIT Press, Cambridge

Wooldridge JM (2009) Introductory econometrics: a modern approach, 4th edn., Cengage

Zamble E, Quinsey VL (1997) The criminal recidivism process. Cambridge University Press, Cambridge

Zavala E, Spohn RE (2012) The role of vicarious and anticipated strain on the overlap of violent perpetration and victimization: a test of general strain theory. Am J Crim J. doi:10.1007/s12103-012-9163-5
Acknowledgments
The authors are grateful to Michael D. Reisig and Robert J. Fornango for their guidance and comments on earlier drafts.
About this article
Cite this article
Turanovic, J.J., Pratt, T.C. The Consequences of Maladaptive Coping: Integrating General Strain and Self-Control Theories to Specify a Causal Pathway Between Victimization and Offending. J Quant Criminol 29, 321–345 (2013). https://doi.org/10.1007/s10940-012-9180-z
Published:

Issue Date:

DOI: https://doi.org/10.1007/s10940-012-9180-z
Keywords