Abstract
The US and its Coalition partners concluded combat operations in Iraq in August 2010. Rather surprisingly, little empirical evidence exists as to the factors that contributed to the ebb and flow in levels of violence and the emergence and disappearance of hot spots of hostilities during the campaign. Building upon a tradition of criminology scholarship, recent work demonstrates that Improvised Explosive Device (IED) attacks are clustered in space and time and that these trends decay in a manner similar to that observed in the spread of disease and crime. The current study extends this work by addressing a key potential correlate of these observed patterns across Iraq—namely, the timing and location of a variety of Coalition counterinsurgency (COIN) operations. This is achieved by assessing the co-evolving space–time distributions of insurgency and counterinsurgency in the first 6 months of 2005. To do so, we employ a novel analytic technique that helps us to assess the sequential relationship between these two event types. Our analyses suggest that the number of COIN operations that follow insurgent IED attacks (moderately) exceeds expectation (assuming that events are independent) for localities in the vicinity of an attack. This pattern is more consistent than is observed for the relationship in the opposite direction. The findings also suggest that less discriminatory COIN operations are associated with an elevated occurrence of subsequent insurgency in the vicinity of COIN operations in the medium to long term, whilst for more discriminatory and capacity-reducing COIN operations the reverse appears to be true.
Access options
Buy single article
Instant access to the full article PDF.
USD 39.95
Price includes VAT (USA)
Tax calculation will be finalised during checkout.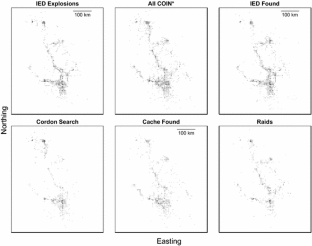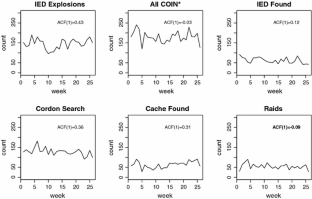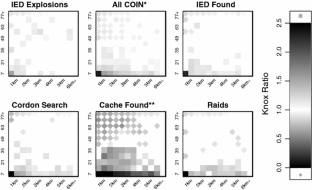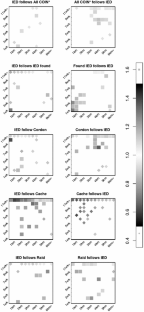 References
Arce D, Sandler T (2005) Counterterrorism: a game-theoretic analysis. J Confl Resolut 49:183–200

Axelrod R (1984) The evolution of cooperation. Basic Books, New York

Bloom M (2004) Palestinian suicide bombing: public support, market share, and outbidding. Polit Sci Quart 119:61–88

Bohorquez JC, Gourley S, Dixon A, Spagat M, Johnson NF (2009) Common ecology quantifies human insurgency. Nature 462:911–914

Braithwaite A (2010) Conflict hotspots: emergence, causes, and consequences. Ashgate Press, Aldershot

Braithwaite A, Li Q (2007) Transnational terrorism hot spots: identification and impact evaluation. Confl Manag Peace Sci 24:281–296

Bueno de Mesquita E (2005a) Conciliation, counterterrorism, and patterns of terrorist violence. Int Organ 59:145–176

Bueno de Mesquita E (2005b) The quality of terror. Am J Polit Sci 49:515–530

Bueno de Mesquita E (2007) Politics and the suboptimal provision of counterterror. Int Organ 61:9–36

Bueno de Mesquita E, Dickson E (2007) The propaganda of the deed: terrorism, counterterrorism, and mobilization. Am J Political Sci 51(2):364–381

Buhaug H, Rod JK (2006) Local determinants of African civil wars, 1970–2001. Polit Geogr 25:315–335

Department of the Army, Headquarters (2007) Combined arms improvised explosive device defeat operations (FM 3-90.119/MCIP 3-17.01). Accessed online <http://www.us.army.mil>

Faria JR, Arce D (2005) Terror support and recruitment. Def Peace Econ 16:263–273

Hoffman B (2006) Inside terrorism. Columbia University Press, New York

Johnson S, Bowers K (2004) The burglary as a clue to the future: the beginnings of prospective hot-spotting. Eur J Criminol 1:235–255

Johnson S, Braithwaite A (2009) Spatio-temporal distribution of insurgency in Iraq. In: Freilich J, Newman G (eds) Countering terrorism through SCP. Crime prevention studies, vol 25. Criminal Justice Press, New York, NY, pp 9–32

Johnson S, Berdasco W, Bowers K, Elffers J, Ratcliffe J, Rengert G, Townsley M (2007) Space-time patterns of risk: a cross-national assessment of residential burglary victimization. J Quant Criminol 23:201–219

Johnson S, Summers L, Pease K (2009) Offender as forager? A direct test of the boost account of victimization. J Quant Criminol 25:181–200

Kalyvas S (2006) The logic of violence in civil war. Cambridge University Press, New York

Knox G (1964) Epidemiology of childhood leukaemia in Northumberland and Durham. Br J Prev Soc Med 18:17–24

Kydd A, Walter B (2006) The strategies of terrorism. Int Secur 31:49–79

LaFree G, Dugan L, Korte R (2009) The impact of British counter terrorist strategies on political violence in Northern Ireland: comparing deterrence and backlash models. Criminology 47:17–46

LaFree G, Dugan L, Xie M, Singh P (2011) Spatial and temporal patterns of terrorist attacks by ETA 1970 to 2007. J Quant Criminol. doi:10.1007/s10940-011-9133-y

Maoz Z (2007) Evaluating Israel's strategy of low-intensity warfare, 1949–2006. Secur Stud 16:319–349

National Consortium for the Study of Terrorism and Responses to Terrorism (START) (2011) Global terrorism database [Data file]. Can be retrieved from http://www.start.umd.edu/gtd

North BV, Curtis D, Sham PC (2002) A note on the calculation of empirical p values from Monte Carlo procedures. Am J Hum Genet 71:439–441

Pape RA (2003) The strategic logic of suicide terrorism. Am Polit Sci Rev 97:343–361

Pape RA (2005) Dying to win. Random House, New York

Rosendorff BP, Sandler T (2004) Too much of good thing? The proactive response dilemma. J Confl Resolut 48:657–671

Ryu A (2005) Roadside bombs cause increasing concern in Iraq. Voice of America. 28th September

Sageman M (2004) Understanding terror networks. University of Pennsylvania Press, Philadelphia

Siquiera K, Sandler T (2007) Terrorist backlash, terrorism mitigation, and policy delegation. J Public Econ 91:1800–1815

Townsley MT, Johnson SD, Ratcliffe JR (2008) Space-time dynamics of insurgent activity in Iraq. Secur J 21:139–146

Wilkinson P (2001) Terrorism versus democracy: the liberal state response. Frank Cass, London
Acknowledgments
The work reported in this paper was supported by grant EP/H02185X/1 (ENFOLDing) from the Engineering and Physical Science Research Council (ESPRC). We would like to thank Sir Alan Wilson for his continued support of this work. We would also like to thank the special issue editors, Gary LaFree and Joshua Freilich, participants at the special issue workshop held at John Jay College, as well as the anonymous reviewers for their thoughtful comments on an earlier version of this article.
About this article
Cite this article
Braithwaite, A., Johnson, S.D. Space–Time Modeling of Insurgency and Counterinsurgency in Iraq. J Quant Criminol 28, 31–48 (2012). https://doi.org/10.1007/s10940-011-9152-8
Keywords
Insurgency

Counterinsurgency

Iraq

Improvised Explosive Device (IED)

SIGACTS

Space-time modeling