Abstract
The study reported here follows the suggestion by Caplan et al. (Justice Q, 2010) that risk terrain modeling (RTM) be developed by doing more work to elaborate, operationalize, and test variables that would provide added value to its application in police operations. Building on the ideas presented by Caplan et al., we address three important issues related to RTM that sets it apart from current approaches to spatial crime analysis. First, we address the selection criteria used in determining which risk layers to include in risk terrain models. Second, we compare the "best model" risk terrain derived from our analysis to the traditional hotspot density mapping technique by considering both the statistical power and overall usefulness of each approach. Third, we test for "risk clusters" in risk terrain maps to determine how they can be used to target police resources in a way that improves upon the current practice of using density maps of past crime in determining future locations of crime occurrence. This paper concludes with an in depth exploration of how one might develop strategies for incorporating risk terrains into police decision-making. RTM can be developed to the point where it may be more readily adopted by police crime analysts and enable police to be more effectively proactive and identify areas with the greatest probability of becoming locations for crime in the future. The targeting of police interventions that emerges would be based on a sound understanding of geographic attributes and qualities of space that connect to crime outcomes and would not be the result of identifying individuals from specific groups or characteristics of people as likely candidates for crime, a tactic that has led police agencies to be accused of profiling. In addition, place-based interventions may offer a more efficient method of impacting crime than efforts focused on individuals.
Access options
Buy single article
Instant access to the full article PDF.
USD 39.95
Price excludes VAT (USA)
Tax calculation will be finalised during checkout.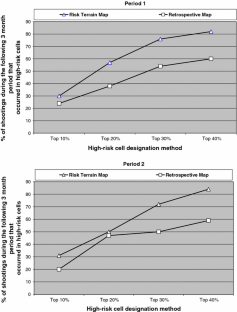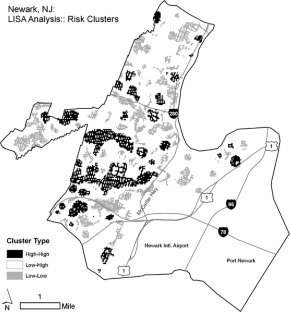 Notes
The specific parameters for density calculations used in this study were a bandwidth of 1,000 feet and a cell size of 145 feet. A 1,000 foot bandwidth was selected because it seemed a reasonable sphere of influence for shooters—the median blockface is approximately 290 feet (Felson 1995; Taylor 1997). 145 × 145 foot cells were the smallest area that our computers could process reasonably fast and, for this study, if a Risk Terrain Model could predict locations of shootings at the smallest (but reasonable) geographic units, it would best exemplify the utility of RTM for operational policing compared to larger, less specific, units of analysis.

Rows in the attribute tables of each map were sorted in descending order in SPSS by their risk values after random numbers were assigned to each cell. Random numbers were necessary to randomize the sorting of cells with the same risk values. For example, if 11 out of 100 cells had a risk value of eight, and they were sorted in descending order, the top 10% of cells to be designated as "high risk" would all have values of eight. But, the 11% cell would be excluded due to a rather arbitrary sorting algorithm. The random number ensured that every cell had an equal chance of being sorted above or below each cut point.

As is evident from Fig. 1, RTM's superiority over the retrospective maps declined dramatically in Period 4. This may be the result of numerous place-based operations of the Newark Police Department. Starting in early 2008, the Newark Police began systematic, intensive street level enforcement in various "hot zones" around the city. When an area is designated as a "hot zone," a vast amount of resources is dedicated to the area. City-wide and precinct-level squads (such as the central narcotics unit and precinct level "conditions" unit) are tasked with conducting operations in these areas on a daily basis. Police patrols are also significantly heighted. Commonly, police units and foot patrols are stationed at these places 24-h a day. These operations are ongoing; resources are not pulled from an area when crime levels drop. Instead, the heightened level of enforcement remains steady even as additional areas are designated as "hot zones." As of the date of this writing, each of Newark's four police precincts designates five areas as "hot zones," according to department documents. In addition, The Newark Police has formed a partnership with various federal and state agencies active within the city. This "Violent Enterprise Strategy Team (VEST)," as it is referred to, targets criminal gangs seen to significantly contribute to violence. VEST operations are conducted throughout numerous areas of the city. Target areas of these aforementioned efforts happen to be "high-risk" areas as denoted by our Risk Terrain Model. Being that the number of such specialized zones has increased over time, more "high risk" areas received higher levels of police attention and enforcement in Period 4 than during the previous study periods. Thus, in Period 4, the true "risk" of violence is most likely lower than the Risk Terrain suggests, which obviously impacts the model's predictive capability. In light of this observation, future research on the Risk Terrain approach should incorporate police activity in the model as a mitigating factor.
References
Baughman J, Caplan J (2010) Applying risk terrain modeling to a violent crimes initiative in Kansas City, Missouri. RTM Insights 1. http://rutgerscps.org/rtm/KCPD_RTMinAction_InsightsBrief_1.pdf. Accessed 10 March 10

Berk R (2009) Asymmetric loss functions for forecasting in criminal justice settings. Unpublished manuscript

Block R, Block C (1995) Space, place, and crime: hotspot areas and hot places of liquor related crime. In: Eck JE, Weisburd D (eds) Crime and place. Crime prevention studies, vol 4. Criminal Justice Press, Monsey, NY

Blumstein A (1995) Youth violence, guns, and the illicit-drug industry. J Crim Law Criminol 86:10–36

Boba R (2003) Problem analysis in policing. Police Foundation, Washington, DC

Boba R (2009) Crime analysis with crime mapping, 2nd edn. Sage Publications, Thousand Oaks

Braga A (2004) Gun violence among serious young offenders. Problem-oriented guides for police. Problem-specific guides series: no. 23. U.S. Department of Justice. Office of Community Oriented Policing Services, USA

Brantingham PJ, Brantingham PL (1981) Environmental criminology. Sage, Beverly Hills, CA

Brantingham PJ, Brantingham PL (1995) Criminality of place: crime generators and crime attractors. Eur J Crim Policy Res 3:1–26

Brantingham PJ, Tita G (2008) Offender mobility and crime pattern formation from first principles. In: Liu L, Eck JE (eds) Artificial crime analysis systems: using computer simulations and geographic information systems. Idea Press, Hershey, PA, pp 193–208

Bratton W (1998) Turnaround: How America's top cop reversed the crime epidemic. Random House, New York

Burgess EW (1928) Factors determining success or failure on parole. In: Bruce AA, Burgess EW, Harno AJ (eds) The workings of the indeterminate sentence law and the parole system in Illinois. Illinois State Board of Parole, Springfield, pp 221–234

Caplan JM, Kennedy LW (2010) Risk terrain modeling manual. Rutgers Center on Public Security, Newark

Caplan JM, Kennedy L (2009) Drug arrests, shootings, and gang residences in Irvington, NJ: an exercise in data discovery. Paper presented at threat assessments: innovations and applications in data integration and analysis Conference at the Regional Operations Intelligence Center, West Trenton, NJ

Caplan JM, Kennedy LW, Miller J (2010) Risk terrain modeling: brokering criminological theory and GIS methods for crime forecasting. Justice Q (online first)

Center for Collaborative Change (2010) Neighborhood Survey, Newark, NJ. Retrieved online at http://newarkchange.org/survey/

Clarke RV (1997) "Introduction" in situational crime prevention: successful case studies. Harrow and Heston, Guilderland, NY

Clarke R, Eck JE (2005) Crime analysis for problem solvers in 60 small steps. U.S. Department of Justice Office of Community Oriented Policing Services, USA

Cohen L, Felson M (1979) Social change and crime rate trends: a routine activity approach. Am Sociol Rev 44:588–605

Decker S, Curry G (2002) Gangs, gang homicides, and gang loyalty: organized crimes or disorganized criminals. J Crim Justice 30:343–352

Eck JE (1994) Drug markets and drug places: a case-controlled study of spatial structure of illicit dealing. Unpublished PhD dissertation, University of Maryland, College Park

Eck JE (1995) A general model of the geography of illicit retail marketplaces. In: Eck JE, Weisburd D (eds) Crime and place: crime prevention studies, vol 4. Willow Tree, Modney, NJ, pp 67–95

Eck JE (2001) Policing and crime event concentration. In: Meier R, Kennedy L, Sacco V (eds) The process and structure of crime: criminal events and crime analysis. Transactions, New Brunswick, pp 249–276

Eck JE, Weisburd D (eds) (1995) Crime and place: crime prevention studies, vol 4. Willow Tree Press, Monsey, NY

Eck JE, Chainey S, Cameron JG, Leitner M, Wilson RE (2005) Mapping crime: understanding hot spots. National Institute of Justice, Washington, DC

Eck JE, Clarke R, Guerette R (2007) Ricky facilities: crime concentration in homogeneous sets of establishments and facilities. Crime Prev Stud 21:225–264

Felson M (1995) Those who discourage crime. In: Eck JE, Weisburd D (eds) Crime and place: crime prevention studies, vol 4. Willow Tree Press, Monsey, NY, pp 349–359

Felson M (2002) Crime and everyday life, 3rd edn. Sage Publications, Thousand Oaks

Fried C (1996) America's Safest City: Amherst, NY; The Most Dangerous: Newark, N.J. CNN Money Magazine

Glueck S, Glueck E (1950) Unraveling juvenile delinquence. Common-wealth, New York

Gorr W, Olligschlaeger A (2002) Crime hot spot forecasting: modeling and comparative evaluation. National Institute of Justice, Washington, DC

Groff ER (2007a) Simulation for theory testing and experimentation: an example using routine activity theory and street robbery. J Quant Criminol 23:75–103

Groff ER (2007b) 'Situating' simulation to model human spatio-temporal interactions: an example using crime events. Trans GIS 11(4):507–530

Groff ER, La Vigne NG (2002) Forecasting the future of predictive crime mapping. Crime Prev Stud 13:29–57

Harocopos A, Hough M (2005) Drug Dealing in Open Air Markets. Problem-Oriented Guides for Police. Problem-Specific Guides Series: No. 31. U.S. Department of Justice. Office of Community Oriented Policing Services, USA

Harries K (1999) Mapping crime: principles and practice. National Institute of Justice, Washington, DC

Jacobson J (1999) Policing drug hotspots. Police research series. Number 9. Home Office. Policing and Reducing Crime Unit

Johnson SD, Bowers KJ, Birks D, Pease K (2008) Prospective mapping: the importance of the environmental backcloth. In: Weisburd D, Bernasco W, Bruinsma G (eds) Putting crime in its place: units of analysis in geographic criminology. Springer, New York

Kennedy LW, Van Brunschot E (2009) The risk in crime. Rowman and Littlefield, Lanham

Kennedy D, Piehl A, Braga A (1996) Youth violence in Boston: gun markets, serious youth offenders, and a use-reduction strategy. Law Contemp Probl 59:147–197

Lum C (2008) The geography of drug activity and violence: analyzing spatial relationships of non-homogenous crime event types. Subst Use Misuse 43:179–201

Maple J (1999) The crime fighter: how you can make your community crime-free. Broadway Books, New York

Mazerolle L, Kadleck C, Roehl J (2004) Differential police control at drug-dealing places. Secur J 17:1–69

McGloin J (2005) Policy and intervention considerations of a network analysis of street gangs. Criminol Public Policy 43:607–636

Newman O (1972) Defensible space: crime prevention through urban design. Macmillan, New York

Parks B (2007) The Newark riots: 40 years later. A four part series. The Newark Star Ledger. 8–11 July 2007

Poyner B (2006) Crime-free housing in the 21st century. Jill Dando Institute of Crime Science, University College of London. Brook House Publishing, London

Ratcliffe JH (2004) Crime mapping and the training needs of law enforcement. Eur J Crim Policy Res 10:65–83

Ratcliffe JH (2006) A temporal constraint theory to explain opportunity-based spatial offending patterns. J Res Crime Delinq 43(3):261–291

Ratcliffe JH, McCullagh MJ (2001) Chasing ghosts? Police perception of high crime areas. Br J Criminol 41:330–341

Ratcliffe JH, Rengert G (2008) Near repeat patterns in Philadelphia shootings. Secur J 211–2:58–76

Sampson RJ, Raudenbush S (1999) Systematic social observation of public spaces: a new look at disorder in urban neighborhoods. Am J Sociol 105:603–651

Shaw C, McKay H (1969) Juvenile delinquency and urban areas. University of Chicago Press, Chicago

Sherman LW (1995) Hotspots of crime and criminal careers of places. In: Eck JE, Weisburd D (eds) Crime and place. Crime prevention studies, vol 4. Criminal Justice Press, Monsey, NY, pp 35–52

Sherman LW, Gartin PR, Buerger ME (1989a) Hot spots of predatory crime: routine activities and the criminology of place. Criminology 27:27–55

Sherman LW, Gartin PR, Buerger ME (1989b) Hot spots of predatory crime: routine activities and the criminology of place. Criminology 27:821–849

Silverman E (2006) CompStat's innovation. In: Weisburd D, Braga A (eds) Police innovations: contrasting perspectives. Cambridge studies in criminology. Cambridge University Press, UK

Silverman A (2010) The path form syphilis to faster MRIs. Retrieved from http://www.npr.org/blogs/alltechconsidered/2010/05/24/127088641/the-path-from-syphilis-to-faster-mris

Taylor RB (1997) Order and disorder of streetblocks and neighborhoods: ecology, microecology and the systemic model of social organization. J Res Crim Delinq 34:113–155

Taylor R (2000) Breaking away from broken windows: Baltimore neighborhoods and the nationwide fight against crime, grime, fear, and decline. Perseus, New York

Tita G, Griffiths E (2005) Traveling to violence: the case for a mobility-based spatial typology of homicide. J Res Crime Delinq 42:275–308

Tomlin C (1994) Map algebra: one perspective. Landsc Urban Plan 30:3–12

Topalli V, Wright R, Fornango R (2002) Drug dealers, robbery, and retaliation: vulnerability, deterrence, and the contagion of violence. Br J Criminol 42:337–351

Tuttle B (2009) How Newark became Newark: the rise, fall, and rebirth of an American City. Rivergate Books, New Brunswick

Uniform Crime Report (2009) Crime in the Untied States 2008. U. S. Department of Justice, Federal Bureau of Investigation, Washington, DC

U.S. Department of Housing and Development (2000) In the crossfire: the impact of gun violence on public housing communities. U.S. department of housing and Development, Washington, DC

Weisburd D (2008) Place-based policing. Ideas in policing series. Police Foundation, Washington, DC

Weisburd D, Braga AA (2006) Police innovation: contrasting perspectives. Cambridge University Press, Cambridge, UK

Weisburd D, Eck JE (2004) What can police do to reduce crime, disorder, and fear? Ann Am Acad Pol Soc Sci 593:42–65

Weisburd D, Green L (1994) Defining the street-level drug market. In: Mackenzie D, Uchida C (eds) Drugs and crime: evaluating public policy initiatives. Sage, Thousand Oaks

Weisburd D, Green L (1995) Policing drug hot spots: the Jersey City drug market analysis experiment. Justice Q 12:711–736

Weisburd D, Bernasco W, Bruinsma G (2009) Units of analysis in geographic criminology: historical development, critical issues, and open questions. In: Weisburd D, Bernasco W, Bruinsma G (eds) Putting crime in its place: units of analysis in geographic criminology. Springer, New York, pp 3–33

Willis JJ, Mastrofski SD, Weisburd D (2004) Compstat and bureaucracy: a case study of challenges and opportunities for change. Justice Q 21:463–496

Wortley Richard, Mazerolle L (eds) (2008) Environmental criminology and crime analysis. Willan Publishers, London, UK

Zanin N, Shane J, Clarke R (2004) Reducing drug dealing in private apartment complexes in Newark, New Jersey. A final report to the U.S. Department of Justice, Office of Community Oriented Policing Services on the field applications of the problem-oriented guides for police project

Zurawski N (2007) Video surveillance and everyday life: assessments of closed-circuit television and the cartography of socio-spatial imaginations. Int Crim Justice Rev 17:269–288
About this article
Cite this article
Kennedy, L.W., Caplan, J.M. & Piza, E. Risk Clusters, Hotspots, and Spatial Intelligence: Risk Terrain Modeling as an Algorithm for Police Resource Allocation Strategies. J Quant Criminol 27, 339–362 (2011). https://doi.org/10.1007/s10940-010-9126-2
Published:

Issue Date:

DOI: https://doi.org/10.1007/s10940-010-9126-2
Keywords
Risk terrain modeling

Hotspots

Risk clusters