Abstract
The present studies examined the effects of varying degrees of unfamiliar vocabulary within written discourse on individuals' abilities to use linguistic context for the purposes of translation and comprehension (i.e., lexical inferencing). Prose varied in the number of foreign words introduced into each sentence (e.g., 0 through 7 content words per sentence). Furthermore, Krashen's Input Hypothesis and the Evaluation component of the Involvement Load Hypothesis were tested to determine the degree at which non-comprehensible input hinders the ability of a learner to successfully use linguistic context for translation and comprehension. Results indicated that, as the number of foreign words per sentence, i.e., non-comprehensible input, increased the ability to successfully translate foreign words and create situational models for comprehension begins to decrease especially beyond five unfamiliar words per sentence. This result suggests that there is an optimal level of effectiveness in the use of a linguistic context strategy for learning foreign language vocabulary, but also that there is a limit to the strategy's effectiveness. Implications and applications to the field of foreign language learning are discussed.
Access options
Buy single article
Instant access to the full article PDF.
US$ 39.95
Tax calculation will be finalised during checkout.
Subscribe to journal
Immediate online access to all issues from 2019. Subscription will auto renew annually.
US$ 119
Tax calculation will be finalised during checkout.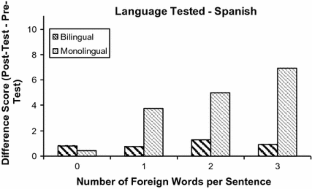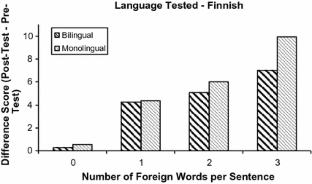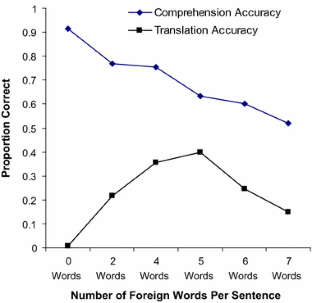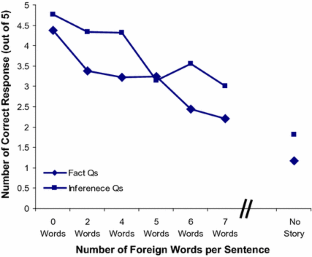 Notes
1.

Even though categorization of bilingualism status was based on a binary choice task (i.e., Yes or No), a secondary method to identify bilingualism status was used. A self-report Likert scale (1–9) required participants to self-evaluate themselves on four dimensions of language knowledge (i.e., Reading, Writing, Understanding, and Speaking) for English and Spanish. Participant averages were created across the four dimensions to create one average proficiency score for each language. Subsequently, all participants who met the criteria of obtaining an average Spanish and English proficiency self-rating of 7 or greater, higher scores indicating higher self-perceived proficiency beliefs, and who self-categorized as bilingual, were categorized as bilingual. Participants who self-categorized as bilingual but did obtain the criteria of 7 or greater, were excluded from the study. Although using a self-rating scale is not standard practice for identifying proficiency levels, Grosjean (1998) has suggested that the use of self-ratings significantly correlate with standardized measures of proficiency and can be used as a valid method by which to identify general proficiency levels. As such, through the use of the binary choice task and the self-report measure of proficiency, bilinguals in this study are believed to be a representative sample of the population.
References
Alavi, S. M., & Kaivanpanah, S. (2009). Examining the role of individual differences in lexical inferencing. Journal of Applied Sciences, 9, 1–6.

Barnes, J. A., Ginther, D. W., & Cochran, S. W. (1989). Schema and purposes in reading comprehension and learning vocabulary from context. Reading Research and Instruction, 28, 16–28.

Baumann, J. F. (2009). Intensity in vocabulary instruction and effects on reading comprehension. Topics in Language Disorders, 29(4), 312–328.

Bengeleil, N. F. (2001). Lexical inferencing behavior of Libyan EFL medical students while reading: The role of reading proficiency and the Arabic language. Unpublished doctoral dissertation. Ontario: University of Ottawa.

Bengeleil, N. F., & Paribakht, T. S. (2004). L2 reading proficiency and lexical inferencing by university EFL learners. The Canadian Modern Language Review, 61, 225–49.

Bolger, D. J., Balass, M., Landen, E., & Perfetti, C. A. (2008). Context variation and definitions in learning the meanings of words: An instance-based learning approach. Discourse Processes, 45(2), 122–159.

Brusnighan, S. M., & Folk, J. R. (2012). Combining contextual and morphemic cues is beneficial during incidental vocabulary acquisition: Semantic transparency in novel compound word processing. Reading Research Quarterly, 47(2), 172–190.

Cain, K., Lemmon, K., & Oakhill, J. (2004). Individual differences in the inference of word meanings from context: The influence of reading comprehension, vocabulary knowledge, and memory capacity. Journal of Educational Psychology, 96, 671–681.

Cain, K. (2007). Deriving word meanings from context: Does explanation facilitate contextual analysis? Journal of Research in Reading, 30(4), 347–359.

de Bot, K., Paribakht, S., & Wesche, M. (1997). Toward a lexical processing model for the study of L2 vocabulary acquisition. Studies in Second Language Acquisition, 19, 309–329.

Dockrell, J. E., Braisby, N., & Best, R. M. (2007). Children's acquisition of science terms: Simple exposure is insufficient. Learning and Instruction, 17(6), 577–594.

Fraser, C. (1999). Lexical processing strategy use and vocabulary learning through reading. Studies in Second Language Acquisition, 21, 225–241.

Gardner, D. (2007). Children's immediate understanding of vocabulary: Contexts and dictionary definitions. Reading Psychology, 28(4), 331–373.

Grosjean, F. (1998). Studying bilinguals: Methodological and conceptual issues. Bilingualism: Language and Cognition, 1, 131–149.

Kim, Y. (2008). The role of task-induced involvement and learner proficiency in L2 vocabulary acquisition. Language Learning, 58, 285–325.

Kintsch, W. (1998). Comprehension: A paradigm for cognition. New York: Cambridge University Press.

Krashen, S. (1989). We acquire vocabulary and spelling by reading: Additional evidence for the input hypothesis. The Modern Language Journal, 73, 440–464.

Laufer, B. (1991). The development of L2 lexis in the expression of the advanced learner. The Modern Language Journal, 75(4), 440–448.

Laufer, B. (1992). How much lexis is necessary for reading comprehension? In P. J. L. Arnaud & H. Béjoint (Eds.), Vocabulary and Applied Linguistics (pp. 126–132). Basingstoke: Macmillan.

Laufer, B., & Hulstijn, J. (2001). Incidental vocabulary acquisition in a second language: The construct of task-induced involvement. Applied Linguistics, 22, 1–26.

Marinellie, S. A., & Kneile, L. A. (2012). Acquiring knowledge of derived nominals and derived adjectives in context. Language, Speech, and Hearing Services in Schools, 43(1), 53–65.

Moore, J. C., & Surber, J. R. (1992). Effects of context and keyword methods on second language vocabulary acquisition. Contemporary Educational Psychology, 17, 286–292.

Morey, C. C., & Cowan, N. (2005). When do visual and verbal memories conflict? The importance of working-memory load and retrieval. Journal of Experimental Psychology: Learning, Memory, and Cognition, 31, 703–713.

Mori, Y. (2003). The roles of context and word morphology in learning new kanji words. The Modern Language Journal, 87, 404–420.

Nagy, W. E., Anderson, R. C., & Herman, P. A. (1987). Learning word meaning from context during normal reading. American Educational Research Journal, 24, 237–270.

Nagy, W. E., Herman, P. A., & Anderson, R. C. (1985). Learning words from context. Reading Research Quarterly, 20, 233–253.

Nash, H., & Snowling, M. (2006). Teaching new words to children with poor existing vocabulary knowledge: A controlled evaluation of the definition and context methods. International Journal of Language & Communication Disorders, 41(3), 335–354.

Nassaji, H. (2003). Second language vocabulary learning from context: Strategies and knowledge sources and their relationship with success in L2 lexical inferencing. TESOL Quarterly, 37, 645–670.

Nassaji, H. (2004). The relationship between depth of vocabulary knowledge and L2 learners 'lexical inferencing strategy use and success. Canadian Modern Language Review, 61, 107–134.

Nation, P. (1993). Vocabulary size, growth, and use. In R. Schreuder & B. Weltens (Eds.), The bilingual lexicon (pp. 115–134). Amsterdam: Benjamins.

Paribakht, S., & Wesche, M. (1999). Reading and "incidental" L2 vocabulary acquisition. Studies in Second Language Acquisition, 21, 195–224.

Paribakht, T. S., & Wesche, M. (2006). Lexical inferencing in L1 and L2: Implications for vocabulary instruction and learning at advanced levels. In H. Byrnes, H. D. Weger-Guntharp, & K. A. Sprang (Eds.), Educating for advanced foreign language capacities: Constructs, curriculum, instruction, and assessment (pp. 118–135). Washington, DC: Georgetown University Press.

Prince, P. (1996). Second language vocabulary learning: The role of context versus translations as a function of proficiency. The Modern Language Journal, 80, 478–493.

Rodriguez, M., & Sadoski, M. (2000). Effects of rote, context, keyword, and context/keyword methods on retention of vocabulary in EFL classrooms. Language Learning, 50, 385–412.

Rott, S., & Williams, J. (2003). Making form-meaning connections while reading: A qualitative analysis of the effect of input and output tasks on word learning. Reading in a Foreign Language, 15, 45–74.

Rott, S. (2005). Processing glosses: A qualitative exploration of how form-meaning connections are established and strengthened. Reading in a Foreign Language, 17, 95–124.

Rott, S. (2007). The effect of frequency of input-enhancements on word learning and text comprehension. Language Learning, 57, 165–199.

Runquist, W. N. (1966). Intralist interference as a function of list length and interstimulus similarity. Journal of Verbal Learning and Verbal Behavior, 5, 7–13.

Schmidt, R. (2001). Attention. In P. Robinson (Ed.), Cognition and second language instruction (pp. 3–32). Cambridge: Cambridge University Press.

Tabossi, P. (1988). Accessing lexical ambiguity in different types of sentential contexts. Journal of Memory and Language, 27, 324–340.

Tannenbaum, K., Torgesen, J., & Wagner, R. (2006). Relationships between word knowledge and reading comprehension in 3rd-grade children. Scientific Studies of Reading, 10, 381–398.

van Dijk, T. A., & Kintsch, W. (1983). Strategies of discourse comprehension. New York: Academic Press.

Webb, S. (2007a). The effects of repetition on vocabulary knowledge. Applied Linguistics, 28(1), 46–65.

Weber, S. (2007b). Learning word pairs and glossed sentences: The effects of a single context on vocabulary knowledge. Language Teaching Research, 11, 63–81.

Yildirim, K., Rasinski, T., Ates, S., Fitzgerald, S., Zimmerman, B., & Yildiz, M. (2014). The relationship between reading fluency and vocabulary in fifth grade Turkish students. Literacy Research and Instruction, 53(1), 72–89.

Zwaan, R. A., & Radvansky, G. A. (1998). Situation models in language comprehension and memory. Psychological Bulletin, 123, 162–185.
About this article
Cite this article
de la Garza, B., Harris, R.J. Acquiring Foreign Language Vocabulary Through Meaningful Linguistic Context: Where is the Limit to Vocabulary Learning?. J Psycholinguist Res 46, 395–413 (2017). https://doi.org/10.1007/s10936-016-9444-0
Keywords
Linguistic inferencing

Context learning

Vocabulary learning