Abstract
The present study examined the influence of improvements to Water, Sanitation, and Hygiene (WASH) infrastructure on rates of under-five mortality specifically from diarrheal disease amongst children in fragile states. The World Bank's Millennium Development Goals and Sustainable Development Goals both include a specific target of reduction in preventable disease amongst children, as well as goal to improve WASH. Although gains have been made, children under the age of five remain particularly vulnerable to diarrheal mortality in states identified as fragile. Increasingly, climate change is placing undue pressure on states labeled fragile due to their inability to properly prepare for, or respond to, natural disasters that further compromise WASH development and water safety. The impact of climate change upon child health outcomes is neither direct nor linear and necessitates a linkage framework that can account for complex pathways between environmental pressures and public health outcomes. The World Health Organization's Drive Force-Pressure-State-Exposure-Effect-Action conceptual framework was used to draw the connections between seemingly disparate, and highly nuanced, environmental, and social measures. Using a multilevel hierarchical model, this analysis used a publicly available UNICEF data set that reported rates of mortality specifically from diarrheal disease amongst children age five and younger. All 171 formally recognized countries were included, which showed a decline in diarrheal disease over time when investments in WASH infrastructure are compared. As states experience increased pressure because of climate change, this area of intervention is key for immediate health and safety of children under-five, as well as assisting fragile states long-term as the move toward stability.
Access options
Buy single article
Instant access to the full article PDF.
USD 39.95
Price excludes VAT (USA)
Tax calculation will be finalised during checkout.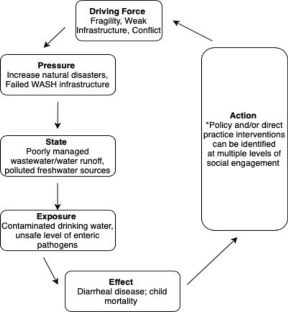 References
Black, R., Fontaine, O., Lamberti, L., Bhan, M., Huicho, L., El Arifeen, S., Masanja, H., Walker, C. F., Mengestu, T. K., Pearson, L., Young, M., Orobaton, N., Chu, Y., Jackson, B., Bateman, M., Walker, N., & Merson, M. (2019). Drivers of the reduction in childhood diarrhea mortality 1980–2015 and interventions to eliminate preventable diarrhea deaths by 2030. Journal of Global Health. https://doi.org/10.7189/jogh.09.020801

Bornemisza, O., Ranson, M. K., Poletti, T. M., & Sondorp, E. (2010). Promoting health equity in conflict-affected fragile states. Social Science & Medicine, 70(1), 80–88. https://doi.org/10.1016/j.socscimed.2009.09.032

Bruckner, C., & Checchi, F. (2011). Detection of infectious disease outbreaks in twenty-two fragile states, 2000–2010: A systematic review. Conflict and Health. https://doi.org/10.1186/1752-1505-5-13

Das, J. K., Lassi, Z. S., Salam, R. A., & Bhutta, Z. A. (2013). Effect of community based interventions on childhood diarrhea and pneumonia: Uptake of treatment modalities and impact on mortality. BMC Public Health. https://doi.org/10.1186/1471-2458-13s3-s29

Dieleman, J. L., Graves, C. M., Templin, T., Johnson, E., Baral, R., Leach-Kemon, K., Haakenstad, A. M., & Murray, C. J. L. (2014). Global Health Development Assistance remained steady in 2013 but did not align with recipients' disease burden. Health Affairs, 33(5), 878–886. https://doi.org/10.1377/hlthaff.2013.1432

Fischer Walker, C. L., Perin, J., Aryee, M. J., Boschi-Pinto, C., & Black, R. E. (2012). Diarrhea incidence in low- and middle-income countries in 1990 and 2010: A systematic review. BMC Public Health. https://doi.org/10.1186/1471-2458-12-220

Gentry-Shields, J., & Bartram, J. (2014). Human health and the water environment: Using the DPSEEA framework to identify the driving forces of disease. Science of the Total Environment, 468–469, 306–314. https://doi.org/10.1016/j.scitotenv.2013.08.052

Gimelli, F. M., Bos, J. J., & Rogers, B. C. (2018). Fostering equity and wellbeing through water: A reinterpretation of the goal of securing access. World Development, 104, 1–9. https://doi.org/10.1016/j.worlddev.2017.10.033

Guerrant, R. L., DeBoer, M. D., Moore, S. R., Scharf, R. J., & Lima, A. A. (2012). The impoverished gut—A triple burden of diarrhoea, stunting and chronic disease. Nature Reviews Gastroenterology & Hepatology, 10(4), 220–229. https://doi.org/10.1038/nrgastro.2012.239

Hambling, T., Weinstein, P., & Slaney, D. (2011). A review of frameworks for developing environmental health indicators for climate change and health. International Journal of Environmental Research and Public Health, 8(7), 2854–2875. https://doi.org/10.3390/ijerph8072854

Jiménez Cisneros, B. E., Oki, T., Arnell, N. W., Benito, G., Cogley, J. G., Döll, P., Jiang, T., Mwakalila, S. S. (2014). Freshwater resources. In: C. B. Field, V. R. Barros, D. J. Dokken, K. J. Mach, M. D. Mastrandrea, T. E. Bilir, M. Chatterjee, K. L. Ebi, Y. O. Estrada, R. C. Genova, B. Girma, E. S. Kissel, A. N. Levy, S. MacCracken, P. R. Mastrandrea, & L. L. White (Eds.), Climate Change 2014: Impacts, Adaptation, and Vulnerability. Part A: Global and Sectoral Aspects. Contribution of Working Group II to the Fifth Assessment Report of the Intergovernmental Panel on Climate Change (pp. 229–269). Cambridge University Press.

Lanata, C. F., Fischer-Walker, C. L., Olascoaga, A. C., Torres, C. X., Aryee, M. J., & Black, R. E. (2013). Global causes of diarrheal disease mortality in children < 5 years of age: A systematic review. PLoS ONE. https://doi.org/10.1371/journal.pone.0072788

Liu, Y., Zhou, C., Li, L., Su, L., & Zhang, Y. (2018). Fragile states metric system: An assessment model considering climate change. Sustainability, 10(6), 1767. https://doi.org/10.3390/su10061767

Lloyd, S., Bangalore, M., Chalabi, Z., Kovats, R. S., Hallegatte, S., Ronberg, J., & Valin, H. (2019). Potential impacts of climate change on child stunting via income and food price in 2030: A global-level model. The Lancet Planetary Health. https://doi.org/10.1016/s2542-5196(19)30144-5

Mellor, J. E., Levy, K., Zimmerman, J., Elliott, M., Bartram, J., Carlton, E., Clasen, T., Dillingham, R., Eisenberg, J., Guerrant, R., Lantagne, D., Mihelcic, J., & Nelson, K. (2016). Planning for climate change: The need for mechanistic systems-based approaches to study climate change impacts on diarrheal diseases. Science of The Total Environment, 548–549, 82–90. https://doi.org/10.1016/j.scitotenv.2015.12.087

October 1, 2015, September 25, 2015, July 13, 2015, July 10, 2015, May 18, 2015, Paul McClure | September 24, 2015, & Emi Suzuki | September 9, 2015. (n.d.). Millennium development goals. The World Bank—Millennium Development Goals. Retrieved from http://www5.worldbank.org/mdgs/.

Okaka, F. O., & Odhiambo, B. D. (2018). Relationship between flooding and out break of infectious diseases in Kenya: A review of the literature. Journal of Environmental and Public Health, 2018, 1–8. https://doi.org/10.1155/2018/5452938

R Core Team. (2020). R: A language and environment for statistical computing. R Foundation for Statistical Computing, Vienna, Austria. URL https://www.R-project.org/.

Shaheed, A., Orgill, J., Montgomery, M. A., Jeuland, M. A., & Brown, J. (2014). Why "improved" water sources are not always safe. Bulletin of the World Health Organization, 92(4), 283–289. https://doi.org/10.2471/blt.13.119594

StataCorp. 2021. Stata Statistical Software: Release 17. College Station, TX: StataCorp LLC.

The Millennium Development Goals Report 2015 - United Nations. (n.d.). Retrieved from https://www.un.org/millenniumgoals/2015_MDG_Report/pdf/MDG%202015%20rev%20(July%201).pdf.

United Nations. (n.d.). Ending poverty. United Nations. Retrieved from https://www.un.org/en/global-issues/ending-poverty.

United Nations. (n.d.). United Nations Sustainable Development. United Nations. Retrieved from https://www.un.org/sustainabledevelopment/.

Webb, C., & Cabada, M. M. (2018). A review on prevention interventions to decrease diarrheal diseases' burden in children. Current Tropical Medicine Reports, 5(1), 31–40. https://doi.org/10.1007/s40475-018-0134-x

Weststrate, J., Dijkstra, G., Eshuis, J., Gianoli, A., & Rusca, M. (2018). The Sustainable Development Goal on water and sanitation: Learning from the millennium development goals. Social Indicators Research, 143(2), 795–810. https://doi.org/10.1007/s11205-018-1965-5

World Bank Data; Diarrhea. UNICEF DATA. https://data.unicef.org/topic/child-health/diarrhoeal-disease/.

Yavarian, J., Shafiei-Jandaghi, N. Z., & Mokhtari-Azad, T. (2019). Possible viral infections in flood disasters: A review considering 2019 spring floods in Iran. Iranian Journal of Microbiology. https://doi.org/10.18502/ijm.v11i2.1066
Additional information
Publisher's Note
Springer Nature remains neutral with regard to jurisdictional claims in published maps and institutional affiliations.
Rights and permissions
Springer Nature or its licensor (e.g. a society or other partner) holds exclusive rights to this article under a publishing agreement with the author(s) or other rightsholder(s); author self-archiving of the accepted manuscript version of this article is solely governed by the terms of such publishing agreement and applicable law.
About this article
Cite this article
Al Wazni, A.B., Chapman, M.V., Ansong, D. et al. Climate Change, Fragility, and Child Mortality; Understanding the Role of Water Access and Diarrheal Disease Amongst Children Under Five During the MDG Era. J of Prevention 44, 409–419 (2023). https://doi.org/10.1007/s10935-023-00732-4
Accepted:

Published:

Issue Date:

DOI: https://doi.org/10.1007/s10935-023-00732-4
Keywords