Abstract
We tested a field-adapted priming procedure (a technique used to subtly activate mental representations and guide behavior) on a ski slope, with the goal of reducing risk behavior in winter sports. At cableway stations, skiers were initially exposed eight times to a prevention poster displaying a logo and a "slow down" message. The "slow down" concept was activated on the ski slope by exposing skiers (or not) 10 times to the logo featured on the poster. We used a radar device to measure the skiers' speed data just before a slope intersection. We hypothesized that the mean speed would be lower in the presence of the logo than in its absence. As predicted, the speed was lower (by 0.9 km/h) when the skiers had been primed (i.e., exposed to the logo). This decrease was relevant, since any reduction in speed downhill will reduce kinetic (impact) energy and thus the risk of injury in a collision. The effect of priming was statistically significant at noon and in the afternoon but not in the morning. Our pilot study is the first to show that a priming procedure can influence the speed of skiers at a dangerous location. Our findings open up new perspectives for the prevention of risk behavior in winter sports.
Access options
Buy single article
Instant access to the full article PDF.
USD 39.95
Price excludes VAT (USA)
Tax calculation will be finalised during checkout.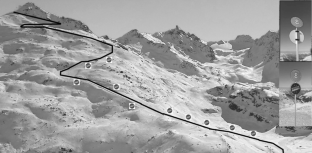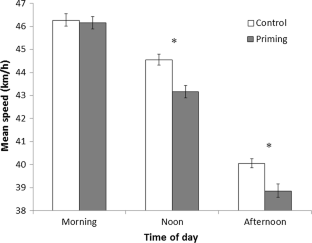 References
Bargh, J. A., & Chartrand, T. L. (2000). The mind in the middle: A practical guide to priming and automaticity research. In H. T. Reis & C. M. Judd (Eds.), Handbook of research methods in social and personality psychology (pp. 253–285). New York: Cambridge University Press.

Bry, C., Meyer, T., Oberlé, D., & Gherson, T. (2009). Effect of priming cooperation or individualism on a collective and interdependent task: Changeover speed in the 4 × 100-meter relay race. Journal of Sport & Exercise Psychology, 31, 380–389. https://doi.org/10.1123/jsep.31.3.380.

Castanier, C., Le Scanff, C., & Woodman, T. (2010). Who takes risks in high-risk sports? A typological personality approach. Research Quarterly for Exercise and Sport, 81(4), 478–484. https://doi.org/10.1080/02701367.2010.10599709.

Follenfant, A., Légal, J. B., Marie Dit Dinard, F., & Meyer, T. (2005). Effet de l'activation de stéréotypes sur le comportement: une application en contexte sportif. Revue Européenne de Psychologie Appliquée, 55, 121–129. https://doi.org/10.1016/j.erap.2005.02.002.

Higgins, E. T. (1996). Knowledge activation: Accessibility, applicability, and salience. In E. T. Higgins & A. W. Kruglanski (Eds.), Social psychology: Handbook of basic principles (pp. 133–168). New York: The Guildford Press.

Hunter, R. E. (1999). Skiing injuries. The American Journal of Sports Medicine, 27(3), 381–389. https://doi.org/10.1177/03635465990270032101.

Janiszewski, C., & Wyer, R. S. (2014). Content and process priming: A review. Journal of Consumer Psychology, 24(1), 96–118. https://doi.org/10.1016/j.jcps.2013.05.006.

Papies, E. K., & Hamstra, P. (2010). Goal priming and eating behavior: Enhancing self-regulation by environmental cues. Health Psychology, 29(4), 384–388. https://doi.org/10.1037/a0019877.

Paquette, L., Lacourse, E., & Bergeron, J. (2009). Construction d'une échelle de prise de risques et validation auprès d'adolescents(es) pratiquant un sport alpin de glisse. Revue Canadienne des Sciences du Comportement, 41(3), 133–142. https://doi.org/10.1037/a0015256.

Ruedl, G., Kopp, M., Sommersacher, R., Woldrich, T., & Burtscher, M. (2013). Factors associated with injuries occurred on slope intersections and in snow parks compared to on-slope injuries. Accident Analysis and Prevention, 50, 1221–1225. https://doi.org/10.1016/j.aap.2012.09.019.

Sheeran, P., Gollwitzer, P. M., & Bargh, J. A. (2013). Nonconscious processes and health. Health Psychology, 32(5), 460–473. https://doi.org/10.1037/a0029203.

Turner, C., McClure, R., & Pirozzo, S. (2004). Injury and risk-taking behavior—A systematic review. Accident Analysis and Prevention, 36(1), 93–101. https://doi.org/10.1016/S0001-4575(02)00131-8.

Webb, T. L., & Sheeran, P. (2006). Does changing behavioral intentions engender behavior change? A meta-analysis of the experimental evidence. Psychological Bulletin, 132(2), 249–268. https://doi.org/10.1037/0033-2909.132.2.249.

Wilde, G. J. S. (1998). Risk homeostasis theory: An overview. Injury Prevention, 4, 89–91. https://doi.org/10.1136/ip.4.2.89.
Acknowledgements
This research was funded by the Société des Trois Vallées, the Fédération Nationale de la Sécurité et des Secours sur les Domaines Skiables, and the Assemblée des Pays de Savoie.
Ethics declarations
Conflict of Interest
The authors declare that they have no conflicts of interest.
About this article
Cite this article
Pinelli, M., Pellissier, S. & Bry, C. The Impact of Priming on Speed Reduction on a Ski Slope. J Primary Prevent 39, 483–489 (2018). https://doi.org/10.1007/s10935-018-0521-z
Published:

Issue Date:

DOI: https://doi.org/10.1007/s10935-018-0521-z
Keywords