Abstract
In response to U.S. federal mandates to increase the presence of underrepresented populations in prevention research, investigators have increasingly focused on using culturally sensitive research practices. However, scholars have rarely discussed these practices in terms of a larger culturally sensitive framework. Further, while the literature has explored how culturally sensitive approaches can be employed in a variety of methods, there has been little examination of how to incorporate such approaches into experimental designs. In this paper, we explain how we incorporated a culturally sensitive framework in a cluster randomized field trial with over 3000 predominantly low-income Latino families, utilizing an intervention designed to improve social relations and enhance family functioning. We offer conceptual and practical examples to guide other researchers who want to adopt a similar approach in their research designs. In addition, we discuss the benefits of forging local partnerships throughout the research process to ensure respect for racial and ethnic minorities participating in social and behavioral experimental studies. We conclude with practical considerations for utilizing a culturally sensitive framework to advance prevention programs, policies, and practices among underrepresented groups in order to achieve the ultimate goal of addressing the traditional underrepresentation of racial and ethnic minorities in research.
Access options
Buy single article
Instant access to the full article PDF.
USD 39.95
Price includes VAT (USA)
Tax calculation will be finalised during checkout.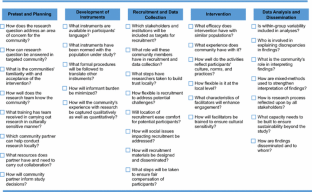 Notes
1.

2.

3.

4.

Issues around fidelity, adaptation, and implementation continue to be a pressing concern in prevention research. We recognize the long-standing debates and the contention surrounding these issues. A central question among these debates is whether interventions maintain fidelity once adapted. Chambers and Norton (2016) argue, however, that the process of adapting an intervention, testing, and making further adaptions represents an incremental approach to science that is least helpful for quickly turning research into practice. The FAST program is flexible in that 60% of the components are adaptable to the local context and 40% are core and invariant to context. Our research team drilled down even further into the components of FAST to identify how the core components build and enhance parental social relationship that can be implemented in other schools without adoption of the FAST program (see Shoji et al., 2014).
References
Aisenberg, E. (2008). Evidence-based practice in mental health care to ethnic minority communities: Has its practice fallen short of its evidence? Social Work, 53(4), 297–306. doi:10.1093/sw/53.4.297.

APA. (2003). Guidelines on multicultural education, training, research, practice, and organizational change for psychologists. American Psychologist, 58(5), 377–402. doi:10.1037/0003-066X.58.5.377.

Barrera, M., Berkel, C., & Castro, F. G. (2016). Directions for the advancement of culturally adapted preventive interventions: Local adaptations, engagement, and sustainability. Prevention Science. doi:10.1007/s11121-016-0705-9.

Barrera, M., Castro, F. G., & Holleran Steiker, L. K. (2011). A Critical analysis of approaches to the development of preventive interventions for subcultural groups. American Journal of Community Psychology, 48(3), 439–454. doi:10.1007/s10464-010-9422-x.

Bernal, G., & Sáez-Santiago, E. (2006). Culturally centered psychosocial interventions. Journal of Community Psychology, 34(2), 121–132. doi:10.1002/jcop.20096.

Bond, L. A., & Carmola Hauf, A. M. (2007). Community-based collaboration: An overarching best practice in prevention. The Counseling Psychologist, 35(4), 567–575. doi:10.1177/0011000006296159.

Braunstein, J. B., Sherber, N. S., Schulman, S. P., Ding, E. L., & Powe, N. R. (2008). Race, medical researcher distrust, perceived harm, and willingness to participate in cardiovascular prevention trials. Medicine, 87(1), 1. doi:10.1097/MD.0b013e3181625d78.

Burnette, C. E., Sanders, S., Butcher, H. K., & Rand, J. T. (2014). A toolkit for ethical and culturally sensitive research: An application with indigenous communities. Ethics and Social Welfare, 8(4), 364–382. doi:10.1080/17496535.2014.885987.

Cabassa, L. J., & Baumann, A. A. (2013). A two-way street: Bridging implementation science and cultural adaptations of mental health treatments. Implementation Science, 8(1), 90. doi:10.1186/1748-5908-8-90.

Castro, F. G., Barrera, M., & Holleran Steiker, L. K. (2010). Issues and challenges in the design of culturally adapted evidence-based interventions. Annual Review of Clinical Psychology, 6(1), 213–239. doi:10.1146/annurev-clinpsy-033109-132032.

Castro, F. G., Barrera, M., & Martinez, C. R. (2004). The cultural adaptation of prevention interventions: Resolving tensions between fidelity and fit. Prevention Science, 5(1), 41–45. doi:10.1023/B:PREV.0000013980.12412.cd.

Chambers, D. A., & Norton, W. E. (2016). The Adaptome: Advancing the science of intervention adaptation. American Journal of Preventive Medicine, 51(4, Supplement 2), S124–S131. doi:10.1016/j.amepre.2016.05.011.

Clark, M. J. (2012). Cross-cultural research: Challenge and competence. International Journal of Nursing Practice, 18, 28–37. doi:10.1111/j.1440-172X.2012.02026.x.

Constantine, M. G., & Sue, D. W. (2005). The American Psychological Association's guidelines on multicultural education, training, research, practice, organizational psychology: Initial development and summary. In M. G. Constantine & D. W. Sue (Eds.), Strategies for building multicultural competence in mental health and educational settings. Hoboken: Wiley.

Dillman Carpentier, F. R., Mauricio, A. M., Gonzales, N. A., Millsap, R. E., Meza, C. M., Dumka, L. E., et al. (2007). Engaging Mexican origin families in a school-based preventive intervention. The Journal of Primary Prevention, 28(6), 521–546. doi:10.1007/s10935-007-0110-z.

Fiel, J. E., Haskins, A. R., & Turley, R. N. L. (2013). Reducing school mobility: A randomized trial of a relationship-building intervention. American Educational Research Journal, 50(6), 1188–1218. doi:10.3102/0002831213499962.

Ford, C. L., & Airhihenbuwa, C. O. (2010). Critical race theory, race equity, and public health: Toward antiracism praxis. American Journal of Public Health, 100(S1), S30–S35. doi:10.2105/AJPH.2009.171058.

Gamoran, A., Turley, R. N. L., Turner, A., & Fish, R. (2012). Differences between Hispanic and non-Hispanic families in social capital and child development: First-year findings from an experimental study. Research in Social Stratification and Mobility, 30(1), 97–112. doi:10.1016/j.rssm.2011.08.001.

Gordon, E. W. (1997). Task force on the role and future of minorities American Educational Research Association. Educational Researcher, 26(3), 44–52. doi:10.2307/1176438.

Guerra, N. G., & Knox, L. (2008). How culture impacts the dissemination and implementation of innovation: A case study of the Families and Schools Together program (FAST) for preventing violence with immigrant Latino youth. American Journal of Community Psychology, 41(3), 304–313. doi:10.1007/s10464-008-9161-4.

Israel, B. A., Eng, E., Schulz, A., & Parker, E. A. (Eds.). (2005). Introduction to methods for CPBR for health. San Francisco, CA: Jossey-Bass.

Kingston, B., Bacallao, M., Smokowski, P., Sullivan, T., & Sutherland, K. (2016). Constructing "packages" of evidence-based programs to prevent youth violence: Processes and illustrative examples from the CDC's youth violence prevention centers. The Journal of Primary Prevention, 37(2), 141–163. doi:10.1007/s10935-016-0423-x.

Kratochwill, T. R., McDonald, L., Levin, J. R., Young Bear-Tibbetts, H., & Demaray, M. K. (2004). Families and schools together: An experimental analysis of a parent-mediated multi-family group program for American Indian children. Journal of School Psychology, 42(5), 359–383. doi:10.1016/j.jsp.2004.08.001.

Kumpfer, K. L., Alvarado, R., Smith, P., & Bellamy, N. (2002). Cultural sensitivity and adaptation in family-based prevention interventions. Prevention Science, 3(3), 241–246. doi:10.1023/A:1019902902119.

Lareau, A. (2009). Narrow questions, narrow answers: The limited value of randomized controlled trials for education research. In P. B. Walters, A. Lareau, & S. H. Ranis (Eds.), Education research on trial: Policy reform and the call for scientific rigor. New York, NY: Routledge.

Lau, A. S., Chang, D. F., & Okazaki, S. (2010). Methodological challenges in treatment outcome research with ethnic minorities. Cultural Diversity and Ethnic Minority Psychology, 16(4), 573–580. doi:10.1037/a0021371.

Lauricella, M., Valdez, J. K., Okamoto, S. K., Helm, S., & Zaremba, C. (2016). Culturally grounded prevention for minority youth populations: A systematic review of the literature. The Journal of Primary Prevention, 37(1), 11–32. doi:10.1007/s10935-015-0414-3.

Magaña, S. M. (2000). Mental retardation research methods in Latino communities. Mental Retardation, 38(4), 303–315. doi:10.1352/0047-6765.

McFadyen, M. A., & Cannella, A. A. (2004). Social capital and knowledge creation: Diminishing returns of the number and strength of exchange relationships. Academy of Management Journal, 47(5), 735–746. doi:10.2307/20159615.

Okamoto, S. K., Kulis, S., Marsiglia, F. F., Holleran Steiker, L. K., & Dustman, P. (2014). A continuum of approaches toward developing culturally focused prevention interventions: From adaptation to grounding. The Journal of Primary Prevention, 35(2), 103–112. doi:10.1007/s10935-013-0334-z.

Padilla, A. M. (2004). Quantitative methods in multicultural education research. In J. A. Banks & C. A. McGee Banks (Eds.), Handbook of research on multicultural education. San Francisco: Jossey-Bass.

Peña, E. D. (2007). Lost in translation: Methodological considerations in cross-cultural research. Child Development, 78(4), 1255–1264. doi:10.2307/4620701.

Quinn, S. C., Butler, J., Fryer, C. S., Garza, M. A., Kim, K. H., Ryan, C., et al. (2012). Attributes of researchers and their strategies to recruit minority populations: Results of a national survey. Contemporary Clinical Trials, 33(6), 1231–1237. doi:10.1016/j.cct.2012.06.011.

Reich, S. M., & Reich, J. A. (2006). Cultural competence in interdisciplinary collaborations: A method for respecting diversity in research partnerships. American Journal of Community Psychology, 38(1), 51–62. doi:10.1007/s10464-006-9064-1.

Rencher, W. C., & Wolf, L. E. (2013). Redressing past wrongs: Changing the common rule to increase minority voices in research. American Journal of Public Health, 103(12), 2136–2140. doi:10.2105/AJPH.2013.301356.

Resnicow, K., Soler, R., Braithwaite, R. L., Asluwalia, J. S., & Butler, J. (2000). Cultural sensitivity in substance use prevention. Journal of Community Psychology, 28(3), 271–290. doi:10.1002/(SICI)1520-6629(200005)28:3<271:AID-JCOP4>3.0.CO;2-I.

Rogler, L. H. (1989). The meaning of culturally sensitive research in mental health. The American Journal of Psychiatry, 146(3), 296–303.

Sampson, R. J., Morenoff, J. D., & Felton, E. (1999). Beyond social capital: Spatial dynamics of collective efficacy for children. American Sociological Review, 64(5), 633–660. doi:10.2307/2657367.

Shavers, V. L., Lynch, C. F., & Burmeister, L. F. (2002). Racial differences in factors that influence the willingness to participate in medical research studies. Annals of Epidemiology, 12(4), 248–256. doi:10.1016/S1047-2797(01)00265-4.

Shoji, M. N., Haskins, A. R., Rangel, D. E., & Sorensen, K. N. (2014). The emergence of social capital in low-income Latino elementary schools. Early childhood research quarterly, 29(4), 600–613. doi:10.1016/j.ecresq.2014.07.003.

Sperber, A. D. (2004). Translation and validation of study instruments for cross-cultural research. Gastroenterology, 126(Supplement 1), S124–S128. doi:10.1053/j.gastro.2003.10.016.

Spoth, R. L., Kavanagh, K. A., & Dishion, T. J. (2002). Family-centered preventive intervention science: Toward benefits to larger populations of children, youth, and families. Prevention Science, 3(3), 145–152. doi:10.1023/a:1019924615322.

Stoecker, R. (1999). Are academics irrelevant? American Behavioral Scientist, 42(5), 840–854. doi:10.1177/00027649921954561.

Tillman, L. C. (2002). Culturally sensitive research approaches: An African-American perspective. Educational Researcher, 31(9), 3–12. doi:10.2307/3594490.

Valdez, C. R., Lewis Valentine, J., & Padilla, B. (2013a). 'Why we stay': Immigrants' motivations for remaining in communities impacted by anti-immigration policy. Cultural Diversity and Ethnic Minority Psychology, 19(3), 279–287. doi:10.1037/a0033176.

Valdez, C. R., Mills, M. T., Bohlig, A. J., & Kaplan, D. (2013b). The role of parental language acculturation in the formation of social capital: Differential effects on high-risk children. Child Psychiatry and Human Development, 44(2), 334–350. doi:10.1007/s10578-012-0328-8.

Valenzuela, A. (2010). Subtractive schooling: US-Mexican youth and the politics of caring. Albany: SUNY Press.

Whitbeck, L. B. (2006). Some guiding assumptions and a theoretical model for developing culturally specific preventions with Native American people. Journal of Community Psychology, 34(2), 183–192. doi:10.1002/jcop.20094.

Wild, D., Grove, A., Martin, M., Eremenco, S., McElroy, S., Verjee-Lorenz, A., et al. (2005). Principles of good practice for the translation and cultural adaptation process for patient-reported outcomes (pro) measures: Report of the ISPOR task force for translation and cultural adaptation. Value in Health, 8(2), 94–104. doi:10.1111/j.1524-4733.2005.04054.x.

Yancey, A. K., Ortega, A. N., & Kumanyika, S. K. (2006). Effective recruitment and retention of minority research participants. Annual Review of Public Health, 27(1), 1–28. doi:10.1146/annurev.publhealth.27.021405.102113.
Acknowledgements
This research was supported by grants from the National Institute of Child Health and Human Development [R01HD051762-01A2], the Institute of Education Sciences U.S. Department of Education [R305B090009], and the Ford Foundation. Many thanks to Drs. Adam Gamoran, Ruth N. López Turley, Monique Mills, and Sandy Magaña who read previous versions of the manuscript. The contents herein are solely the responsibility of the authors and do not necessarily represent the official views of the supporting agencies. Authors' names are in alphabetical order, with both contributing equally to the article.
Ethics declarations
Conflict of Interest
The authors declare they have no conflicts of interest.
About this article
Cite this article
Rangel, D.E., Valdez, C.R. A Culturally Sensitive Approach to Large-Scale Prevention Studies: A Case Study of a Randomized Controlled Trial With Low-Income Latino Communities. J Primary Prevent 38, 627–645 (2017). https://doi.org/10.1007/s10935-017-0487-2
Keywords
Latinos

Prevention research

Culturally-sensitive research

Randomized controlled trials

FAST