Abstract
A movement from medical to recreational marijuana use allows for a larger base of potential users who have easier access to marijuana, because they do not have to visit a physician before using marijuana. This study examines whether changes in the density of marijuana outlets were related to violent, property, and marijuana-specific crimes in Denver, CO during a time in which marijuana outlets began selling marijuana for recreational, and not just medical, use. We collected data on locations of crimes, marijuana outlets and covariates for 481 Census block groups over 34 months (N = 16,354 space–time units). A Bayesian Poisson space–time model assessed statistical relationships between independent measures and crime counts within "local" Census block groups. We examined spatial "lag" effects to assess whether crimes in Census block groups adjacent to locations of outlets were also affected. Independent of the effects of covariates, densities of marijuana outlets were unrelated to property and violent crimes in local areas. However, the density of marijuana outlets in spatially adjacent areas was positively related to property crime in spatially adjacent areas over time. Further, the density of marijuana outlets in local and spatially adjacent blocks groups was related to higher rates of marijuana-specific crime. This study suggests that the effects of the availability of marijuana outlets on crime do not necessarily occur within the specific areas within which these outlets are located, but may occur in adjacent areas. Thus studies assessing the effects of these outlets in local areas alone may risk underestimating their true effects.
This is a preview of subscription content, log in to check access.
Access options
Buy single article
Instant access to the full article PDF.
US$ 39.95
Price includes VAT for USA
Subscribe to journal
Immediate online access to all issues from 2019. Subscription will auto renew annually.
US$ 99
This is the net price. Taxes to be calculated in checkout.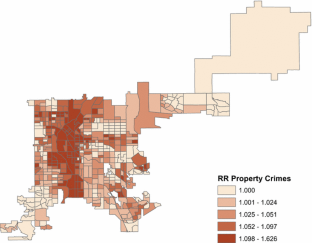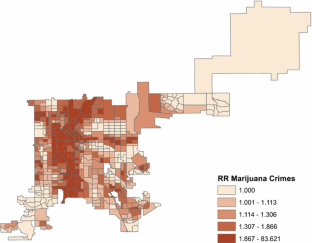 References
Banerjee, A., LaScala, E., Gruenewald, P. J., Freisthler, B., Treno, A., & Remer, L. G. (2008). Social disorganization, alcohol and other drug markets and violence: A space-time model of community structure. In Y. F. Thomas, D. Richardson, & I. Cheung (Eds.), Geography and drug addiction (pp. 117–130). New York, NY: Springer.

Besag, J., York, J., & Mollie, A. (1991). Bayesian image restoration, with two applications in spatial statistics. Annals of the Institute of Statistical Mathematics, 43, 1–59. doi:10.1007/BF00116466.

Blevins, J. (2015). Marijuana has huge influence on Colorado, state survey says. Accessed December 17, 2015. http://www.denverpost.com/business/ci_29225304/marijuana-has-huge-influence-colorado-tourism-state-survey.

California Police Chief's Association Task Force on Marijuana Dispensaries. (2009). White Paper on Marijuana Dispensaries [report online]. Sacramento, CA: California Police Chief's Assn (Archived at http://www.webcitation.org/6cyAkuGoi).

Carlin, B. P., & Louis, T. A. (2004). Bayes and empirical Bayes methods for data analysis (2nd ed.). New York: Chapman & Hall.

Cohen, L., & Felson, M. (1979). Social change and crime rate trends: A routine activity approach. American Sociological Review, 44, 588–608.

Freisthler, B., Kepple, N. J., Sims, R., & Martin, S. E. (2013). Evaluating medical marijuana dispensary policies: Spatial methods for the study of environmentally-based interventions. American Journal of Community Psychology, 51, 278–288. doi:10.1007/s10464-012-9542-6.

Freisthler, B., Ponicki, W. R., Gaidus, A., & Gruenewald, P. J. (2016). A micro-temporal geospatial analysis of medical marijuana dispensaries and crime in Long Beach, California. Addiction, 111(6), 1027–1035. doi:10.1111/add.13301.

Geolytics, Inc. (2015). Estimates premium. East Brunswick, NJ: Geolytics Inc.

Glensor, R. W., & Peak, K. (2004). Crimes against Tourists. Washington, DC: Office of Community Oriented Policing Services.

Goldstein, P. J. (1998). Drugs, violence, and federal funding: A research odyssey. Substance Use and Misuse, 33, 1915–1936.

Greenbaum, R., & Tita, G. (2004). The impact of violence surges on neighbourhood business activity. Urban Studies, 41(13), 2495–2514. doi:10.1080/0042098042000294538.

Jean, P. K. S. (2008). Pockets of crime: Broken windows, collective efficacy, and the criminal point of view. Chicago: University of Chicago Press.

Kepple, N. J., & Freisthler, B. (2012). Exploring the ecological association between crime and medical marijuana dispensaries. Journal of Studies on Alcohol and Drugs, 73, 523–530.

Lord, D., Washington, S. P., & Ivan, J. N. (2005). Poisson, Poisson-Gamma and zero inflated regression models of motor vehicle crashes: Balancing statistical fit and theory. Accident Analysis and Prevention, 37, 35–46. doi:10.1016/j.aap.2004.02.004.

Lunn, D. J., Thomas, A., Best, N., & Spiegelhalter, D. (2000). WinBUGS—A Bayesian modelling framework: Concepts, structure, and extensibility. Statistics and Computing, 10, 325–337. doi:10.1023/A:1008929526011.

Mair, C., Freisthler, B., Ponicki, W. R., & Gaidus, A. (2015). The impacts of medical dispensary and neighborhood ecology on marijuana abuse and dependence. Drug and Alcohol Dependence, 154, 111–116. doi:10.1016/j.drugalcdep.2015.06.019.

Morris, R. G., TenEyck, M., Barnes, J. C., & Kovandzic, T. V. (2014). The effect of medical marijuana laws on crime: Evidence from state panel data, 1990–2006. PLoS ONE, 9, e92816. doi:10.1371/journal.pone.0092816.

Pacula, R. L., Powell, D., Heaton, P., & Sevigny, E. L. (2015). Assessing the effects of medical marijuana laws on marijuana and alcohol use: The devil is in the details. Journal of Policy Analysis and Management, 34(1), 7–31. doi:10.1002/pam.21804.

Pew Research Center. (2014). Beyond Red vs. Blue: The political typology. Accessed online December 30, 2014 at http://www.people-press.org/files/2014/06/6-26-14-Political-Typology-release1.pdf.

Reed, J. K., Hilkey, S., Smith, J. M., & English, K. (2016). Marijuana legalization in Colorado: Early findings; A report Pursuant to Senate Bill 13-283. Accessed online July 1, 2016 at http://cdpsdocs.state.co.us/ors/docs/reports/2016-SB13-283-Rpt.pdf.

Tita, G., & Griffiths, E. (2005). Traveling to violence: The case for a mobility-based spatial typology of homicide. Journal of Research in Crime and Delinquency, 42, 275–308. doi:10.1177/0022427804270051.

Waller, L. A., & Gotway, C. A. (2004). Applied spatial statistics for Public Health. New York, NY: John Wiley.

Wright, R. T., & Decker, S. H. (2011). Armed robbers in action: Stickups and street culture. Lebanon, NH: University Press of New England.
Acknowledgements
This project was supported by Grant No. P60-AA-006282 from the National Institute on Alcohol Abuse and Alcoholism and Grant No. R01-DA032715 from the National Institute on Drug Abuse. The content is solely the responsibility of the authors and does not necessarily represent the National Institute on Alcohol Abuse and Alcoholism, the National Institute on Drug Abuse or the National Institutes of Health.
Ethics declarations
Conflict of Interest
The authors declare they have no conflicts of interest.
Human and Animal Rights
This article does not contain any studies with human participants or animals performed by any of the authors.
About this article
Cite this article
Freisthler, B., Gaidus, A., Tam, C. et al. From Medical to Recreational Marijuana Sales: Marijuana Outlets and Crime in an Era of Changing Marijuana Legislation. J Primary Prevent 38, 249–263 (2017). https://doi.org/10.1007/s10935-017-0472-9
Keywords
Marijuana outlets

Violent crime

Property crime