Abstract
Aggressive behaviors in schools have the potential to cause serious harm to students' emotional and social well-being and to limit their ability to achieve their full academic potential. Prevention programs developed to reduce children's aggressive behaviors in school settings can provide interventions at a universal or targeted level. The main aim of our randomized control study was to examine the efficacy of Coping Power, adapted as a universal prevention program, in reducing children's behavioral problems and improving school grades. Nine classes participated (184 students, mean age 91 months) from two elementary state schools in Tuscany, Italy. Study findings showed a significant reduction in behavioral problems and an improvement in school grades for the intervention classes relative to the control classes. This study suggests the Coping Power program can be delivered in school settings at both universal and targeted prevention levels, and that in this multi-tiered prevention model, teachers, educators and school psychologists can learn a set of intervention skills which can be delivered with flexibility, thus reducing some of the complexity and costs of schools using multiple interventions.
This is a preview of subscription content, log in to check access.
Access options
Buy single article
Instant access to the full article PDF.
US$ 39.95
Price includes VAT for USA
Subscribe to journal
Immediate online access to all issues from 2019. Subscription will auto renew annually.
US$ 99
This is the net price. Taxes to be calculated in checkout.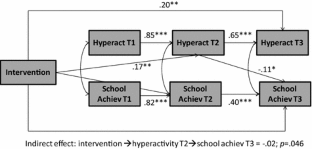 References
August, G. J., Hektner, J. M., Egan, E. A., Realmuto, G. M., & Bloomquist, M. L. (2002). The early risers longitudinal prevention trial: Examination of 3-year outcomes in aggressive children with intent to treat and as intended analyses. Psychology of Addictive Behaviors, 16, 27–39.

Bradshaw, C. P., Zmuda, J. H., Kellam, S. G., & Ialongo, N. S. (2009). Longitudinal impact of two universal preventive interventions in first grade on educational outcomes in high school. Journal of Educational Psychology, 101, 926–937.

Chen, X., Huang, X., Chang, L., Wang, L., & Li, D. (2010). Aggression, social competence, and academic achievement in Chinese children: A 5-year longitudinal study. Development and Psychopathology, 22, 583–592.

Conduct Problems Prevention Research Group. (2002). Evaluation of the first three years of the Fast Track prevention trial with children at high risk for adolescent conduct problems. Journal of Abnormal Child Psychology, 30, 19–35.

Conduct Problems Prevention Research Group. (2013). School outcomes of aggressive disruptive children: Prediction from kindergarten risk factors and impact of the fast track prevention program. Aggressive Behavior, 39, 114–130.

Dodge, K. A. (2011). Context matters in child and family policy. Child Development, 82, 433–442.

Dodge, K. A., Greenberg, M. T., Malone, P. S., & Conduct Problems Prevention Research Group. (2008). Testing an idealized dynamic cascade model of the development of serious violence in adolescence. Child Development, 79, 1907–1927.

Durlak, J. A., Weissberg, R. P., Dymnicki, A. B., Taylor, R. D., & Schellinger, K. B. (2011). The impact of enhancing students' social and emotional learning: A meta analysis of school based universal interventions. Child Development, 82, 405–432.

Flay, B. R., Biglan, A., Boruch, R. F., Castro, F. G., Gottfredson, D., Kellam, S., et al. (2005). Standards of evidence: Criteria for efficacy, effectiveness and dissemination. Prevention Science, 6, 151–175.

Forman, S. G., & Barakat, N. M. (2011). Cognitive-behavioral therapy in the schools: Bringing research to practice through effective implementation. Psychology in the Schools, 48, 283–296.

Frey, K. S., Hirschstein, M. K., Snell, J. L., Van Schoiack Edstrom, L., MacKenzie, E. P., & Broderick, C. J. (2005). Reducing playground bullying and supporting beliefs: An experimental trial of the steps to respect program. Developmental Psychology, 41, 479–491.

Goodman, R. (1997). The Strengths and Difficulties Questionnaire: A research note. Journal of Child Psychology and Psychiatry, 38, 581–586.

Greenberg, M. T., Kusche, C. A., Cook, E. T., & Quamma, J. P. (1995). Promoting emotional competence in school-aged children: The effects of the PATHS curriculum. Developmental Psychopathology, 7, 117–136.

Kellam, S. G., Brown, C. H., Poduska, J., Ialongo, N., Wang, W., Toyimbo, P., et al. (2008). Effects of a universal classroom behavior management program in first and second grades on young adult behavioral, psychiatric, and social outcomes. Drug Alcohol Dependendance, 95, 5–28.

Kokko, K., Tremblay, R. E., Lacourse, E., Nagin, D. S., & Vitaro, F. (2006). Trajectories of prosocial behavior and physical aggression in middle childhood: Links to adolescent school dropout and physical violence. Journal of Research on Adolescence, 16, 403–428.

Lamarche, V., Brendgen, M., Boivin, M., Vitaro, F., Pérusse, D., & Dionne, G. (2006). Do friendships and sibling relationships provide protection against peer victimization in a similar way? Social Development, 15, 373–393.

Lochman, J. E., Baden, R. E., Boxmeyer, C. L., Powell, N. P., Qu, L., Salekin, K. L., & Windle, M. (2014). Does a booster intervention augment the preventive effects of an abbreviated version of the Coping Power program for aggressive children? Journal of Abnormal Child Psychology, 42, 367–381.

Lochman, J. E., Boxmeyer, C. L., Powell, N. P., Qu, L., Wells, K., & Windle, M. (2012). Coping Power dissemination study: Intervention and special education effects on academic outcomes. Behavioral Disorders, 37, 192–205.

Lochman, J. E., & Lenhart, L. A. (1993). Anger coping intervention for aggressive children: Conceptual models and outcome effects. Clinical Psychology Review, 13, 785–805.

Lochman, J. E., & Wells, K. C. (2002). The Coping Power program at the middle-school transition: Universal and indicated prevention effects. Psychology of Addictive Behaviors, 16, 40–54.

Lochman, J. E., & Wells, K. C. (2004). The Coping Power program for preadolescent aggressive boys and their parents: Outcome effects at the 1-year follow-up. Journal of Consulting and Clinical Psychology, 72, 571–578.

Malecki, C., & Elliot, S. N. (2002). Children's social behaviors as predictors of academic achievement: A longitudinal analysis. School Psychology Quarterly, 17, 1–23.

Muratori, P., Bertacchi, I., Giuli, C., Lombardi, L., Bonetti, S., Nocentini, A., et al. (2015a). First adaptation of Coping Power program as a classroom-based prevention intervention on aggressive behaviors among elementary school children. Prevention Science, 16, 432–439.

Muratori, P., Milone, A., Manfredi, A., Polidori, L., Ruglioni, L., Lambruschi, F., et al. (2015b). Evaluation of improvement in externalizing behaviors and callous-unemotional traits in children with disruptive behavior disorder: A 1-year follow up clinic-based study. Administration and Policy In Mental Health. doi:10.1007/s10488-015-0660-y.

Muthén, L. K., & Muthén, B. O. (2010). Mplus user's guide (6th ed.). Los Angeles: Muthén & Muthén.

Mytton, J. A., DiGuiseppi, C., Gough, D., Taylor, R. S., & Logan, S. (2006). School-based secondary prevention programmes for preventing violence. Cochrane Database Systematic Reviews. doi:10.1002/14651858.CD004606.pub2.

Menesini E., & Nocentini, A. (2015). Effects of the KiVa antibullying program in Italy: Results from the first randomized control trial. In 17th European conference on developmental psychology, 8–12 September, University of Minho, Braga, Portugal.

Reddy, L. A., Newman, E., De Thomas, C. A., & Chun, V. (2009). Effectiveness of school-based prevention and intervention programs for children and adolescents with emotional disturbance: A meta-analysis. Journal of School Psychology, 47, 77–99.

Riggs, N. R., Greenberg, M. T., Kusché, C. A., & Pentz, M. A. (2006). The mediational role of neurocognition in the behavioral outcomes of a social-emotional prevention program in elementary school students: Effects of the PATHS curriculum. Prevention Science, 7, 91–102.

Smith, S., Daunic, A., Barber, B., Aydin, B., Van Loan, C., & Taylor, G. (2014). Preventing risk for significant behavior problems through a cognitive-behavioral intervention: Effects of the tools for getting along curriculum at one-year follow-up. Journal of Primary Prevention, 10, 371–387.

Stone, L. L., Otten, R., Engels, R. C., Vermulst, A. A., & Janssen, J. M. (2010). Psychometric properties of the parent and teacher versions of the Strengths and Difficulties Questionnaire for 4- to 12-years-olds: A review. Clinical Child and Family Psychology Review, 13, 254–274.

Sundell, K., Ferrer-Wreder, L., & Fraser, M. W. (2014). Going global: A model for evaluating empirically supported family-based interventions in new contexts. Evaluation and the Health Professions, 37, 203–230.

Swaim, R. C., Henry, K. L., & Kelly, K. (2006). Predictor of aggressive behaviour among rural middle school youth. The Journal of Primary Prevention, 27, 229–243.

Tilly, W. D. (2008). The evolution of school psychology to science-based practice: Problem solving and the three-tiered model. In A. Thomas & J. Grimes (Eds.), Best practices in school psychology V (pp. 17–36). Washington, DC: National Association of School Psychologists.

Tobia, V., Gabriele, M. A., & Marzocchi, G. M. (2011). Norme italiane dello Strengths and Difficulties Questionnaire (SDQ): Il comportamento dei bambini italiani valutato dai loro insegnanti. Disturbi di Attenzione e Iperattività, 6, 167–174.

Winther, J., Carlsson, A., & Vance, A. (2014). A pilot study of a school-based prevention and early intervention program to reduce oppositional defiant disorder/conduct disorder. Early Intervention in Psychiatry, 8, 181–189.
Ethics declarations
Conflict of Interest
All authors do not have any conflicts of interest to declare.
About this article
Cite this article
Muratori, P., Bertacchi, I., Giuli, C. et al. Coping Power Adapted as Universal Prevention Program: Mid Term Effects on Children's Behavioral Difficulties and Academic Grades. J Primary Prevent 37, 389–401 (2016). https://doi.org/10.1007/s10935-016-0435-6
Keywords
Aggressive behavior

Hyperactivity

Prosocial behavior

School