Abstract
How do Mexican immigrant adolescents balance different, and often oppositional, cultural influences in the acculturation process? In this article, we explore how acculturating adolescents absorb cultural messages and go about creating their (multiple) identities. Guided by Alternation Theory, in-depth qualitative interviews were conducted with 12 undocumented Mexican adolescents and 14 of their parents who had immigrated to North Carolina within the past 7 years. All of the families had adolescent children who were born in Mexico. At least one parent and one adolescent from each family were interviewed. Interviewing multiple family members allowed us to examine how bicultural development progressed differently for various family members, and how the whole family balanced between cultural systems. Mexican parents and adolescents were acculturating while trying to resist assimilation pressures. They maintained strong Mexican identities that were preserved by practicing Mexican customs, values, and traditions in their homes and churches. Meeting U.S. cultural and linguistic demands at work and in school placed Mexican parents and adolescents between the two cultural systems. This prompted adolescents and parents to integrate some U.S. customs, language, or social behaviors into their daily lives, increasing bilingualism and, in some cases, biculturalism.
Access options
Buy single article
Instant access to the full article PDF.
US$ 39.95
Tax calculation will be finalised during checkout.
Subscribe to journal
Immediate online access to all issues from 2019. Subscription will auto renew annually.
US$ 79
Tax calculation will be finalised during checkout.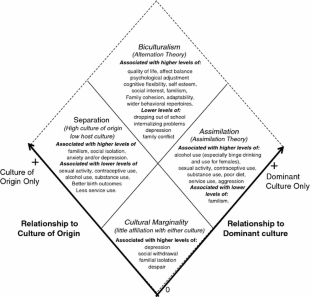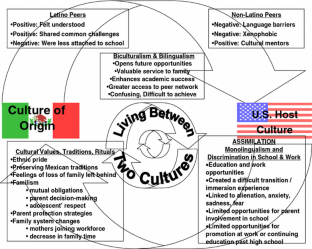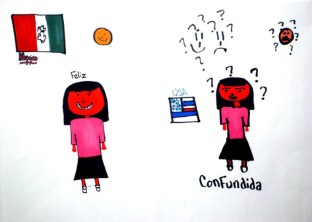 References
Bacallao, M. L., & Smokowski, P. R. (2005). Entre Dos Mundos (Between Two Worlds) Bicultural Skills Training and Latino immigrant families. The Journal of Primary Prevention, 26, 485–509. doi:10.1007/s10935-005-0008-6.

Bacallao, M. L., & Smokowski, P. R. (2007). The costs of getting ahead: Mexican family systems after immigration. Family Relations, 56, 52–66. doi:10.1111/j.1741-3729.2007.00439.x.

Bacallao, M. L., & Smokowski, P. R. (in press). Obstacles to getting ahead: How assimilation mechanisms impact Mexican immigrant families. Journal of Health & Social Policy.

Berry, J. W. (1998). Acculturation stress. In P. Balls Organista, K. M. Chun, & G. Marin (Eds.), Readings in ethnic psychology (pp. 117–122). New York: Routledge.

Berry, J. W. (2001). A psychology of immigration. The Journal of Social Issues, 57, 615–631. doi:10.1111/0022-4537.00231.

Charmaz, K. (2000). Grounded theory: Objectivist and constructivist methods. In N. K. Denzin & Y. S. Lincoln (Eds.), Handbook of qualitative research (2nd ed., pp. 509–535). Thousand Oaks, CA: Sage.

Coatsworth, J. D., Maldonido-Molina, M., Pantin, H., & Szapocznik, J. (2005). A person-centered and ecological investigation of acculturation strategies in Hispanic immigrant youth. Journal of Community Psychology, 33, 157–174. doi:10.1002/jcop.20046.

Dolby, N. (2000). Changing selves: Multicultural education and the challenge of new identities. Teachers College Record, 102, 898–912. doi:10.1111/0161-4681.00083.

Ebin, V., Sneed, C., Morisky, D., Rotheram-Borus, M., Magnusson, A., & Malotte, C. K. (2001). Acculturation and interrelationships between problem and health-promoting behaviors among Latino adolescents. Journal of Adolescent Health, 28, 62–72. doi:10.1016/S1054-139X(00)00162-2.

Feliciano, C. (2001). The benefits of biculturalism: Exposure to immigrant culture and dropping out of school among Asian and Latino youths. Social Science Quarterly, 82, 865–879. doi:10.1111/0038-4941.00064.

Gil, A. G., & Vega, W. A. (1996). Two different worlds: Acculturation stress and adaptation among Cuban and Nicaraguan families. Journal of Social and Personal Relationships, 13, 435–456. doi:10.1177/0265407596133008.

Gil, A. G., Vega, W. A., & Dimas, J. M. (1994). Acculturative stress and personal adjustment among Hispanic adolescent boys. Journal of Community Psychology, 22, 43–54. doi:10.1002/1520-6629(199401)22:1<43::AID-JCOP2290220106>3.0.CO;2-T.

Gomez, M., & Fassinger, R. (1994). An initial model of Latina achievement: Acculturation, biculturalism, and achieving styles. Journal of Counseling Psychology, 41, 205–215. doi:10.1037/0022-0167.41.2.205.

Gonzales, N. A., Knight, G. P., Morgan-Lopez, A., Saenz, D., & Sirolli, A. (2002). Acculturation and the mental health of Latino youths: An integration and critique of the literature. In J. M. Contreras, K. A. Kerns, & A. M. Neal-Barnett (Eds.), Latino children and families in the United States (pp. 45–74). Westport, CT: Greenwood.

Harritatos, J., & Benet-Martinez, V. (2002). Bicultural identities: The interface of cultural, personality, and socio-cognitive processes. Journal of Research in Personality, 36, 598–606. doi:10.1016/S0092-6566(02)00510-X.

Hunt, L. M., Schneider, S., & Comer, B. (2004). Should "acculturation" be a variable in health research? A critical review of research on U.S. Hispanics. Social Science and Medicine, 59, 973–986. doi:10.1016/j.socscimed.2003.12.009.

LaFromboise, T., Coleman, H. L., & Gerton, J. (1993). Psychological impact of biculturalism: Evidence and theory. Psychological Bulletin, 114, 395–412. doi:10.1037/0033-2909.114.3.395.

Lang, J. G., Munoz, R., Bernal, G., & Sorensen, J. (1982). Quality of life and psychological well-being in a bicultural Latino community. Hispanic Journal of Behavioral Sciences, 4, 433–450. doi:10.1177/07399863820044002.

LaRossa, R. (2005). Grounded theory methods and qualitative family research. Journal of Marriage and the Family, 67, 837–857. doi:10.1111/j.1741-3737.2005.00179.x.

Miranda, A., Estrada, D., & Firpo-Jimenez, (2000). Differences in family cohesion, adaptability, and environment among Latino families in dissimilar stages of acculturation. The Family Journal, 8, 341–350. doi:10.1177/1066480700084003.

Miranda, A., & Umhoefer, D. (1998). Depression and social interest differences between Latinos in dissimilar acculturation stages. Journal of Mental Health Counseling, 20, 159–171.

Parra-Cardona, J. R., Bulock, L. A., Imig, D. R., Villarruel, F. A., & Gold, S. J. (2006). "Trabajando duro todos los dias": Learning from the experiences of Mexican-origin migrant families. Family Relations, 55, 361–375. doi:10.1111/j.1741-3729.2006.00409.x.

Patton, M. (2002). Qualitative research and evaluation methods (3rd ed.). Thousand Oaks, CA: Sage.

Rashid, H. M. (1984). Promoting biculturalism in young African American children. Young Children, 39, 13–23.

Redfield, R., Linton, R., & Herskovits, M. (1936). Memorandum for the study of acculturation. American Anthropologist, 38, 149–152. doi:10.1525/aa.1936.38.1.02a00330.

Rumberger, R. W., & Larson, K. A. (1998). Towards explaining differences in educational achievement among Mexican American language minority students. Sociology of Education, 71, 68–92. doi:10.2307/2673222.

Smokowski, P. R., & Bacallao, M. L. (2007). Acculturation, internalizing mental health symptoms, and self esteem: Cultural experiences of Latino adolescents in North Carolina. Child Psychiatry and Human Development, 7(3), 273–292. doi:10.1007/s10578-006-0035-4.

Smokowski, P. R., Chapman, M. V., & Bacallao, M. L. (2008). Acculturation risk and protective factors: Mediating and moderating processes in the development of mental health problems in Latino adolescents. Journal of Human Behavior in the Social Environment, 16, 33–55. doi:10.1300/10911350802107710.

Smokowski, P. R., David-Ferdon, C., & Bacallao, M. (2009). Acculturation and adolescent health: Moving the field forward. Journal of Primary Prevention. doi:10.1007/s10935-009-0183-y.

Smokowski, P. R., & Rose, R. (2008). Acculturation and Latino family processes: How parent-adolescent acculturation gaps influence family dynamics. Family Relations, 57, 295–308. doi:10.1111/j.1741-3729.2008.00501.x.

Stanton-Salazar, R. D., & Dornbusch, S. M. (1995). Social capital and the reproduction of inequality: Information networks among Mexican-origin high school students. Sociology of Education, 68, 116–135. doi:10.2307/2112778.

Suarez-Orozco, C., & Suarez-Orozco, M. (2001). Children of immigrants. Cambridge, MA: Harvard University Press.

Szapocznik, J., Santisteban, D., Kurtines, W., Perez-Vidal, A., & Hervis, O. (1986). Bicultural Effectiveness Training (BET): An experimental test of an intervention modality for families experiencing intergenerational/intercultural conflict. Hispanic Journal of Behavioral Sciences, 8, 303–330. doi:10.1177/07399863860084001.

Toppleberg, C. O., Medrano, L., Pena Morgens, L., & Nieto-Castanon, A. (2002). Bilingual children referred for psychiatric services: Associations of language disorders, language skills, and psychopathology. Journal of the American Academy of Child and Adolescent Psychiatry, 41, 712–722. doi:10.1097/00004583-200206000-00011.

Trueba, H. T. (2002). Multiple ethnic, racial, and cultural identities in action: From marginality to a new cultural capital in modern society. Journal of Latinos and Education, 1, 7–28. doi:10.1207/S1532771XJLE0101_2.

Trueba, E. T., & McLaren, P. (2000). Critical ethnography for the study of immigrants. In E. T. Trueba & L. I. Bartolome (Eds.), Immigrant voices: In search of educational equity (pp. 37–74). Lanham, MD: Rowman & Littlefield.

Yamada, A. M., & Singelis, T. M. (1999). Biculturalism and self construal. International Journal of Intercultural Relations, 23, 697–709. doi:10.1016/S0147-1767(99)00016-4.
Acknowledgments
The authors wish to thank the Latino families who participated in this study. This study was supported by grants from the Center for Disease Control's National Center for Injury Prevention and Control (R49/CCR42172-02) and from the Centers for Disease Control's Office of the Director (1K01 CE000496-01).
About this article
Cite this article
Bacallao, M.L., Smokowski, P.R. Entre Dos Mundos/Between Two Worlds: Bicultural Development in Context. J Primary Prevent 30, 421–451 (2009). https://doi.org/10.1007/s10935-009-0176-x
Received:

Accepted:

Published:

Issue Date:
Keywords
Adolescents

Mexicans

Family systems

Acculturation

Biculturalism