This study measured the impact of a purposeful aerobic laughter intervention on employees' sense of self-efficacy in the workplace. Participants were 33 employees of a behavioral health center. They met for 15-minute sessions on 15 consecutive workdays and engaged in a guided program of non-humor dependent laughter. The primary outcome measure was the Capabilities Awareness Profile, a self-report self-efficacy questionnaire. Employees demonstrated a significant increase in several different aspects of self-efficacy, including self-regulation, optimism, positive emotions, and social identification, and they maintained these gains at follow-up. Purposeful laughter is a realistic, sustainable, and generalizable intervention that enhances employees' morale, resilience, and personal efficacy beliefs.
This is a preview of subscription content, log in to check access.
Access options
Buy single article
Instant access to the full article PDF.
US$ 39.95
Price includes VAT for USA
Subscribe to journal
Immediate online access to all issues from 2019. Subscription will auto renew annually.
US$ 99
This is the net price. Taxes to be calculated in checkout.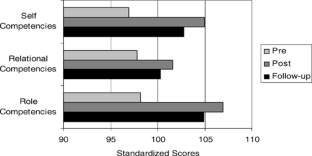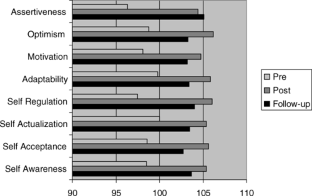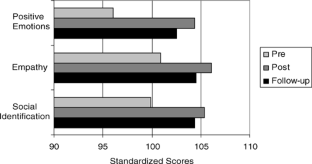 REFERENCES
Bandura, A. (1986). Social foundations of thought and action: A social cognitive theory. Englewood Cliffs, NJ: Prentice Hall.

Bandura, A. (1997). Self-efficacy: The exercise of control. New York: W. H. Freeman and Company.

Cogan, R., Cogan, D., Waltz, W., & McCue, M. (1987). Effects of laughter and relaxation on discomfort thresholds. Journal of Behavioral Medicine, 10, 139–144.

Dillon, K. M., Minchoff, B., & Baker, K. H. (1985). Positive emotional states and enhancement of the immune system. International Journal of Psychiatry in Medicine, 15, 13–17.

Fry, W. F. (1992). The physiological effects of humor, mirth, and laughter. JAMA, The Journal of the American Medical Association, 267, 1857–1858.

Goleman, D., McKee, A., & Boyatzis, R. E. (2002). Primal leadership: Realizing the power of emotional intelligence. Boston: Harvard Business School Publishing.

Hayashi, K., Hayashi, T., Iwanaga, S., Kawai, K., Ishii, H., Shoji, S., et al. (2003). Laughter lowered the increase in postprandial blood glucose. Diabetes Care, 26, 1651–1652.

Hays, L. W., Simmering, J. A., & Roth, S. (2003). The CAP manual: Attributes of the capabilities awareness profile. Newton, Kansas: Prairie View, Inc.

Kataria, M. (1999). Laugh for no reason. India: Madhuri International.

Kimata, H. (2001). Effect of humor on allergen-induced wheal reactions. JAMA, The Journal of the American Medical Association, 285, 738.

Labott, S. M., Ahleman, S., Wolever, M. E., & Martin, R. B. (1990). The physiological and psychological effects of the expression and inhibition of emotion. Behavioral Medicine, 16, 182–189.

Lefcourt, H. M., Davidson-Katz, K., & Kueneman, K. (1990). Humor and immune-system functioning. Humor, 3, 305–321.

Mahony, D. L., Burroughs, W. J., & Lippman, L. G. (2002). Perceived attributes of health-promoting laughter: A cross-generational comparison. The Journal of Psychology, 136, 171–181.

Martin, R. A. (2001). Humor, laughter, and physical health: Methodological issues and research findings. Psychological Bulletin, 127, 504–519.

Miller, M. (2005, March). Laughter helps blood vessels function better. Presentation at American College of Cardiology Scientific Session, Orlando, Florida.

Provine, R. R. (2000). Laughter: A scientific investigation. New York: Penguin Books.

Rotton, J., & Shats, M. (1996). Effects of state humor, expectancies, and choice on postsurgical mood and self-medication: A field experiment. Journal of Applied Social Psychology, 26, 1775–1794.

Salovey, P., Rothman, A. J., Detweiler, J. B., & Steward, W. T. (2000). Emotional states and physical health. American Psychologist, 55, 110–121.

Saper, B. (1988). Humor in psychiatric healing. Psychiatric Quarterly, 59, 306–319.

Solomon, J. C. (1996). Humor and aging well: A laughing matter or a matter of laughing? American Behavioral Scientist, 39, 249–271.

Stajkovic, A. D., & Luthans, F. (1998). Self-efficacy and work-related performance: A meta-analysis. Psychological Bulletin, 124, 240–261.

Weisenberg, M., Raz, T., & Hener, T. (1998). The influence of film-induced mood on pain perception. Pain, 76, 365–375.
ACKNOWLEDGMENTS
The authors would like to thank Michele Ediger for assistance with data collection and management, Ivan Williams, MBA for assistance with statistical analysis, and Shari Roth, B.A. for assistance with both data management and statistical analysis.
Appendix A
Appendix A
Subscales of the Capabilities Awareness Profile (CAP)
Self Competencies
1.

Self-Awareness: This scale assesses your awareness of your beliefs, values, expectations, needs, and feelings. It reflects your awareness of your limits and weaknesses, and your perceived ability to accept responsibility for your mistakes.

2.

Self-Acceptance: This scale describes your ability to accept both positive and negative aspects of yourself. Not being critical of yourself, experiencing confidence in yourself, feeling good about yourself, and believing in yourself are characteristics of this scale.

3.

Self-Actualization: This scale measures your ability to live up to your potential through the pursuit of challenging goals, setting high personal standards, and pursuing tasks that take you out of your comfort zone. It is associated with seeking activities and challenges that lead to a more meaningful and full life.

4.

Self-Regulation: This scale describes your perceived competence in controlling thoughts and feelings under stress. It involves the capacity to remain calm and to work effectively under pressure.

5.

Adaptability: This scale describes your ability to solve problems by being flexible, creative, and translating ideas into action. It is the ability to see the big picture, to look at situations from different viewpoints, and to prioritize problems based on their importance.

6.

Motivation: This scale indicates the strength of your ability to begin and sustain behaviors to accomplish goals. An important part of coping with stress involves perseverance, and the ability to stick with difficult situations and tasks.

7.

Optimism: This scale measures your ability to be positive and hopeful about the future even in the face of stress, setbacks, or disappointments. It reflects your capacity to look at the future with confidence and to maintain a positive attitude.

8.

Assertiveness: This scale measures your ability to express your thoughts and feelings in a nondestructive manner. It reflects your capacity to communicate ideas and feelings in straightforward ways.
Relational Competencies
1.

Social Identification: This scale assesses your perceived capacity to feel connected with others. This is manifested through a sense of belonging, acceptance, and feeling secure with others.

2.

Empathy: This scale reflects your ability to be aware of, sensitive to, and appreciative of others' thoughts and feelings. It reflects your ability to respond to others in an understanding and caring manner.

3.

Positive Emotions: This scale assesses your capacity to experience positive emotions. The ability to experience and sustain positive emotions is associated with greater satisfaction and contentment in your work and personal life. People who are able to experience and sustain positive emotional experiences tend to be healthier and live longer.
Role Competency
1.

Role Compliance: This scale describes your capacity to comply with the rules and expectations of your work or school environment.
About this article
Cite this article
Beckman, H., Regier, N. & Young, J. Effect of Workplace Laughter Groups on Personal Efficacy Beliefs. J Primary Prevent 28, 167–182 (2007). https://doi.org/10.1007/s10935-007-0082-z
Received:

Accepted:

Published:

Issue Date:
KEY WORDS
laughter

workplace wellness

self-efficacy