Abstract
The aim of this study is to investigate the foaming of styrene maleic anhydride (SMA) matrix composites with a physical foaming agent, created during the reactive extrusion of natural fillers and SMA. The effect of lubricant on the foaming of SMA composites was also investigated. Whether particle's crystallinity and hydroxyl number had any effect on cell size and cell density was also studied. The results showed that the greatest cell size and expansion occurred in the starch reinforced SMA composite which also exhibited the highest hydroxyl number and water by-product from reactive extrusion. Whereas microcrystalline cellulose-SMA composite exhibited the least cell number and expansion after extrusion because of the high crystallinity of MCC and the low hydroxyl number. Scanning electron microscopy results revealed that the cell distribution in foamed samples was heterogeneous and cell density increased from the core to skin layer. The results showed that hydroxyl number has an important effect on foaming and cell nucleation of the composites, and cell properties changed with filler's percentage crystallinity.
This is a preview of subscription content,
to check access.
Access this article
We're sorry, something doesn't seem to be working properly.
Please try refreshing the page. If that doesn't work, please contact support so we can address the problem.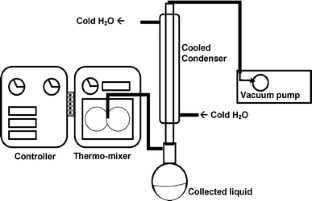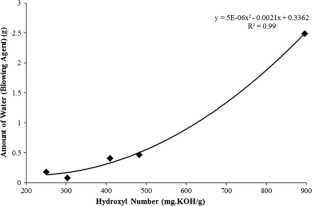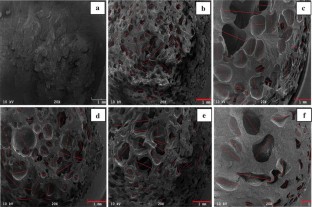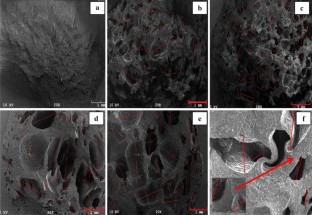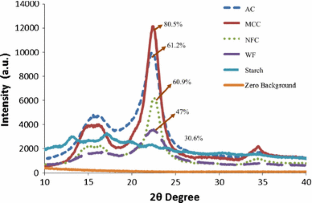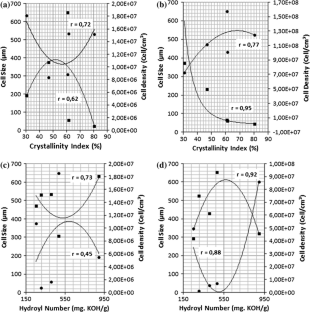 References
D. Klempner, K.C. Frisch, Handbook of polymeric foams and foam technology (Oxford University Press, New York, 1991)

A. Leonard, C. Calberg, G. Kerckhofs, M. Wevers, R. Jerome, J.-P. Pirard, A. Germain, S. Blacher, J. Porous Mater. 15, 397–403 (2008)

G.Q. Lu, A.M. XIAO, J. Porous Mater. 6, 359–368 (1999)

A.H. Landrock, Handbook of plastic foams: types, properties, manufacture and applications (Noyes Publications, New Jersey, 1991)

S.T. Lee, Foam extrusion: principles and practice (CRC Press, Boca Raton, 2000), p. 344

H. Chang, Z. Wang, C. Zheng, X. Gong, J. Porous Mater. 20, 1283–1287 (2013)

R.W. Baker, Membrane Technology and Application, 1st edn. (McGraw Hill, New York, 2000), p. 368

J.L. Hedrick, K.R. Carter, J.W. Labadie, R.D. Miller, W. Volksen, C.J. Hawker, D.Y. Yoon, T.P. Russel, J.E. McGrath, R.M. Briber, Adv. Polym. Sci. 141(1), 4–43 (1999)

B.A. Higgins, W.J. Brittain, Eur. Polymer. J. 41(5), 889–893 (2005)

C.B. Park, L.K. Cheung, S.W. Song, Cell. Polym. 17(4), 221–251 (1998)

C.D. Han, Y.W. Kim, K.D. Malhotra, J. Appl. Polym. Sci. 20(6), 1583–1595 (1976)

S. Punnathannam, D.S. Corti, Ind. Eng. Chem. Res. 41, 1113–1121 (2002)

Y. Sumarno Sato, S. Takishima, H.J. Masuoka, Appl. Polym. Sci. 77(11), 2383–2395 (2000)

Y. Han, D. Gardner, Foamed styrene-based wpc using physical blowing agent created during reactive extrusion. 10th International Conference on Wood and Bio fiber Plastic Composites and Cellulose Nanocomposites Symposium. May 11–13, Madison, WI (2010)

J. Simonsen, R. Jacobsen, R. Rowell. Wood fiber reinforcement of styrene-maleic anhydride copolymers. The Fourth International Conference on Wood fiber-Plastic Composites. May 12–14, the Madison Concourse Hotel, Madison, WI (1998)

C.L. Bianchi, V. Ragaini, C. Pirola, G. Carvoli, Appl. Catal. B Environ. 40(2), 93–99 (2003)

C.I.R. Boissard, P.E. Bourban, P. Tingaut, T. Zimmermann, J.S. Manson, J. Reinf. Plast. Compos. 30(8), 709–719 (2011)

G. Rizvi, L. Matuana, C.B. Park, Polym. Eng. Sci. 40(10), 2124–2132 (2000)

C.D. Chow, J. Appl. Polym. Sci. 20(6), 1619–1626 (2003)

A.K. Mohanty, L.T. Drzal, M. Misra, J. Mater. Sci. Lett. 21, 1885–1888 (2002)

J.Z. Lu, Q. Wu, H.S. McNabb, Wood Fiber Sci. 32(1), 88–104 (2000)

W.T. Tze, D.J. Gardner, Wood Fiber Sci. 33(3), 364–376 (2001)

M. Rabiej, Fibres Text. East. Eur. 11(5), 83–87 (2003)

C.B. Park, A.H. Behravesh, R.D. Venter, Polym. Eng. Sci. 38(11), 1812–1823 (1998)

C.B. Park, S. Doroudiani, M.T. Kortschot, Polym. Eng. Sci. 38(7), 1205–1215 (1998)

R.W. Decker, J. Vinyl Add. Tech. 2(2), 121–124 (1996)

J. Reignier, R. Gendron, M. Champagne, Blowing Agents and Foaming Processes, Extrusion foaming of poly (lactic acid) blown with CO2: toward 100 % green material, Session 3, Paper 8, 16–17 May, Munich, Germany (2006)

V. Sendijarevic, D. Klempner, Polymeric foams and foam technology (Hanser Gardner Publication Ltd, USA, 2004), p. s552

A.S. Michaels, H.J. Bixler, J. Polym. Sci. 50, 393–412 (1961)

A.S. Michaels, H.J. Bixler, J. Polym. Sci. 50, 413–439 (1961)

F.J. Moscoso-Sánchez, O.J. Ríos, J. Flores, L. Martínez, V.V.A. Fernández, A. Barrera, G. Canché-Escamilla, Polym. Bull. (2012). doi:10.1007/s00289-012-0878-8

M. Antunes, V. Realinho, J.I. Velasco, J. Nanomater. 2010, 1–5 (2010)

S. Doroudiani, C.B. Park, M. Kortschot, Polym. Eng. Sci. 36, 34–41 (1996)

X. Han, C. Zeng, L.J. Lee, K.W. Koelling, D.L. Tomasko, Polym. Eng. Sci. 43(6), 1261–1275 (2003)

P.H. Nam, P. Maiti, M. Okamoto, T. Kotaka, T. Nakayama, M. Takada, M. Ohshima, A.N. Usuki Hasegawa, H. Okamoto, Polym. Eng. Sci. 42(9), 1907–1918 (2002)
Acknowledgments
The Scientific and Technological Research Council of Turkey (TUBITAK–BIDEB) and Bartin university has been greatly acknowledged for the scholarship of the researcher Deniz Aydemir to do this study at the University of Maine. The authors thank Chris West and Wesley Bison for the sample preparation. The authors would also like to thank Maine Agricultural and Forest Experiment Station (MAFES) Projects ME09615-08MS and the Wood Utilization Research Hatch 2007–2008 Project.
About this article
Cite this article
Aydemir, D., Kiziltas, A., Gardner, D.J. et al. Morphological characterization of foamed natural filler-reinforced styrene maleic anhydride (SMA) composites. J Porous Mater 21, 1059–1067 (2014). https://doi.org/10.1007/s10934-014-9856-x
Published:

Issue Date:

DOI: https://doi.org/10.1007/s10934-014-9856-x
Keywords