Abstract
Geophysical analysis of lacustrine sediment stratigraphy at Lago de Tota (Tota), Boyaca, Colombia provided evidence for significant lake-level fluctuations through the late Quaternary and produced a record that potentially spans the last 60 ka. CHIRP data collected in 2015 from this large, high-elevation lake in the Eastern Cordillera of the northern hemisphere Colombian Andes reveal a series of off-lap and on-lap sequences in the upper ~ 20 m of the lake's sediment column that indicate large amplitude changes in lake level. Because 14C dated sediment cores are only available for the upper 3 m of the sediment column, known Holocene sedimentation rates were extrapolated in order to assign preliminary ages to the off-lap and on-lap sequence boundaries below 3 m depth. These data suggest that lake levels at Tota were lower than present during marine isotope stage (MIS) 4 between 60 and 57 ka, relatively high during MIS 3 between 57 and 29 ka, fell to their lowest levels during MIS 2 between 29 and 14 ka, and gradually rose to the modern high stand through a series of transgressions during MIS 1 and the Holocene from ~ 14 ka to the present. These fluctuations are broadly consistent with trends observed in other lake-level reconstructions from the northern (in phase) and southern (out of phase) hemisphere Andes, possibly supporting the idea that millennial-to-orbital-scale South American hydroclimate variability is linked to shifts in the mean latitude of the intertropical convergence zone due to the influence of insolation- and ocean circulation-driven hemispheric temperature gradients during glacial/stadial and interglacial/interstadial events. Although additional geochronological data will be needed to better resolve the timing of the Tota lake-level changes and their relationships with other records, these preliminary results from Tota, as well as the presence of a thick (> 300 m) sedimentary archive, indicate that this site has significant potential to produce high-resolution, quantitative, paleo-hydroclimate data spanning much of the last 1 million years. Because geophysical surveys and long paleoclimate records from northern hemisphere South America are exceedingly rare, these data provide critical insight into regional hydroclimate trends through the Late Quaternary. Additional work, such as the collection of sediment cores spanning the depth interval represented in the CHIRP data, is required, however, in order to place firmer chronological constraints on the hypothesized timing of lake-level fluctuations at Tota and to investigate their paleo-hydroclimatic implications.
This is a preview of subscription content, log in to check access.
Access options
Buy single article
Instant access to the full article PDF.
US$ 39.95
Price includes VAT for USA
Subscribe to journal
Immediate online access to all issues from 2019. Subscription will auto renew annually.
US$ 199
This is the net price. Taxes to be calculated in checkout.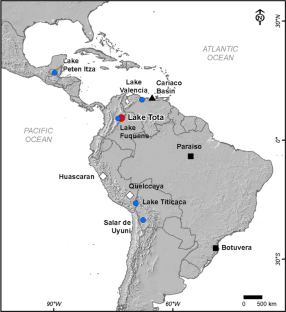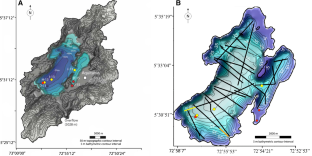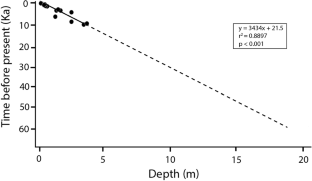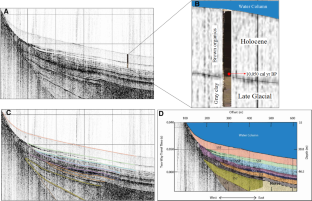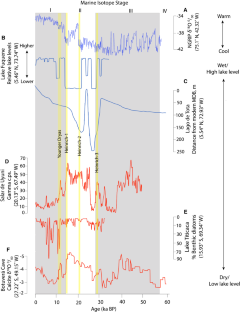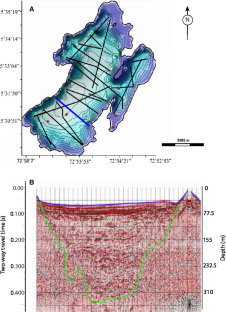 References
Anselmetti FS, Ariztegui D, Hodell DA, Hillesheim M, Brenner M, Gilli A, McKenzie J, Mueller A (2006) Late Quaternary climate-induced lake level variations in Lake Petén Itzá, Guatemala, inferred from seismic stratigraphic analysis. Palaeogeogr Palaeoclimatol Palaeoecol 230:52–69

Baker PA, Rigsby CA, Seltzer GO, Fritz SC, Lowenstein TK, Bacher NP, Veliz C (2001a) Tropical climate changes at millennial and orbital timescales on the Bolivian Altiplano. Nature 409:698

Baker PA, Seltzer GO, Fritz SC, Dunbar RB, Grove MJ, Tapia PM, Cross SL, Rowe HD, Broda JP (2001b) The history of South American tropical precipitation for the past 25,000 years. Science 291:640–643

Bintanja R, van de Wal R, Oerlemans J (2005) Modelled atmospheric temperatures and global sea levels over the past million years. Nature 437:125–128

Bird B, Wattrus N, Fonseca H, Velasco F, Escobar J (2015) Assessing the deep drilling potential of Lago de Tota, Colombia, with a seismic survey. AGU fall meeting abstracts

Bogota-a R, Groot M, Hooghiemstra H, Lourens L, Van der Linden M, Berrio J (2011) Rapid climate change from north Andean Lake Fúquene pollen records driven by obliquity: implications for a basin-wide biostratigraphic zonation for the last 284 ka. Quat Sci Rev 30:3321–3337

Broccoli AJ, Dahl KA, Stouffer RJ (2006) Response of the ITCZ to Northern Hemisphere cooling. Geophys Res Lett 33:L01702

Cañón Barriga JE, Valdes J (2011) Assessing the influence of global climate and anthropogenic activities on the water balance of an Andean Lake. J Water Res Protect 3:883–891

Chiang JC, Bitz CM (2005) Influence of high latitude ice cover on the marine Intertropical Convergence Zone. Clim Dyn 25:477–496

Cruz FW Jr, Karmann I, Viana O Jr, Burns SJ, Ferrari JA, Vuille M, Sial AN, Moreira MZ (2005) Stable isotope study of cave percolation waters in subtropical Brazil: implications for paleoclimate inferences from speleothems. Chem Geol 220:245–262

Cruz FW Jr, Burns SJ, Jercinovic M, Karmann I, Sharp WD, Vuille M (2007) Evidence of rainfall variations in Southern Brazil from trace element ratios (Mg/Ca and Sr/Ca) in a Late Pleistocene stalagmite. Geochim Cosmochim Acta 71:2250–2263

Cruz FW, Vuille M, Burns SJ, Wang X, Cheng H, Werner M, Edwards RL, Karmann I, Auler AS, Nguyen H (2009) Orbitally driven east–west antiphasing of South American precipitation. Nat Geosci 2:210

Eidt RC (1968) Some comments on the geomorphology of highland basins in the Cordillera Oriental of Colombia. Rev Geog 141–156

Escobar J, Hodell DA, Brenner M, Curtis JH, Gilli A, Mueller AD, Anselmetti FS, Ariztegui D, Grzesik DA, Pérez L (2012) A ~43-ka record of paleoenvironmental change in the Central American lowlands inferred from stable isotopes of lacustrine ostracods. Quat Sci Rev 37:92–104

Flantua S, Hooghiemstra H, Vuille M, Behling H, Carson JF, Gosling W, Hoyos I, Ledru M-P, Montoya E, Mayle F (2016) Climate variability and human impact in South America during the last 2000 years: synthesis and perspectives from pollen records. Clim Past 12:483–523

Fonseca H, Reyes Í (2016) Tota Lake. Landscapes and landforms of Colombia. Springer, New York, pp 99–106

Fritz SC, Baker PA, Lowenstein TK, Seltzer GO, Rigsby CA, Dwyer GS, Tapia PM, Arnold KK, Ku T-L, Luo S (2004) Hydrologic variation during the last 170,000 years in the southern hemisphere tropics of South America. Quat Res 61:95–104

Garreaud RD, Vuille M, Compagnucci R, Marengo J (2009) Present-day South American climate. Palaeogeogr Palaeoclimatol Palaeoecol 281:180–195

Gelbrecht M, Boers N, Kurths J (2017) A complex network representation of wind flows. Chaos 27:035808

Grimm AM (2003) The El Niño impact on the summer monsoon in Brazil: regional processes versus remote influences. J Clim 16:263–280

Hamilton EL (1979) Sound velocity gradients in marine sediments. J Acoust Soc Am 65:909

Haug GH, Hughen KA, Sigman DM, Peterson LC, Röhl U (2001) Southward migration of the intertropical convergence zone through the Holocene. Science 293:1304–1308

Hemming S (2004) Heinrich events: massive late Pleistocene detritus layers of the North Atlantic and their global climate imprint. Rev Geophys 42:1

Hodell DA, Anselmetti FS, Ariztegui D, Brenner M, Curtis JH, Gilli A, Grzesik DA, Guilderson TJ, Müller AD, Bush MB (2008) An 85-ka record of climate change in lowland Central America. Quat Sci Rev 27:1152–1165

Ivanochko TS, Ganeshram RS, Brummer G-JA, Ganssen G, Jung SJ, Moreton SG, Kroon D (2005) Variations in tropical convection as an amplifier of global climate change at the millennial scale. Earth Planet Sci Lett 235:302–314

Liu D, Wang Y, Cheng H, Edwards RL, Kong X, Wang X, Hardt B, Wu J, Chen S, Jiang X (2010) Sub-millennial variability of Asian monsoon intensity during the early MIS 3 and its analogue to the ice age terminations. Quat Sci Rev 29:1107–1115

Mantua N, Hare S (2002) The Pacific decadal oscillation. J Oceanogr 58:35–44

McGee D, Donohoe A, Marshall J, Ferreira D (2014) Changes in ITCZ location and cross-equatorial heat transport at the Last Glacial Maximum, Heinrich Stadial 1, and the mid-Holocene. Earth Planet Sci Lett 390:69–79

Members NGRIP (2004) High resolution Climate Record of the Northern Hemisphere reaching into the last Glacial Interglacial Period. Nature 431:147–151

Mollier-Vogel E, Leduc G, Böschen T, Martinez P, Schneider RR (2013) Rainfall response to orbital and millennial forcing in northern Peru over the last 18 ka. Quat Sci Rev 76:29–38

Mosblech NA, Bush MB, Gosling WD, Hodell D, Thomas L, Van Calsteren P, Correa-Metrio A, Valencia BG, Curtis J, Van Woesik R (2012) North Atlantic forcing of Amazonian precipitation during the last ice age. Nat Geosci 5:817

Mueller AD, Anselmetti FS, Ariztegui D, Brenner M, Hodell DA, Curtis JH, Escobar J, Gilli A, Grzesik DA, Guilderson TP (2010) Late Quaternary palaeoenvironment of northern Guatemala: evidence from deep drill cores and seismic stratigraphy of Lake Petén Itzá. Sedimentology 57:1220–1245

Pahnke K, Sachs JP, Keigwin L, Timmermann A, Xie SP (2007) Eastern tropical Pacific hydrologic changes during the past 27,000 years from D/H ratios in alkenones. Paleoceanography 22:PA4214

Peterson LC, Haug GH, Hughen K, Rohl U (2000) Rapid changes in the hydrologic cycle of the tropical Atlantic during the last glacial. Science 290:1947–1951

Poveda G, Mesa OJ (1997) Feedbacks between hydrological processes in tropical South America and large-scale ocean–atmospheric phenomena. J Clim 10:2690–2702

Poveda G, Álvarez DM, Rueda OA (2011) Hydro-climatic variability over the Andes of Colombia associated with ENSO: a review of climatic processes and their impact on one of the Earth's most important biodiversity hotspots. Clim Dyn 36:2233–2249

Remier PJ, Brown TA, Remier RW (2004) Discussion: reporting and calibration of post-bomb 14C data. Radiocarbon 46:1299–1304

Rowan D, Kalff J, Rasmussen J (1992) Estimating the mud deposition boundary depth in lakes from wave theory. Can J Fish Aquat Sci 49:2490–2497

Schneider T, Bischoff T, Haug GH (2014) Migrations and dynamics of the intertropical convergence zone. Nature 513:45

Soreghan GS, Cohen AS (2013) Scientific drilling and the evolution of the earth system: climate, biota, biogeochemistry and extreme systems. Sci Drill 16:63–72

Stansell ND, Abbott MB, Rull V, Rodbell DT, Bezada M, Montoya E (2010) Abrupt Younger Dryas cooling in the northern tropics recorded in lake sediments from the Venezuelan Andes. Earth Planet Sci Lett 293:154–163

Stuvier M, Remier P (1993) Extended 14C data base and revised CALIB 3.0. 14C age calibration. Radiocarbon 35:1

United States Geological Survey, Earth Resources Observation and Science Center (2017) Earth explorer 3 arc second SRTM elevation data

van der Hammen T (1974) The Pleistocene changes of vegetation and climate in tropical South America. J Biogeogr 1:3–26

Van Der Hammen T, Hooghiemstra H (2000) Neogene and Quaternary history of vegetation, climate, and plant diversity in Amazonia. Quat Sci Rev 19:725–742

Vandergoes MJ, Newnham RM, Preusser F, Hendy CH, Lowell TV, Fitzsimons SJ, Hogg AG, Kasper HU, Schlüchter C (2005) Regional insolation forcing of late Quaternary climate change in the Southern Hemisphere. Nature 436:242

Viviroli D, Dürr HH, Messerli B, Meybeck M, Weingartner R (2007) Mountains of the world, water towers for humanity: typology, mapping, and global significance. Water Resour Res 43:W07447

Vuille M, Werner M (2005) Stable isotopes in precipitation recording South American summer monsoon and ENSO variability: observations and model results. Clim Dyn 25:401–413

Wang X, Auler AS, Edwards RL, Cheng H, Ito E, Solheid M (2006) Interhemispheric anti-phasing of rainfall during the last glacial period. Quat Sci Rev 25:3391–3403

Wang X, Auler AS, Edwards R, Cheng H, Ito E, Wang Y, Kong X, Solheid M (2007) Millennial-scale precipitation changes in southern Brazil over the past 90,000 years. Geophys Res Lett 34:L23701

Yokoyama Y, De Deckker P, Lambeck K, Johnston P, Fifield LK (2001) Sea-level at the Last Glacial Maximum: evidence from northwestern Australia to constrain ice volumes for oxygen isotope stage 2. Palaeogeogr Palaeoclimatol Palaeoecol 165:281–297
Acknowledgements
This research was partially supported by grants from the US National Science Foundation (EAR 1445649) and Indiana University-Purdue University, Indianapolis, IN (RSFG & IDF). Partial support was also provided by the Inter-American Institute for Global Change Research (IAI) CRN3038, which is supported by the US National Science Foundation (Grant GEO-1128040).
Additional information
Publisher's Note
Springer Nature remains neutral with regard to jurisdictional claims in published maps and institutional affiliations.
About this article
Cite this article
Gibson, D.K., Bird, B.W., Wattrus, N.J. et al. Characterizing late Quaternary lake-level variability in Lago de Tota, Colombian Andes, with CHIRP seismic stratigraphy. J Paleolimnol 62, 319–335 (2019). https://doi.org/10.1007/s10933-019-00089-x
Received:

Accepted:

Published:

Issue Date:
Keywords
Lago de Tota

CHIRP

South American monsoon system

South American hydroclimate

Late Quaternary hydroclimate

Paleoclimate

Seismic stratigraphy

Inter-tropical convergence zone