Abstract
Hwajinpo is the largest lagoon in Korea and is located along the east coast of the country. It possesses Holocene sediments that provide an important record of past climate change. We studied the evolution of Hwajinpo Lagoon using grain size data and diatom assemblages in an 11.0-m core (HJ02), which was obtained at the mouth of a small river that drains into the lagoon. Core chronology was established with accelerator mass spectrometry 14C dates and optically stimulated luminescence dates. Diatom assemblages and grain size analysis revealed that estuarine conditions in the inner lagoon area transitioned to an open embayment ca. 8 ka as a result of sea-level rise. Around 7.8 ka, the open bay became a semi-closed bay as a consequence of development of a sand barrier. After the bay was semi-closed, marine water inflow was increasingly restricted as the sand barrier developed, and the semi-closed bay became a completely enclosed, low-salinity, brackish lagoon around 6 ka. There was an erosional hiatus between 5.5 and 1.7 ka (7.0 m depth), likely caused by river flooding and a switch in the location of drainage along the delta. The lagoon became oligohaline around 1.6 ka, likely because of increasing precipitation associated with an intensified Asian summer monsoon. This increase in precipitation resulted in expansion of the sand bar by sediment inflow, driven by agricultural development in the area. About 1000 years ago, the diatom assemblage was similar to the modern assemblage, suggesting the lagoon's current geomorphic conditions had been established.
Access options
Buy single article
Instant access to the full article PDF.
US$ 39.95
Tax calculation will be finalised during checkout.
Subscribe to journal
Immediate online access to all issues from 2019. Subscription will auto renew annually.
US$ 119
Tax calculation will be finalised during checkout.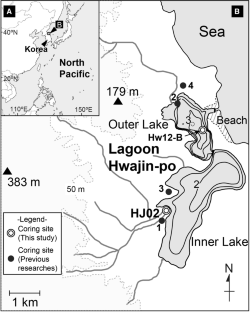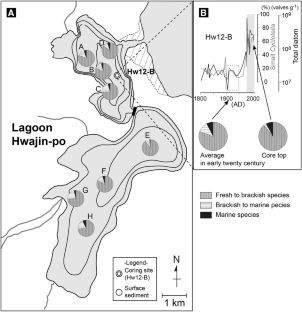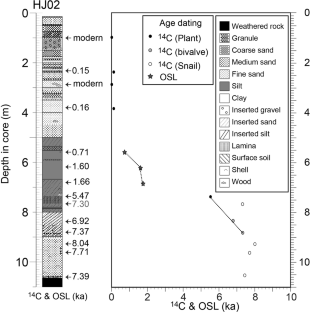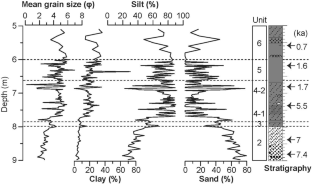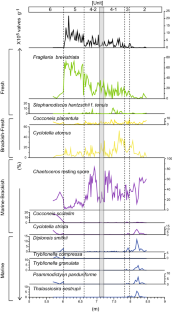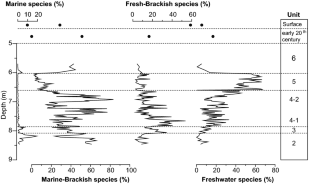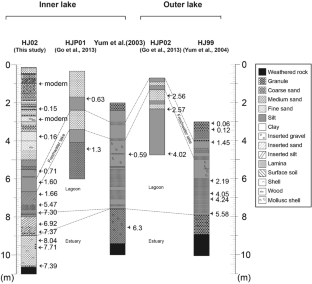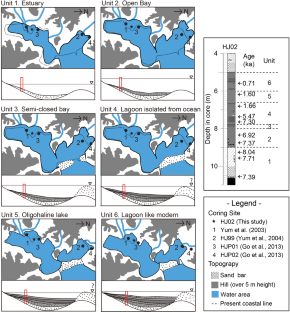 References
Abu-Zied RH, Bantan RA (2015) Paleoenvironment, paleoclimate and sea-level changes in the Shuaiba Lagoon during the late Holocene (last 3.6 ka), eastern Red Sea coast, Saudi Arabia. Holocene 25:1301–1312

Bhattrai BD, Kwak S, Choi K, Heo W (2017) Assessment of long-term physicochemical water quality variations by PCA Technique in Lake Hwajinpo, South Korea. J Environ Prot 8:1636–1651

Bradbury JP (1989) Late quaternary lacustrine paleoenvironments in the Cuenca de Mexico. Q Sci Rev 8:75–100

Cho DY, Hong SH, Chwae U, Lee BJ, Choi P (1998) Geological report of the Goseong-Ganseong sheet (1:50,000). Korea Institute of Geology, Mining and Materials, Deajeon (in Korean)

Chu G, Sun Q, Li S, Zheng M, Jia X, Lu C, Liu J, Liu T (2005) Long-chain alkenone distributions and temperature dependence in lacustrine surface sediments from China. Geochim Cosmochim Acta 69:4985–5003

Colombaroli D, Marchetto A, Tinner W (2007) Long-term interactions between Mediterranean climate, vegetation and fire regime at Lago di Massaciuccolo (Tuscany, Italy). J Ecol 95:755–770

Elwany MHS, Flick RE, Aijaz S (1998) Opening and closure of a marginal Southern California Lagoon Inlet. Estuaries 21:246–254

Folk RL, Ward WC (1957) Brazos river bar: a study in the significance of grain-size parameters. J Sediment Petrol 27:3–26

Genkal SI, Kiss KT (1993) Morphological variability of the diatom Cyclotella atomus Hustedt var. atomus and C. atomus var. gracilis var. nov. Hydrobiologia 269–270:39–47

Go A, Tanaka Y, Kashima K (2013) Sedimentary environment of Hwajinpo using diatom analysis. J Korea Geomorphol Assoc 20:15–25 (in Korean with English abstract)

Hendey NI (1964) An introductory account of the smaller algae of British coastal waters, part V: Bacillariophyceae (Diatoms). Otto Koeltz Science, Koenigstein

Heo W-M, Kwon S, Lee J, Kim D, Kim B (2004) The limnological survey of a coastal lagoon in Korea (3): Lake Hwajinpo. Korean J Limnol 37:12–25 (in Korean with English abstract)

Hong W, Park JH, Kim KJ, Woo HJ, Kim JK, Choi HW, Kim GD (2010a) Establishment of chemical preparation methods and development of an automated reduction system for AMS sample preparation at KIGAM. Radiocarbon 52:1277–1287

Hong W, Park JH, Sung KS, Woo HJ, Kim JK, Choi HW, Kim GD (2010b) A new 1MV AMS facility at KIGAM. Radiocarbon 52:243–251

Howell MW, Thunell RE, Tappa E, Rio D, Sprovieri R (1988) Late Neogene laminated and opal-rich facies from the Mediterranean region: geochemical evidence for mechanisms of formation. Palaeogeogr Paleoclimatol Palaeocol 64:265–286

Jo W (1980) Holocene sea-level changes on the east coast of Korea Peninsula. Geogr Rev Jpn 53:317–328

Joh GJ (2010) Algal Flora of Korea volume3 Number1 freshwater diatoms I. National Institute of Biological Resource, Incheon

Joh GJ (2012) Algal Flora of Korea volume3 Number7 freshwater diatoms V. National Institute of Biological Resource, Incheon

Kashima K (1985) Holocene diatom assemblages in Takagami Lowland, central part of Choshi Peninsula, and its relation to changes of sea-level. Q Res (Tokyo) 24:125–138 (in Japanese with English abstract)

Kashima K (1986) Holocene successions of diatom fossil assemblages in alluvium, and those relations to paleo-geographical changes. Geogr Rev Jpn Ser A 59:383–403 (in Japanese with English abstract)

Katsuki K, Yang DY, Seto K, Yasuhara M, Takata H, Otsuka M, Khim BK (2016) Factors controlling typhoons and storm rain on the Korean Peninsula during the Little Ice Age. J Paleolimnol 55:35–48

Kim BH, Won DH, Kim YJ (2012) Spring bloom of Skeletonema costatum and lake trophic status in the Hwajinpo Lagoon, South Korea. Korean J Ecol Environ 45:329–339 (in Korean with English Abstract)

Kobayashi H, Idei M, Mayama S, Nagumo T, Osada K (2006) H. Kobayasi's atlas of Japanese diatoms based on electron microscopy. Uchida Rokakuho Publishing Co., Ltd, Tokyo

Kosugi M (1988) Classification of living diatom assemblages as the indicator of environments, and its application to reconstruction of paleoenvironments. Q Res (Tokyo) 27:1–20 (in Japanese with English abstract)

Kraft JC, John CJ, Marx PR (1981) Clastic depositional strata in a transgressive coastal environment: Holocene epoch. Northeast Geol 3:268–277

Kumano S, Ihira M, Kuromi Mm Maeda Y, Matsumoto E, Nakamura T, Matsushima Y, Sato H, Mtsuda I (1990) Holocene sedimentary history of some coastal plains in Hokkaido, Japan V. Sedimentary history of Kushu Lake and Akkeshi. Ecol Res 5:277–289

Lim J, Yu S, Nahm WH, Kim JY (2012) Holocene millennial-scale vegetation changes in the Yugu floodplain, Kongju area, central South Korea. Q Int 254:92–98

Matsubara A (2000) Holocene geomorphic development of coastal barriers in Japan. Geogr Rev Jpn Ser A 73:409–434 (in Japanese with English abstract)

Morton RA, Ward GH, White WA (2000) Rates of sediment supply and sea level rise in a large coastal lagoon. Mar Geol 167:261–284

Murray AS, Wintle AG (2000) Luminescence dating of quartz using an improved single-aliquot regenerative-dose protocol. Radiat Meas 32:57–73

National Geographic Information Institute (2006) Historical geography of Korea. Ministry of Land Infrastructure and Transport, Sejeon

Okutani T (2001) Marine mollusks in Japan. Tokai University Press, Kanagawa, Japan (in Japanese)

Ota Y, Umitsu M, Matsushima Y (1990) Recent Japanese research on relative sea-level changes in the Holocene, and related problems. Q Res (Tokyo) 29:31–48 (in Japanese with English abstract)

Park SC, Hong SK, Kim DC (1996) Evolution of late quaternary deposits on the inner shelf of the South Sea of Korea. Mar Geol 131:219–232

Park J, Yu KB, Lim HS, Shin YH (2012) Multi-proxy evidence for late Holocene anthropogenic environmental changes at Bongpo marsh on the east coast of Korea. Q Res 78:209–216

Pernetta JC, Milliman JD (1995) Land-ocean interactions in the coastal zone: implementation plan. Oceanogr Lit Rev 42:801–805

Peros M, Gregory B, Matos F, Reinhardt E, Desloges J (2015) Late Holocene record of lagoon evolution, climate change, and hurricane activity from southeastern Cuba. Holocene 25:1483–1497

Pirazzoli PA (1991) World atlas of Holocene sea-level changes. Elsevier, Amsterdam

Reimer PJ, Bard E, Bayliss A, Beck JW, Blackwell PG, Ramsey CB, Buck CE, Cheng H, Edwards RL, FriedrichM Grootes PM, Guilderson TP, Haflidason H, Hajdas I, Hatte C, Heaton TJ, Hoffmann DL, Hogg AG, Hughen KA, Kaiser KF, Kromer B, Manning SW, Niu M, Reimer RW, Richards DA, Scott EM, Southon JR, Staff RA, Turney CSM, van der Plicht J (2013) IntCal13 and Marine13 radiocarbon age calibration curves, 0–50,000 years cal BP. Radiocarbon 55:1869–1887

Roy PS, Cowell PJ, Ferland MA, Thom BG (1994) Wave dominated coasts. In: Carter RWG, Woodroffc CD (eds) Coastal evolution: late quaternary shoreline morphodynamics. Cambridge University Press, Cambridge, pp 121–186

Ryu E, Ryu BJ, Yun H, Lee SJ (2003) Diatom floras of the Ulleung basin: implication for late quaternary paleoenvironment. J Geool Soc Korea 39:183–198 (in Korean with English abstract)

Selivanov AO (1996) Morphological changes on Russian coasts under rapid sea-level changes: examples from the Holocene history and implications for future. J Coast Res 12:823–830

Smol JP, Stoermer EF (2010) The diatoms: applications for the environmental and earth sciences, 2nd edn. Cambridge University Press, Cambridge

Stuiver M, Reimer JP (1993) Extended 14C base and revised calib 3.0 14C age calibration program. Radiocarbon 35:215–230

Sylvestre F, Guiral D, Debenay JP (2004) Modern diatom distribution in mangrove swamps from the Kaw Estuary (French Guiana). Mar Geol 208:281–293

Vos PC, de Wolf H (1993) Diatoms as a tool for reconstructing sedimentary environments in coastal wetlands: methodological aspects. Hydrobiologia 269:285–296

Woodward C, Shulmeister J, Bell D, Haworth R, Jacobsen G, Zawadzki A (2014) A Holocene record of climate and hydrological changes from Little Llangothlin Lagoon, south eastern Australia. Holocene 24:1665–1674

Yasui S, Kobayashi I (2001) Pleistocene-Holocene diatom flora of the Shiotsugata Lagoon in the Echigo Plain, central Japan. Sci Rep Niigata Univ Ser E (Geol) 16:47–81

Yi S, Kim JY, Yang DY, Oh KC, Hong SS (2008) Mid- and Late-Holocene palynofloral and environmental change of Korean central region. Q Int 176:112–120

Yoon SO, Hwang S, Park C-S, Kim HS, Moon YR (2008) Landscape changes of coastal lagoons during the Twentieth century in the Middle East coast, South Korea. J Korean Geogr Soc 43:449–465

Yum JG (1996) Characteristics of a coastal lagoon, Hwajinpo, in the eastern coast of Korea, and its comparison with coastal lagoons in Sanin region in Japan. M.Sc thesis, Shimane University, Matsue, pp 1–72

Yum JG, Sampei T, Tokuoka T, Nakamura T, Yu KM (2002) Depositional environmental change during the last 400 years in Hwajinpo Lagoon on the eastern coast of Korea. J Geol Soc Korea 38:21–32

Yum JG, Takemura K, Tokuoka T, Yu KM (2003) Holocene environmental changes of Hwajinpo Lagoon on the eastern coast of Korea. J Paleolimnol 29:155–166

Yum JG, Yu KM, Takemura K, Naruse T, Kitamura A, Kitagawa H, Kim JC (2004) Holocene evolution of the outer lake of Hwajinpo lagoon on the eastern coast of Korea; envrionmental changes with Holocene sea-level fluctuation of the East sea (Sea of Japan). Radiocarbon 46:797–808

Yum JG, Takamura K, Yu KM, Nahm WH, Hong SS, Yang DY, Katsuki K, Kim JY (2015) Late quaternary environmental changes of the Hwajinpo and Songjiho Lagoons on the Eastern Coast of Korea. In: Kashiwaya K, Shen J, Kim JY (eds) Earth surface processes and environmental changes in East Asia. Springer, Tokyo, pp 163–199
Acknowledgements
This research was supported by a research grant from the Korean Ministry of Oceans and Fisheries (PJT300538). We are indebted to Professor Jonathan Woodruff of University of Massachusetts Amherst and Dr. Han Min of Seoul National University.
About this article
Cite this article
Cho, A., Cheong, D., Kim, J.C. et al. Holocene climate and environmental changes inferred from sediment characteristics and diatom assemblages in a core from Hwajinpo Lagoon, Korea. J Paleolimnol 60, 553–570 (2018). https://doi.org/10.1007/s10933-018-0040-1
Received:

Accepted:

Published:

Issue Date:
Keywords
Lagoon

Diatom

Paleoenvironmental change

Paleoclimate

Sediment core

Korea