Abstract
The Makgadikgadi–Okavango–Zambezi basin (MOZB) is a structural depression in the south-western branch of the East African Rift System of the northern and middle Kalahari, central southern Africa. In the present day, the mainly dry subbasins of the MOZB are part of a long-lived lacustrine system that has likely existed since Early Pleistocene and from which an extant freshwater fish radiation emerged seeding all major river systems of southern Africa. During hydrologically favourable periods the subbasins were connected as a single mega-lake termed Lake Palaeo-Makgadikgadi. Previous geomorphological studies and OSL dates have provided evidence for repeated mega-lake periods since approximately 300 ka. The environmental and climatic implications of such large scale late Quaternary lake-level fluctuations are controversial, with the duration of mega-lake phases poorly constrained. Here, we present the first evidence for a Marine Isotope Stage (MIS) 5 mega-lake period (about 935–940 m a.s.l.) reconstructed from a diatom-rich, 30-cm-thick lacustrine sediment section, exposed close to a palaeo-shoreline of the Makgadikgadi Basin. Based upon the environmental setting and in comparison with sedimentation rates of other similar lake environments, we tentatively estimated that the highstand lasted approximately 1 ka during MIS 5d–b. The 30-cm section was sampled in 0.5-cm steps. Diatom species diversity ranges from 19 to 30 through the section. The dominant species are Pseudostaurosira brevistriata, Rhopalodia gibberula, Cyclotella meneghiniana and Epithemia sorex. The total of 60 sediment samples provide us with a record at decadal to bi-decadal resolution. Based on diatom assemblages and their oxygen isotope composition (δ18O) we infer an alkaline and mostly oligohaline lake with shallow water conditions prevailing in MIS 5, and is potentially analogous to a Heinrich event. The climate over southern Africa during MIS 5 has been considered very arid but the hydromorphological context of our sediment section indicates that we captured a mega-lake period providing evidence that short-term excursions to significantly higher humidity existed. A hydrologically more favourable environment during MIS 5 than formerly presumed is in line with the early human occupation of the Kalahari.
Access options
Buy single article
Instant access to the full article PDF.
USD 39.95
Price excludes VAT (USA)
Tax calculation will be finalised during checkout.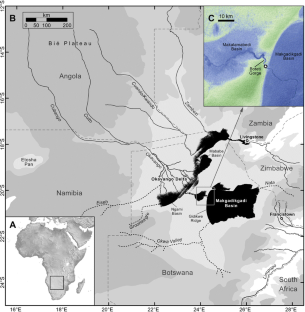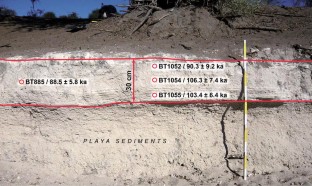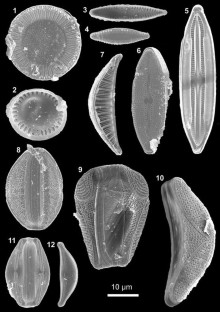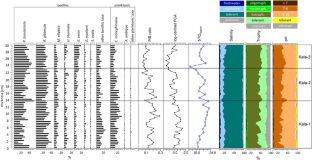 References
Balter M (2002) What made humans modern? Science 295(5558):1219–1225

Batisani N, Yarnal B (2010) Rainfall variability and trends in semi-arid Botswana: implications for climate change adaptation policy. Appl Geogr 30:483–489

Battarbee RW, Carvalho L, Jones VJ, Flower RJ, Cameron NG, Bennion H, Juggins S (2001) Diatoms. In: Smol JP, Birks HJB, Last WM (eds) Tracking environmental change using lake sediments, vol 3. Kluwer, Dordrecht, pp 155–202

Bond GC, Lotti R (1995) Iceberg discharges into the North Atlantic on millennial time scales during the last glaciation. Science 267:1005–1017

Bøtter-Jensen L (1997) Luminescence techniques: instrumentation and methods. Radiat Meas 17:749–768

Broecker WS (2002) Massive iceberg discharges as triggers for global climate change. Nature 372:421–424

Burrough SL (2016) Late Quaternary environmental change and human occupation of the southern African interior. In: Jones SC, Stewart BA (eds) Africa from MIS 6-2: population dynamics and palaeoenvironments—vertebrate paleobiology and paleoanthropology series. Springer, Heidelberg, pp 161–174

Burrough SL, Thomas DSG (2009) Geomorphological contributions to palaeolimnology on the African continent. Geomorphology 103:285–298

Burrough SL, Thomas DSG, Bailey RM (2009a) Mega-lake in the Kalahari: a late Pleistocene record of the Palaeolake Makgadikgadi system. Quat Sci Rev 28:1392–1411

Burrough SL, Thomas DSG, Singarayer JS (2009b) Late Quaternary hydrological dynamics in the Middle Kalahari: forcing and feedbacks. Earth-Sci Rev 96:313–326

Caljon AG, Cocquyt CZ (1992) Diatoms from surface sediments of the northern part of Lake Tanganyika. Hydrobiologia 230:135–156

Carto SL, Weaver AJ, Hetherington R, Lam Y, Wiebe EC (2009) Out of Africa and into an ice age: on the role of global climate change in the late Pleistocene migration of early modern humans out of Africa. J Hum Evol 56:139–151

Chapligin B, Leng MJ, Webb E, Alexandre A, Dodd JP, Ijiri A, Lücke A, Shemesh A, Abelmann A, Herzschuh U, Longstaffe FJ, Meyer H, Moschen R, Okazaki Y, Rees NH, Sharp ZD, Sloane HJ, Sonzongi C, Swann JEA, Sylvestre F, Tyler JJ, Yam R (2011) Inter-laboratory comparison of oxygen isotope compositions from biogenic silica. Geochim Cosmochim Acta 75:7242–7256

Charlesworth B (2009) Effective population size and patterns of molecular evolution and variation. Nat Rev Genet 10:195–205

Chase BM, Brewer S (2009) Last glacial maximum dune activity in the Kalahari Desert of southern Africa: observations and simulations. Quat Sci Rev 28:301–307

Chase BM, Meadows ME (2007) Late Quaternary dynamics of southern Africa's winter rainfall zone. Earth-Sci Rev 84:103–138

Chase BM, Scott L, Meadows ME, Gil-Romera G, Boom A, Carr AS, Reimer PJ, Truc L, Valsecchi V, Quick LJ (2012) Rock hyrax middens: a palaeoenvironmental archive for southern African drylands. Quat Sci Rev 56:107–125

Cholnoky BJ (1968) Die Ökologie der Diatomeen in Binnengewässern (Ecology of diatoms in inland waters). Cramer J, Lehre

Cohen AS, Stone JR, Beuning KRM, Park LE, Reinthal PN, Dettman D, Scholz CA, Johnson TC, King JW, Talbot MR, Brown ET, Ivory SJ (2007) Ecological consequences of early Late Pleistocene megadroughts in tropical Africa. PNAS 104(42):16422–16427

Cooke HJ (1979) The origin of the Makgadikgadi Pans. Botsw Notes Rec 11:37–42

Cooke HJ (1980) Landform evolution in the context of climatic change and neo-tectonism in the Middle Kalahari of north-central Botswana. Trans Inst Br Geogr 5:80–99

Cooke HJ, Verstappen HT (1984) The landforms of the western Makgadikgadi basin in northern Botswana, with consideration of the chronology of the evolution of Lake Palaeo-Makgadikgadi. Z Geomorphol 28:1–19

Cordier S, Harmand D, Lauer T, Voinchet P, Bahain JJ, Frechen M (2012) Geochronological reconstruction of the Pleistocene evolution of the Sarre valley (France and Germany) using OSL and ESR dating techniques. Geomorphology 165–166:91–106

de Vries JJ, Selaolo ET, Beekman HE (2000) Groundwater recharge in the Kalahari, with reference to paleo-hydrologic conditions. J Hydrol 238:110–123

Ebert JI, Hitchcock RK (1978) Ancient lake Makgadikgadi, Botswana: mapping measurement and palaeoclimate significance. Palaeoecol Afr 10(11):47–56

Eckardt FD, Bryant RG, McCulloch G, Spiro B, Wood WW (2008) The hydrochemistry of a semi-arid pan basin case study: Sua Pan, Makgadikgadi, Botswana. Appl Geochem 23:1563–1580

Filippov A, Riedel F (2009) The late Holocene mollusc fauna of the Aral Sea and its biogeographical and ecological interpretation. Limnologica 39:67–85

Fornace KL, Hughen KA, Shanahan TM, Fritz SC, Baker PA, Sylvia SP (2014) A 60,000-year record of hydrologic variability in the Central Andes from the hydrogen isotopic composition of leaf waxes in Lake Titicaca sediments. Earth Planet Sci Lett 408:263–271

Gabriel KR (2002) Goodness of fit of biplots and correspondence analysis. Biometrika 89:423–436

Ganopolski A, Rahmstorf S (2001) Rapid changes of glacial climate simulated in a coupled climate model. Nature 409:153–158

Gasse F (1986) East African diatoms—taxonomy, ecological distribution. Bibl Diatomol 11:1–201

Gasse F, Juggins S, Ben Khelifa L (1995) Diatom-based transfer functions for inferring past hydrochemical characteristics of African lakes. Palaeogeogr Palaeoclimatol Palaeoecol 117:31–54

Gasse F, Chalié F, Vincens A, Williams MAJ, Williamson D (2008) Climatic patterns in equatorial and southern Africa from 30,000 to 10,000 years ago reconstructed from terrestrial and near-shore proxy data. Quat Sci Rev 27:2316–2340

Genner MJ, Seehausen O, Lunt DH, Joyce DA, Shaw PW, Carvalho GR, Turner GF (2007) Age of cichlids—new dates for ancient fish radiations. Mol Biol Evol 24:1269–1282

Geyh MA, Heine K (2014) Several distinct wet periods since 420 ka in the Namib Desert inferred from U-series dates of speleothems. Quat Res 81(2):381–391

Grey DRC, Cooke HJ (1977) Some problems in the Quaternary evolution of the landforms of northern Botswana. CATENA 4:123–133

Grimm EC (1991–2011) Tilia®Version 1.7.16 (Computer Software) Illinois State Museum, Research and Collection Center, Springfield

Grove AT (1969) Landforms and climatic change in the Kalahari and Ngamiland. Geogr J 135:191–212

Gumbricht T, McCarthy TS, Merry CL (2001) The topography of the Okavango Delta, Botswana, and its tectonic and sedimentological implications. S Afr J Sci 104:243–264

Haddon IG, McCarthy TS (2005) The Mesozoic–Cenozoic interior sag basins of central Africa—the Late-Cretaceous-Cenozoic Kalahari and Okavango basins. J Afr Earth Sci 43:316–333

Hecky RE, Kilham P (1973) Diatoms in alkaline, saline lakes: ecology and geochemical implications. Limnol Oceanogr 18:53–71

Heine K (1981) Aride und pluviale Bedingungen während der letzten Kaltzeit in der Südwest-Kalahari (südliches Afrika)(Arid and pluvial conditions during the last glacial in the southwest Kalahari (southern Africa)). Z Geomorphol NF 38:1–37

Heine K (1982) The main stages of the Late Quaternary evolution of the Kalahari region, southern Africa. Palaeoecol Afr 15:53–76

Heine K (1987) Zum Alter jungquartärer Seespiegelschwankungen in der Mittleren Kalahari, südliches Afrika (On the age of late Quaternary lake level fluctuations in the Middle Kalahari, southern Africa). Palaeoecol Afr 18:73–101

Heine K (1988) Southern African palaeoclimates 35–25 ka ago: a preliminary summary. Palaeoecol Afr 19:305–315

Henn BM, Gignoux CR, Jobin M, Granka JM, Macpherson JM, Kidd JM, Rodríguez-Botigué L, Ramachandran S, Hon L, Brisbin A, Lin AA, Underhill PA, Comas D, Kidd KK, Norman PJ, Parham P, Bustamante CD, Mountain JL, Feldman MW (2011) Hunter-gatherer genomic diversity suggests a southern African origin for modern humans. PNAS 108(13):5154–5162

Henshilwood CS, d'Errico F, Yates R, Jacobs Z, Tribolo C, Duller GAT, Mercier N, Sealy JC, Valladas H, Watts I, Wintle AG (2002) Emergence of modern human behavior: middle Stone Age engravings from South Africa. Science 295(5558):1278–1280

Holmgren K, Karlén W, Lauritzen SE, Lee-Thorp JA, Partridge TC, Piketh S, Repinski P, Stevenson C, Svenered O, Tyson PD (1999) A 3000-year high-resolution stalagmite based record of palaeoclimate for northeastern South Africa. Holocene 9:295–309

Holmgren K, Lee-Thorp JA, Cooper GRJ, Lundblad K, Partridge TC, Scott L, Sithaldeen R, Talma AS, Tyson PD (2003) Persistent millennial-scale climatic variability over the past 25,000 years in Southern Africa. Quat Sci Rev 22:2311–2326

Hürkamp K, Völkel J, Heine K, Bens O, Leopold M, Winkelbauer J (2011) Late Quaternary environmental changes from aeolian and fluvial geoarchives in the south-western Kalahari, South Africa: implications for past African climate dynamics. S Afr J Geol 114:459–474

Ingman M, Kaessmann H, Pääbo S, Gyllensten U (2000) Mitochondrial genome variation and the orgin of modern humans. Nature 408:708–713

Jacobs Z, Roberts RG (2009) Catalysts for Stone Age innovations. Commun Integr Biol 2(2):191–193

Jollifer IT (1986) Principal components analysis. Springer, New York

Jouzel J, Masson-Delmotte V, Cattani O, Dreyfus G, Falourd S, Hoffmann G, Minster B, Nouet J, Barnola JM, Chappellaz J, Fischer H, Gallet JC, Johnsen S, Leuenberger M, Loulergue L, Luethi D, Oerter H, Parrenin F, Raisbeck G, Raynaud D, Schilt A, Schwander J, Selmo E, Souchez R, Spahni R, Stauffer B, Steffensen JP, Stenni B, Stocker TF, Tison JL, Werner M, Wolff W (2007) Orbital and millennial Antarctic climate variability over the past 800,000 Years. Science 317:793–796

Joyce DA, Lunt DH, Bills R, Turner GF, Katongo C, Duftner N, Sturmbauer C, Seehausen O (2005) An extant cichlid fish radiation emerged in an extinct Pleistocene lake. Nature 435:90–95

Kelly MG, Bennion H, Cox EJ, Goldsmith B, Jamieson J, Juggins S, Mann DG, Telford RJ (2005) Common freshwater diatoms of Britain and Ireland—an interactive key. Environment Agency, Bristol: http://craticula.ncl.ac.uk/EADiatomKey/html/taxa.html

Kinabo BD, Atekwana EA, Hogan JP, Modisi MP, Wheaton DD, Kampunzu AB (2007) Early structural development of the Okavango rift zone, NW Botswana. J Afr Earth Sci 48:125–136

Kostrova SS, Meyer H, Tarasov PE, Bezrukova EV, Chapligin B, Kossler A, Pavlova LA, Kuzmin MI (2016) Oxygen isotope composition of diatoms from sediments of Lake Kotokel. Russ Geol Geophys 57:1239–1247

Krammer K (2002) Cymbella. In: Lange-Bertalot H (ed) Diatoms of Europe, vol 3. ARG Gantner Verlag KG, Ruggell

Krammer K, Lange-Bertalot H (1997) Bacillariophyceae. Part 1, Naviculaceae. In: Ettl H, Gerloff J, Heynig H, Mollenhauer D (eds) Süßwasserflora von Mitteleuropa 2/1 (Freshwater flora from Central Europe). Spektrum Akademischer Verlag, Heidelberg

Krammer K, Lange-Bertalot H (1999) Bacillariophyceae. Part 2, Bacillariaceae, Epithemiaceae, Surirellaceae. In: Ettl H, Gerloff J, Heynig H, Mollenhauer D (eds) Süßwasserflora von Mitteleuropa 2/2 (Freshwater flora from Central Europe). Spektrum Akademischer Verlag, Heidelberg, Berlin

Krammer K, Lange-Bertalot H (2000) Bacillariophyceae. Part 3, Centrales, Fragilariaceae, Eunotiaceae. In: Ettl H, Gerloff J, Heynig H, Mollenhauer D (eds) Süßwasserflora von Mitteleuropa 2/3 (Freshwater flora from Central Europe). Spektrum Akademischer Verlag, Heidelberg, Berlin

Krammer K, Lange-Bertalot H (2004) Bacillariophyceae. Part 4, Achnanthaceae, Kritische Ergänzungen zu Achnanthes s.i., Navicula s.str., Gomphonema. In: Ettl H, Gärtner G, Heynig H, Mollenhauer D (eds) Süßwasserflora von Mitteleuropa 2/4 (Freshwater flora from Central Europe). Spektrum Akademischer Verlag, Heidelberg, Berlin

Kulongoski JT, Hilton DR (2004) Climate variability in the Botswana Kalahari from the late Pleistocene to the present day. Geophys Res Lett. doi:10.1029/2003GL019238

Kusber W-H, Cocquyt CZ (2012) Craticula elkab (O. Müller ex O. Müller) Lange-Bertalot, Kusber & Cocquyt, comb. nov.—Typification and observations based on African sediment core material. Diatom Res 22:117–126

Lee-Thorp JA, Holmgren K, Lauritzen SE, Linge H, Moberg A, Partridge TC, Stevenson C, Tyson PD (2001) Rapid climate shifts in the southern African interior throughout the mid to late Holocene. Geophys Res Lett 28:4507–4510

Leipe C, Demske D, Tarasov PE, Wünnemann B, Riedel F, HIMPAC Project Members (2014) Potential of pollen and non-pollen palynomorph records from Tso Moriri (Trans-Himalaya, NW India) for reconstructing Holocene limnology and human–environmental interactions. Quat Int 348:113–129

Leng MJ, Barker PA (2006) A review of the oxygen isotope composition of lacustrine diatom silica for palaeoclimate reconstruction. Earth-Sci Rev 75:5–27

Leng MJ, Henderson ACG (2013) Recent advances in isotopes as palaeolimnological proxies. J Paleolimnol 49:481–496

Leng MJ, Marshall JD (2004) Palaeoclimate interpretation of stable isotope data from lake sediment archives. Quat Sci Rev 23:811–831

Leng MJ, Sloane HJ (2008) Combined oxygen and silicon isotope analysis of biogenic silica. J Quat Sci 23:313–319

Levkov Z (2009) Amphora sensu lato. In: Lange-Bertalot H (ed) Diatoms of Europe, vol 5. ARG Gantner KG, Ruggell

Li JZ, Absher DM, Tang H, Southwick AM, Casto AM, Ramachandran S, Cann HM, Barsh GS, Feldman M, Cavalli-Sforza LL, Myers RM (2008) Worldwide human relationships inferred from genome-wide patterns of variation. Science 319(5866):1100–1104

Lotter AF, Birks HJB (1993) The impact of the Laacher See tephra on terrestrial and aquatic ecosystems in the Black Forest, southern Germany. J Quat Sci 8:263–276

Mackay AW, Davidson T, Wolski P, Woodward S, Mazebedi R, Masamba WRL, Todd M (2012) Diatom sensitivity to hydrological and nutrient variability in a subtropical, flood-pulse wetland. Ecohydrology 5:491–502

Mallick DIJ, Habgood F, Skinner AC (1981) A geological interpretation of Landsat imagery and airphotography of Botswana. Overseas Geol Mineral Resour 56:1–35

Marean CW, Bar-Matthews M, Bernatchez J, Fisher E, Goldberg P, Herries AIR, Jacobs Z, Jerardino A, Karkanas P, Minichillo T, Nilssen PJ, Thompson E, Watts I, Williams HM (2007) Early human use of marine resources and pigment in South Africa during the Middle Pleistocene. Nature 449:905–909

Mischke S, Wünnemann B (2006) The Holocene salinity history of Bosten Lake (Xinjiang, China) inferred from ostracod species assemblages and shell chemistry: possible palaeoclimatic implications. Quat Int 154–155:100–112

Mitrofanova EY, Sutchenkova OS, Lovtskaya OV (2016) Lake Teletskoye (Altai, Russia): reconstruction of the environment and prediction for its changes according to the composition and quantity of diatoms in the bottom sediments. Russ Geol Geophys 57:1321–1333

Moore AE, Cotterill FPD, Eckardt FD (2012) The evolution and ages of Makgadikgadi palaeo-lakes—consilient evidence from Kalahari drainage evolution, Botswana. S Afr J Geol 115:385–413

Morley DW, Leng MJ, Mackay AW, Sloane HJ, Rioual P, Battarbee RW (2004) Cleaning of lake sediments for diatom oxygen isotope analysis. J Paleolimnol 31:391–401

Murray A, Wintle A (2000) Luminescence dating of quartz using an improved single-aliquot regenerative-dose protocol. Radiat Meas 32:57–73

Nugent C (1990) The Zambezi River–tectonism, climatic change and drainage evolution. Palaeogeogr Palaeoclimat Palaeoecol 78:55–69

Passarge S (1904) Die Kalahari (The Kalahari). Dietrich Riemer, Berlin

Patrick R (1977) The ecology of freshwater diatoms—diatom communities. In: Werner D (ed) The biology of diatoms. University of California Press, Berkeley, pp 284–332

Peel MC, Finlayson BL, McMahon TA (2007) Updated world map of the Köppen–Geiger climate classification. HESSD 4:439–473

Podgorski JE, Green AG, Kgotlhang L, Kinzelbach WKH, Kalscheuer T, Auken E, Ngwisanyi T (2013) Paleo-megalake and paleo-megafan in southern Africa. Geology 41:1155–1158

Prescott JR, Hutton JT (1994) Cosmic ray contributions to dose rates for luminescence and ESR dating: large depths and long-term time variations. Radiat Meas 23:497–500

Riedel F, Erhardt S, Chauke C, Kossler A, Shemang E, Tarasov P (2012) Evidence for a permanent lake in Sua Pan (Kalahari, Botswana) during the early centuries of the last millenium indicated by distribution of Baobab trees (Adansonia digitata) on "Kubu Island". Quat Int 253:67–73

Riedel F, Henderson ACG, Heußner KU, Kaufmann G, Kossler A, Leipe C, Shemang E, Taft L (2014) Dynamics of a Kalahari long-lived mega-lake system—hydromorphological and limnological changes in the Makgadikgadi Basin (Botswana) during the terminal 50 ka. Hydrobiologia 739:25–53

Ringrose S, Huntsman-Mapila P, Kampunzu AB, Downey WS, Coetzee SH, Vink B, Matheson W, Vanderpost C (2005) Sedimentological and geochemical evidence for palaeo-environmental change in the Makgadikgadi subbasin, in relation to the MOZ rift depression, Botswana. Palaeogeogr Palaeoclimatol Palaeoecol 217:265–287

Rito T, Richards MB, Fernandes V, Alshamali F, Cerny V, Pereira L, Soares P (2013) The first modern human dispersal across Africa. PLoS ONE 8(11):e80031

Robbins LH, Brook GA, Murphy ML, Ivester AH, Campbell AC (2016) The Kalahari during MIS 6–2 (190–12 ka): archaeology, paleoenvironment, and population dynamics. In: Jones SC, Stewart BA (eds) Africa from MIS 6–2: population dynamics and palaeoenvironments—vertebrate paleobiology and paleoanthropology series. Springer, Heidelberg, pp 175–193

Rozanski K, Araguas-Araguas L, Gonfiantini R (1993) Isotopic patterns in modern global precipitation. In: Swart PK, Lohman KC, McKenzie J, Savin S (eds) Climate change in continental isotopic records, Geophysical monograph 78, pp 1–36

Schlungbaum G, Baudler H (2001) Die Vielfalt innerer Küstengewässer an der südlichen Ostsee—eine Übersicht von der Flensburger Förde bis zum Kurischen Haff, Teil 1 Entwicklungsgeschichte, Morphologie, Hydrologie und Hydrographie (The diversity of interior coastal waters at the southern Baltic Sea—an overview from the Flensburg Fjord to the Curonian Lagoon, part 1 history of development, morphology, hydrology and hydrography). Rostock Meeresbiolog Beitr 8:5–61

Scholz CA, Johnson TC, Cohen AS, King JW, Peck JA, Overpeck JT, Talbot MR, Brown ET, Kalindekafe E, Amoako PYO, Lyons RP, Shanahan TM, Castañeda IS, Heil CW, Forman SL, McHargue LR, Beuning KR, Gomez J, Pierson J (2007) East African megadroughts between 135 and 75 thousand years ago and bearing on early-modern human origins. PNAS 104(42):16416–16421

Schultheiß R, Van Bocxlaer B, Riedel F, von Rintelen T, Albrecht C (2014) Disjunct distributions of freshwater snails testify to a central role of the Congo system in shaping biogeographical patterns in Africa. BMC Evol Biol 14:42

Schuster SC, Miller W, Ratan A, Tomsho LP, Giardine B, Kasson LR, Harris RS, Petersen DC, Zhao FQ, Qi J, Alkan C, Kidd JM, Sun YZ, Drautz DI, Bouffard P, Muzny DM, Reid JG, Nazareth LV, Wang QY, Burhans R, Riemer C, Wittekindt NE, Moorjani P, Tindall EA, Danko CG, Siang Teo W, Buboltz AM, Zhang ZH, Ma QY, Oosthuysen A, Steenkamp AW, Oosthuisen H, Venter P, Gajewski J, Zhang Y, Franklin Pugh B, Makova KD, Nekrutenko A, Mardis ER, Patterson N, Pringle TH, Chiaromonte F, Mullikin JC, Eichler EE, Hardison RC, Gibbs RA, Harkins TT, Hayes VM (2010) Complete Khoisan and Bantu genomes from southern Africa. Nature 463:943–947

Seidov D, Maslin M (2001) Atlantic Ocean heat piracy and the bipolar climate see-saw during Heinrich and Dansgaard–Oeschger events. J Quat Sci 16:321–328

Shaw PA, Stokes S, Thomas DSG, Davies FBM, Holmgren K (1997) Palaeoecology and age of a Quaternary high lake level in the Makgadikgadi Basin of the Middle Kalahari, Botswana. S Afr J Sci 93:273–276

Shemang EM, Molwalefhe LN (2011) Geomorphic landforms and tectonism along the eastern margin of the Okavango Rift Zone, north western Botswana as deduced from geophysical data in the area. In: Sharkov EV (ed) New frontiers in tectonic research—general problems, sedimentary basins and island arcs. InTech, Rijeka, pp 169–182

Shi N, Schneider R, Beug HJ, Dupont LM (2001) Southeast trade wind variations during the last 135 kyr: evidence from pollen spectra in eastern South Atlantic sediments. EPSL 187:311–321

Stachura-Suchoples K (2001) Bioindicative values of dominant diatom species from the Gulf of Gdansk, Southern Baltic Sea, Poland. In: Jahn R, Kociolek JP, Witkowski A, Compère P (eds) Lange-Bertalot Festschrift. ARG Gantner KG, Ruggell, pp 477–490

Stokes S, Thomas DSG, Washington R (1997) Multiple episodes of aridity in southern Africa since the last interglacial period. Nature 388:154–158

Street FA, Grove AT (1976) Environmental and climatic implications of late Quaternary lake-level fluctuations in Africa. Nature 261:385–390

Stute M, Talma AS (1998) Glacial temperature and moisture transport regimes reconstructed from noble gases and δ18O, Stampriet aquifer, Namibia. Isotope techniques in the study of environmental change. IAEA, Vienna, pp 307–318

Stuut JBW, Prins MA, Schneider RR, Weltje GJ, Jansen JHF, Postma G (2002) A 300-kyr record of aridity and wind strength in southwestern Africa: inferences from grain-size distributions of sediments on Walvis Ridge, SE Atlantic. Mar Geol 180:221–233

ter Braak CJF, Šmilauer P (2002) CANOCO Reference Manual and User's Guide to CANOCO for Windows: Software for Canonical Community Ordination Version 4.5. Microcomputer Power, Ithaca, New York

Thomas DSG, Shaw PA (1991) The Kalahari environment. Cambridge University Press, Cambridge

Tishkoff SA, Gonder MK, Henn BM, Mortensen H, Knight A, Gignoux C, Fernandopulle N, Lema G, Nyambo TB, Ramakrishnan U, Reed FA, Mountain JL (2007) History of click-speaking populations of Africa inferred from mtDNA and Y chromosome genetic variation. Mol Biol Evol 24(10):2180–2195

Urrego DH, Sánchez Goñi MF, Daniau AL, Lechevrel S, Hanquiez V (2015) Increased aridity in southwestern Africa during the warmest periods of the last interglacial. Clim Past 11:1417–1431

van Dam H, Mertens A, Sinkeldam J (1994) A coded checklist and ecological indicator values of freshwater diatoms from the Netherlands. Neth J Aquat Ecol 28:117–133

van Zinderen Bakker EM (1976) The evolution of Late-Quaternary palaeoclimates of southern Africa. Palaeoecol Afr 9:160–202
Acknowledgements
We appreciate the field assistance of Franziska Slotta (FU Berlin, Germany), Linda Taft (University of Bonn, Germany), Michael Taft (Abenden, Germany), Karl-Uwe Heußner and Alexander Janus (both German Archaelogical Institute, Berlin). Maike Glos (FU Berlin) helped processing samples and Jan Evers (FU Berlin) designed Fig. 1 and helped improving further figures. Many thanks to Manfred Fischer (University of Bayreuth, Germany) for dose rate determination. We also like to thank the reviewers for constructive criticism. The Ministry of Minerals, Energy and Water Resources of Botswana kindly Granted a research permit. FR is grateful to the Deutsche Forschungsgemeinschaft for financial support.
Electronic supplementary material
Below is the link to the electronic supplementary material.
About this article
Cite this article
Schmidt, M., Fuchs, M., Henderson, A.C.G. et al. Paleolimnological features of a mega-lake phase in the Makgadikgadi Basin (Kalahari, Botswana) during Marine Isotope Stage 5 inferred from diatoms. J Paleolimnol 58, 373–390 (2017). https://doi.org/10.1007/s10933-017-9984-9
Received:

Accepted:

Published:

Issue Date:

DOI: https://doi.org/10.1007/s10933-017-9984-9
Keywords