Abstract
There has been much debate over the relative importance of environmental selection and spatial variation on community organization in microorganisms. To assess the importance of environmental or spatial variables in diatom species assemblages in Gall Lake, northwest Ontario, 41 surface-sediment samples were collected in a two-dimensional gridded pattern along and across depth contours. A depth-constrained cluster analysis separated the diatom flora into three communities: a shallow-water benthic zone (B1); a deeper-water benthic zone (B2); and a planktonic zone (P). Redundancy analysis (RDA) confirmed that water depth was a major predictor of variation in the flora. Further RDAs and variation partitioning using orthogonal polynomials and Moran's eigenvector maps showed that spatial location had minimal effect on the diatom assemblages. Principal components analysis grouped the diatom flora not only by assemblage, but also by water depth, regardless of two-dimensional spatial separation, suggesting the importance of the environmental gradients associated with lake depth. These findings indicate that environment is a more important explanatory variable than spatial variables for diatoms within lakes, suggesting dispersal plays a limited role in intra-lake diatom distributions.
Access options
Buy single article
Instant access to the full article PDF.
US$ 39.95
Tax calculation will be finalised during checkout.
Subscribe to journal
Immediate online access to all issues from 2019. Subscription will auto renew annually.
US$ 119
Tax calculation will be finalised during checkout.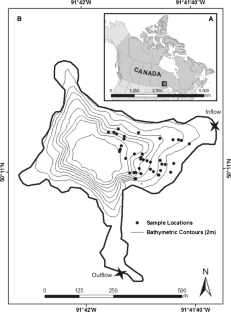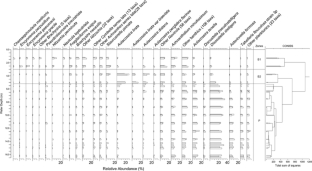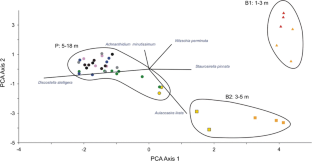 References
Beisner BE, Peres-Neto PR, Lindström ES, Barnett A, Longhi ML (2006) The role of environmental and spatial processes in structuring lake communities from bacteria to fish. Ecology 87:2985–2991

Bennett JR, Cumming BF, Ginn BK, Smol JP (2010) Broad-scale environmental response and niche conservatism in lacustrine diatom communities. Glob Ecol Biogeogr 19:724–732

Bennion H, Simpson GL (2011) The use of diatom records to establish reference conditions for UK lakes subject to eutrophication. J Paleolimnol 45:469–488

Berthon V, Bouchez A, Rimet F (2011) Using diatom life-forms and ecological guilds to assess organic pollution and trophic level in rivers: a case study of rivers in south-eastern France. Hydrobiologia 673:259–271

Blanchet FG, Legendre P, Borcard D (2008) Forward selection of explanatory variables. Ecology 89:2623–2632

Blanco S, Cejudo-Figueiras C, Álvarez-Blanco I, Van Donk E, Gross EM, Hansson LA, Irvine K, Jeppesen E, Kairesalo T, Moss B, Nõges T, Bécares E (2014) Epiphytic diatoms along environmental gradients in western European shallow lakes. Clean Soil Air Water 42:229–235

Borcard D, Legendre P, Drapeau P (1992) Partialling out the spatial component of ecological variation. Ecology 73:1045–1055

Bradbury JP, Winter TC (1976) Areal distribution and stratigraphy of diatoms in the sediments of Lake Sallie, Minnesota. Ecology 57:1005–1014

Brugam RB, McKeever K, Kolesa L (1998) A diatom-inferred water depth reconstruction for an Upper Peninsula, Michigan, lake. J Paleolimnol 20:267–276

Camburn KR, Charles DF (2000) Diatoms of low-alkalinity lakes in the northeastern United States. Academy of Natural Sciences Special Pub 18, Philadelphia

Cottenie K (2005) Integrating environmental and spatial processes in ecological community dynamics. Ecol Lett 8:1175–1182

Dixit S, Dixit AS, Smol JP (1991) Multivariable environmental inferences based on diatom assemblages from Sudbury (Canada) lakes. Freshw Biol 26:251–266

Dixit SS, Smol JP, Kingston JC, Charles DF (1992) Diatoms: powerful indicators of environmental change. Environ Sci Technol 26:22–33

Dixit SS, Keller W, Dixit AS, Smol JP (2001) Diatom-inferred dissolved organic carbon reconstructions provide assessments of past UV-B penetration in Canadian Shield lakes. Can J Fish Aquat Sci 58:543–550

Dray S, Legendre P, Peres-Neto PR (2006) Spatial modelling: a comprehensive framework for principal coordinate analysis of neighbour matrices (PCNM). Ecol Model 196:483–493

Evans CD, Monteith DT, Cooper DM (2005) Long-term increases in surface water dissolved organic carbon: observations, possible causes and environmental impacts. Environ Pollut 137:55–71

Fallu M, Allaire N, Pienitz R (2000) Freshwater diatoms from northern Quebec and Labrador (Canada) bibliotheca diatomologica band 45. Gebru¨der Borntraeger, Berlin

Fritz SC (1990) Twentieth-century salinity and water-level fluctuations in Devils Lake, North Dakota: test of a diatom-based transfer function. Limnol Oceanogr 35:1771–1781

Garmo ØA, Skjelkvåle BL, de Wit HA, Colombo L, Curtis C, Fölster J, Hoffmann A, Hruška J, Høgåsen T, Jeffries DS, Keller WB, Krám P, Majer V, Monteith D (2014) Trends in surface water chemistry in acidified areas in Europe and North America from 1990 to 2008. Water Air Soil Pollut 225:1–14

Gilbert B, Bennett JR (2010) Partitioning variation in ecological communities: do the numbers add up? J Appl Ecol 47:1071–1082

Glew JR (1989) A new trigger mechanism for sediment samplers. J Paleolimnol 2:241–243

Hammer Ø, Harper DAT (2006) Paleontological data analysis. Blackwell, Malden

Karmakar M, Kurek J, Haig H, Cumming BF (2014) Consensus among multiple trophic levels during high-and low-water stands over the last two millennia in a northwest Ontario lake. Quat Res 81:251–259

Karst TL, Smol JP (2000) Paleolimnological evidence of limnetic nutrient concentration equilibrium in a shallow, macrophyte-dominated lake. Aquat Sci 62:20–38

Keller WB, Heneberry J, Leduc J, Gunn J, Yan N (2006) Variations in epilimnion thickness in small boreal shield lakes: relationships with transparency, weather and acidification. Environ Monit Assess 115:419–431

Kingsbury MV, Laird KR, Cumming BF (2012) Consistent patterns in diatom assemblages and diversity measures across water-depth gradients from eight Boreal lakes from north-western Ontario (Canada). Freshw Biol 57:1151–1165

Koppen JD (1975) A morphological and taxonomic consideration of Tabellaria (Bacillariophyceae) from the northcentral United States. J Phycol 11:236–244

Krammer K, Lange-Bertalot H (1986) Bacillariophyceae. 1: Teil: Naviculaceae. In: Ettl H, Gärtner G, Gerloff J, Heynig H, Mollenhauer D (eds) Süßwasserflora von Mitteleuropa, Band 2/1. Gustav Fischer Verlag, Stuttgart

Krammer K, Lange-Bertalot H (1988) Bacillariophyceae. 2: Teil: Bacillariaceae, Epithmiaceae, Surirellaceae. In: Ettl H, Gärtner G, Gerloff J, Heynig H, Mollenhauer D (eds) Süßwasserflora von Mitteleuropa, Band 2/2. Gustav Fischer Verlag, Stuttgart

Krammer K, Lange-Bertalot H (1991a) Bacillariophyceae. 3:Teil: Centrales, Fragilariaceae, Eunotiaceae. In: Ettl H, Gärtner G, Gerloff J, Heynig J, Mollenhauer D (eds) Süßwasserflora von Mitteleuropa, Band 2/3. Gustav Fischer Verlag, Stuttgart

Krammer K, Lange-Bertalot H (1991b) Bacillariophyceae. 4:Teil: Achnanthaceae. In: Ettl H, Gärtner G, Gerloff J, Heynig H, Mollenhauer D (eds) Süßwasserflora von Mitteleuropa, Band 2/4. Gustav Fischer Verlag, Stuttgart

Laird KR, Cumming BF (2008) Reconstruction of Holocene lake level from diatoms, chrysophytes and organic matter in a drainage lake from the Experimental Lakes Area (northwestern Ontario, Canada). Quat Res 69:292–305

Laird KR, Kingsbury MV, Cumming BF (2010) Diatom habitats, species diversity and water-depth inference models across surface-sediment transects in Worth Lake, northwest Ontario, Canada. J Paleolimnol 44:1009–1024

Laird KR, Kingsbury MV, Lewis CM, Cumming BF (2011) Diatom-inferred depth models in 8 Canadian boreal lakes: inferred changes in the benthic: planktonic depth boundary and implications for assessment of past droughts. Quat Sci Rev 30:1201–1217

Laird KR, Haig HA, Ma S, Kingsbury MV, Brown TA, Lewis CF, Oglesby RJ, Cumming BF (2012) Expanded spatial extent of the medieval climate anomaly revealed in lake-sediment records across the boreal region in northwest Ontario. Glob Change Biol 18:2869–2881

Lange-Bertalot H, Melzeltin D (1996) Indicators of oligotrophy, vol 2. Koeltz Scientific Books, Königstein, Iconographia Diatomologica

Legendre P, Gallagher ED (2001) Ecologically meaningful transformations for ordination of species data. Oecologia 129:271–280

Legendre P, Legendre LF (2012) Numerical ecology. Elsevier, Amsterdam

Lotter AF, Bigler C (2000) Do diatoms in the Swiss Alps reflect the length of ice-cover? Aquat Sci 62:125–141

Martiny JBH, Bohannan BJ, Brown JH, Colwell RK, Fuhrman JA, Green JL, Horner-Devine MC, Kane M, Krumins JA, Kuske CR, Morin PJ, Naeem S, Øvreås L, Reysenbach A, Smith VH, Staley JT (2006) Microbial biogeography: putting microorganisms on the map. Nat Rev Microbiol 4:102–112

Monteith DT, Stoddard JL, Evans CD, de Wit HA, Forsius M, Høgåsen T, Wilander A, Skjelkvåle BR, Jeffries DS, Vuorenmaa J, Keller B, Kopácek J, Vesely J (2007) Dissolved organic carbon trends resulting from changes in atmospheric deposition chemistry. Nature 450:537–540

Moos MT, Laird KR, Cumming BF (2005) Diatom assemblages and water depth in Lake 239 (Experimental Lakes Area, Ontario): implications for paleoclimatic studies. J Paleolimnol 34:217–227

Pace ML, Cole JJ (2002) Synchronous variation of dissolved organic carbon and color in lakes. Limnol Oceanogr 47:333–342

Passy SI (2010) A distinct latitudinal gradient of diatom diversity is linked to resource supply. Ecology 91:36–41

Peres-Neto PR, Legendre P (2010) Estimating and controlling for spatial structure in the study of ecological communities. Glob Ecol Biogeogr 19:174–184

Peres-Neto PR, Legendre P, Dray S, Borcard D (2006) Variation partitioning of species data matrices: estimation and comparison of fractions. Ecology 87:2614–2625

Potapova MG, Charles DF (2002) Benthic diatoms in USA rivers: distributions along spatial and environmental gradients. J Biogeogr 29:167–187

R Development Core Team (2008) R: a language and environment for statistical computing. R Foundation for statistical computing, Vienna, Austria. ISBN 3-900051-07-0, URL http://www.R-project.org

Reavie E, Smol JP (2001) Diatom-environmental relationships in 64 alkaline southeastern Ontario (Canada) lakes: a diatom-based model for water quality reconstructions. J Paleolimnol 25:25–42

Ricklefs RE (1987) Community diversity: relative roles of local and regional processes. Science 235:167–171

Roulet N, Moore TR (2006) Environmental chemistry: browning the waters. Nature 444:283–284

Rühland K, Paterson AM, Smol JP (2008) Hemispheric-scale patterns of climate-related shifts in planktonic diatoms from North American and European lakes. Glob Change Biol 14:2740–2754

Saros JE, Anderson NJ (2015) The ecology of the planktonic diatom Cyclotella and its implications for global environmental change studies. Biol Rev 90:522–541

Skjelkvåle BL, Stoddard JL, Andersen T (2001) Trends in surface water acidification in Europe and North America (1989–1998). Water Air Soil Pollut 130:787–792

Smith TW, Lundholm JT (2010) Variation partitioning as a tool to distinguish between niche and neutral processes. Ecography 33:648–655

Smol JP, Cumming BF (2000) Tracking long-term changes in climate using algal indicators in lake sediments. J Phycol 36:986–1011

Snucins E, Gunn J (2000) Interannual variation in the thermal structure of clear and colored lakes. Limnol Oceanogr 45:1639–1646

Soininen J (2007) Environmental and spatial control of freshwater diatoms—a review. Diatom Res 22:473–490

Soininen J, Könönen K (2004) Comparative study of monitoring South-Finnish rivers and streams using macroinvertebrate and benthic diatom community structure. Aquat Ecol 38:63–75

Spaulding SA, Lubinski DJ, Potapova M (2010) Diatoms of the United States. https://westerndiatoms.colorado.edu. Accessed Jan 2017

Stevenson RJ, Stoermer EF (1981) Quantitative differences between benthic algal communities along a depth gradient in Lake Michigan. J Phycol 17:29–36

Tilman D, Kareiva PM (1997) Spatial ecology: the role of space in population dynamics and interspecific interactions, vol 30. Princeton University Press, Princeton

Van Eaton AR, Harper MA, Wilson CJ (2013) High-flying diatoms: widespread dispersal of microorganisms in an explosive volcanic eruption. Geology 41:1187–1190

Vellend M (2016) The theory of ecological communities (MPB-57). Princeton University Press, Princeton

Worrall F, Harriman R, Evans CD, Watts CD, Adamson J, Neal C, Tipping E, Burt T, Grieve I, Monteith D, Naden PS, Nisbet T, Stevens P (2004) Trends in dissolved organic carbon in UK rivers and lakes. Biogeochemistry 70:369–402
Acknowledgements
This project was funded through NSERC Discovery Grants to BFC and JRB. We thank Moumita Karmakar for assistance in the field.
About this article
Cite this article
Gushulak, C.A.C., Laird, K.R., Bennett, J.R. et al. Water depth is a strong driver of intra-lake diatom distributions in a small boreal lake. J Paleolimnol 58, 231–241 (2017). https://doi.org/10.1007/s10933-017-9974-y
Received:

Accepted:

Published:

Issue Date:
Keywords
Diatoms

Spatial variables

Environmental selection

Depth

Northwest Ontario