Abstract
We applied a diatom-based thermal stratification index to sediment cores from three lakes in the northeast USA to evaluate the influence of lake morphometry and within-lake processes on diatom responses to climate change. The three lakes all had surface area >5 km2 and experienced the same regional declines in wind speed and progressively earlier ice-out dates, but differed in morphometry, particularly surface area and mean depth. We coupled this paleolimnological approach with contemporary ecological measurements to validate the use of two indicator species (Aulacoseira subarctica (O. Müller) Haworth and Discostella stelligera (Cleve & Grunow) Houk & Klee) in the stratification index. D. stelligera was abundant during stratified conditions in Tunk Lake and Sebago Lake, but not in Lobster Lake. Diatom-inferred stratification shifted to shallower and/or longer duration in Tunk Lake starting in the late nineteenth century, and continued to become shallower over much of the twentieth century. A shift to shallower and/or longer duration was also apparent in Sebago Lake starting around 1850, after which the index suggested little change, even though ice-out occurred 30 days earlier in 2000 than in 1807 and wind speed began to decline in the 1960s. This lake has very slow sedimentation rates, experiences regular seiches, and has D. stelligera present during circulation and stratified periods. These factors may smooth stratification-driven diatom responses. Contemporary ecological measurements did not support the application of the stratification index in Lobster Lake because D. stelligera bloomed only during spring turnover. In Lobster Lake, the relative abundances of D. stelligera in the sediment record showed some variation over time, were generally lower in periods with earlier ice-out in the region, and have been lower since the 1980s. Our results highlight the different responses recorded in the sediments of three large lakes in the same region to climate-driven changes and support the use of indicator species in reconstructing lake thermal stratification patterns when paired with site-specific morphometric and ecological data.
Access options
Buy single article
Instant access to the full article PDF.
US$ 39.95
Tax calculation will be finalised during checkout.
Subscribe to journal
Immediate online access to all issues from 2019. Subscription will auto renew annually.
US$ 119
Tax calculation will be finalised during checkout.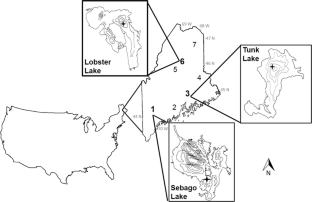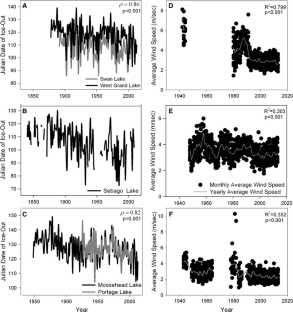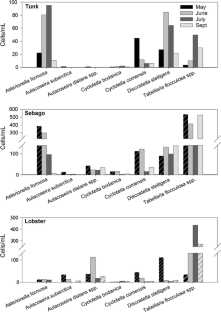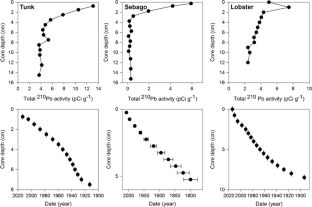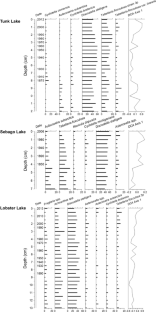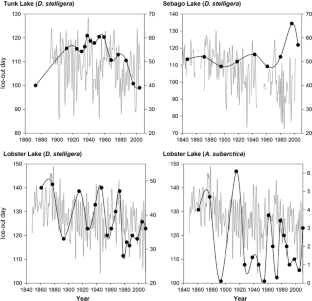 References
APHA (American Public Health Association) (2000) Standard methods for the examination of water and wastewater, 20th edn. APHA, Washington, DC

Appleby PG, Oldfield F (1978) The calculation of lead-210 dates assuming a constant rate of supply of unsupported 210Pb to the sediment. Catena 5:1–8

Battarbee RW, Jones VJ, Flower BP, Cameron NG, Bennion H, Carvalho L, Juggins S (2001) Diatoms. In: Smol J, Birks HJB, Last WM (eds) Tracking environmental change using lake sediments. Kluwer, Dordrecht, pp 155–201

Bergström AK (2010) The use of TN:TP and DIN:TP ratios as indicators for phytoplankton nutrient limitation in oligotrophic lakes affected by N deposition. Aquat Sci 72:277–281

Beyene MT, Jain S (2015) Wintertime weather–climate variability and its links to early spring ice-out in Maine lakes. Limnol Oceanogr 60:1890–1905

Camburn KE, Charles DF (2000) Diatoms of low-alkalinity lakes in the Northeastern United States. Acad Nat Sci Phila Spec Pub 18:152

Fee EJ, Hecky RE, Kasian SE, Cruikshank D (1996) Effects of lake size, water clarity, and climatic variability on mixing depths in Canadian Shield Lakes. Limnol Oceanogr 41:912–920

Hobbs WO, Telford RJ, Birks HJB, Saros JE, Hazewinkel RRO, Perren BB, Saulnier-Talbot E, Wolfe AP (2010) Quantifying recent ecological changes in remote lakes of North America and Greenland using sediment diatom assemblages. PLoS One 5:e10026

Hodgkins G, James IC II, Huntington TG (2002) Historical changes in lake ice-out dates as indicators of climate change in New England, 1850–2000. Int J Climatol 22:1819–1827

Iacono MJ (2009) Why is the wind speed decreasing? Blue Hill Meterological Observatory. http://www.bluehill.org/climate/climate.html

IPCC Climate Change 2014: Synthesis Report (2014) Contribution of working groups I, II and III to the fifth assessment report of the intergovernmental panel on climate change. Core Writing Team, Pachauri RK, Meyer LA (eds). IPCC, Geneva

Köster D, Pienitz R (2006) The seasonal diatom variability and paleolimnological inferences—a case study. J Paleolimnol 35:395–416

Kraemer BM et al (2015) Morphometry and average temperature affect lake stratification responses to climate change. Geophys Res Lett 42:4981–4988

Krammer K, Lange-Bertalot H (1986) Bacillariophyceae. I. Teil. Naviculaceae. In: Süsswasserflora von Mitteleuropa, Band 2/1

Krammer K, Lange-Bertalot H (1988) Bacillariophyceae. 2. Teil. Bacillariaceae, Epithemiaceae, Surirellaceae. In: Süsswasserflora von Mitteleuropa, Band 2/2

Krammer K, Lange-Bertalot H (1991a) Bacillariophyceae. 3. Teil. Zentrische Diatomeen, Diatoma, Meridion, Asterionella, Tabellaria, Fragilaria, Eunotia und Verwandte, Peronia und Actinella. In Süsswasserflora von Mitteleuropa, Band 2/4

Krammer K, Lange-Bertalot H (1991b) Bacillariophyceae. 4. Teil. Achnanthes, Navicula, Gomphonema, Kritische Nachtraege, Literatur. In Süsswasserflora von Mitteleuropa

Leavitt PR, Fritz SC, Anderson NJ, Baker PA, Blencker T (2009) Paleolimnological evidence of the effects on lakes of energy and mass transfer from climate and humans. Limnol Oceanogr 54:2330–2348

Magnuson JJ, Benson BJ, Jensen OP, Clark TB, Card V, Futter MN, Soranno PA, Stewart KM (2005) Persistence of coherence of ice-off dates for inland lakes across the Laurentian Great Lakes region. Verh Int Ver Limnol 29:521–527

Marcé R, Feijoó C, Navarro E, Ordoñez J, Gomà J, Armengol J (2007) Interaction between wind-induced seiches and convective cooling governs algal distribution in a canyon-shaped reservoir. Freshw Biol 52:1336–1352

Perren BB, Douglas MSV, Anderson NJ (2009) Diatoms reveal complex spatial and temporal patterns of recent limnological change in West Greenland. J Paleolimnol 42:233–247

Pham SV, Leavitt PR, Wissel BW, Wassenaar LI (2009) Spatial and temporal variability of prairie lake hydrology as revealed using stable isotopes of hydrogen and oxygen. Limnol Oceanogr 54:101–118

Pryor SC, Barthelmie RJ, Young DT, Takle ES, Arritt RW, Flory D, Gutowski WJ Jr, Nunes A, Roads J (2009) Wind speed trends over the contiguous United States. J Geophys Res. doi:10.1029/2008JD011416

Rühland K, Paterson A, Smol J (2008) Hemispheric-scale of patterns of climate-related shifts in planktonic diatoms from North American and European lakes. Glob Change Biol 14:2740–2754

Rühland KM, Paterson AM, Smol JP (2015) Lake diatom responses to warming: reviewing the evidence. J Paleolimnol 54:1–35

Saros JE, Anderson NJ (2015) The ecology of the planktonic diatom Cyclotella and its implications for global environmental change studies. Biol Rev 90:522–541

Saros JE, Michel TJ, Interlandi SJ, Wolfe A (2005) Resource requirements of Asterionella formosa and Fragilaria crotonensis in oligotrophic alpine lakes. Can J Fish Aquat Sci 62:1681–1689

Saros JE, Clow DW, Blett T, Wolfe AP (2011) Critical nitrogen deposition loads in high-elevation lakes of the western U.S. inferred from paleolimnological records. Water Air Soil Pollut 216:193–202

Saros JE, Stone JR, Pederson GT, Slemmons KEH, Spanbauer T, Schliep A, Cahl D, Williamson CE, Engstrom DR (2012) Climate-induced changes in lake ecosystem structure inferred from coupled neo-and paleo-ecological approaches. Ecology 93:2155–2164

Saros JE, Strock KE, McCue J, Hogan E, Anderson NJ (2014) Response of Cyclotella species to nutrients and incubation depth in Arctic lakes. J Plankton Res 36:450–460

Smol JP, Wolfe AP, Birks HJB, Douglas MSV, Jones VJ, Korhola A, Pienitz R, Rühland K, Sorvari S, Antoniades D, Brooks SJ, Fallu M, Hughes M, Keatley BE, Laing TE, Michelutti N, Nazarova L, Nyman M, Paterson AM, Perren B, Quinlan R, Rautio M, Saulnier-Talbot E, Siitonen S, Solovieva N, Weckström J (2005) Climate-driven regime shifts in the biological communities of arctic lakes. Proc Natl Acad Sci USA 102:4397–4402

Stone JR, Saros JE, Pederson GT (2016) Coherent late Holocene climate-driven shifts in the structure of three Rocky Mountain lakes. Holocene. doi:10.1177/0959683616632886

Wang L, Lu H, Liu J, Gu Z, Mingram J, Chu G, Li J, Rioual P, Negendank JFW, Han J, Liu T (2008) Diatom-based inference of variations in the strength of Asian winter monsoon winds between 17,500 and 6000 calendar years B.P. J Geophys Res. doi:10.1029/2008JD010145

Winder M, Reuter JE, Schladow SG (2009) Lake warming favours small-sized planktonic diatom species. Proc R Soc B 276:427–435
Acknowledgments
This project was funded by the Gokcen Fund and the Portland Water District. Funding for Tunk Lake dating was provided by the USEPA–USGS LTM project, funded by EPA CAMD to W. McDowell, J.S. Kahl and S.J. Nelson. The contents of this manuscript are solely the responsibility of the authors and do not necessarily represent the official views of the USGS. K. Boeff was supported as a graduate assistant by the Climate Change Institute and School of Biology and Ecology at the University of Maine while conducting this research. We are grateful for the field and lab assistance provided by R. Brown, K. Warner, D. Anderson, R. Northington, the Portland Water District, and the University of Maine Physics Department.
About this article
Cite this article
Boeff, K.A., Strock, K.E. & Saros, J.E. Evaluating planktonic diatom response to climate change across three lakes with differing morphometry. J Paleolimnol 56, 33–47 (2016). https://doi.org/10.1007/s10933-016-9889-z
Received:

Accepted:

Published:

Issue Date:
Keywords
Discostella
Aulacoseira

Climate

Wind

Ice-out

Stratification